To Paul: this is how you spent the day you turned 6 years and 5 months old.
It's Thursday. You decided on waffles with syrup for breakfast, and then some berries. I read a bit of Harry Potter 5 at Annie's request, and you're inspired to do a little playing with our Lego Hogwarts. We completed it with great triumph a few days ago, and you keep taking a few pieces off and putting them back on to replay the joy. "Mom, we're almost done! I'm so excited to finish!"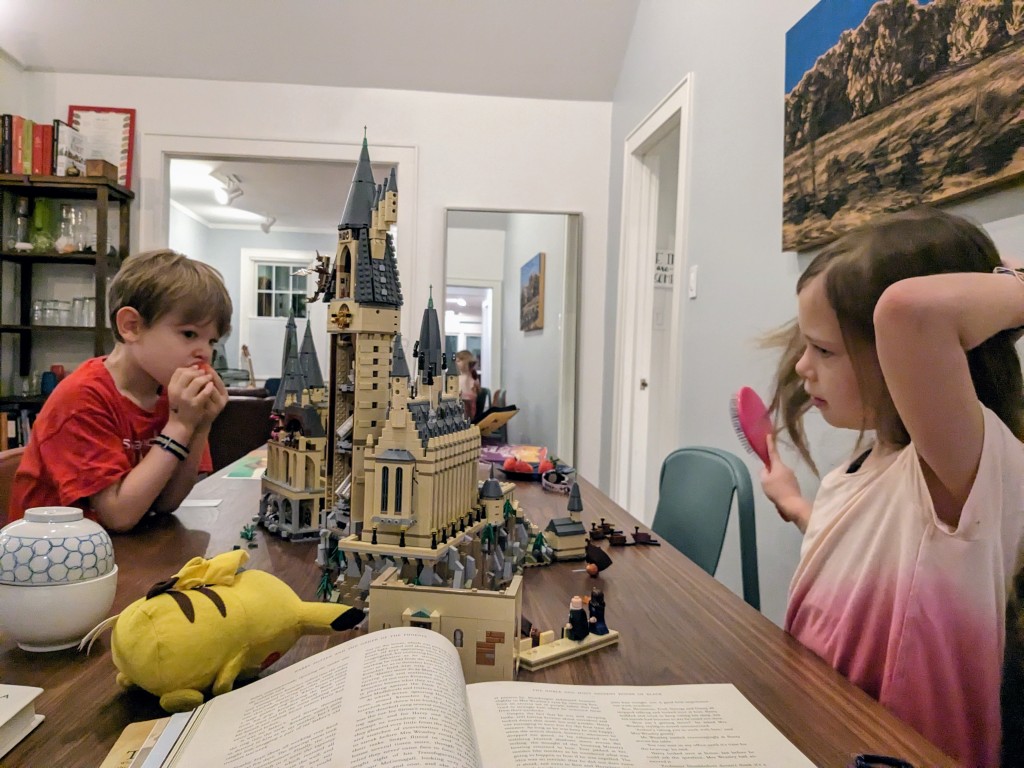 Teeth brushed, shoes on, backpacks loaded, and we head out the door. You've selected your sneakers due to an upcoming footrace at recess. "The Flash team had a race today, racing Vera, so she's NOT going to win." Vera remains your favorite girl friend. Her team, with a few other girls, is the Boots team. Oh, and there's also a Speedy Runners team with some of the older boys, that's actually the fastest.
We walk to school through a beautiful sunrise, with a waning half moon presiding that you're pretty sure you can see moving. You administer hugs to us Dad and I and head inside. It's a normal day as far as we hear; Art with Ms. Isoline for seasoning.
Dad picks you up, and I get to see you on your way home as I head to the school for PTA. Your legs "don't work," so you ride piggyback most of the way. Thank goodness for strong dads.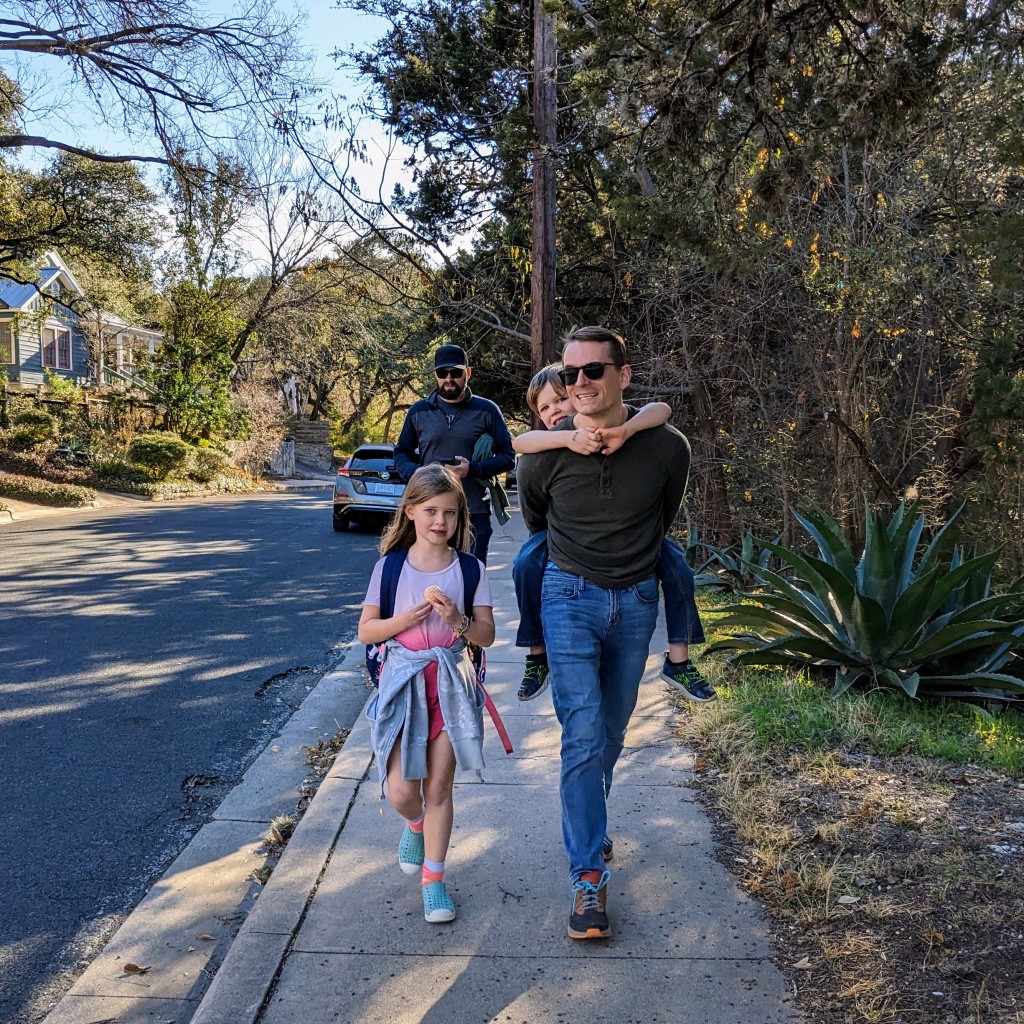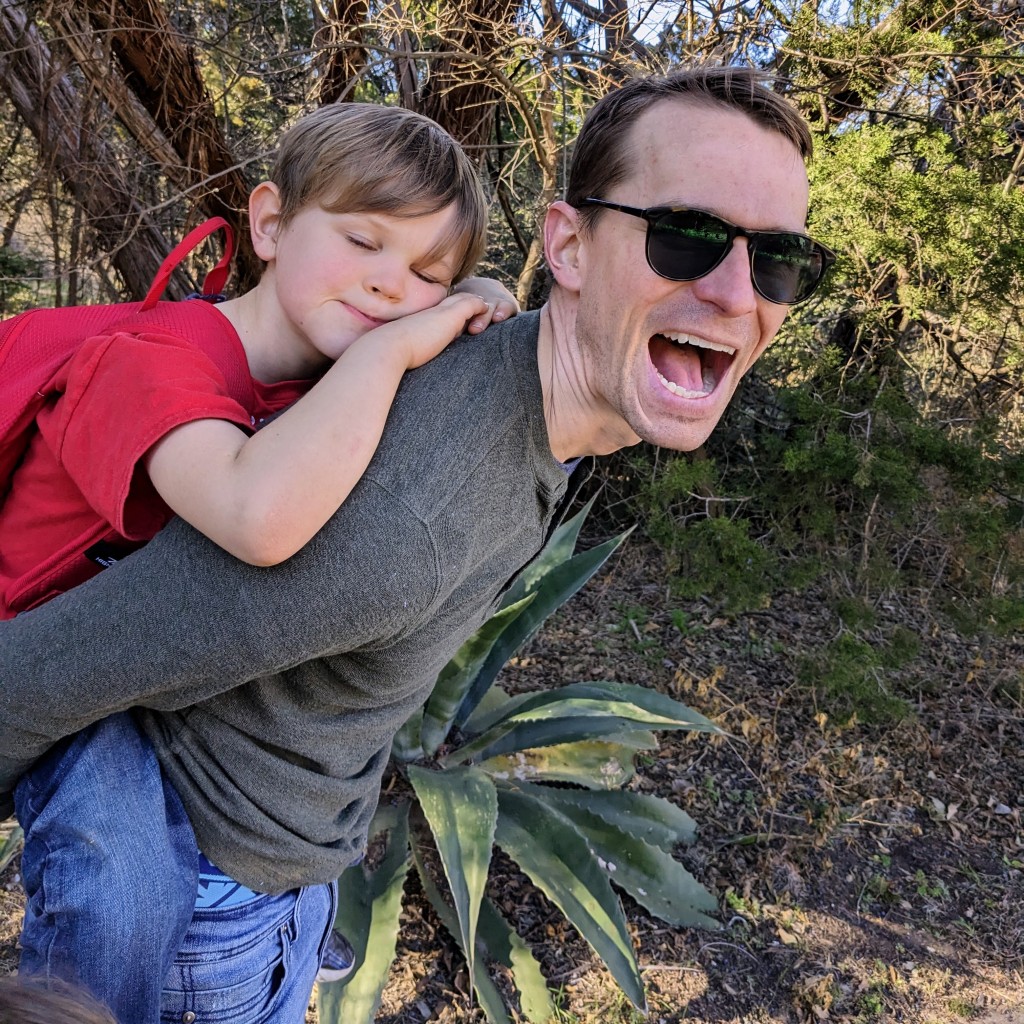 Back at home, you and Annie take up your tablets and build worlds in Minecraft until I come home and Dad finishes his workday. Then you tear around with balloons from your chemistry sets. You blow yours up and let it fly around the kitchen while I assemble some dinner for us.
It's tacos. Chewing, you inform us that you always use one side of your mouth for fruit, and the other one for meat and vegetables. Annie validates this as making sense for you, "fruit monster" that you are.
It's a bath night, and we've recently decided that group baths have run their course, so you take your turn first. I help you dry and dress as Annie rolls through. You get settled in bed for book, vigorously protesting against more Harry Potter. A compromise is reached: a page of HP5 for Annie, and a book of your choice. Your choice is Noah's Magic Shoes, about a boy whose new pair of shoes changes his outlook on life. We have a little extra time so round it out with the spooky A House That Once Was. You and Annie chatter for half an hour, and fall asleep.