To Paul: this is how you spent the day you turned 6 years and 4 months old.
A pancake breakfast cannot distract you from your disappointment that Annie is sick with a fever and will stay home from school, but you cannot. You dispute the temperature reading and insist on your own measurement. Alas, you are well.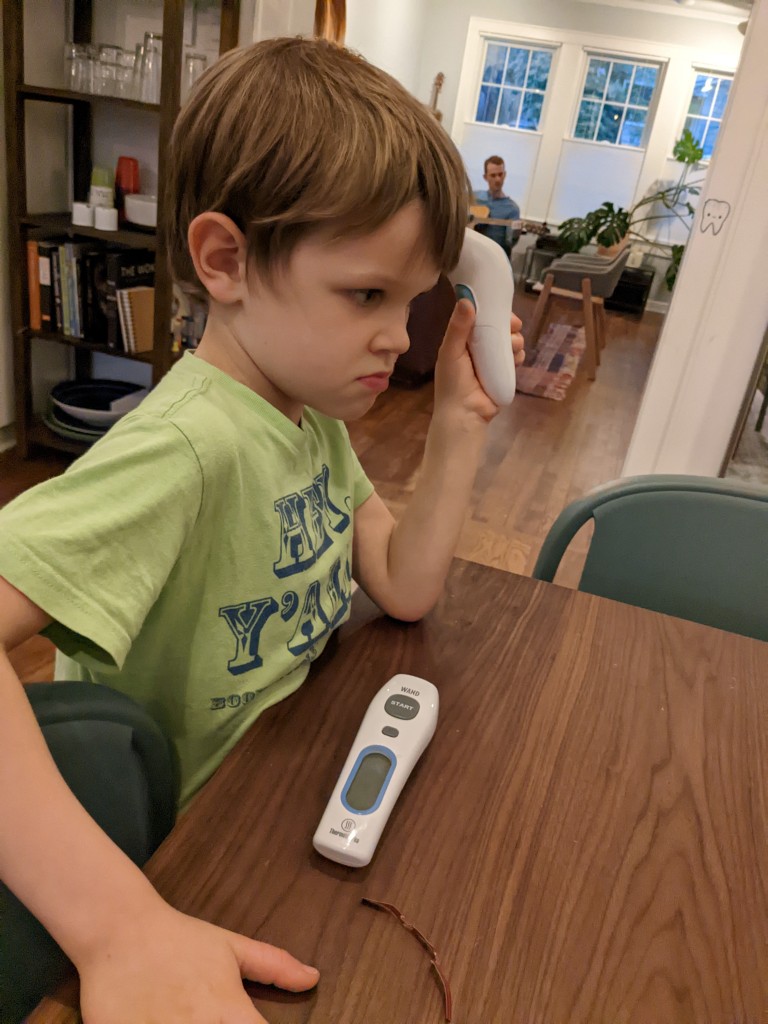 You and I make it to school by discussing Pokemon evolutions all the way. Some consolation, anyway. We see Lino as we approach, and you hop right in line, part of the social stream.
I pick you up in the car, and we head to the grocery store to buy fruit and yogurt and things we need for the week. You're not excited but game for it. On the drive there, I ask you to explain how to play the Pokémon card game, and you offer a very good explanation:
Build a bench.
Attach energy cards to your bench.
If your active pokémon is strong enough, attack.
"There's a lot more, but it's more advanced."
This all turns out to be accurate. At Central Market, you ask for a quarter for a piece of fruit, and pick up a map of the store with a scavenger hunt. You ride in the cart and eat your apple while I pick up grapes and orange juice and mini pancakes and guacamole. You elicit a small lecture for trying and failing to throw your apple core in the trash (3 times). We get pink lemonade and chocolate mousse cups for Dad, and check out.
Back home you immediately pick up your tablet and score your 30 minutes of Prodigy. Dad whispers to me that he's secretly set your level to second grade. I thought the word problems had gotten a lot more complicated, but you're rolling with it. When you finish, dinner is served, and you eat your grapes and your beans and ignore the tamale and cucumber. Then Dad announces that it's time to go to the Trail of Lights! Google has bought it out this year for their holiday party, and Dad scored a third ticket for you and Annie to both go with him. Aside from some major strife over the Ferris Wheel (you are keen to go; Annie is adamantly opposed), you have a ball.