To Paul: this is how you spent the day you turned 2 years and 2 months old.
You are cheerful this morning, making faces through the bars of your crib as I approach. "Where's Dad?" you wonder, as I lift you out, but he's hot on my heels. We kickstart the documentation with some photos, and visit Annie in her crib. I carry you to the changing table to discover your diaper is dry again. You've shown little interest in trying the potty, but you've got the right instincts.
On the changing table, you stretch out your ever-longer body and shoo off your father. "No, MOM do it." I offer you a longhorn pin for your shirt, which you decline. "No, it's SHARP." Now firmly in a "no" mood, you also decline pants. We discuss putting them on downstairs. "Carry me like a princess!" you request, and I do. You loll your head back and enjoy the ride. Dad and I swap again, and he gets you panted (under protest) and shod, and loaded up in the car.
You are jolly and talkative on the way to school. It's Friday, so Dad is driving. You dig happily into your toast cup and ask Annie for an extra piece of hers, which she grants you. In the Pandas class, you have been talking about feelings and identifying your own as you enter each day by velcroing a picture of yourself on a chart. Perplexingly, you select "sad" this morning, but don't seem deeply committed to the choice. It's the easiest to reach.
At school you frolic in the pumpkin patch, play with cinnamon playdough, and poop. You nap your standard 2 hours. Your teachers note on your weekly report that you are "practicing using words and gentle hands with friends (smiley face)."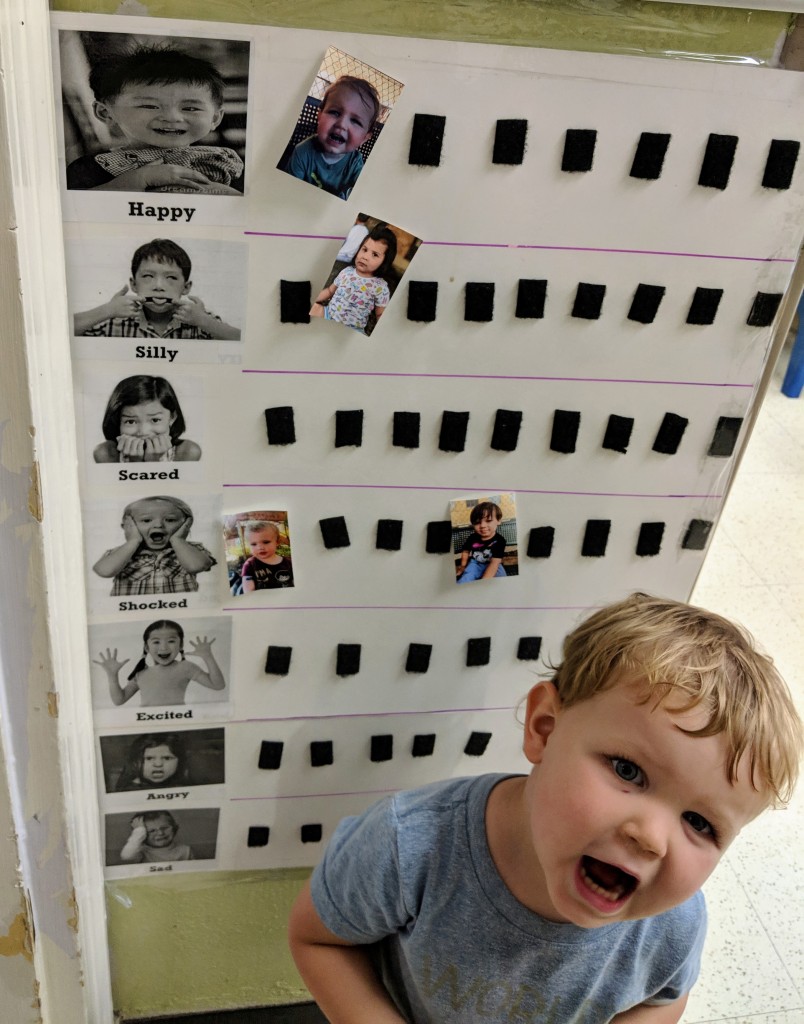 Dad brings you home through slow, ACL traffic. I have composed you a beautiful plate of tortellini, bacon, tomato slices, and a few greens leaves you can interpret as a garnish, dressed with our friends' private stash of fancy olive oil. Shockingly, given toddlers' typical response to meals their parents work hard to compose, you eat it.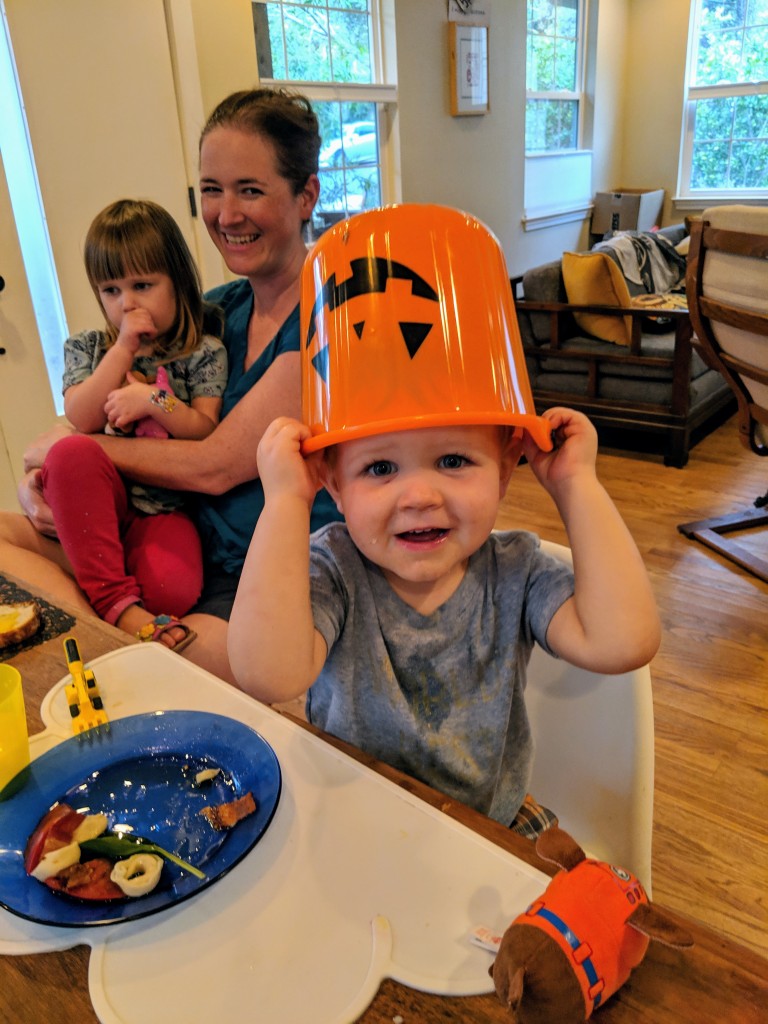 Spirits remain high, but we give ourselves a break and watch 45 minutes of Coco, a new film adventure for us. It has you on the edge of your seat, and climbing into my arms at every sign of interpersonal conflict.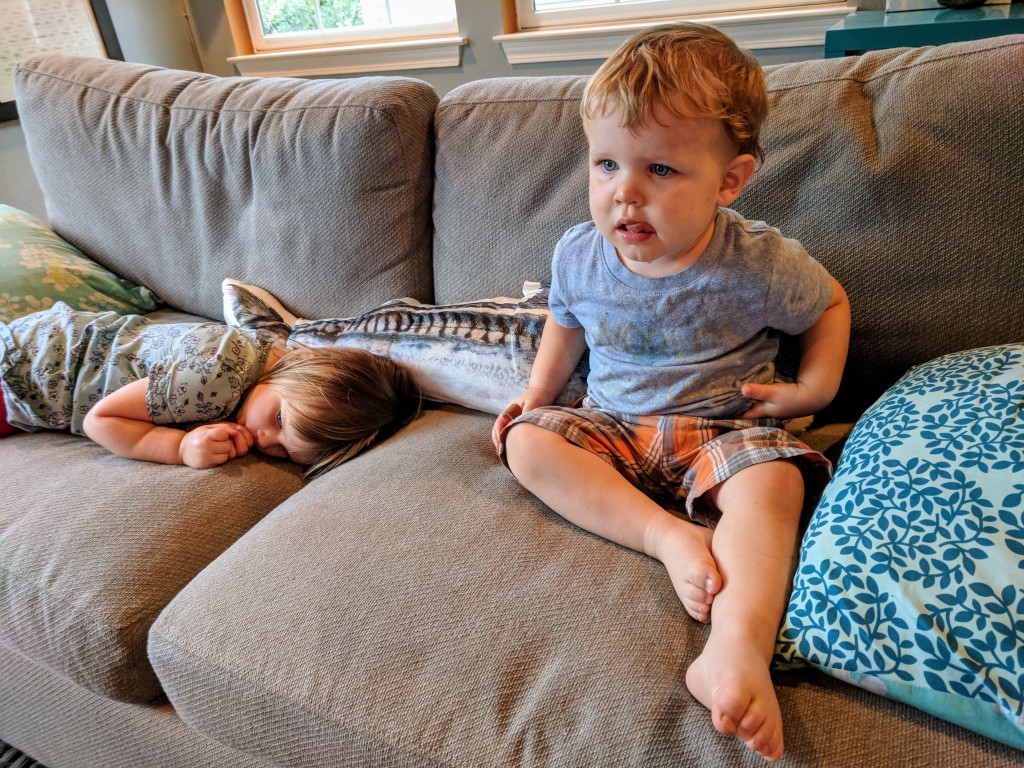 We begin a countdown clock ("10 more minutes! 5 more minutes!") and at 7, head upstairs for a bath. You bustle right in and only howl a little when scrubbed. Clean, diapered, and teeth more-or-less brushed, you climb aboard for a full rendition of Fox in Socks, and then the routine begins: it's dark outside, and it's time to go to sleep. Annie turns off the lights, and then you turn them back on, and off again. Dad wrestles you into a shirt you first do want, then don't, then do again, then DEFINITELY DO NOT, but it's too late. You get pets and hand-holds, and tucked under your blanket that's already too small. Goodnight, Paul.
At 10:30 or so, you wake up screaming, as you have now and then for the last week. I think you're having bad dreams. Dad goes in to check on you, and you quiet right down and sink back into sleep.