To Paul: this is how you spent the day you turned 3 years and 2 months old.
You seem older to me, first of all. Three and a half, surely, not just a hair over 3. Maybe because you're potty trained and talking in paragraphs and determined to drop your nap. Maybe because with an August birthday, you'll always need to grow up fast, or because I'm always rounding up ages in my head, like my friend Sejal tells me they do in India, where you'd be, if I'm doing it right, "4 years running."
But here today, you're 3 years and 2 months. You summon us at 6:30 to inform us you've had an accident, the first in quite a while. We get you sponged off and fresh clothes and sheets, and snuggle you back to bed for another half-hour. You do not in fact sleep, but stay relatively peaceful until the light turns green. We all get ready pretty quickly, into our warm clothes for a long walk in the cool weather. The temperature has dropped 45 degrees since Thursday.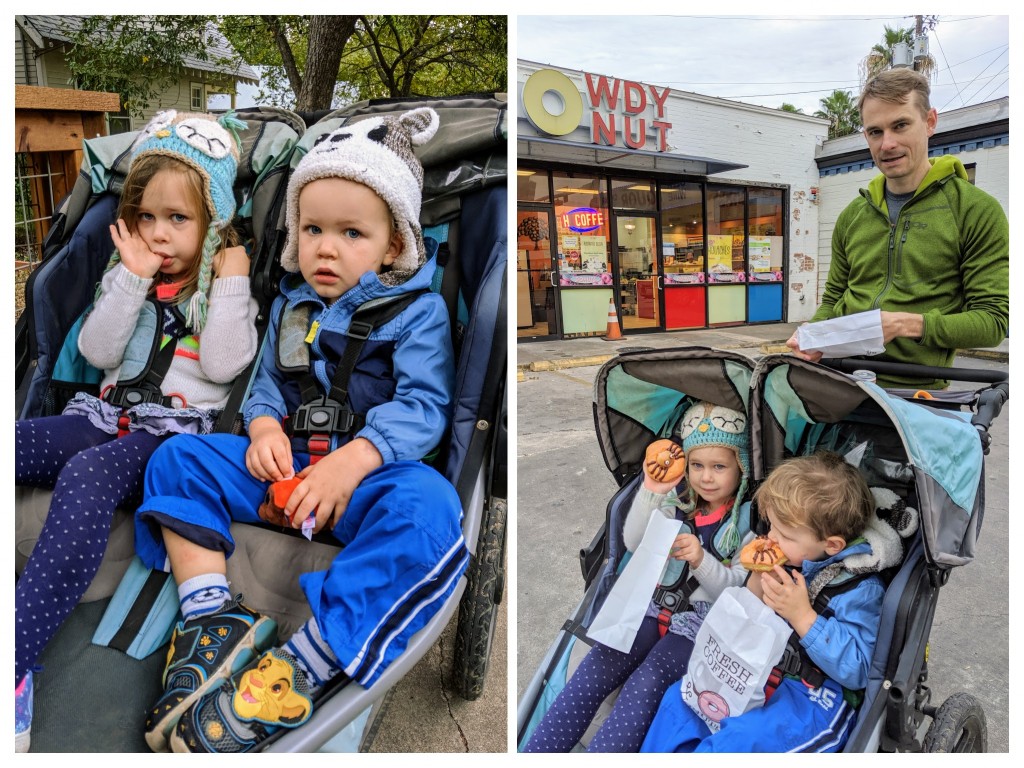 We buckle in, get hatted up, and head for the donut shop and then the trail, crossing the Congress bridge and then back south at Pfluger. You hop out of the stroller for a quick hello to the turtles, and we admire the latest progress on the big playground going up at Butler Park. We snag tacos for tradition despite bellies full of donut, and head home. You and Dad represent us at Central Market, and brave the carwash after a flock of birds uses our car for target practice.
Back at home, Annie hands you her bundle of big fall leaves, and you pretend it's a kite or a wand or a dog on a leash. We trim dead stalks off the front-yard yucca and decide to plant some of its seeds. This turns into an extended dirt-scooping session. Fun.
It's time to eat again, apparently, and you eat your small lunch and also Annie's (oranges and cheese). You make awesome lunchtime conversation, like, "Did you know: a dinosaur pooped a PLANET." I did not know. I promise to nap with you, so you go upstairs and to bed without protest…but do not sleep. We make a go of it for 45 minutes before I give up. You go downstairs and watch some highly-enriching Bubble Guppies with Annie.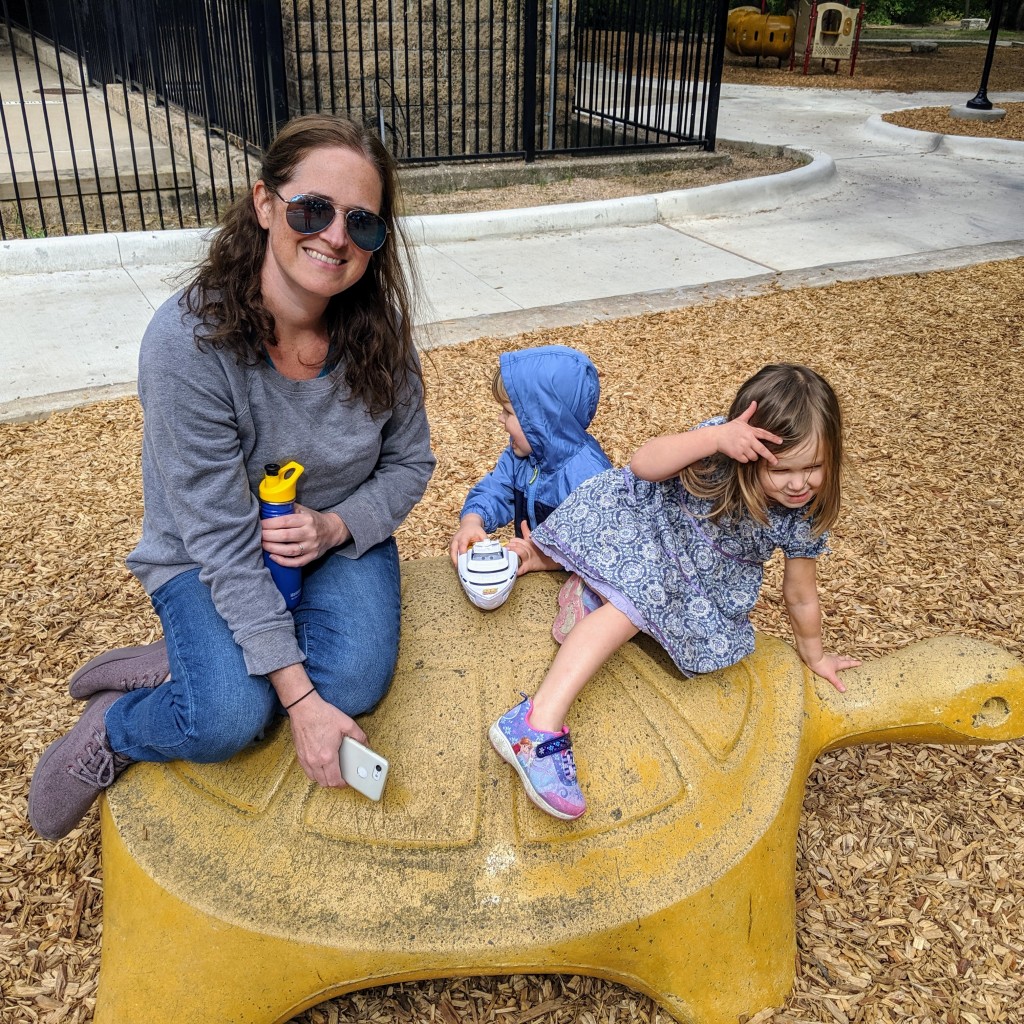 Our nearby playground has finally reopened, and we go. You swing and slide and climb and drink from the water fountain and make me pretend-hamburgers out of wood chips. We stroll home and have some crackers. Annie asks about pumpkin pie, and Dad tells her we can make some if she'll go to the grocery store. You reject special mom-time and run out to the car to join the trip to a bonkers HEB at prime shopping time. Brave.
Supplies obtained, you scoop sugar and help me and Annie mix the pie filling. Kalia and Riley come over, and you play—in the backyard in the pinon smoke and upstairs in your room, twirling in the dark at a dance party and making shadows on the wall.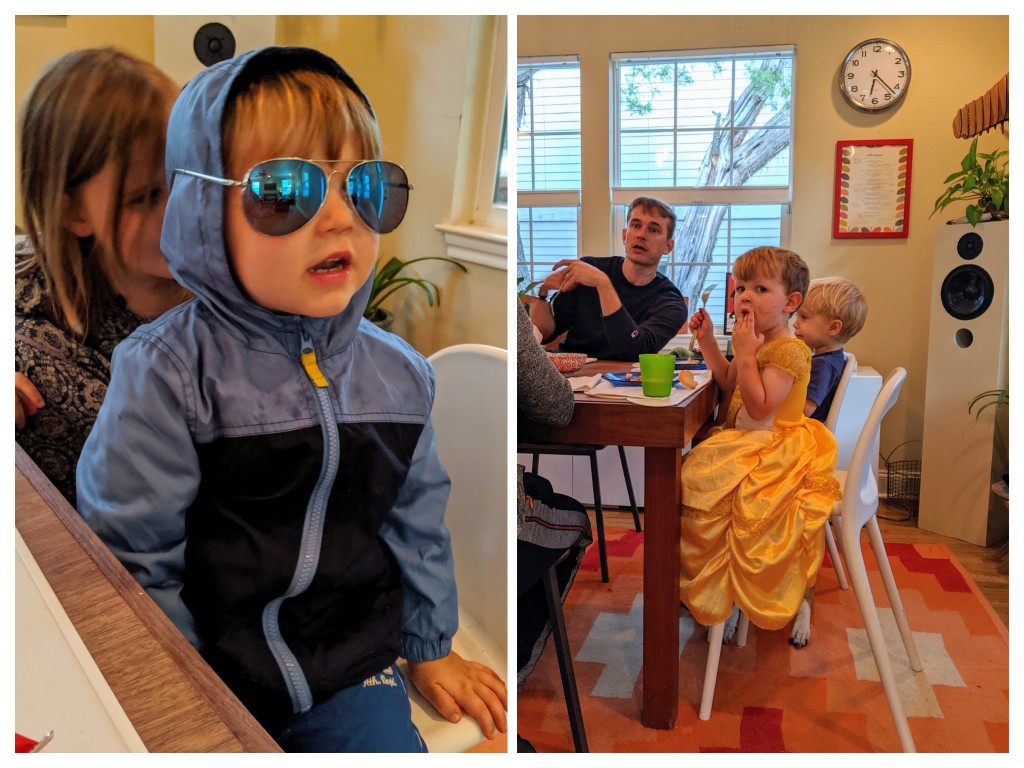 Salmon, bread, strawberries, and definitely no brussel sprouts for dinner, then a "pop-si-co" for dessert. You can say popsicle, but you and Annie are nicknaming everything these days. It's late and you are BEAT, so we hustle upstairs and through the bedtime routine. Dad tells the latest installment in his "Treasures of Smaug the Dragon" series (fifth treasure: sapphires). He intercepts you early on your first bed-escape trip, and you loud-cry for a few minutes before zonking out for a solid 12.