To Paul: this is how you spent the day you turned 1 year old.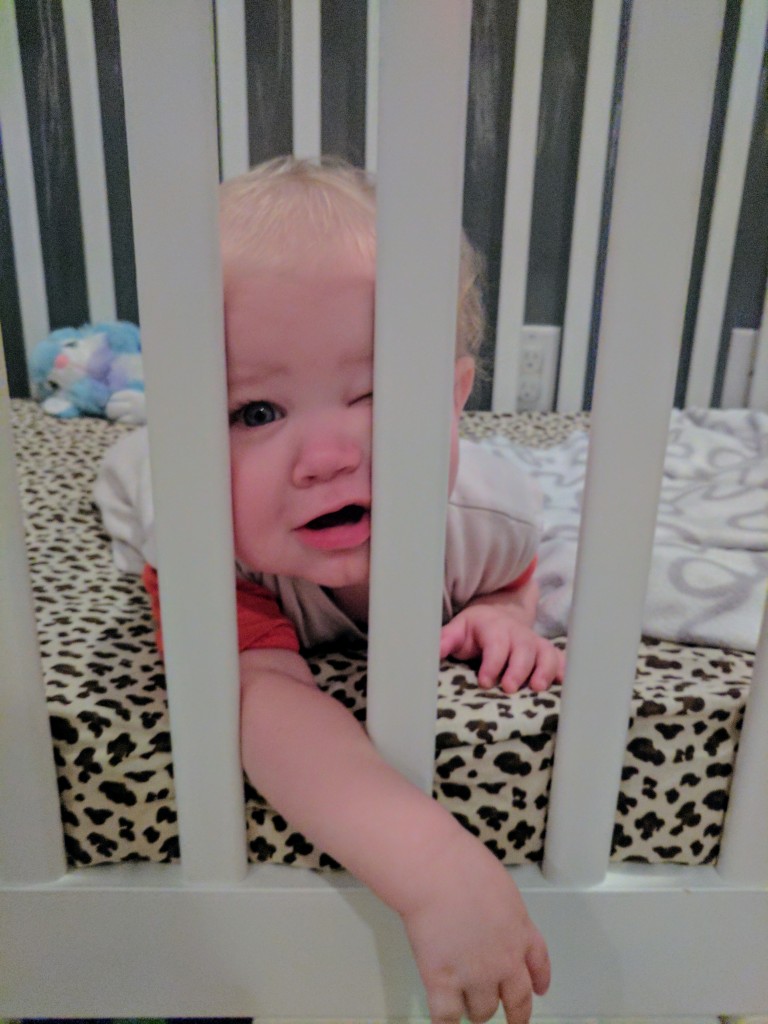 You sleep in, more or less, until 7:30, and then hoot that you are ready for pick-up. Normally we give you a bottle immediately, but you are one now, and we are DONE WITH BOTTLES. So I plop you in Annie's crib, where she tickles you to distract you from your hunger while I remove your sleep sacks, then change your diapers. Dad scoops you up, and we head downstairs for breakfast.
You devour your strawberries and cheese, then play with your tortilla with peanut butter and cup of milk. We open a birthday present from Aunt Peanut and Uncle Dan: it's balls. You love them. "Ba! Ba! Ba!" you say, and squeal with delight when I toss one your way.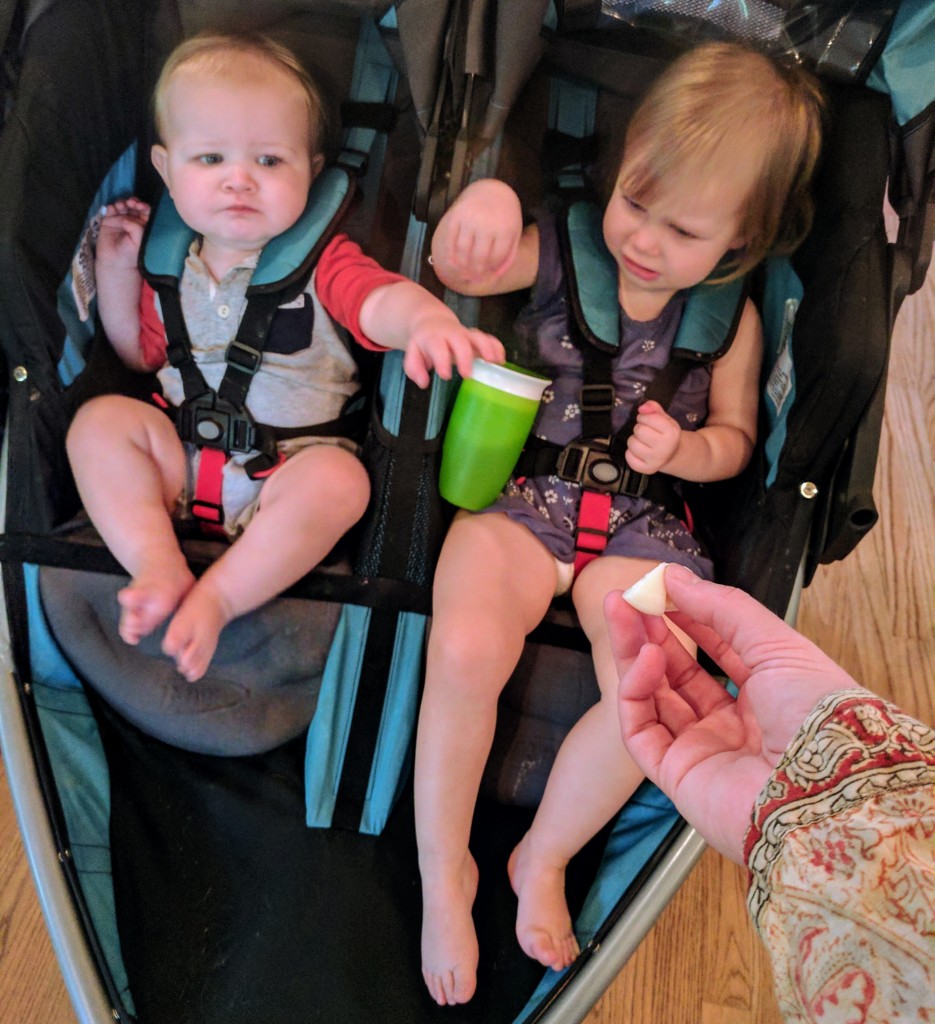 We roll out the stroller, and you toddle to it and request a buckle. Dad gears up and takes you out for a morning jog. You and Annie and Sous and Dad all trot down to the river and do a loop on the trail with Kalia and the Crowder kids. So many strollers.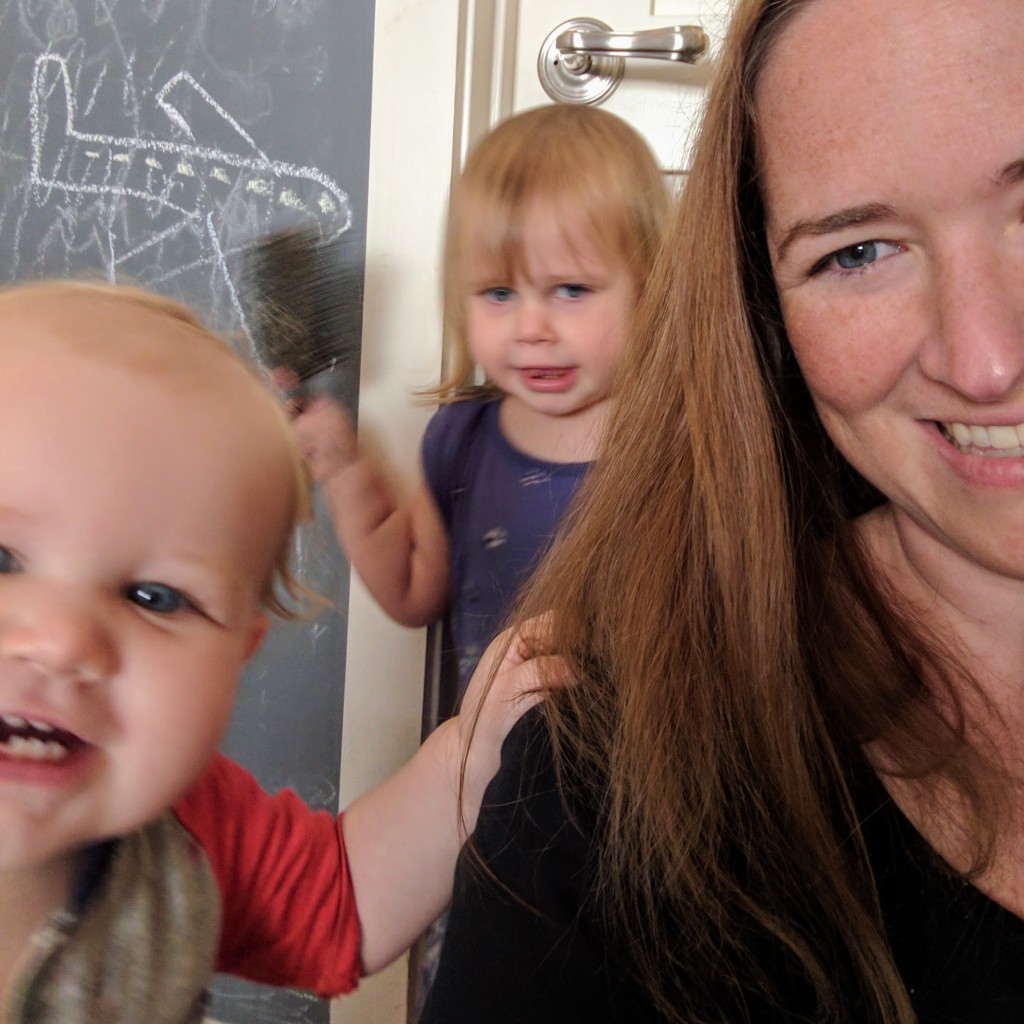 Back at home, you play with Annie and I in your room while Dad takes a shower. Sous starts barking up a storm, so we make our laborious way downstairs to meet the grocery delivery.
You walk around the house and have a merry time playing catch. When Annie and I take off for a baby shower, you and Dad head back upstairs for a long game of legos. You push buttons on the talking-puppy toy and boogy along to his songs. At noon, Dad zips you into your sleep sack for a nap.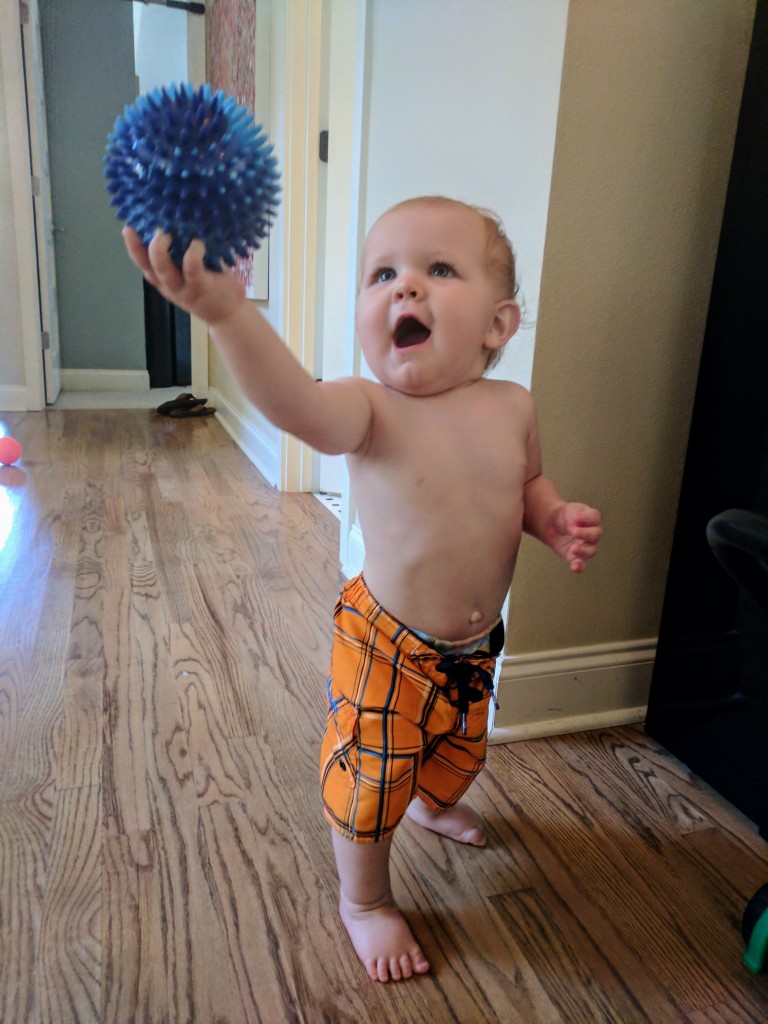 Around 2:30, you're ready for action again. You start with a snack of leftover frittata, grated cheese, and milk. Our friends Emily (mom) and Luisa (kid) come over, and you throw balls with the girls while we assemble all our gear and prep for a trip to the pool.
You have the absolute time of your life at the wading pool. It's the first time you've been to this pool since you started to walk, and you delight in trying out this new skill in the water. Unfortunately, you are not calibrated for underwater walking, and your top half tends to outpace your bottom half. So after 3-4 steps, you pitch forward into the water and end up completely submerged until we fish you out, coughing and laughing. You find it hilarious. I almost have a stroke. This happens 15 times, or more.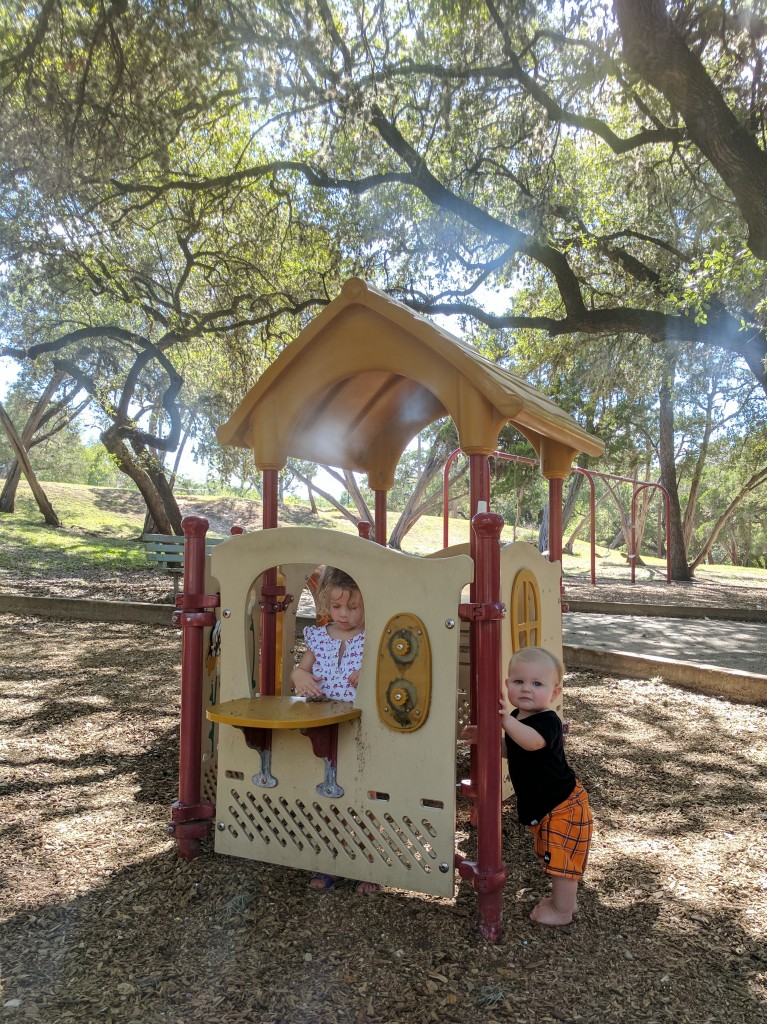 The lifeguard orders us all out of the pool due to low chlorine levels, so we bounce to the playground. You sit in Dad's lap and swing for a long time, then romp barefoot around the playground with Annie and Luisa. (We are not in the habit of shoeing you yet.)
You poop, and we lack new diapers, and also it's 100 degrees, so we head home. You toddle around like mad; at one point we find you industriously scooping water out of Sous's bowl with a cup and dumping it on the floor. At 5:30 or so, I sit you down to bean and cheese tacos and banana. Annie sings you happy birthday, sort of, rehearsing for your party tomorrow.
We all get in the shower to wash off the pool water and a layer of bean cement from your face. Then it's into clean diapers, and we half-watch Finding Nemo while you fling yourself around the bed and lure us into general roughhousing.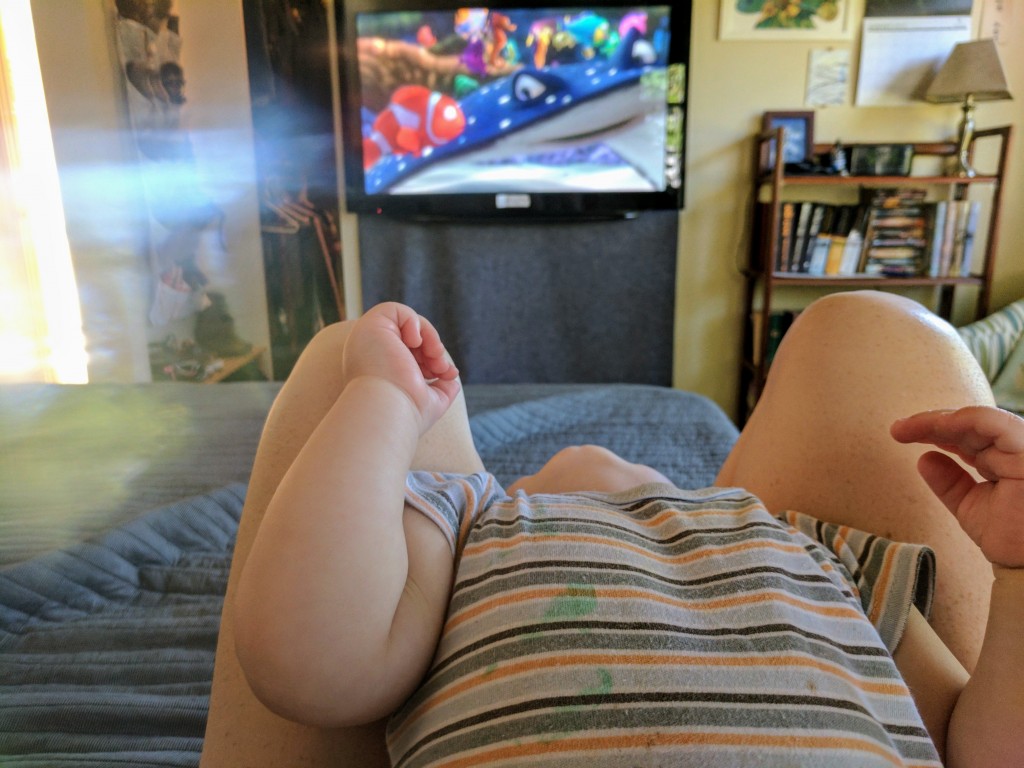 By 7:20, you're pretty sleepy, sucking your thumb and holding still for a blessed minute. We move into the bedroom, and Annie reads us Dog Goes to Nursery School. We sing the goodnight song, and Dad bundles you into your crib. Good night, Paul. Happy Birthday.