To Annie: this is how you spent the day you turned 5 years and 5 months old.
You sleep in; it's 7:30 before we see you, and you pretend to be asleep through the whole dressing routine. It's a shocking 57 degrees outside on this early September morning, so we opt for pants under your dress. You also insist on mittens. You are excited for banana bread for breakfast, and I carry your "sleeping" body downstairs.
You're still chewing your sticky pieces as Dad and Paul are leaving for their bike ride, and I hustle you to the kitchen to sign into your third day of distance-Kindergarten. It is not going well. Dad and I—no technology slouches—spent 30 minutes before you woke up wrestling with multiple log-ins. Your classmates do not know how to mute themselves. Your teacher is very sweet and working very hard, and running into broken links and fumbled audio at all times. You are still in your shy phase, and prefer to sink down out of sight of the camera while the other children wave and smile. Today everyone is introducing stuffed animals to the class. You decline. "Mom, I don't want to do this." You mean all of it.
We soldier on until the 8:20 dance break, and I drive you and Paul to school. Well, first you engage in a lengthy negotiation about who will carry the vitamins to the car. Talks break down. You end up working together to unscrew the lid, and each carry your own vitamin. Oh my god, children. I'm counting the minutes and calculating whether I'll still have time for a jog in the chilly air before my work day begins.
As we back out of the driveway, you declare you are not going to school, you are going to stay at home forever. We all agree to accept this as a joke. On the way we discuss how "goo goo gah gah" is not really something baby's say; it's like "woof"—a word for a sound that's sort of like what a dog says. I miss the opportunity to teach you the word 'onomatopoeia.' Soon. At school, you giggle and wave through the car window at Ms. Patricia, then go in cooperatively. Thank heaven.
At Colibri I think you've been working with the place value blocks because, well, your teachers told us so, and later this night you'll ask me if ten tens make a million. You seem disappointed in yourself for getting it wrong. It's not raining for the first time in a few days, so you get your usual outdoor playtime, and instead of taking a nap, you spend two hours on your school tablet. Hopefully you spend at least some of that time in class!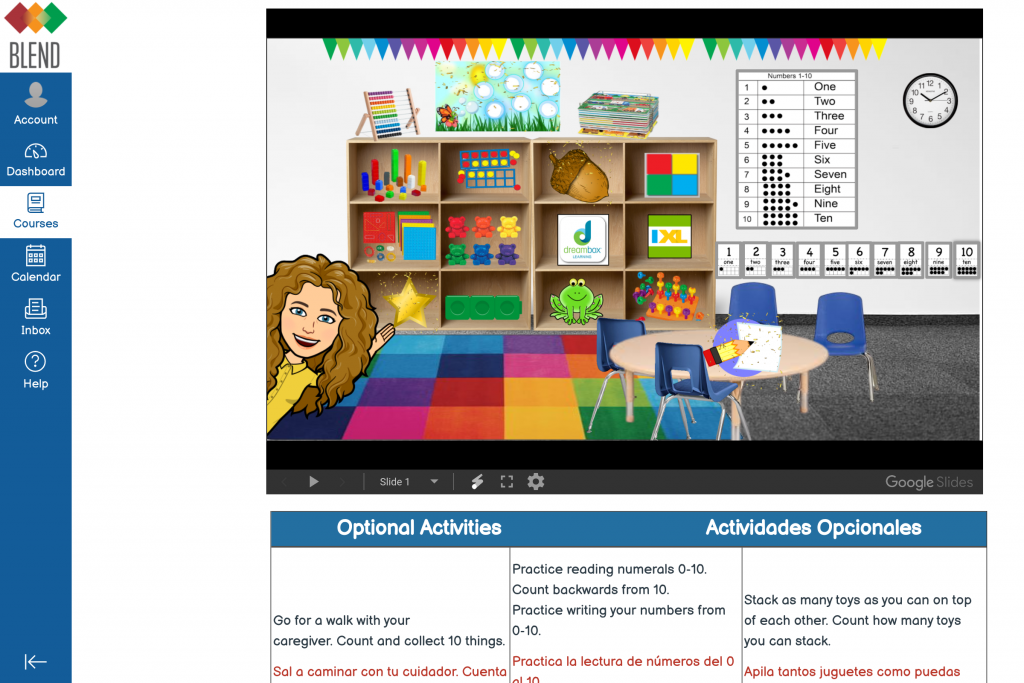 Dad picks you up at 5, and you and Paul chase each other around the house for 30 minutes, mostly cheerfully. I get home with takeout at 5:30, in time to hear you announce from upstairs, "This is the funnest game in the world!!" Spirits are high. You both eat five cherry tomatoes off your dinner plates, drink a glass of milk, headbutt each other, and start running races around the kitchen. Oh, and yelling. Dad and I tell you if you'll put on your pajamas and brush your teeth, you can watch two episodes of something from PBS Kids. You eagerly accept this deal.
Five minutes later, you've gotten ready for bed and tucked yourselves into ours. You sample an episode of Let's Go Luna and then revisit an old-favorite Nature Cat. We should really donate a lot more money to PBS.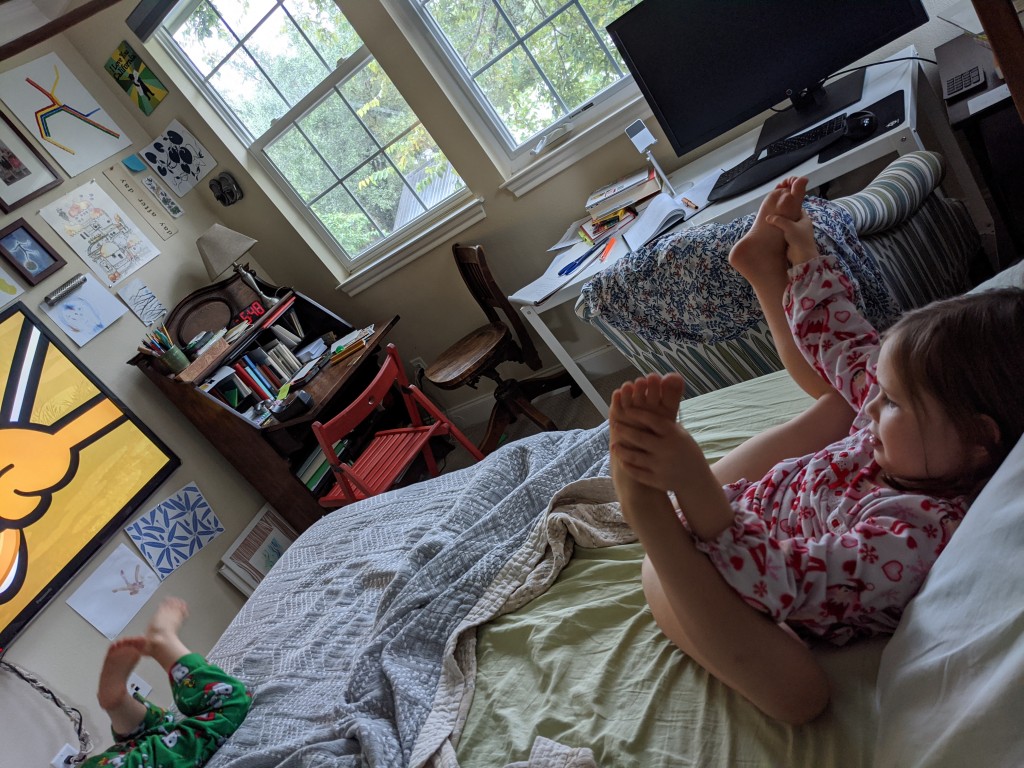 We go to the bedroom. Dad reads you a picture book that's basically a big math problem about setting tables for a dinner party, and then you get in bed for our final story. We finished The BFG last night and are starting Charlotte's Web. These books are perfect for you. We read the first two chapters, and Paul fusses about something. You tell me you're going to come make him feel better. "I really need you both to be in your beds," I say. "Mom, do you want him to stop crying? Then I need to come over." I find this hard to argue with, and acquiesce. You kiss him and roll your back over his whole body. As promised, he is cheered. Okay, now to bed. You say the thing about ten tens making a million. Paul complains about everyone interrupting him. One of you asks me to pronounce the whole alphabet. "Aah-buc-duh-efgheej-klemnop-qrstuv-wxxxeezzzz," I say, and I close the door.