To Annie: this is how you spent the day you turned 4 years and 10 months old.
You and Paul are up and playing diligently at five till seven. Dad knocks on your door at 7:10 and, through the door, reminds you to work in some morning-list items while you're at it.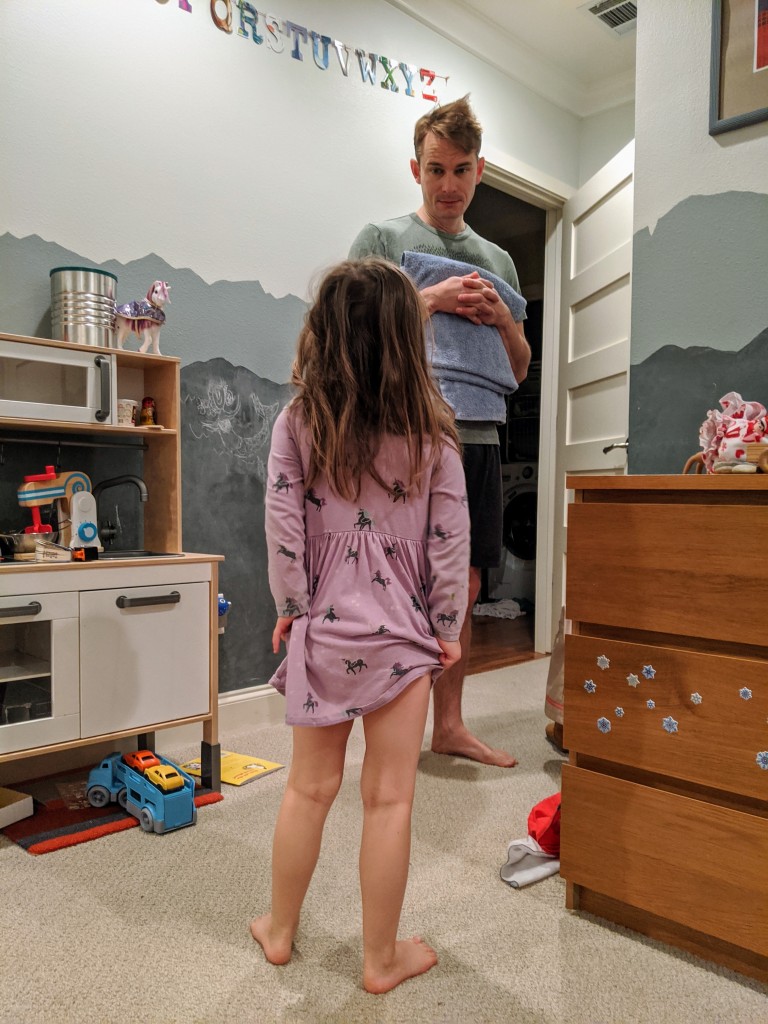 You chirp back, "We went potty and washed hands!" We take you at your word. After a few more minutes, we insert ourselves to achieve the bare minimum to get downstairs, to our usual healthy breakfast of hot buttered toast, pancakes, and dried mango. No meal is complete these days without listening to the 1950s narration of The Pokey Little Puppy, so of course we do that.
Dad drives you to school, and you read road signs on the way. There, you race in without a backward glance.
Principal Paula visits your class to read a book. "Yes," you later confirm. "Dmitri. It's about, um, peace. No, friendship. But it gets a little wild in the middle," you add with a chuckle.
At lunch, chili burns your mouth, but you persevere. You like the way they serve broccoli. Your whole class makes leopard masks, headbands, and tails, which you model for us later.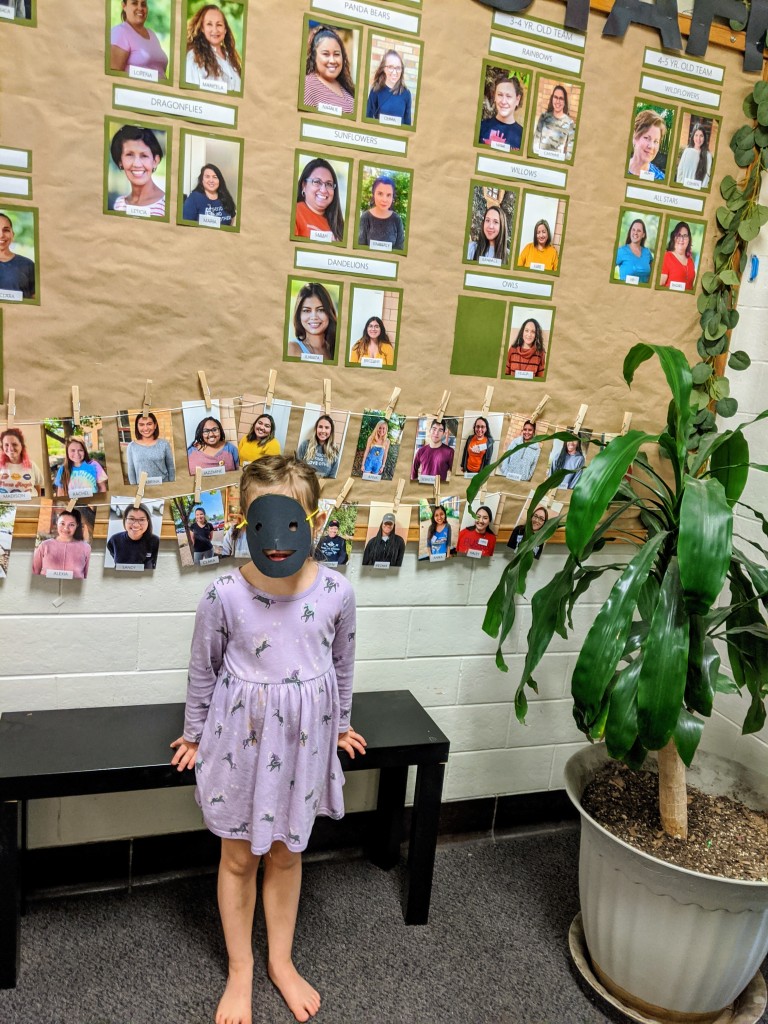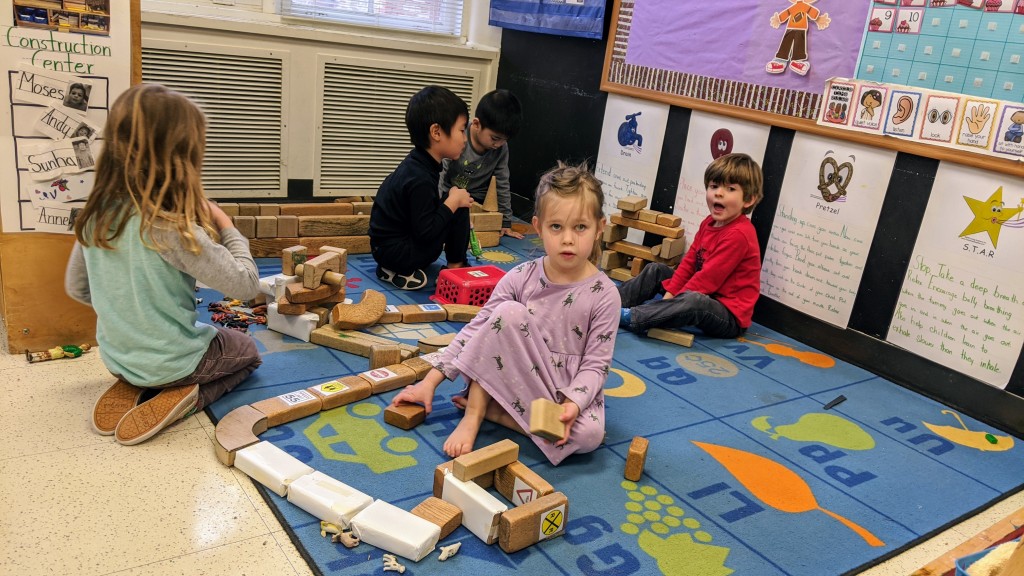 I arrive at four, and you're in block center as usual, telling me you didn't even get to play for 20 minutes!! I offer to get Paul first, and you accept. When we come in, you wrap up your imagined story and grab items from your art cubby. You race down the hall barefooted, and out into the 50-degree drizzle.
In the car you ask for a story "about the hyenas and giraffes and wolves—" "And lions!" Paul adds. "Yeah, lions!" you agree. "And dogs and leopards and black panthers—" "And turtles and dinosaurs!" And, and, and… And so I am inspired to tell you the story of Noah's Ark. You are into it. 40 days and 40 nights, all the animals, two by two, and the dove with a spring of leaves in its beak. We gloss over everyone else's death by drowning.
We arrive at home to find Aunt Camei! Hello! You are shy for 15 seconds and then inviting her up to see your new bookshelves, and to lifeguard you and Paul jumping off your beds. Then she MUST hear The Shy Little Kitten, and then you ask her to put on "Old Town Road" once, and again, and again, and then it's blasting on repeat in the TV room while you sing and dance, and Paul is swinging pillows at you until you yell in protest, and it's the best and worst moment in your whole life.
Dinner is pan pizza (YUM), which you nibble at. Then we're back upstairs, looking for clues to the whereabouts of Holly Shiftwell. We track her through the bedrooms, quite the pair of sleuths. Paul tags in as playmate, and you're off and running. We close the evening with a relaxing game of car wash, wherein Dad gets in table pose on his hands and knees, you crawl under him, and he lowers his belly onto you and shakes you back and forth. Just the thing to settle you down for bedtime.
We coax you through tooth-brushing and into storytime. Your pick is a scratch-and-sniff book based on a Nickelodeon show we've never watched. I make a silent vow to hide it in the Goodwill pile when you're not paying attention. I ask what kind of story you want, and you and Paul decide to take turns telling your own. No objections from me! I tuck Paul in while you close us out with an elaborate tale of a magical, multi-generational leopard family. "Their ancestors were STILL ALIVE, even from ROMAN TIMES! …Mom, do I have ancestors?"
I say goodnight. You emerge for a band-aid. Paul comes out needing to pee. Dad checks the monitor and notices he's in your bed, and intervenes. Paul needs pants, and a hug, and one more drink of water. You're thirsty, too. Okay, guys. Goodnight.