To Annie: this is how you spent the day you turned 7 years and 7 months old.
You've adjusted to the time change and sleep until a healthy 6:30. I come visit you and Paul, both snuggled in your bed, as you're blinking awake. You're in a bit of a silly mood and forgo breakfast in favor of thrashing around in the living room armchair, eventually consenting to a hair brush. We pack your flamingo sun hat for school: you are practicing in music today for a performance next week, and hats are involved.
You protest your lack of breakfast when it's time to leave—sorry, sweetie, you chose to wallow in a chair instead of eat. I cut you a hunk of bread to gnaw on en route, and you're all smiles. You ask me to hold your bread hunk while you show off your skills at putting your own hair into a ponytail. Impressive! Neighbors walking their dogs smile at you and Paul, your heads together and whispering, as we near the school. I get a quick side-hug at the front door, and you disappear into the school.
Dad picks you up at the end of the day and walks you home. I have a PTA Board meeting so head to school separately. You tell me later than your friend Elke wanted the two of you to come to the meeting so you could play on the sidelines. Instead, you make giant paper airplanes out of our 4x-sized construction paper at home, and spend a long time on the swings at the playground. You run in the backdoor at 5:30 and give me an enthusiastic hug.
Paul brought home his math book from school, which inspires a hunt for your own 1st grade textbook. It can't be found, but you do unearth a stack of your old work and a sticker book, which you spread around the dining table for a few minutes of entertainment. We eat at the other end.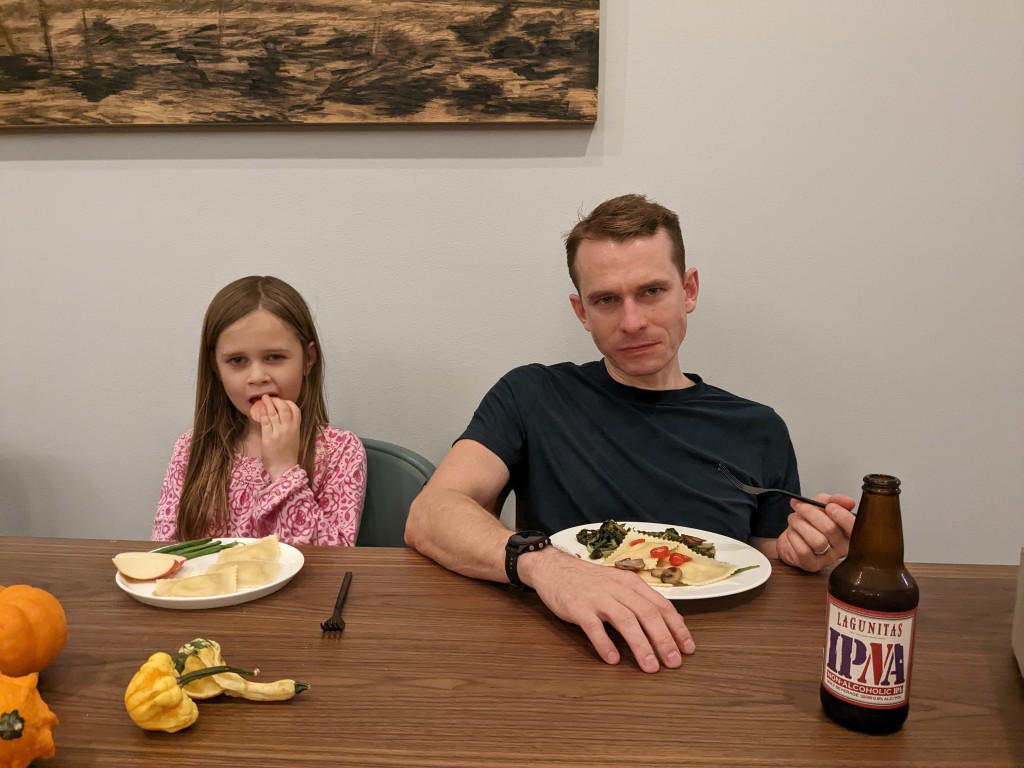 We decide to spend some time after dinner in our various learning pursuits. You take Dad's guitar to the couch and spend 10 minutes plucking strings, then do a singing lesson. You comandeer my phone, which has the language app, and work on some beginning German. "Das Mädchen trinkt," I hear in your tiny voice.
During bath time, you direct and perform synchonizing farting with Paul, letting captured air escape from cups under your legs and cackling at your wicked cleverness.
You decide to try on your new jeans after bath, which you want to like, but don't quite yet. "Mom, if I start complaining, will you try to help me feel better?" Innoculated with this self-awareness, you keep your cool and decide very rationally on more comfortable pants for bed.