To Paul: this is how you spent the day you turned 13 months old.
You sleep until 7:38. After living through your 3rd-6th month, we are still pinching ourselves that you sleep so well and late, especially since we've ratcheted your bedtime back to 7. But sleep you do, giving us time to prepare a magnificent breakfast of banana—your absolute favorite in the whole wide world—wheat bread, and milk. I crack open the door of your room and rub your back while Annie informs us she wants to stay asleep. I lift you up, give you a hug, and hand you over to Dad for a fresh diaper and a new outfit. Then it's downstairs for that meal.
You tuck in cheerfully and entertain us blowing raspberries. As usual, you show Sous the food in your hand and she uses up her morning's allotment of willpower not taking it. When you finish, we wipe down your sticky hands with a wet paper towel, pinch the worst bits of banana mush off your clothes—you continue to yank off any bib we try to put on you—and head to the car. Dad buckles you in and says goodbye, and we're off to school by 8.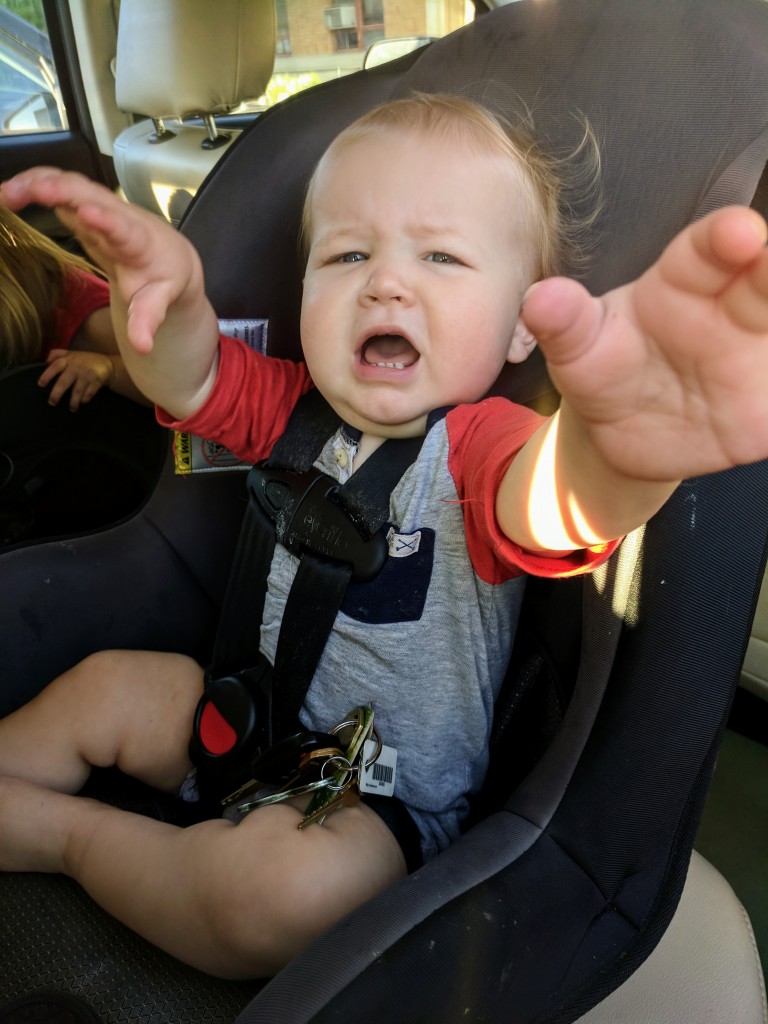 On the drive, you say things like "Doh??" and Annie and I interpret this as "dog," and we woof. You say "Dis??" and "SSSSSSSS," so I hiss back. Annie says, "No, he don't wanna say SSSSS." "What does he want to say?" "He wanna say MOOOO." So we moo (you do too).
You and Annie keep chattering. She points out busses to you, and you laugh. We sing The Ants Go Marching. We arrive at school.
At the door to the Bumblebees, I hand you over to Ms. Susan, the former assistant teacher who is back today to substitute. You maintain equanimity and enjoy a morning snack of applesauce and Cheerios, then poop. You lunch on quiche and oranges, probably not in that order, and nap from 12-1:45. You tromp up to your teachers and present them with books to read, but only stick around for a couple of pages. Your favorite involves dogs and flowers.
You snack again (cheese crackers) and poop again. This is the life. Dad picks you up at 5. You listen to music and sing songs all the way home, where you find me cooking. I pick up Annie for a hug as she runs in, and you lean toward me, so I end up with one of you on each hip.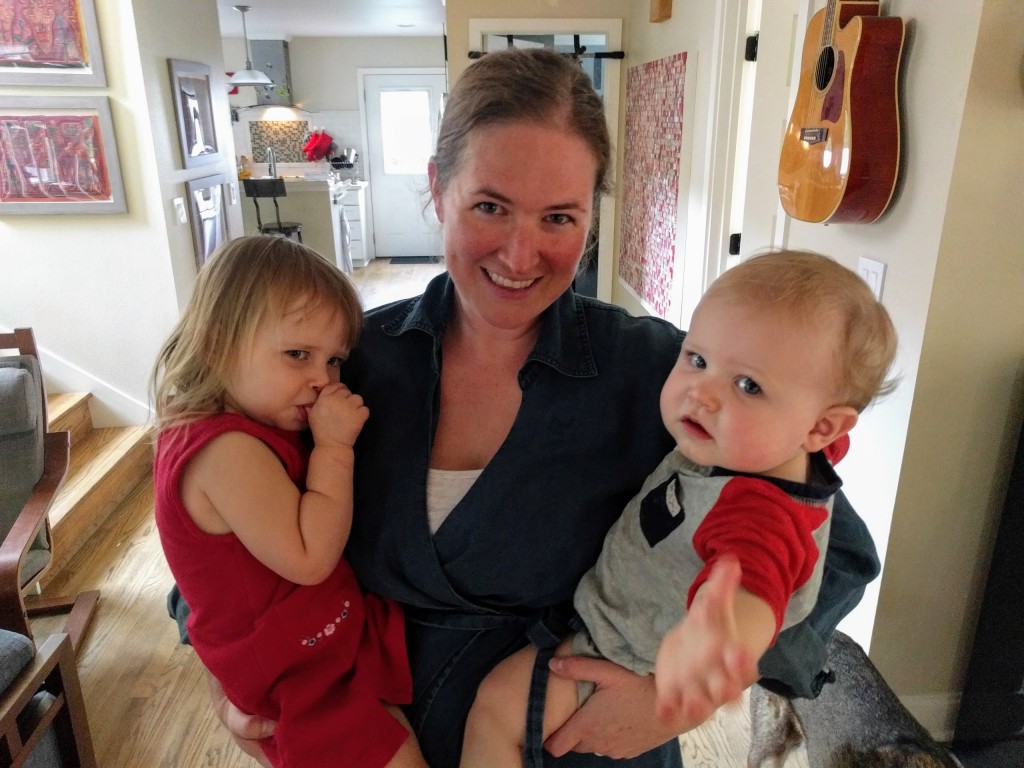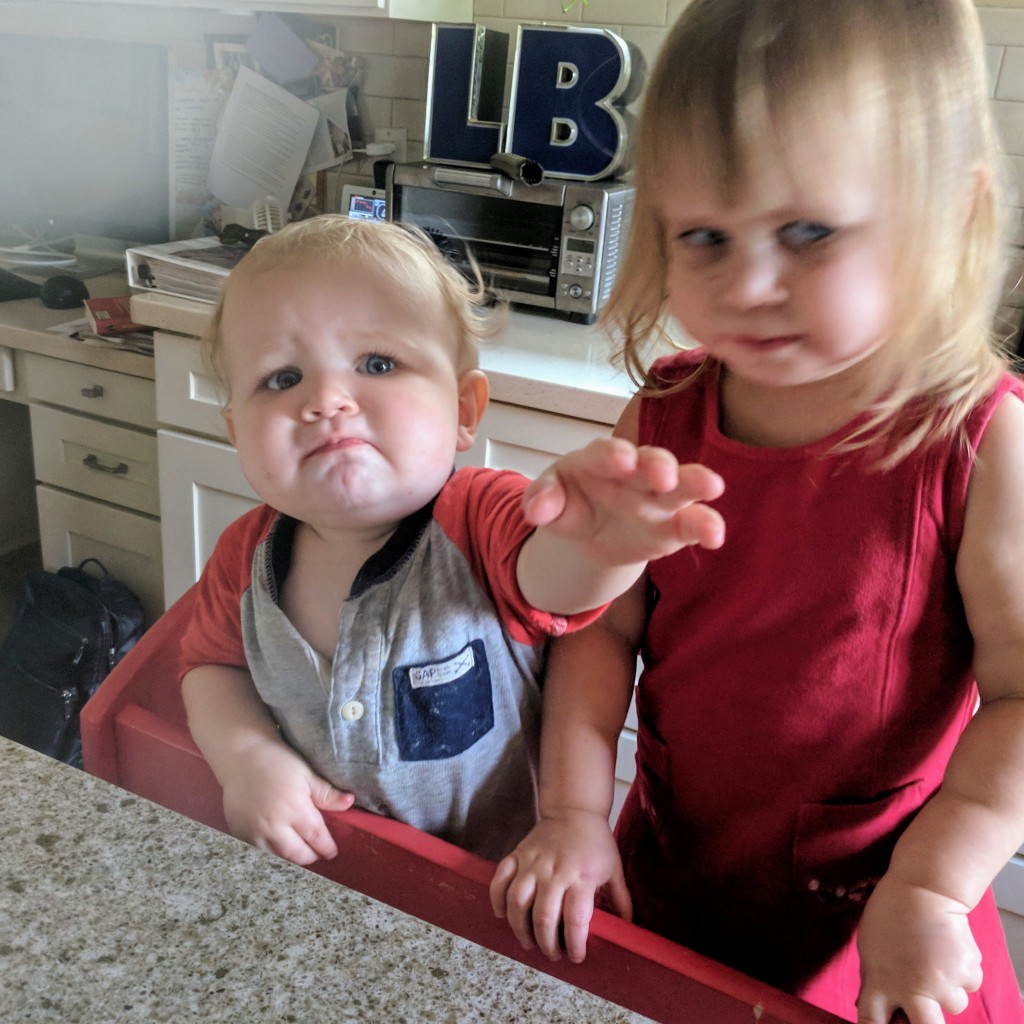 Back in the kitchen, I placate you with strawberries and peaches while I finish cooking, and we sit down to perfect, toddler-sized hamburgers, kale, and cherry tomatoes. You eat all the tomatoes and about two bites of beef and bun. Here you are at the table, pretending to say hello into a phone, then dancing to Annie's nonsense song:
After the meal, I gingerly remove your tomato-and-milk-soaked onesie, and you stomp around the house in your diaper. You climb into your chair, spike your milk cup on the ground, pat Sous, throw me a ball, and generally conduct important baby business. When Dad finishes cleaning up the kitchen, he reads you the book about dinosaur pirates. It has buttons that make noises. You reward him by placing a sticker on his chest, like a merit badge.
At about 6:30, we head upstairs for a bath. You get a bit screamy going in but enjoy it once you're there. You like drinking bathwater out of all the cup toys, and banging them on the tub.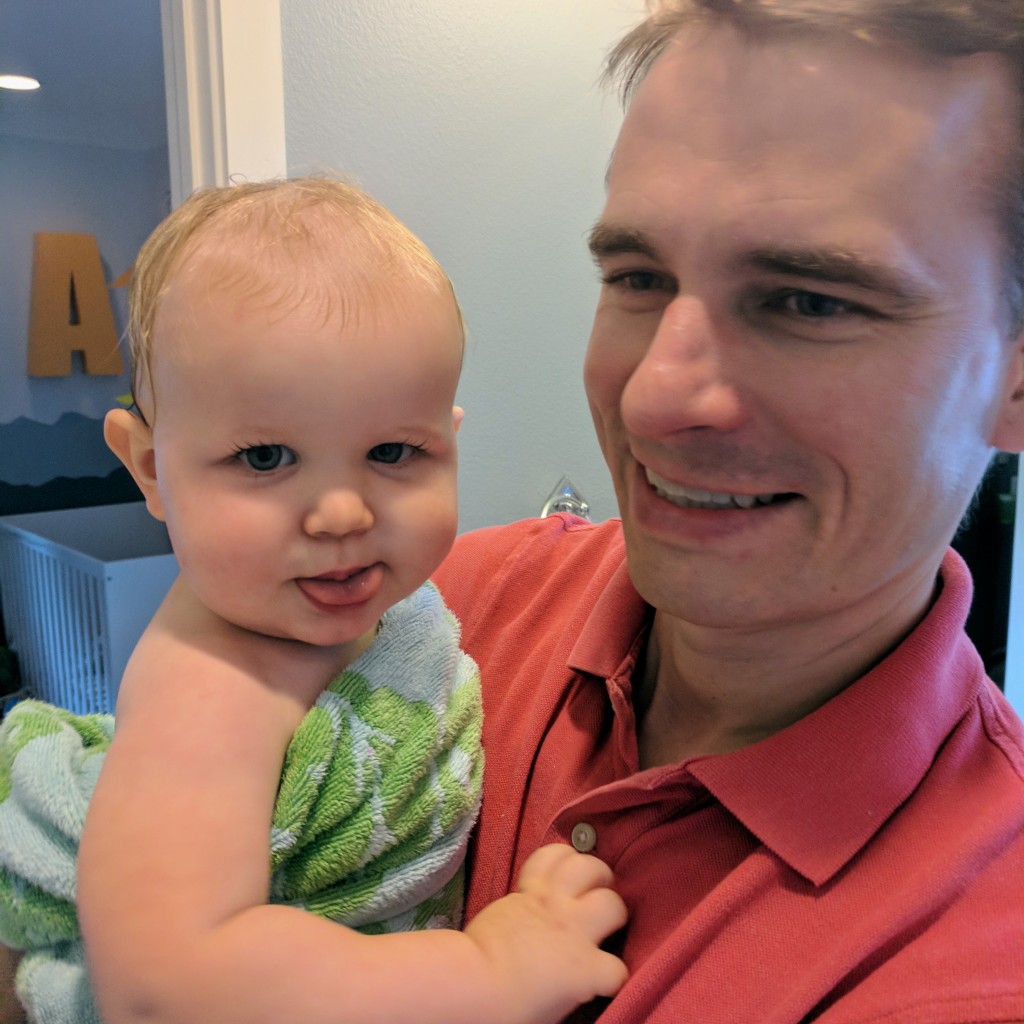 Dad scoops you up into a towel and gets you pajama-ed. You motor around the bedroom, delivering him books to read, saying bye-bye and closing them, trying to mount Rabumpus and falling off in spectacular ways. At 7, you are dragging around your sleep sack, which in Paul means, "I'm ready for bed." We start the lullaby. Dad zips up your sleep sack and tells you he loves you, and we turn off the lights.