To Annie: this is how you spent the day you turned 8 years and 5 months old.
Riley slept over last night. At 5:58, someone sneezes, and you're all up. You seek refuge from the boys in the living room with me, and accept my invitation to read with me in the big chair. You've brought the 8th book in the Wings of Fire series. I think it's the first chapter book you have read voluntarily and with pleasure. Even the escapades of Peril the SkyWing can't conquer the wiggles, though, and you slide yourself off the chair in several creative ways before requesting pancakes for breakfast.
You dip in and out of the boys' play, joining their soccer match but resigning over disagreements with the ref (Paul). He widened the goal posts due to your impenetrable goalkeeping. Tears followed on all sides.
Finding an old kit from the hardware store, you propose a project to me: building a birdhouse. Sounds fun! We make it on the porch—you do almost all the work.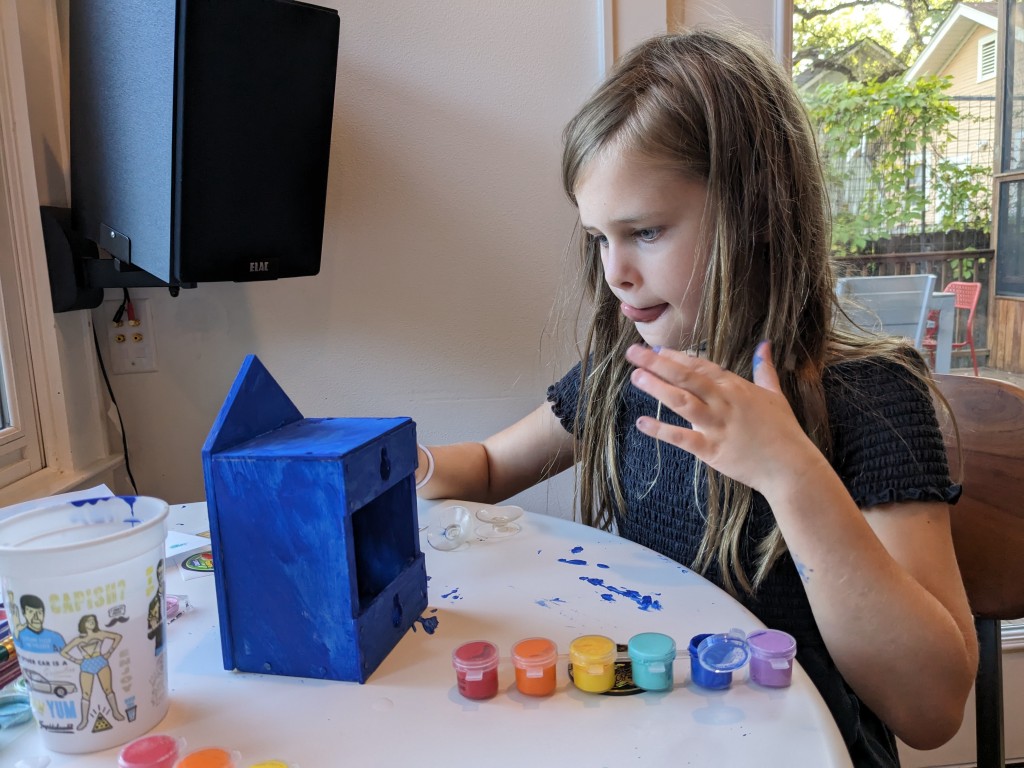 I leave for the grocery store while you embark on a next project involving the big truck and a crew of lovies. When I return, you've mounted your birdhouse on the balcony. We hang out there for a while, drinking cans of sparkling water and waiting for a bird to move in.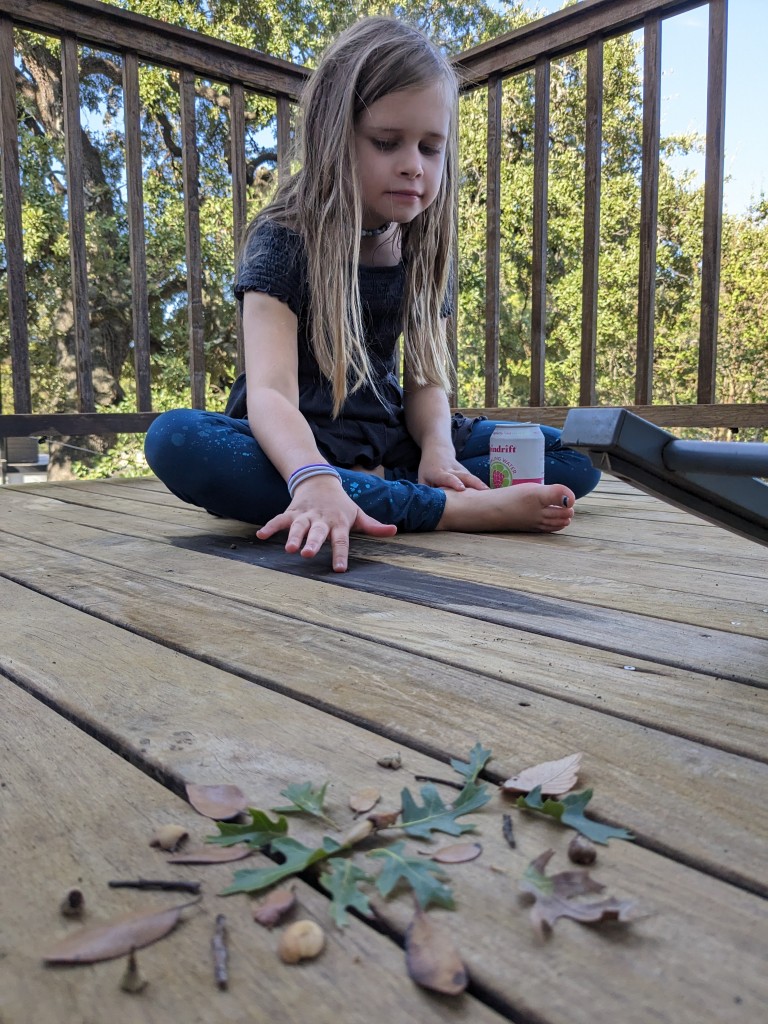 Doug arrives for Riley, but we chat for too long, and they find a really effective hiding place. We adults are about to venture outside, our voices getting increasingly loud and stern. You diffuse the situation by locating the boys using your kid brain. They've filed themselves on the shelves of the guest room closet and are ENORMOUSLY proud of fooling us. Doug and Riley depart.
You settle in happily with your Harry Potter audio book (back to #2 I believe), in a little fort made of the piano bench + your lovey truck. It's a pretty chill afternoon. You're happy to putter around, reading, listening, engaging in small projects. You plan a class schedule for us on the big chalkboard, requesting sign-ups for various subjects and informing us of their timing.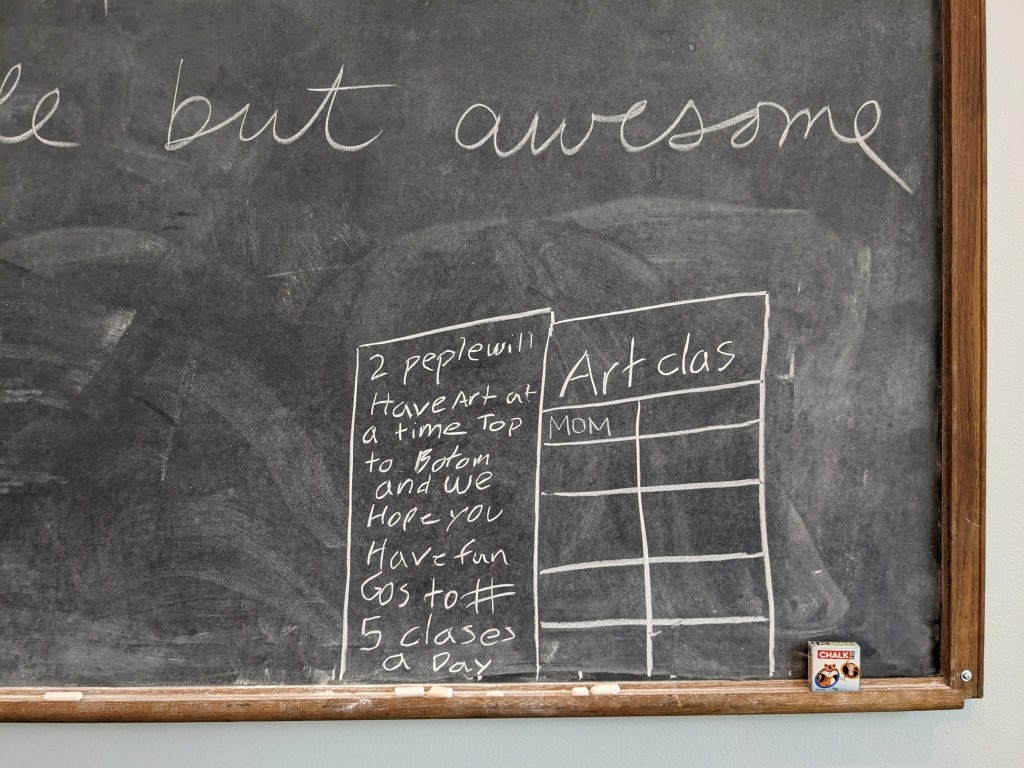 I brush your hair and inspect it for lice—a letter has gone home from your class, so we are deeply paranoid. Happily, you're free and clear. We eat nachos for dinner. I've attempted to melt the cheese into an approximation of the ballpark-style velveeta you love at school. It's a goopy mess, but you appreciate my effort. You take a shower and request I take a picture to document your outstanding shampooing.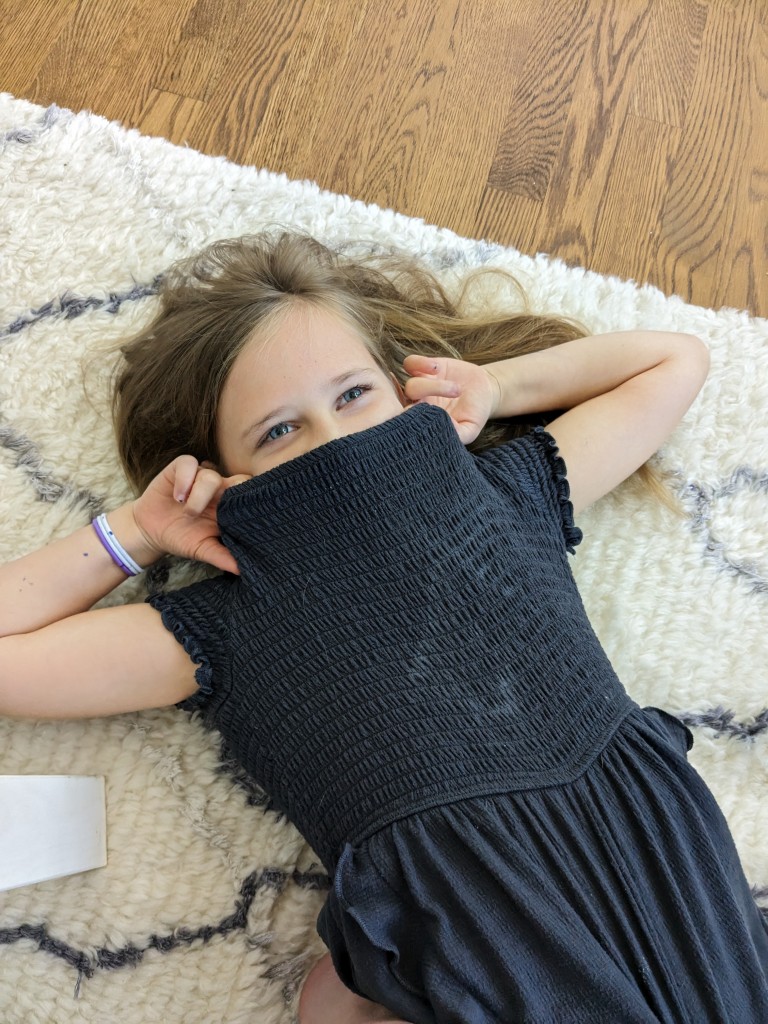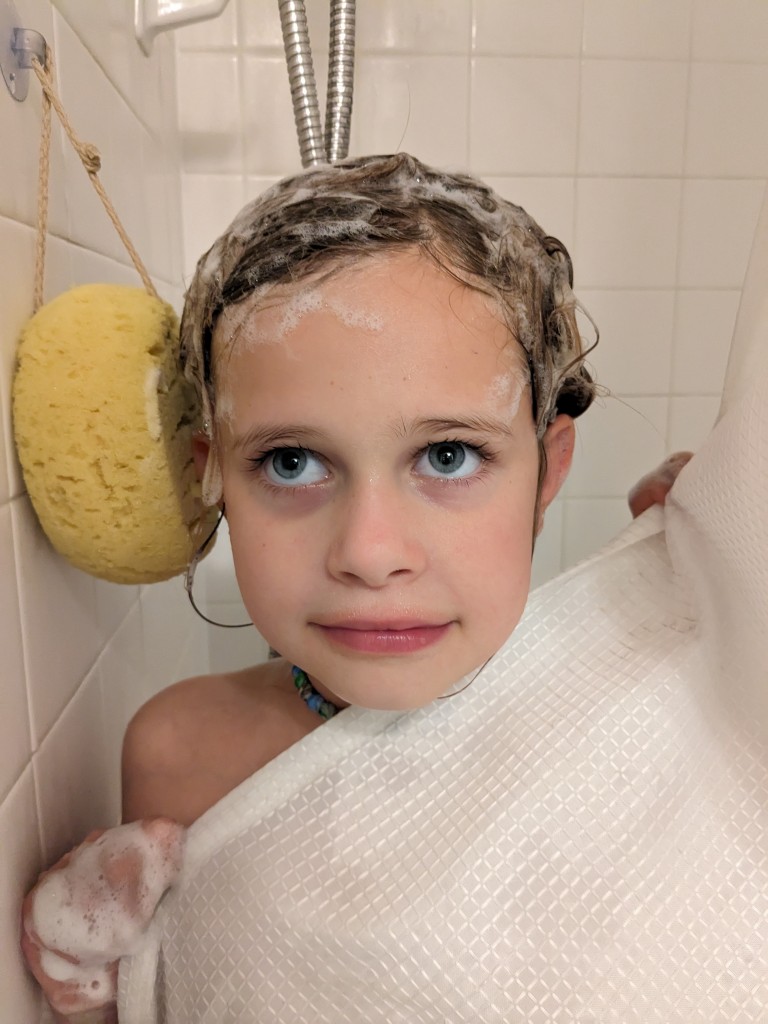 All in all, a great day with you, baby.