To Paul: this is how you spent the day you turned 6 years and 10 months old.
I meet you on the kitchen floor; you're contemplating breakfast choices and hugging my legs. "Mommy is the best mommy," you say in your niblet voice, caressing my calf stubble. I fast-forward you in my imagination so often to 11 or 12; I'm delighted to find you actually still so small.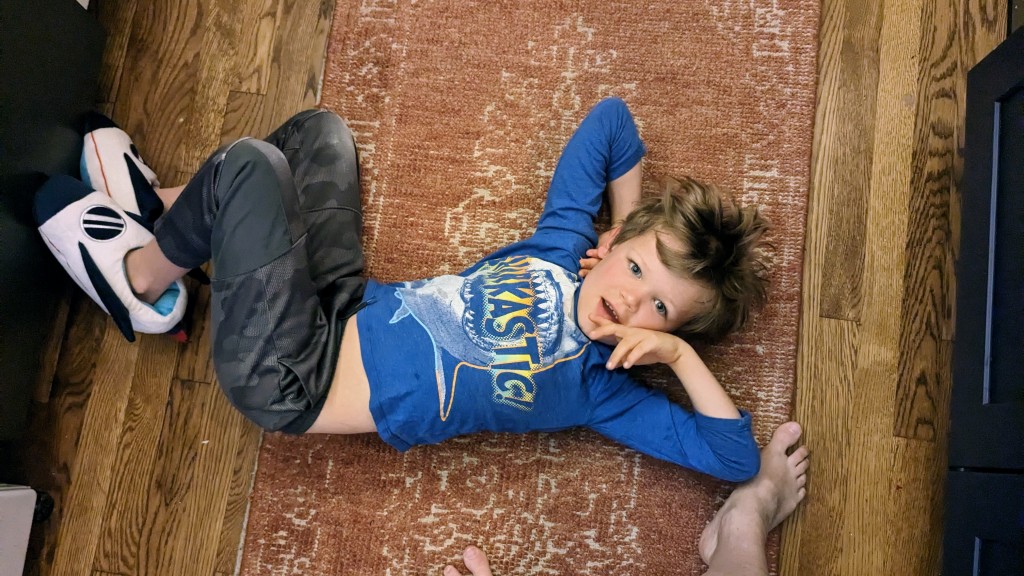 After some mango and miniwaffles, it's off to work. You and Annie have recently acquired two basic laptops, bedecked them with stickers, and learned how to use the printer. This is partially terrifying. You are, however, creating pretty delightful multimedia story collections, such as the epic battle of apple vs. grape. You ask Dad and I comprehension questions and allow us to hone our prediction skills with inquires about the probability each combatant will win.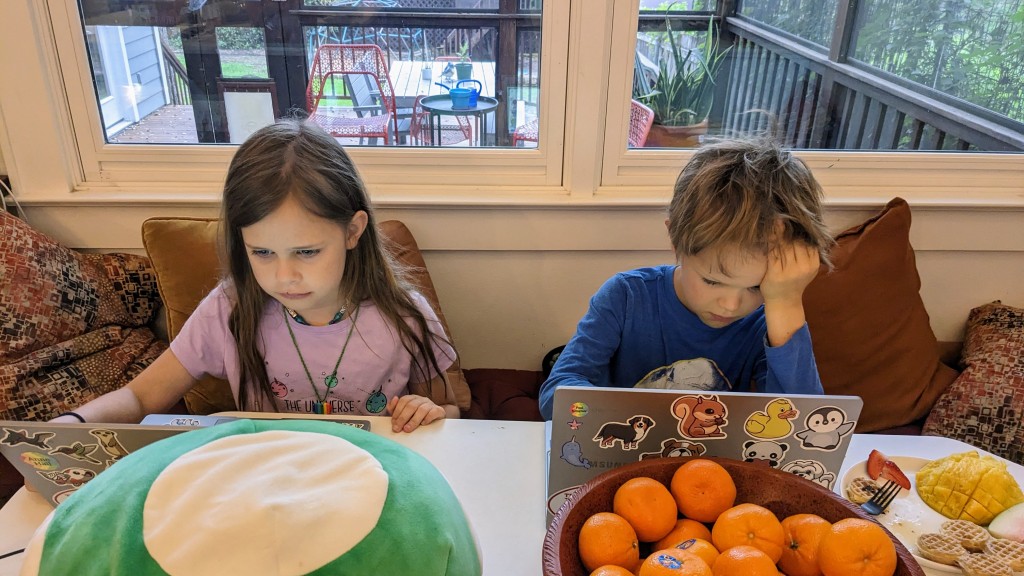 At 8:30, we load up and drive to the Scottish Rite Theater for this week's camp, "Puppets Up!" I get you signed in, and an enthusiastic, 25-yo theater kid cheerleads you back to the group. I don't hear much about your day, but Shae is there, so I assume there's some jocular misbehavior along with the arts and crafts. I know what you had for lunch since I packed it: two bean and cheese tacos, frozen corn, cherry tomatoes, strawberries, blueberries, and 4 tic tacs. I pick you up.
Back home, you're onto screen number 2, logging your 30 minutes with math game Prodigy, where you achieve your LONG-HELD ASPIRATION of level 99. The word problems you're doing on your own are at the top end of grade level 2. You'd care about this if we told you, but for now you're just thrilled to "one shot" defeat your cartoon opponents.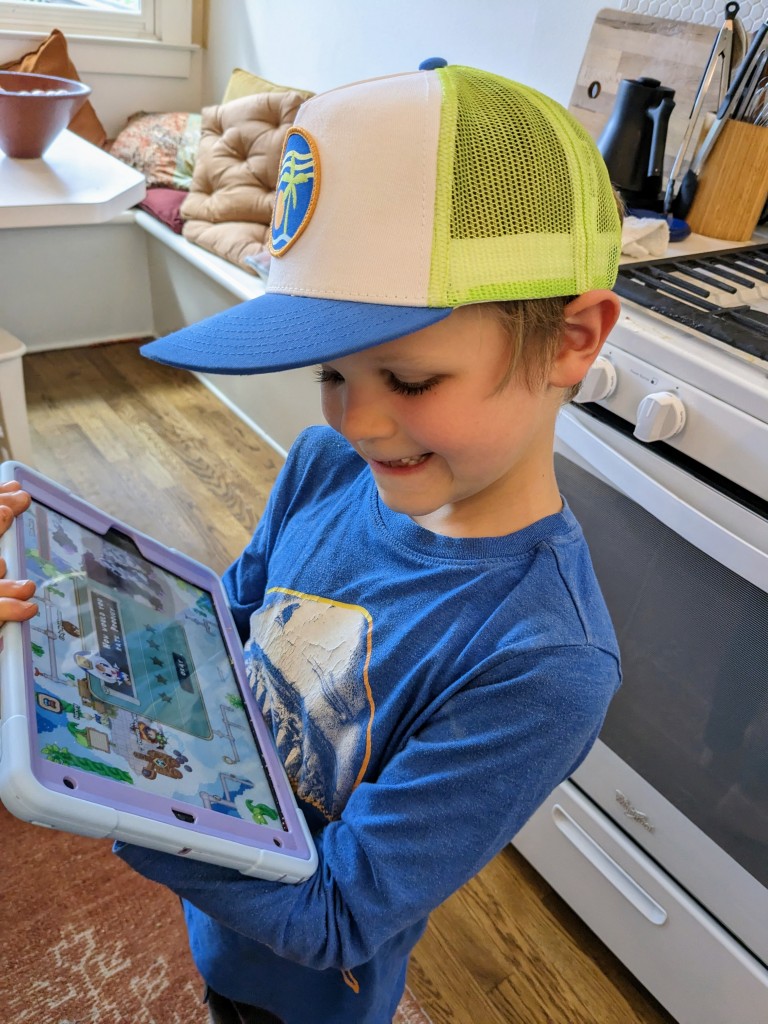 Friends Elke and Olaf arrive with their mom Ingrid. Olaf is a couple years older, but he's brought a complicated board game, so you're clearly going to hit it off. You beg the girls to play with you and harrass them when they don't. Resigned to fate, the adults make their way to the dining room table and digest the lengthy and specific rules. We play a few rounds, Dad's advice on refrain: "don't get too hung up on making all the right choices—we just need to play a bunch of rounds and make mistakes and learn."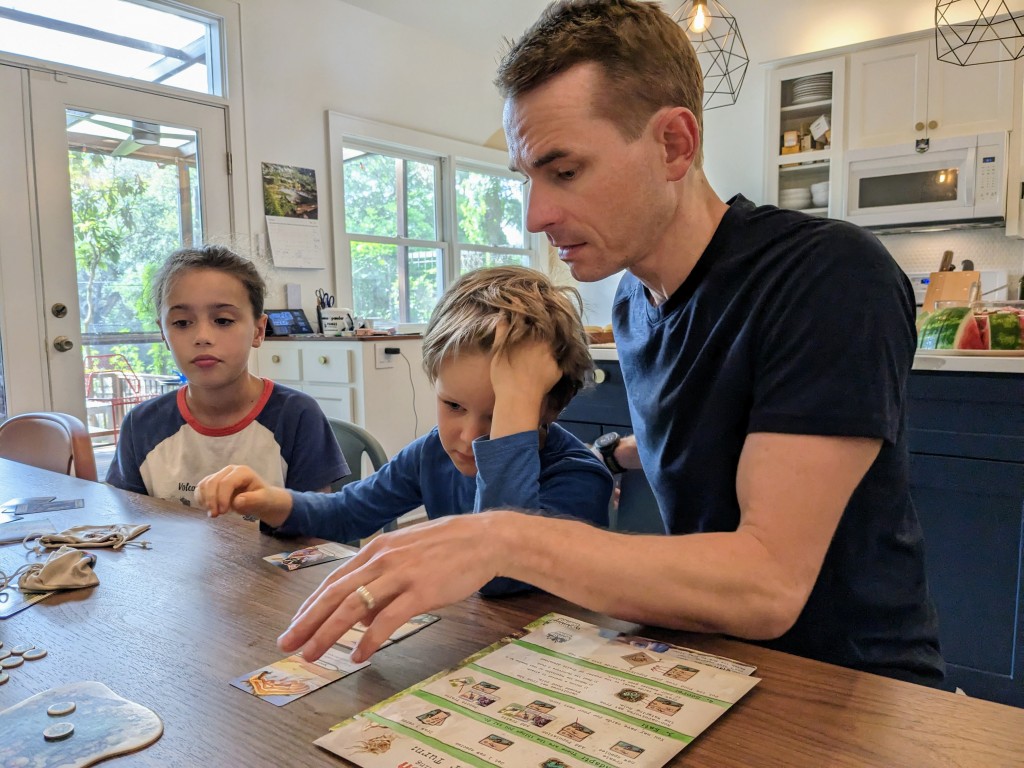 Eventually we eat dinner. You and Olaf take yours at the breakfast table. Game forgotten, you move on after the meal to chasing each other and the girls around the backyard, trying to put handfuls of ice down each others' pants. Good clean summer fun.
At 7:45 we say goodbye to our friends, do a quick handwash and tooth brush, and you read me a couple letters from The Day the Crayons Quit. Then it's time for Annie's choice, a few pages from The Saga of Erik the Viking. Erik outsmarts a troll magician and teaches Thangbrand a lesson in leadership. You adjourn for just one more glass of water. Aware of a thunderstorm in the far distance, you move your lovies to Annie's bed and hunker down for the night.