To Annie: this is how you spent the day you turned 8 years and 2 months old.
At 4am, the thunderstorm starts. I hear it loud and clear through my earplugs, so we're braced for your visit at any point. You don't come upstairs for comfort, though. You and Paul instead build a little bunker on the floor, with your hand-me-down nap mats and the dresser drawers pulled out over you to make a roof. You weather the weather here and fall back asleep at maybe 6. We don't see you until you finally wake up for good at 8:15. Only then do you come upstairs and find me drinking coffee and reading the paper, just like I remember finding my parents. Also like child-me, you climb on in with me and do your own reading: Ramona Quimby, Age 8, which we've checked out from the library and downloaded to my kindle. Recent visits by Reading Specialist Amy + the example of your older friend Sage have propelled you into a new phase of reading, and you're chugging through chapter books now. It's fun to see.
We're puttering around deciding what to do next when we encounter the boys, preparing for an ambitious bike ride. Do you want to go? Sure! So we're in too, and all four of us get sunscreened and helmeted for adventure.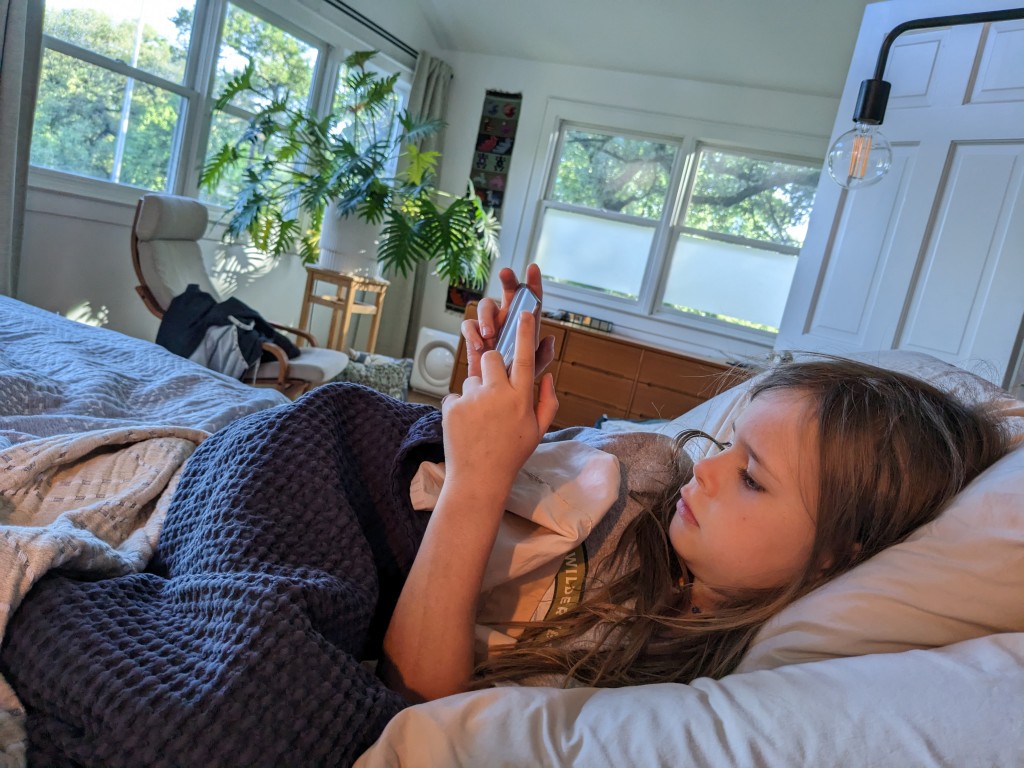 Dad, well past caring what anyone thinks, has the genius idea to blast the Matilda the Musical soundtrack from a speaker on his bike, which tethers you and Paul close to him. We cruise through the first couple miles through the busiest part of the trail and break for a snack at Lou Neff Point.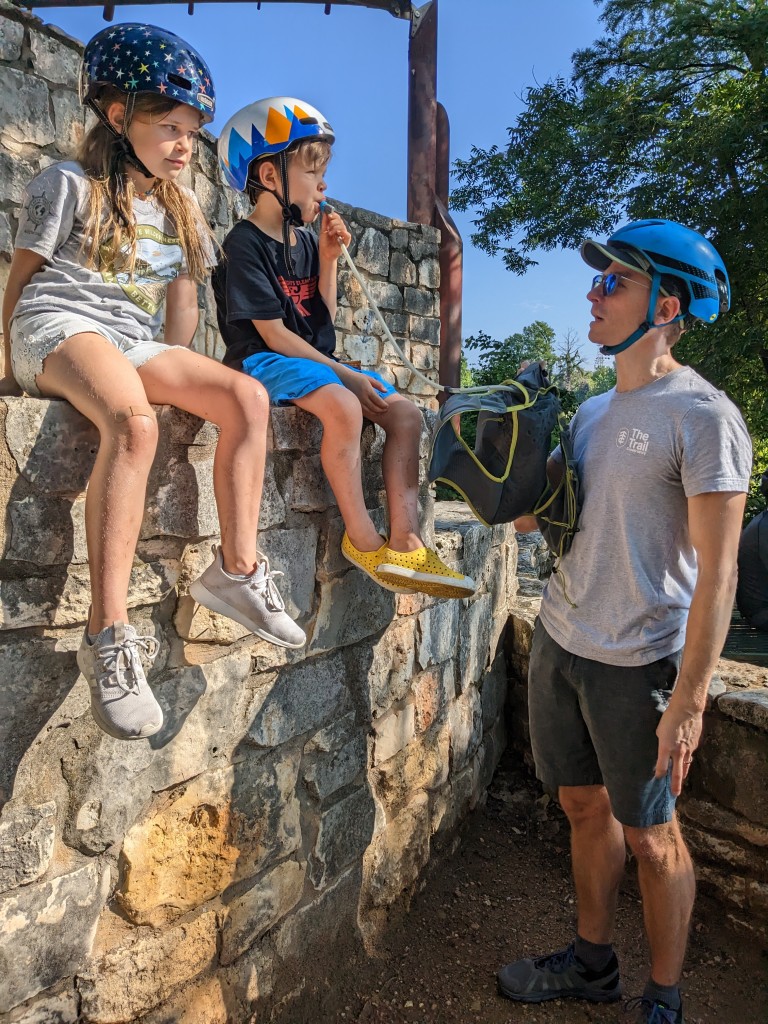 We continue, Matilda giving way to Annie and other musical classics. You perservere through numb hands and a blister and hill after hill.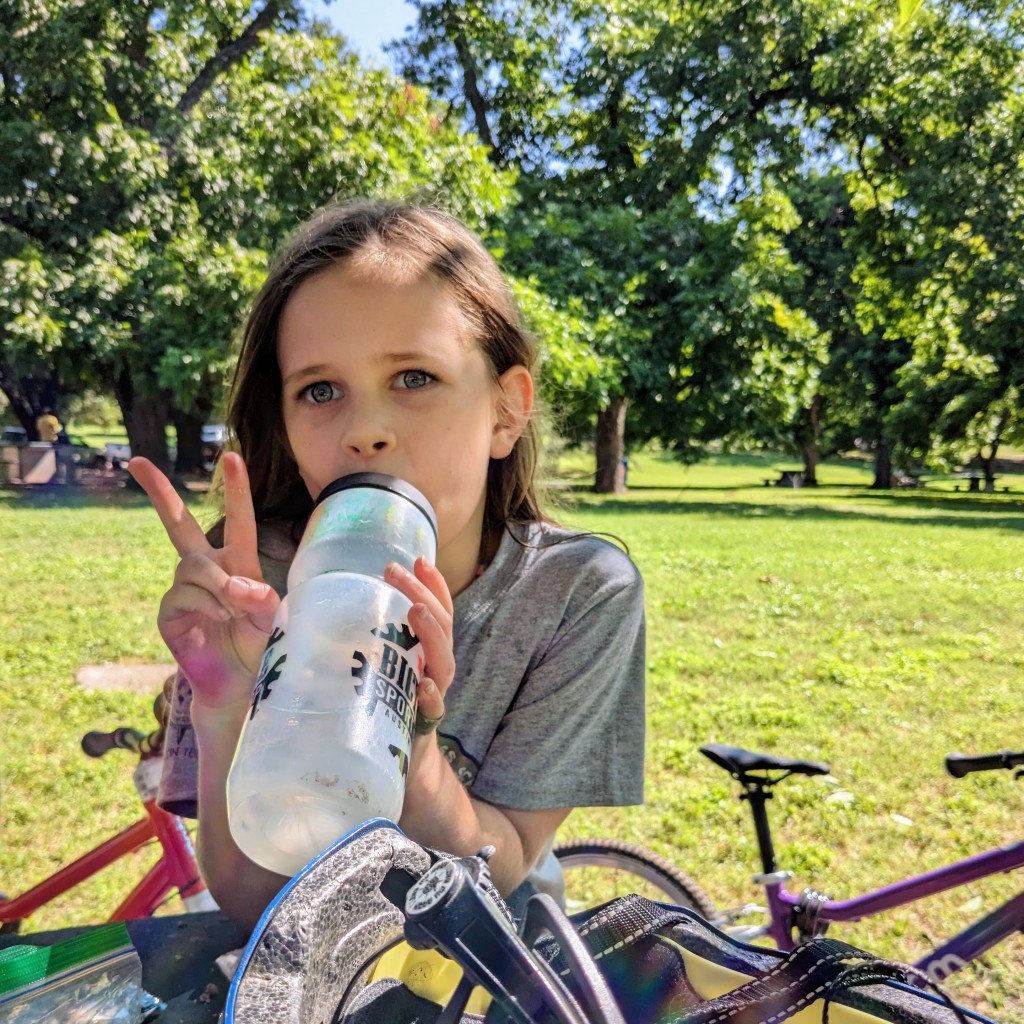 The boys peel off for a trip to the donut shop, and you and I head home. We walk in and soak up the AC; the boys show up and distribute breakfast treats. Ready for some sedentary activity, you boot up Minecraft on your new Chromebook and play for, oops, maybe two hours, with the soothing hum of a Harry Potter audiobook in your ear.
Time for more sunscreen and exercise! Dad loads you up for a trip to Mabel Davis, one of our favorite public pools. An ice-cream-truck popsicle fuels you through games of Sharks and Minnows and Marco Polo. Dad estimates he chases you around the fountain 75 times. Everyone has a blast. At four you come home and snuggle on the couch for The Peanuts Movie and popcorn. It's a big hit.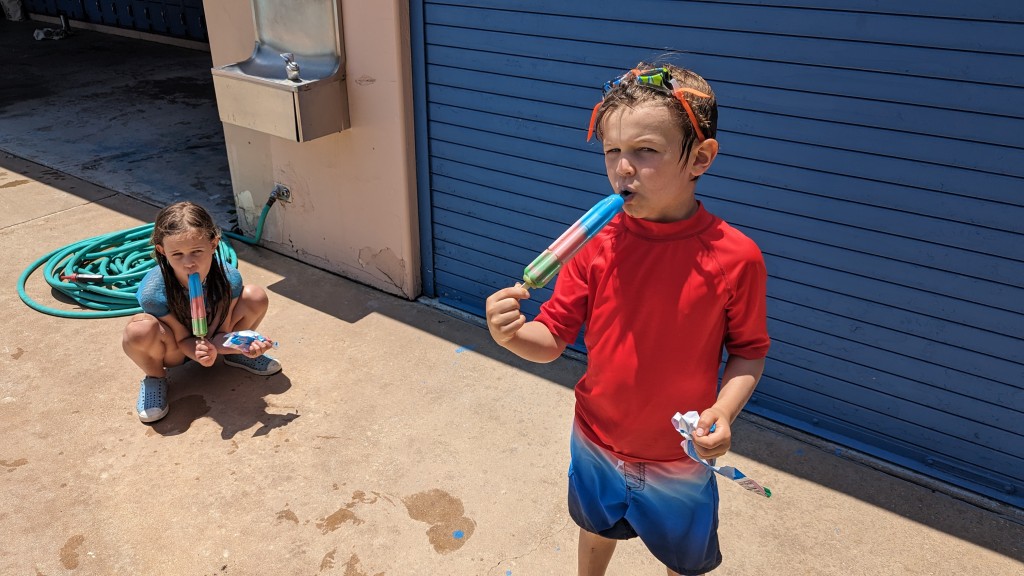 We eat a quick dinner and get ready for bed. You want to read the book tonight and pick The Day the Crayons Quit, an old favorite. You read with emotion, channeling the ennui of beige crayon just right.