To Annie: this is what happened on the day you turned 7 years and 8 months old.
You and Paul sleep in until about 7, giving me time to get deeply into poster making for the Cultural Festival later this morning. When you do get up, you give me a hug and launch pretty seamlessly into panda play in the backyard. Sweet. I head up to the school while you hang out with Dad for another hour.
You're among the first to arrive at the Cultural Festival, my favorite school event so far. Families from the school have set up tables in the hallways with games and toys and clothes and food from their countries' cultures. You and Paul make your first stop at Mexico and play a game of loteria. Next up is Australia, where Juke of Juke's Auto Repair (and Australia) explains boomerangs and plays a didgeridoo. We move onto the Travis High School mariachi band's performance in the cafeteria, and pick out some hand-painted ornaments in the holiday market, made of recycled light bulbs and sold by 3rd-grade-teacher Ms. Etzel.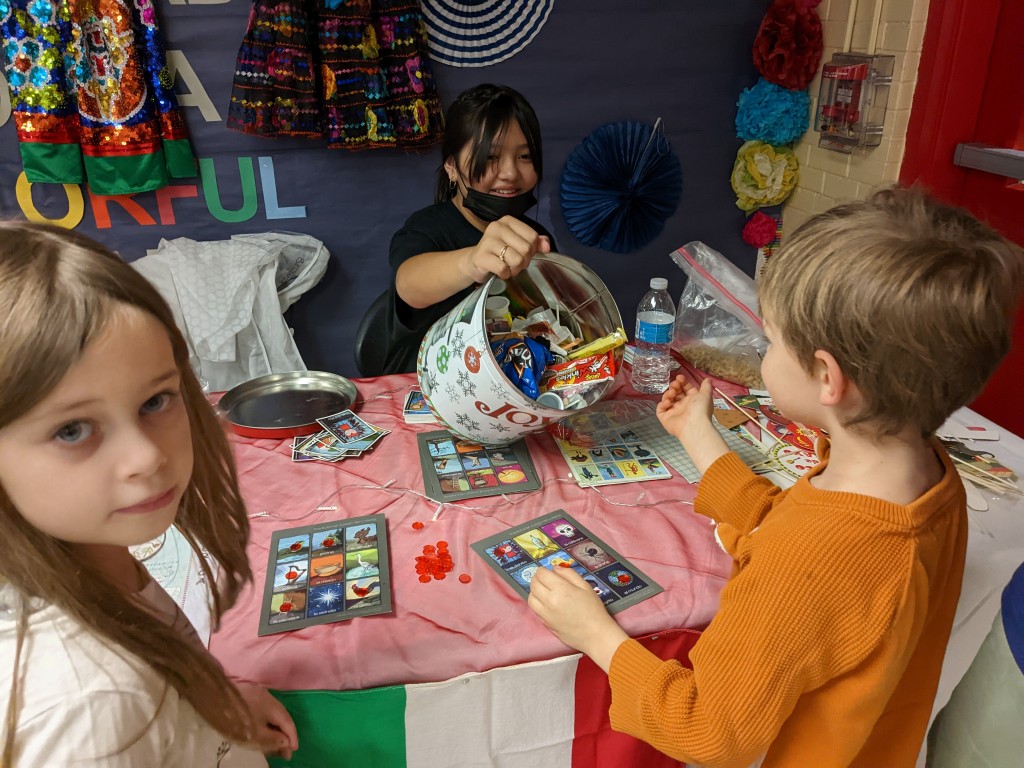 You pull me back into the hallway to try some jalebi from the Afghanistan table—it looks like a funnel cake and hits the spot. I sample some excellent tea, and almost get tears in my eyes seeing all the Afghani fathers in their traditional dress dishing out an elaborate buffet of homemade food. We snag passport stamps from Colombia, Canada, Portugal, South Korea, Spain, Panama, and Brazil, where you go back for seconds of pao de queijo. I bring Dad back half a Guatemalan tamale, and we watch the school choir.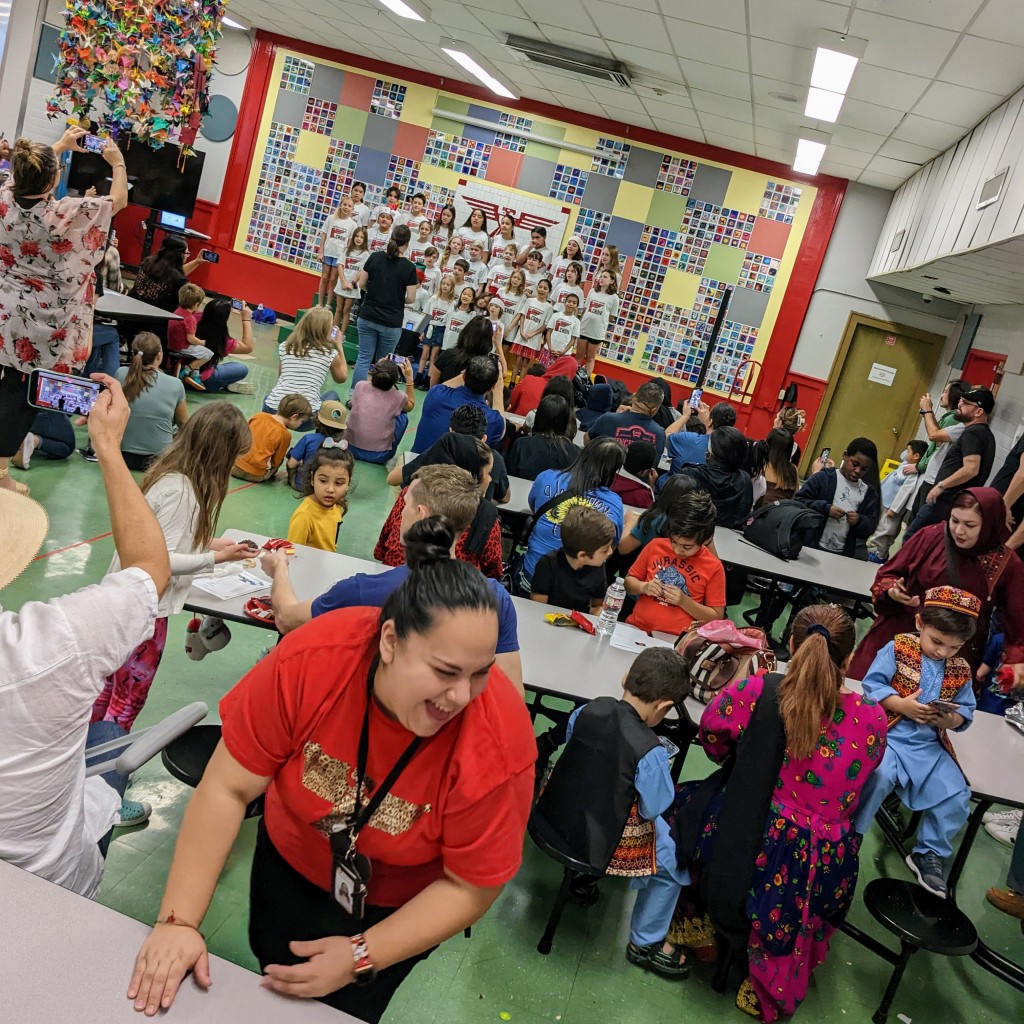 You head home with Dad and set up an animal rescue facility in your room. I visit you there when I arrive, and submit for your care a stuffed cow I found limping on the road and want to return to its farm. "Mom, if it was on the road, it probably doesn't live on a farm: it's a wild cow. It needs to be adopted." So you set me up with the paperwork, and I assume responsibility for a new dependent.
You spend your 30 screen-time minutes watching Johnathan Bird's Blue World videos about sea snakes and other fauna. The boys leave on a bike ride, and you notice a tennis court is free, so we go play some pickleball.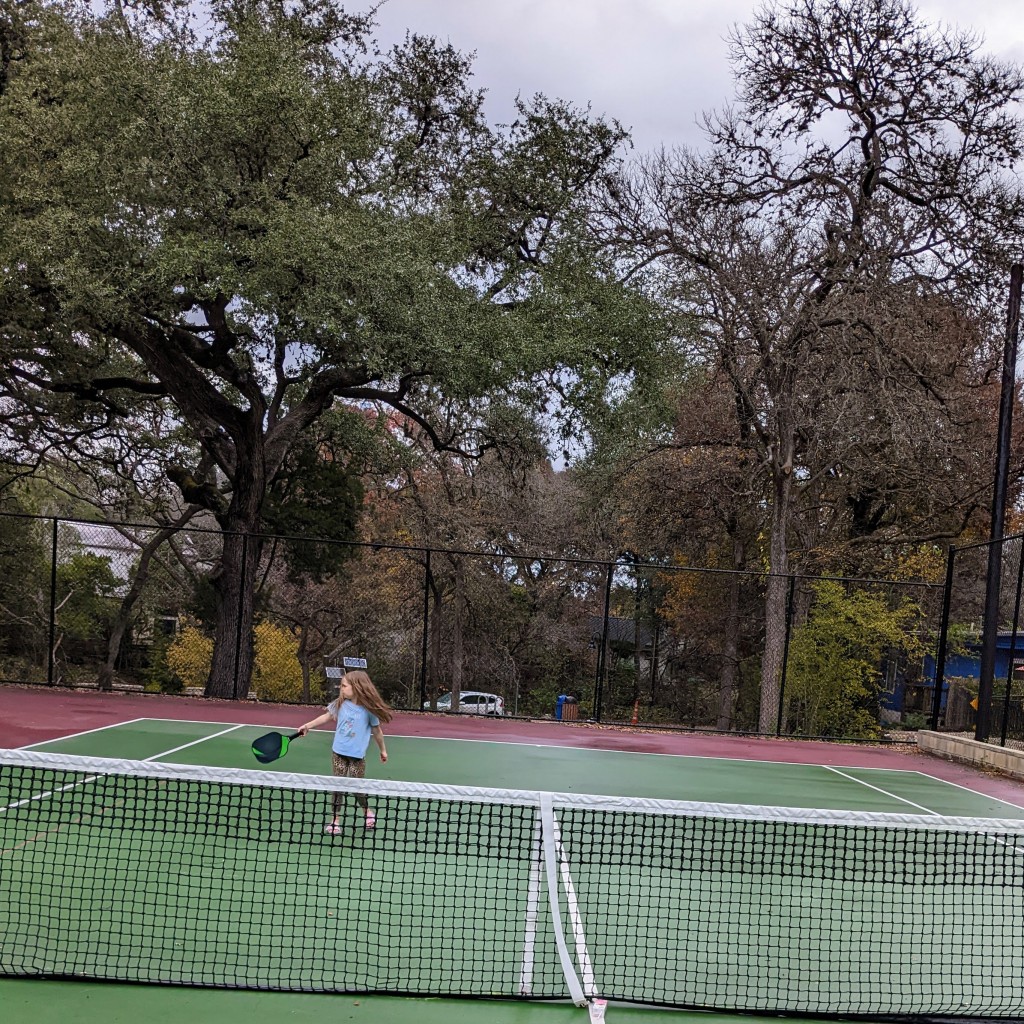 We're sitting on the top of the hill watching 3-year-olds run away from their parents when Paul and Dad find us again. We collectively cajole you into a trip to Costco. Shopping hungry, we come home with a number of "did we really need this?" treats, but hey, it's the holidays.
Home again, you watch Dad play some of his video game (God of War—boy, does he love it) and then decide to go hawk some lemonade at the park with Paul. You sell zero cups but have a good time on the playground.
At your request, we eat dinner on the deck, in the dark, on this humid, 74-degree December day. You have two half macarons for dessert and take a bath with Paul, your long legs hanging over the side of the tub while you ask me questions about the lyrics to De Colores and the evolution patterns of certain pokemon.
After a good tooth brushing and some new clothes, you climb up into bed. Dad goes with you. You decide you're going to read to him tonight, and take the lead on a few chapters of Dog Man. We say goodnight at 7:30. We've just today replaced your old "okay to wake" clock—the one that turned green to let you know when wake-up time arrived—with a regular old alarm clock, tall red numbers visible across the room for all to read. You are no little kid anymore, my girl. No you are not.