To Annie: this is how you spent the day you turned 7 and a half years old.
You sleep in this Monday morning, but are full of smiles from the bed. I sit in the chair and answer your questions, while Dad makes you chocolate-chip pancakes.
We leave for school a little late and walk hand-in-hand while the boys lag behind. You're in a new sweatshirt passed down from friend Jade and show me your trick of keeping your hands warm inside your sleeves. "Is it this cold all winter?" you ask, my sweet summer child. It's 67 degrees.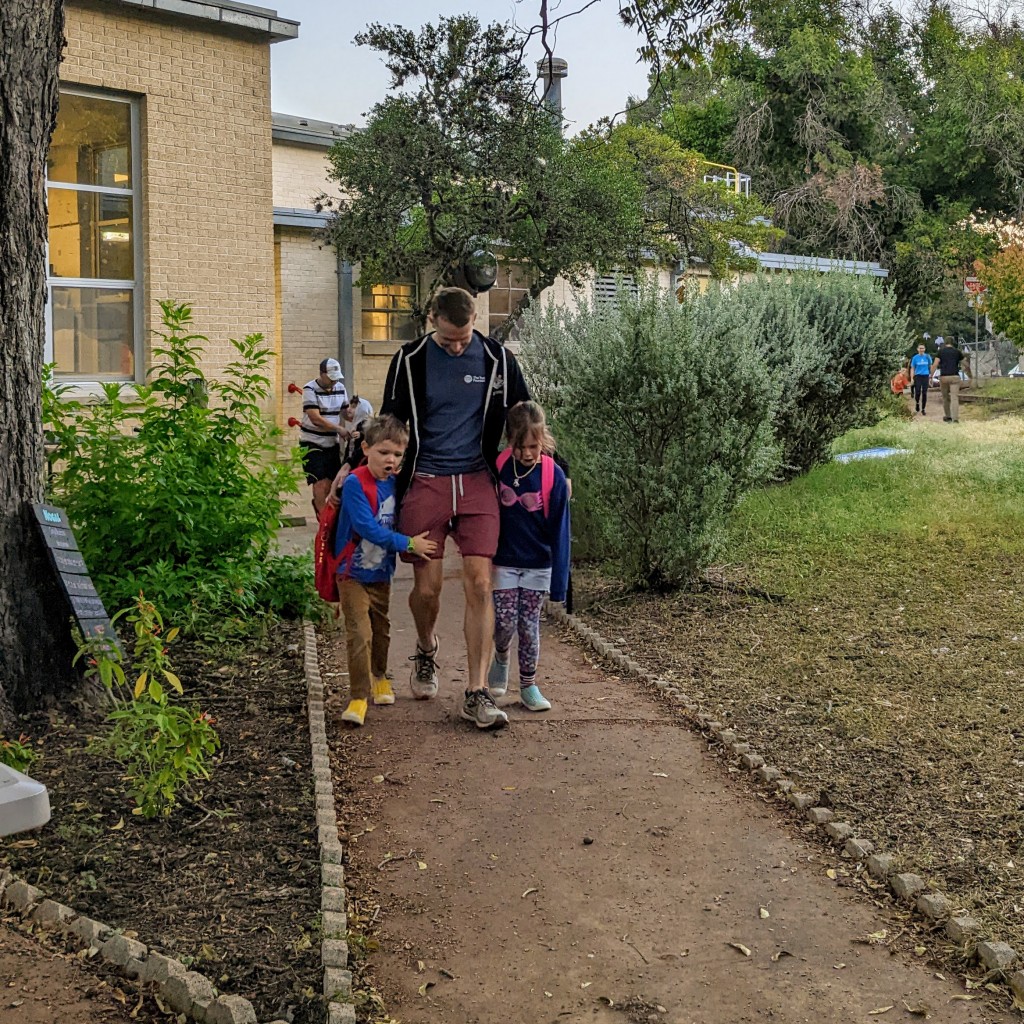 The first bell rings as we're walking up. You give Dad a big goodbye hug—he'll leave for a long work trip to Europe later this afternoon. Into the school you go.
You have a substitute today, Ms "Cruc…. she said if we couldn't pronounce her name to call her Ms. C," who was "pretty good!" You went to PE and read books, including one on the Titanic, "I learned it left on April 10th and The Californian rescued the lifeboats on April 15th," and one about Anne Frank. "Can you tell me all the facts you know about Anne Frank?" you ask. Oh my goodness.
Back home, we have a snack (raspberries and cheese), and you spend half an hour on Epic, listening to more books. I overhear the one about Sonya Sotomayor, replete with themes of Latina empowerment and Supreme Court basics. You walk me through the sound map you drew at school, by closing your eyes and listening for everything you could hear. Cool. We eat dinner and have remarkably advanced conversation. "What inspired you to work at UT Austin?" you ask.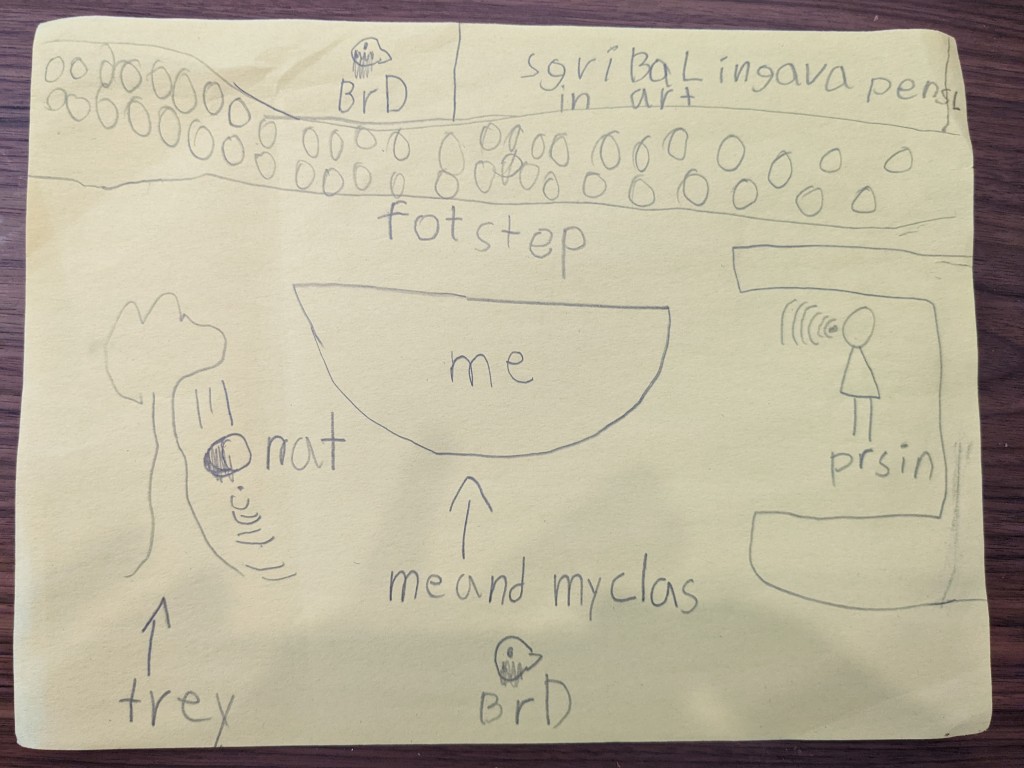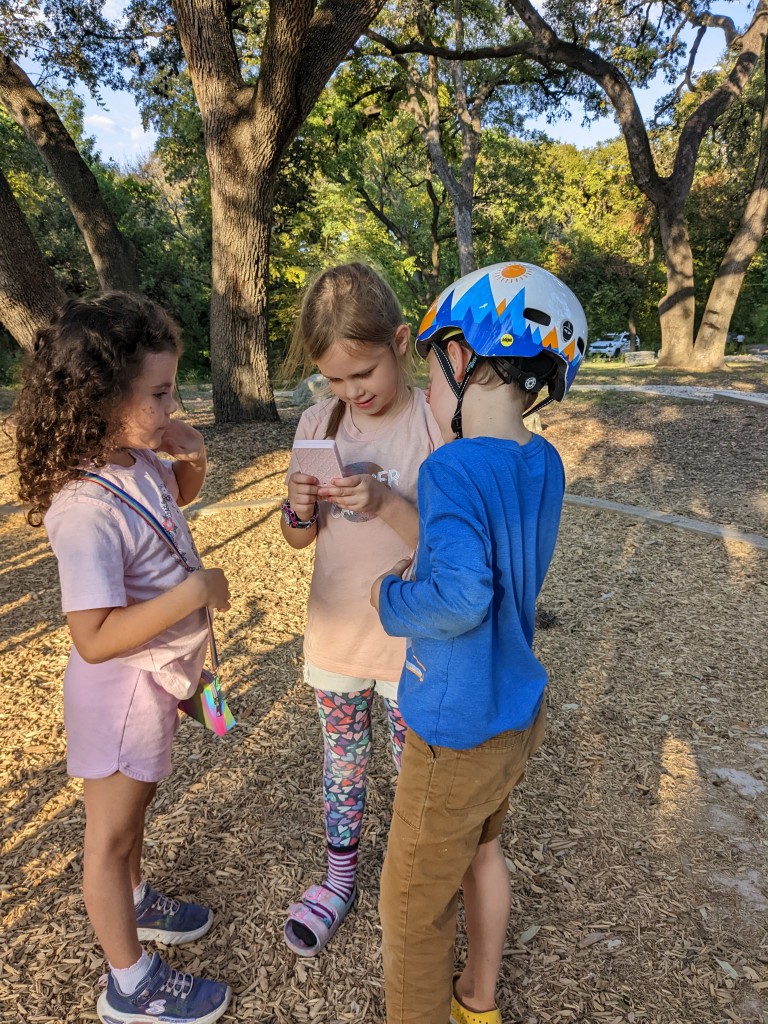 We invite 1st-grader/neighbor Sabine's family to the playground on the spur of the moment and spend a happy hour there. You negotiate elaborate pretend scenarios in which you are 19 (your favorite age). She loans you her toy phone for the night, sealing your friendship forever.
We miss Dad but manage the evening on our own, ending the night with a bit of Matilda (second round). Goodnight, 2nd-grader.