To Paul: this is how you spent the day you turned 5 years and 11 months old.
Bit of a late night last night, so you don't tumble out of your room until a few minutes after 7. You and Annie are already niblets, and build an elaborate nest under the dining room table that we allow against our better judgment. Dad makes you pancakes while I get ready for work, and drives you down the street for Creative Action camp.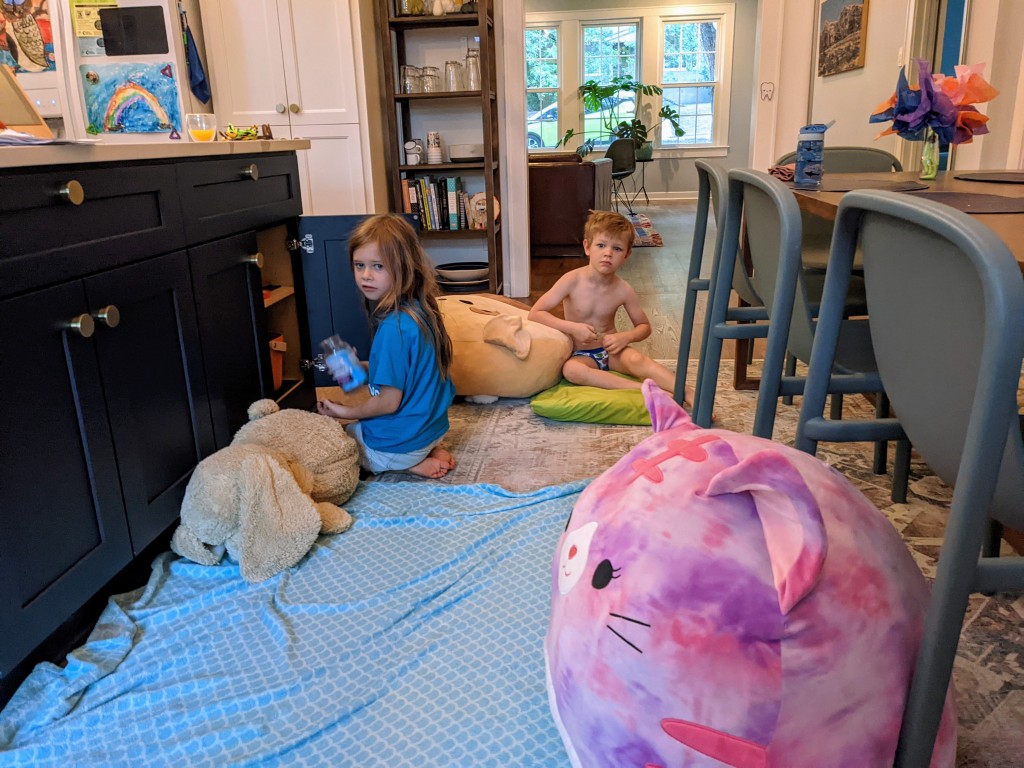 It's a small group at camp—just 8 or 10—so you and Annie are together all day. Dad picks you up at 12:30, finding you jolly and just digging into lunch. You bring the box along for an exciting trip to The Dentist! :D You lay on your exam chairs side-by-side and watch your selected television shows on the ceiling while the kind hygenists clean your teeth. Odd Squad for you, and a clean bill of health. You turn chatty when the dentist arrives, recapping major dental events for him. The x-rays show your top two front teeth ready to descend, and we're advised to floss between your upper-right where food is stuck. You need an expander as soon as possible. The dentist offers orthadontist recommendations. Cool.
Dad drives you back to camp, and you have a long conversation about road tar. It's 109 degrees. Back at camp, they confiscate your bouncy ball from the dentist after you bounce it into every nook and cranny of the room. I pick you up at 4:30, and we spend the 3-minute drive home planning the evening. Your request, naturally, is Sack Boy, your latest video game. We discuss habit formation and float a 2-day/week video game policy, on non-dessert nights. It seems like a great idea to all of us, especially since tonight is one of the nights. You and Dad settle in on the couch for a half-hour of silly animated play.
It's time for dinner, and for us to reap the consequences of our morning niblet-nest building. Before we eat our Homeslice pizza, we must clean it up. You do it, literally kicking and screaming, with the threat of no more video games hanging over your head. Afterward, you retire to the seclusion of the living room, announce you are not eating dinner, and yell that you can't sit at the table with us because we don't even like you.
I was just telling Granddad that I couldn't remember your last tantrum.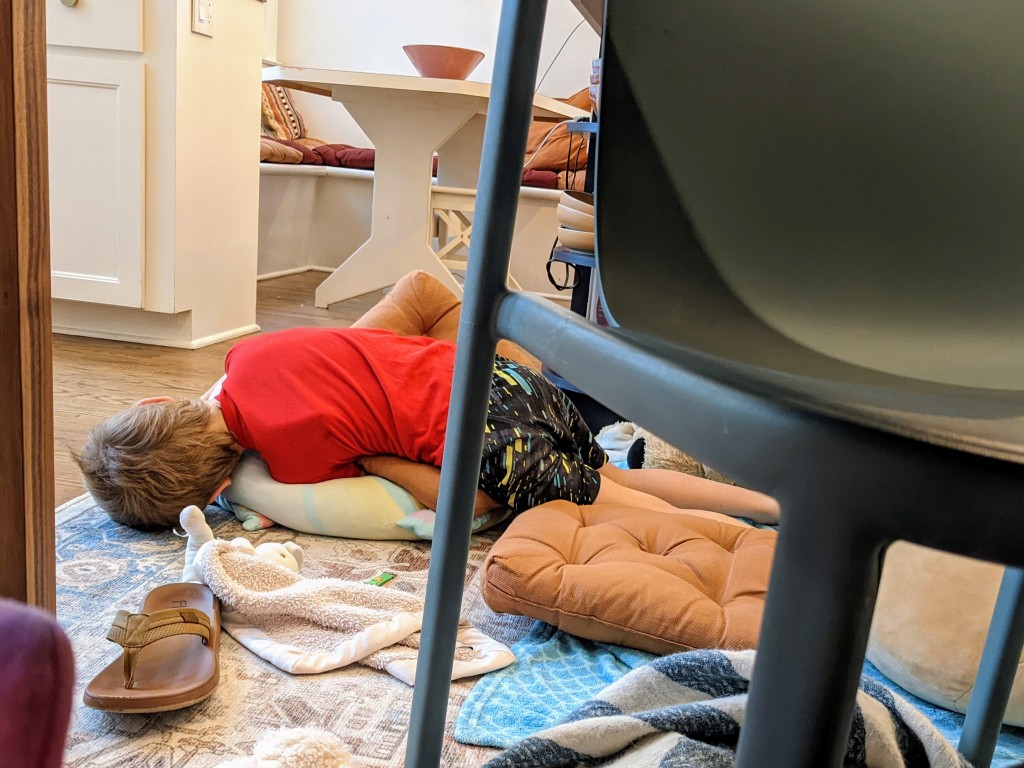 Eventually you make it to the table, and we reassure you that we will always like you AND love you, but you gotta clean up your messes, buddy. You eat a slice of pizza and finish up your game.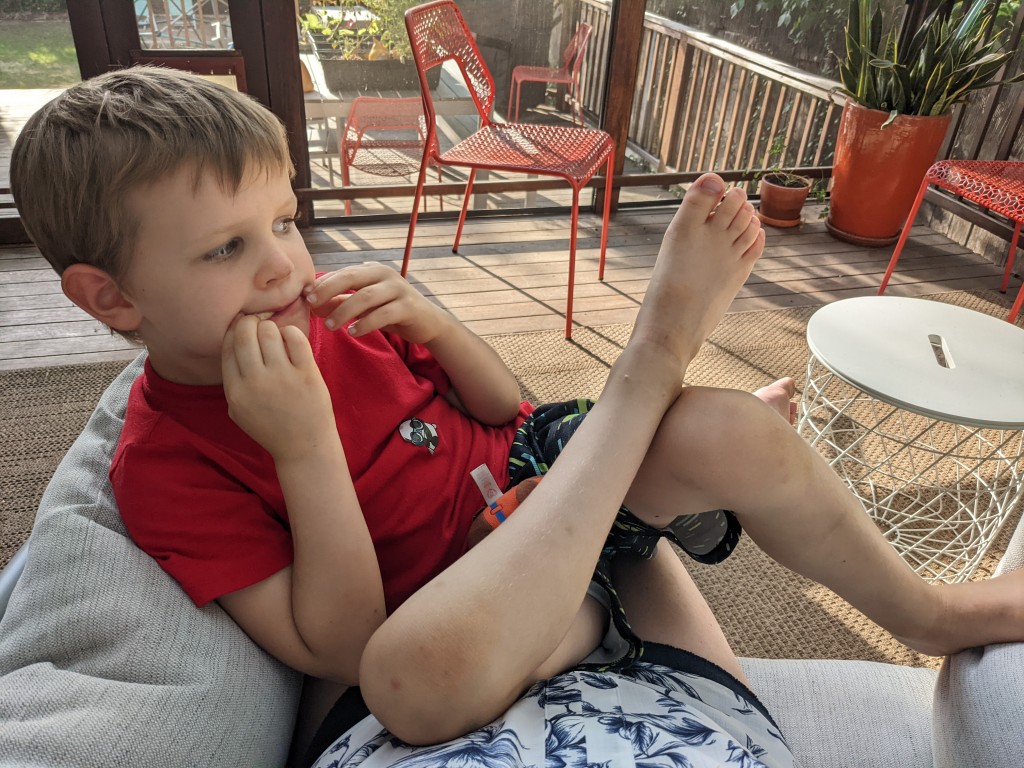 Bedtime is still a looong way away. You play with a toy car and climb into my lap while I idly shop for a new rug for your room. We pick favorites. You ask to look at the world map, and spin it around to see where it's day and night. You hunt for and find Bergamo on the map, and zoom into see fields in central Brazil. We move to the calendar and add birthdays for all of your little doggies, on every day of March. During bathtime, we plan his party.
You get into fresh clothes and climb into bed. I read Life on Mars and pages from your book on sharks (Tiger Sharks: Fear Factor 10). I say goodnight.
Falling asleep is rocky as Annie is trying to kick her thumb-sucking habit again, and not quietly. You sense I have made her some objectionable promise, like late-night snuggle time, and are determined to wait us out. We all get to sleep in the end.