To Annie: this is how you spent the day you turned 7 years and 2 months old.
It's June; school's out; and we're in our first summer of stitching camps together for you and Paul. You two sleep in until seven. You wake up and dance around while I pack your lunch and Dad makes a round of chocolate pancakes. I sit next to you to brush your hair and encounter two of the most serious tangles I have seen in some time. We brush and pick and add conditioner—but eventually have to cut them out. You look in the mirror and do it with nail scissors. What with all the sun, chlorine, and hair-twisting, you may end up with a bit of a shag look this summer. We discuss strategies for better hair maintenance while you buckle on your helmet, and I watch, impressed, as you manage to roll your bike down all the back steps and out the gate. I walk with you into the park until you spot Paul and Dad, and you're off for 20 minutes of riding around the park before it's time for camp.
You load into the car with Dad, and he drives you to a church on the edge of our neighborhood for Creative Action camp. It's all sorts of arts. We hear you make a video, and you come home with a wolf mask, and soaking wet from an afternoon of watersliding. We scamper across the hot parking lot (102 today) and head home. You play a few minutes of Minecraft with Paul in the loft. At 5, your best friend Jade arrives for a sleepover. She is wearing a little crop-top/training bra thing. The two of you disappear into your room, and you emerge in your black tank top, hand-cropped.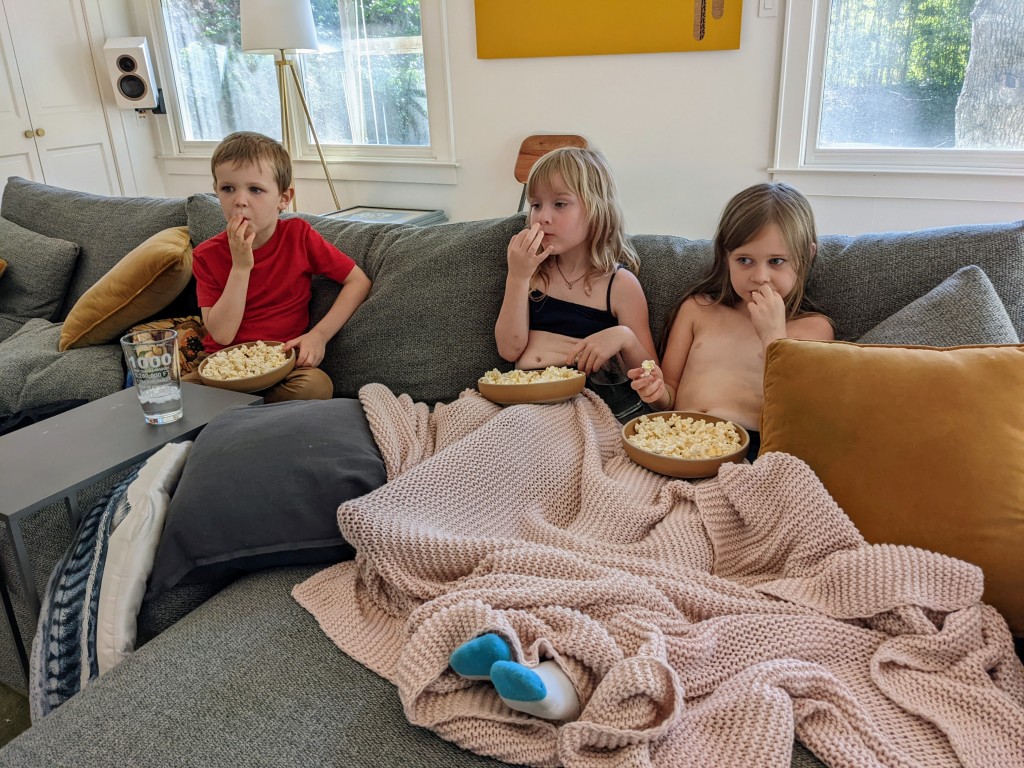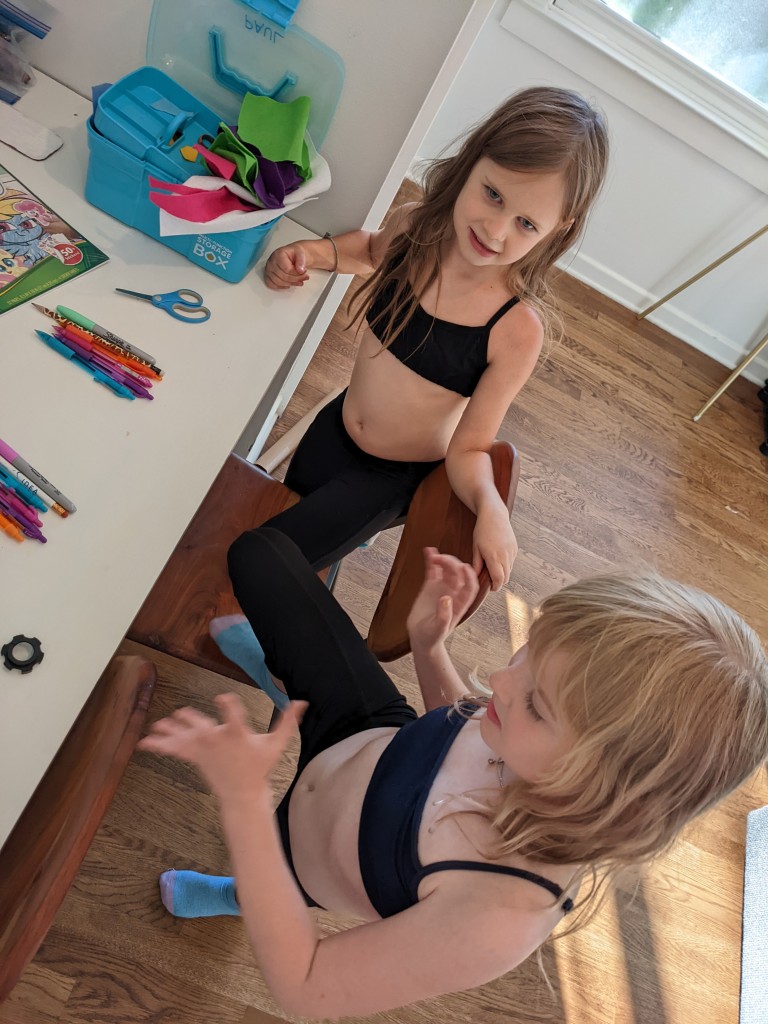 We eat quesadillas and fruit for dinner and then put on Harry Potter 3. You and Jade watch half an hour while I sew elastic into your homemade bra, and then adjourn to the craft table to draw black widow spiders and chat.
Jade: Lino was really a jerk to us, right? Remember that time he called us stupid?
Paul, from the couch: LINO is stupid.
Jade: Yeah.
Annie: No, Lino's not stupid. Sometimes he just can't control his feelings and says bad things.
7:15 rolls around, and you gleefully set up your bed for company. Elaborate plans are made and executed. We say goodnight. You reappear with further agenda items. Rinse, repeat. My last sighting of you is at 9:15, when the two of you appear at the guest room doorway, where Paul is sleeping. I growl at you. Good night, big kid.