You wake up at 5:30, afraid you've overslept and missed the green light. Still got an hour, Dad informs you. When he sees you again, you're splayed on the ground on your squishmallow and announcing you might vomit. He feels your forehead and decides it merits a thermometer. You clock in at 102.3. So much for school! I head there with a deeply cranky Annie while you snuggle up with Dad and your Minecraft Master Builder book for the better part of an hour, learning how to make roller coasters and laying plans.
The grocery store seems like a good idea, and the car is charging at the old house, so you and Dad walk there, and you reenter for the first time. It's been a month exactly since we moved. "I have so many memories in this house," you say. Working it out: "No one lives here now. We live here now. No one lives here now."
You decide on a little weeding, which excites you until you rediscover some toys in the shed. So Dad weeds. Then it's off to the grocery store; you snag some mangos, a baguette, salmon, and breakfast kolaches. Back home, it's time to build those roller coasters. Dad passes me the kid baton, and you give me a demonstration and then embark on a long journey through your realm while I interview someone for a job. It ends in sadness, unfortunately, as get so far from your home you can't find it again. I set you up in our bed, and you move onto Odd Squad.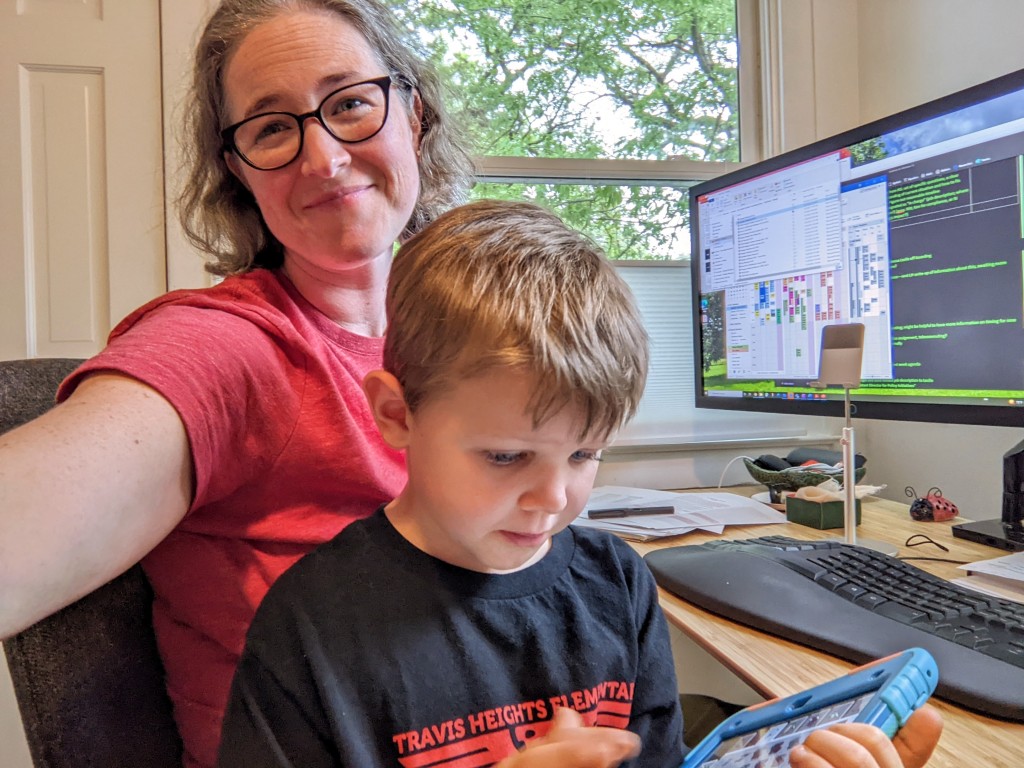 When you burn out on screens, we pursue other projects. You scratch 100% of the black off some rainbow scratch paper while I discuss the PMBOK with some of my staff. Your fever is basically gone, and I'm done with mandatory meetings. What else can we get up to? You wrap little gifts for your best school friends, River and Emmanuel, and also one for Willa, who turns 6 on Friday. And also two for you, because by golly Annie just had a birthday and isn't it your turn already? We put yours on the high shelf to save for August.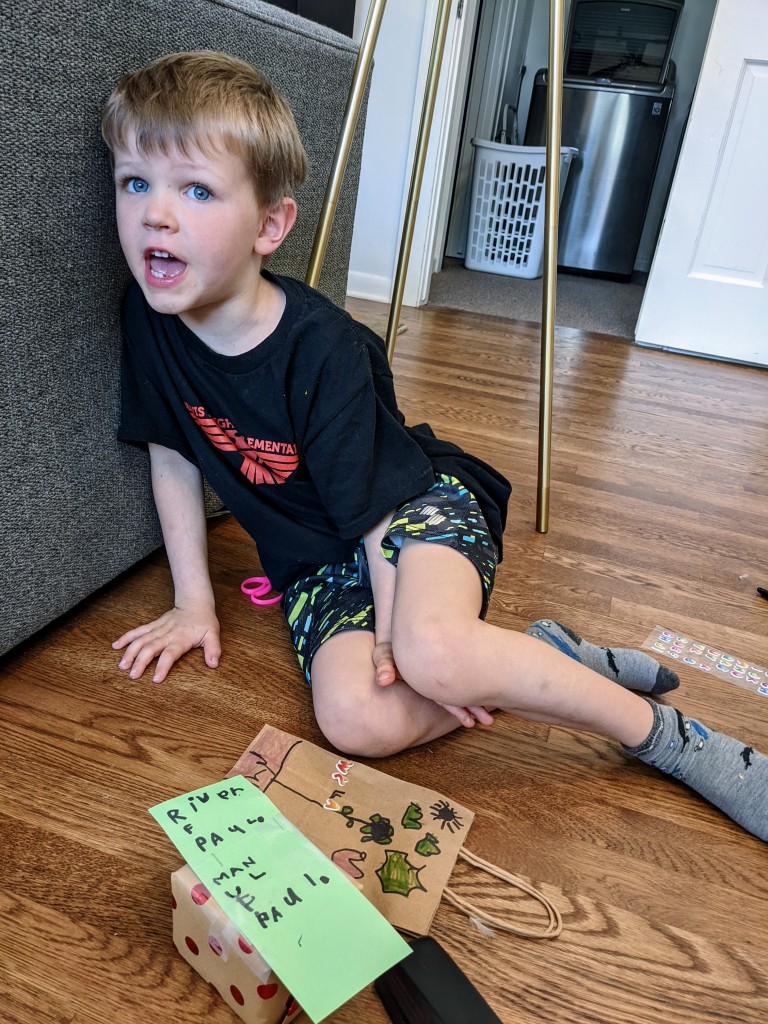 We explore the backyard a bit and harvest a bamboo shoot that's rocketing from from the ground. You peel it to feed your panda collection. We all walk to school to liberate Annie early, and you entertain Dad and I with nonsense trivia, delivered with total confidence. "3-D shapes have six dimensions. Earthquakes are the reason for tar. 100 times 100 is 10 billion."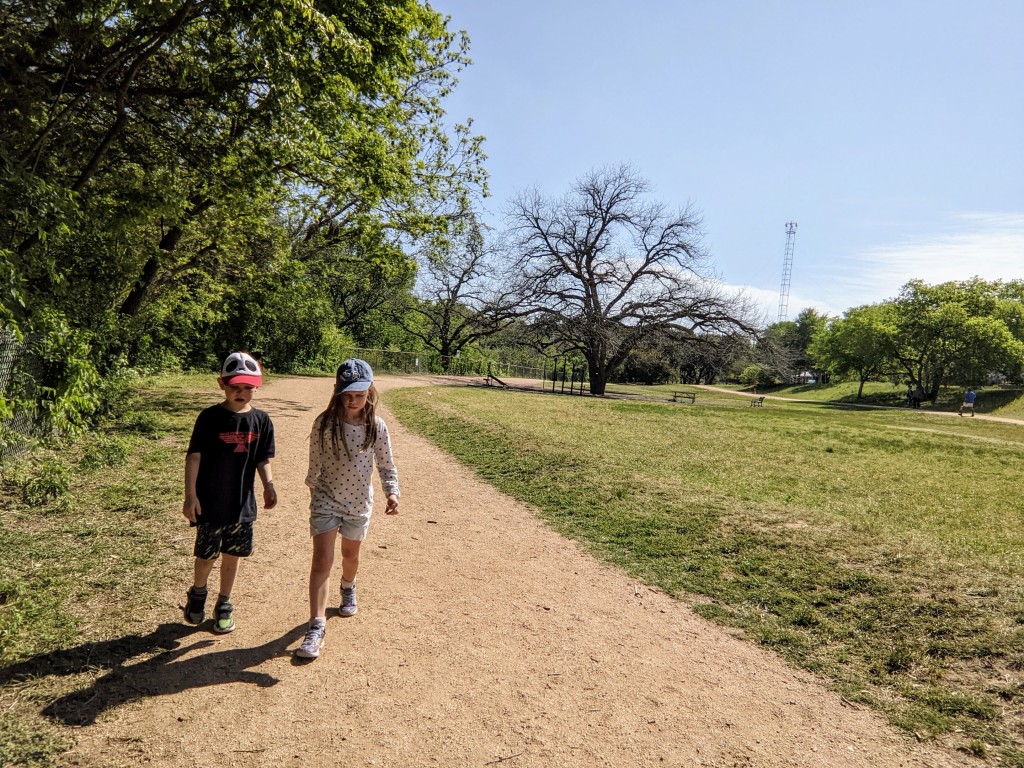 You're flagging by the time we get home, in the 90-degree heat and sun, but perk up for more Minecraft once Annie finishes her homework. She enters your shared world, and you two spend 45 minutes searching for each other, lighting beacons and setting up trails of beds to try to find each other. It doesn't work. Dad resets the world so you can start again together. You almost immediately fly away from your island. Annie kicks you.
Dinner time! You eat the strawberries off your plate and ask to be excused to start your bath. Sure. After a soak, you get dressed, and we snuggle on the couch and chat for half an hour. It's awfully nice. "How do you feel?" I ask. "Awesome," you say.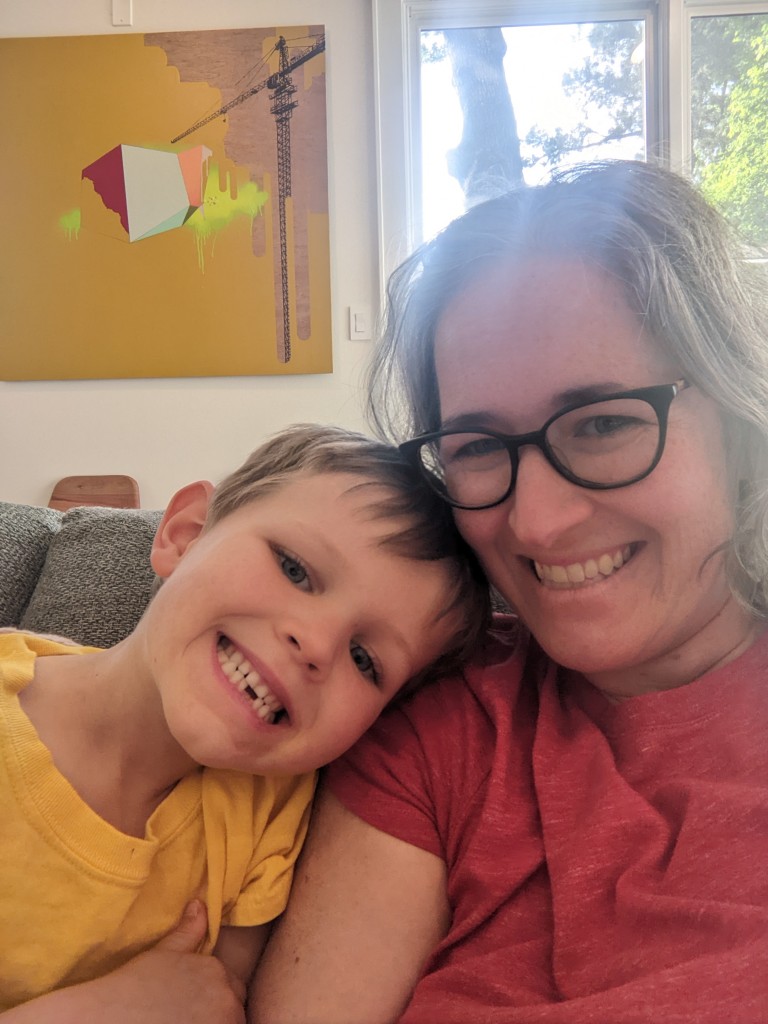 It's just 6:45, but you're rubbing your eyes, so I suggest we sneak off to your room and read books. I read a couple short ones at your request, and a story at Annie's, and at 7:05 I'm backing out of the room. You sleep well.