To Annie: this is how you spent the day you turned 6 years and 11 months old.
You wake me up today, strolling in at 6:45 to find me bleary-eyed in bed. You keep me gentle company through my first half-cup of coffee, and we go downstairs as the pancakes are coming out of the pan. I brush and braid your hair while you eat. You put on your socks and read the morning announcements, imitating school:
"I pledge allegiance, to the flag, one nation, under god…I pledge allegiance, to the Texas flag… For lunch today, there will be bean and cheese tacos, and fresh apple slices. Remember to be safe, kind, and respectful."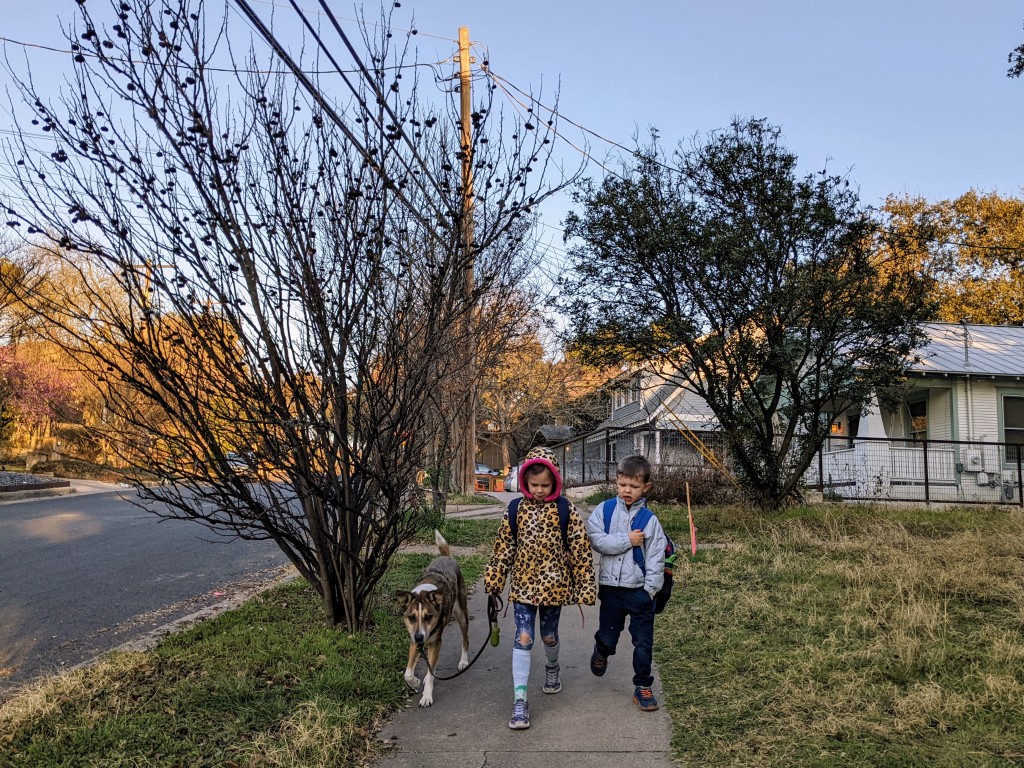 We walk to school, talking about the value of coins, and which presidents are on which bills, and what they did, and why is it all boys again?? Dad walks you and Paul to the door. The district made masks optional this week: you're still sporting your N95 while Paul is happily coughing unimpeded on his classmates.
The main learning activity today is GROUP PROJECTS, creating habitat dioramas. You are working with Asma and Roalbert (my favorite name in your class), building a pond in a shoebox. Your work is not living up to your standards, but you seem to be rolling with it. Each group member has an animal for the habitat: yours is a snapping turtle. You also visit the library, one of your favorite places, and go to music class, where you're singing about kindness.
In Creative Action, everyone works together to paint a paper mache dragonfly. You tell me later that getting paint on your shirt is the worst part of your day (your "thorn"). I pick you up a bit late, at 5:20, and we drive home to get to our Chinese take-out dinner while it's hot.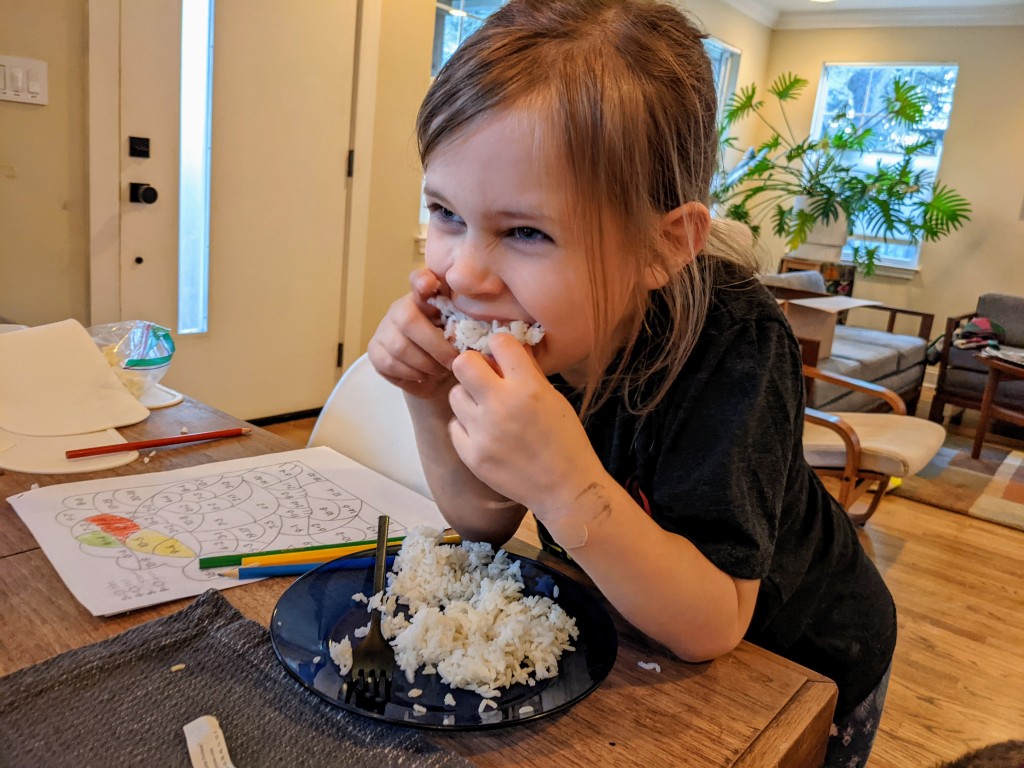 You're in good spirits through dinner, disemboweling dumplings and refilling their skins with rice. Your auspicious fortune reads, "A happy event will take place in your home." Never bad news! We work our way through a little homework, and then you announce a Dance Off upstairs, and run off to set the stage.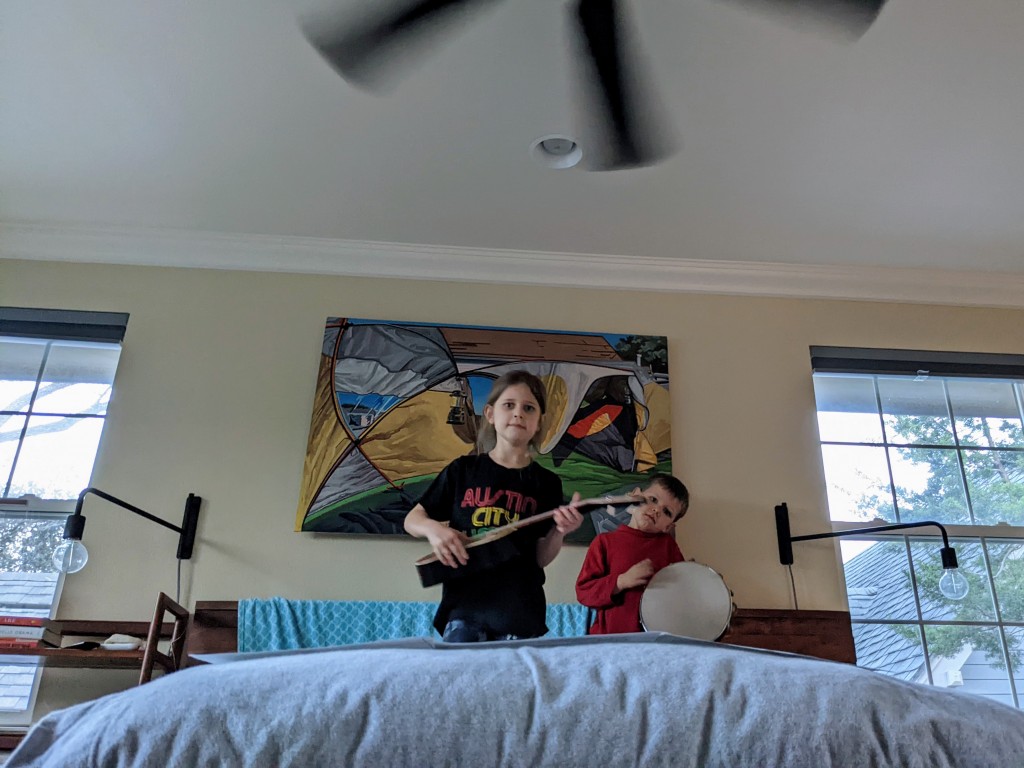 There's not much dancing at the Dance Off, but the instrumentals and the puppet show are fabulous. Paul loses interest and goes to play a mountain biking video game. You invite me to the stage for some yoga moves, and sing me a lullaby. We call Susu to find out the name of an app with peaceful noises. Dad tags in for some shadow puppetry and reads you The Berenstain Bears: The Messy Room.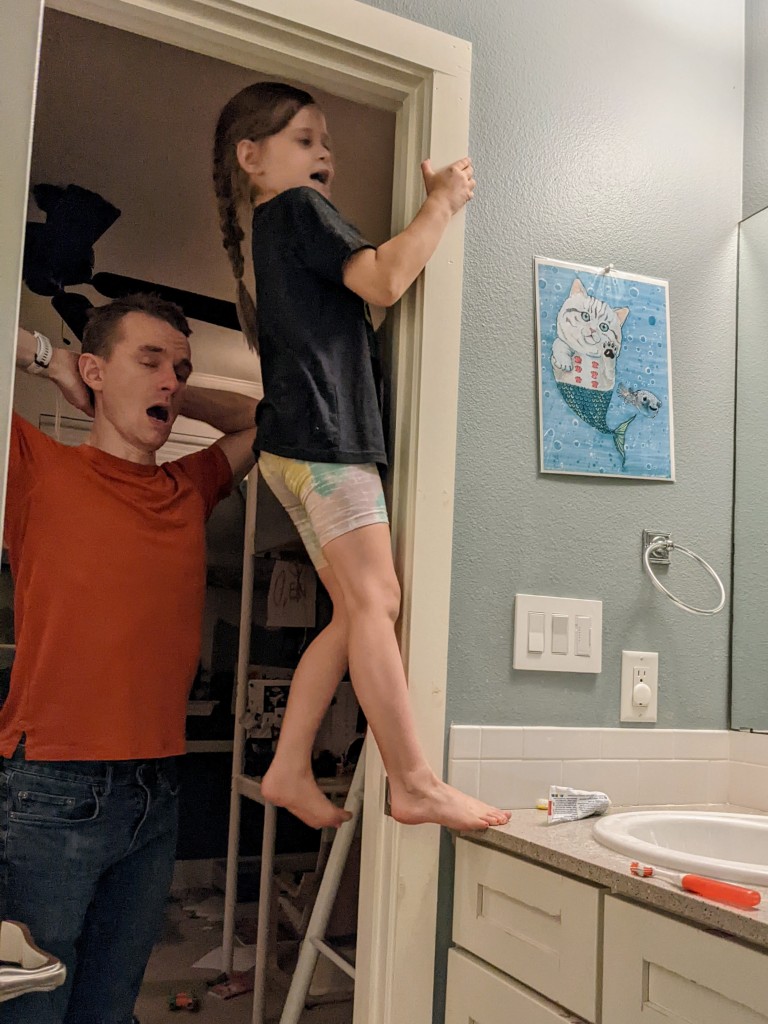 You get your teeth brushed and some clothes changed, but aren't quite ready to climb into bed. You try Paul's instead. The price of admission is to write a fact on his chalkboard. You write, "I love you, Paul." He disputes whether this is a fact, and you engage in debate. Finally he issues you a ticket, and I say goodnight as you climb aboard.
Ten minutes later, you're back in your own bed, calling each other names—in other words, ready to sleep. Goodnight for real!