To Annie: this is how you spent the day you turned 6 years and 10 months old.
At 6:35, you're asleep in your bed, with Paul at your side. I climb up and squash between you. You challenge me to guess your favorite page in the Usborne Science Dictionary you've slept with: I guess animals, but it's food groups. We review the two kinds of carbohydrates. You tell me your tummy sort of hurts. Let's get some food in you! Surprise, it's chocolate chip pancakes. Fourth day in a row.
As we prepare to leave the house, you decide your pants will not do, and head upstairs to change into a different pair of leggings with a hole in the knee. Surprisingly, this does not address your greivance of being too cold. A large, hooded, puffy jacket is also inadequate. You creep down the sidewalk as slowly as possible, a deep scowl on your face. I try to maintain a gravitational pull forward without getting too far ahead or paying you too much attention. Sous helpfully poops, giving me an excuse to loiter 10 feet in front of you, looking at something else. You inch closer.
"I have SO MANY THINGS TO COMPLAIN ABOUT!" you exclaim. "I wanted to have VITAMINS."
"I can hear that you're really unhappy," I say sympathetically, right out of a parenting book.
Complaint issued, you muster the strength to go on. We pick up our pace, trotting a bit with Sous and eventually catching up to Dad and Paul. By the time we arrive at school, you are cheerful again, and highly motivated to get through the door before the bell rings, crowd of kindergarten acquaintences be damned. ("Pirates law," Dad declares. "Wait for no one.")
At school you begin science experiments to see if a lettuce leaf will stay crisper in salt or fresh water (your hypothesis: fresh) and if water will stay in a sealed bag or evaporate (stay). Science is your favorite, and this is right up your alley. It's music today, and you play a singing game called "Doggy doggy, where's your bone." You explain the rules to me on the way home; they sound elaborate.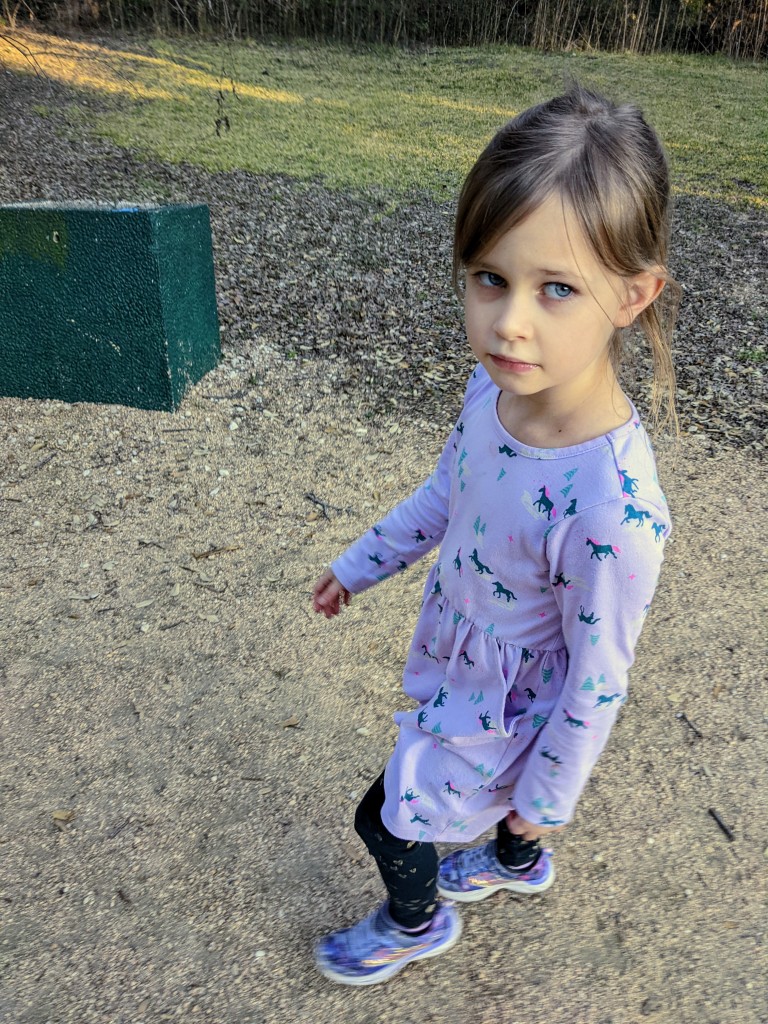 A few minutes after 5, we parents roll up to your afterschool portable, and you slip out the door. We get you packed up and start our walk home. Tomorrow is a planning day for teachers, so this Thursday night feels Friday-ish, and we make big plans for video games and popcorn after dinner and homework. Your homework all week has been writing valentines to each of your classmates—homemade, with "a positive message." It's been sweet hearing you craft messages to some of your friends about what you like about them. "I like how Margaret comes by my desk every morning and says hi."
Margaret is not destined to receive that message, however, because when we arrive home, all your will to work melts away into fury and despair. Dad tries every positive, supportive trick in his book, but your dedication to not writing a single letter is ironclad. Twenty or so minutes later, you both come down, and Dad announces that "video night" is OFF. Poor Paul bursts into earnest tears.
A proposal is made: a timer will be set for 5 minutes, during which time you will work on your g-d valentines. After a few false starts during which you intentionally write letters incorrectly and slowwwly erase them, you manage to crank one out.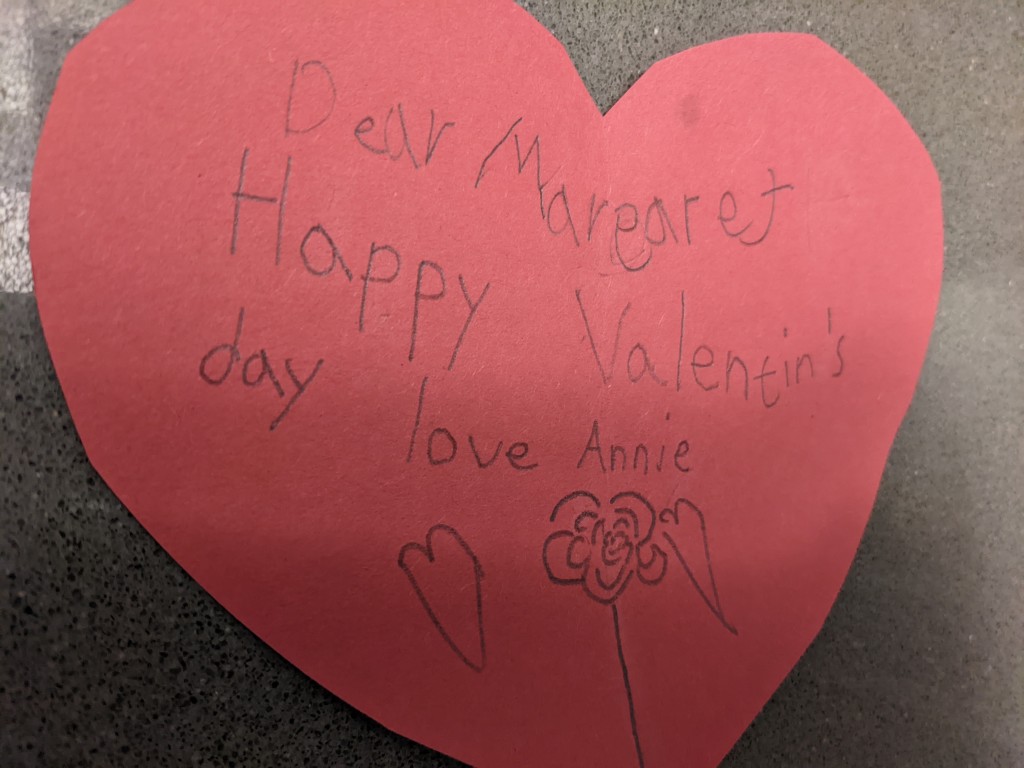 We all declare victory and eat dinner with relief. Then, sure fine, video games. Paul plays Astro's Playroom and you continue to add to your Minecraft rosebush palace. We all hang out in the dark, engaged in our own pursuits (I'm writing this) and chatting aimiably. Screens for the win.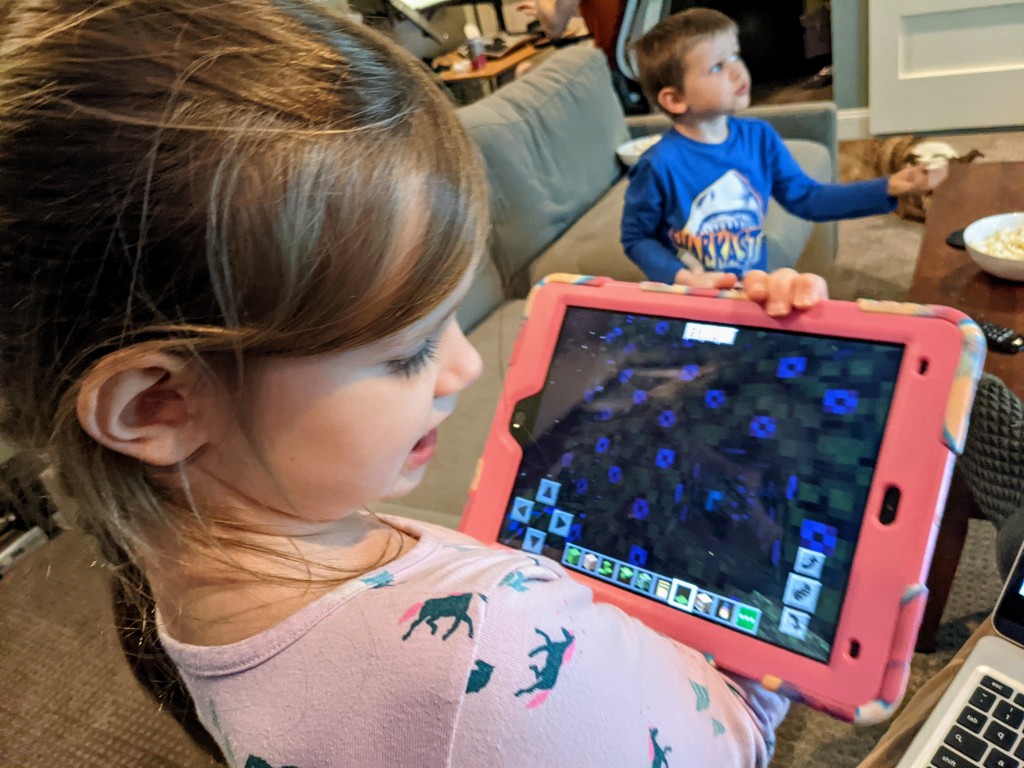 It's bedtime, thank god, and it's a totally smooth ride. Okay, not the best day ever, but we made it.