To Annie, this is how you spent the day you turned 6 years and 7 months old.
Still adjusting to the time change, you and Paul are awake by 6 and playing happily. I get ready for our day, listening to you in the background, until 6:40. You're working on a lego village, and I help build a rainforest for the green Hatchimals while gently inserting tooth brushing and dressing into the game. You keep playing while I make breakfast, and come down when I call you at 7.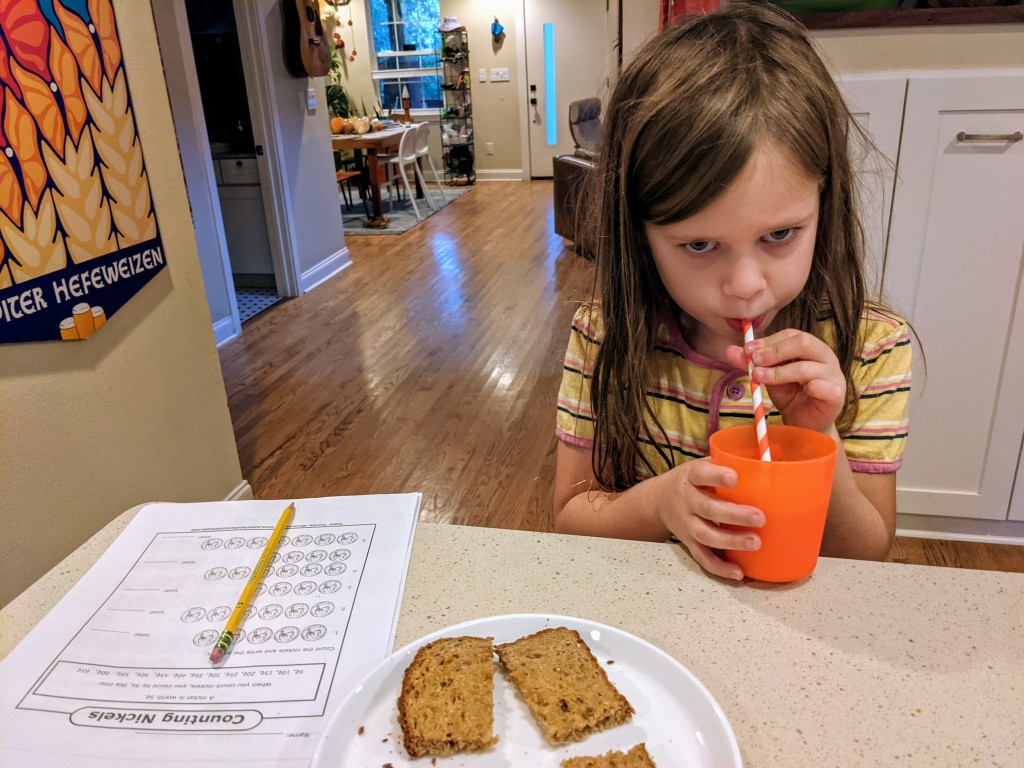 You dig into your mango smoothie, toast, and math homework, counting by fives to total up nickels, and submit quietly to hair brushing. I have decided to do your hair brushing as long as you'll let me—I love our gorilla grooming time. You and Paul get shoes, masks, and backpacks with relatively little prodding, and we're off to school.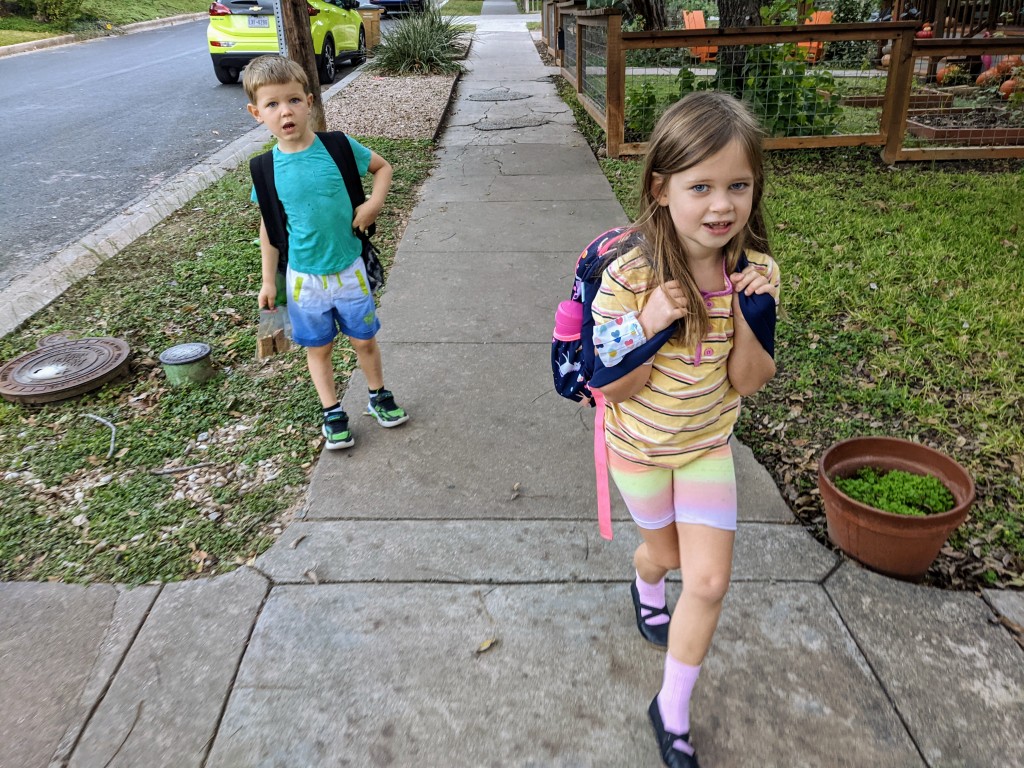 Six-and-a-half year old Annie is a delight, and I would happily press pause here for a while. You keep on growing up, though, observing the world around you and developing new interests in things like human evolution. You've declared your intention to become a librarian when you grow up.
At school, it's your third day with a substitute teacher, Miss H, whom you tolerate. She gives you worksheets, it sounds like, which you think are harder than whan Mrs. Nuncio usually has you work on. It's a music class day, though, and you have a good time playing instruments and a game to the tune of…some song about an apple tree. Paul has the same class, and you sing together and teach me the game after dinner. Creative Action after school is the BEST, with rainbow scratch paper on which you make several solar-system-themed drawings.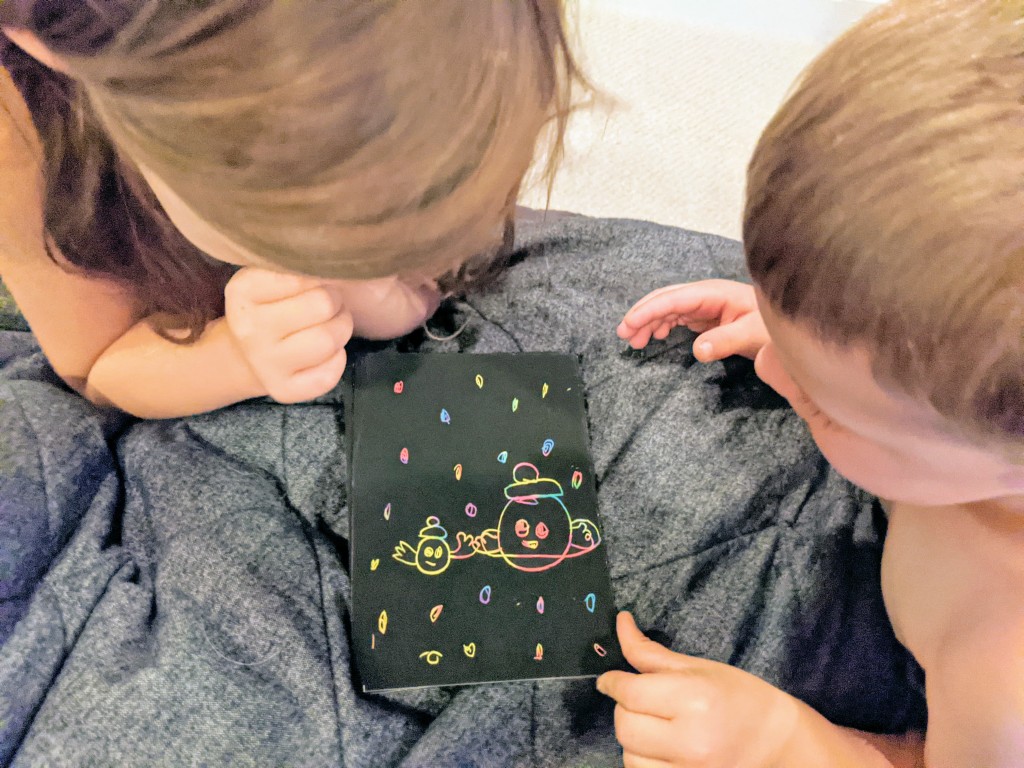 I arrive at 5:15 with a baggie of blueberries and dragging feet thanks to my headcold. You and Paul take it pretty easy on me, putting us in a line to march home with all the important roles: line leader, door-holder, and line monitor who assesses and reports on the line quality with a thumbs up, sideways, or down. We get home. I have prepared nothing for dinner, and you announce your devestating hunger. I ask you to choose between corn dogs, dumplings, or a peanut butter sandwich. You select a corn dog as the "least bad" and eat it with ketchup and giant apple slices.
You and Paul do a little swinging in the dark with our backyard lanterns for extra flare, then move it to a "night bath" with lanterns perched above the tub. You declare it a peaceful space, and we all stay quiet and listen to the water.
I need a little time to clean up the house and write this post—Dad's on a work trip—so I turn on a show. Paul selects Donkey Hodie (get it?), the latest muppet venture from the studio of Mr. Rodgers. Wholesome lessons flow. You climb up into Paul's bed for a few pages of Harry Potter and the Goblet of Fire, which you talked Dad into starting a few nights ago. Mrs. Weasley is upset with your favorites Fred and George for throwing their lives away on dreams of a joke shop. You take it in quietly, and go to sleep quickly. Goodnight, 1st grader.