To Paul: this is how you spent the day you turned 5 years and 2 months old.
You wake up fully clothed, brush your teeth, and slither downstairs to a breakfast of fruit and yogurt. It's dark and drizzly, and you're happy to carry a flashlight to school, thrilled with the power of illuminating dark and spooky objects, like tree branches. You spot a snail gliding across our first small bridge, and we all bend over to admire its delicate shell.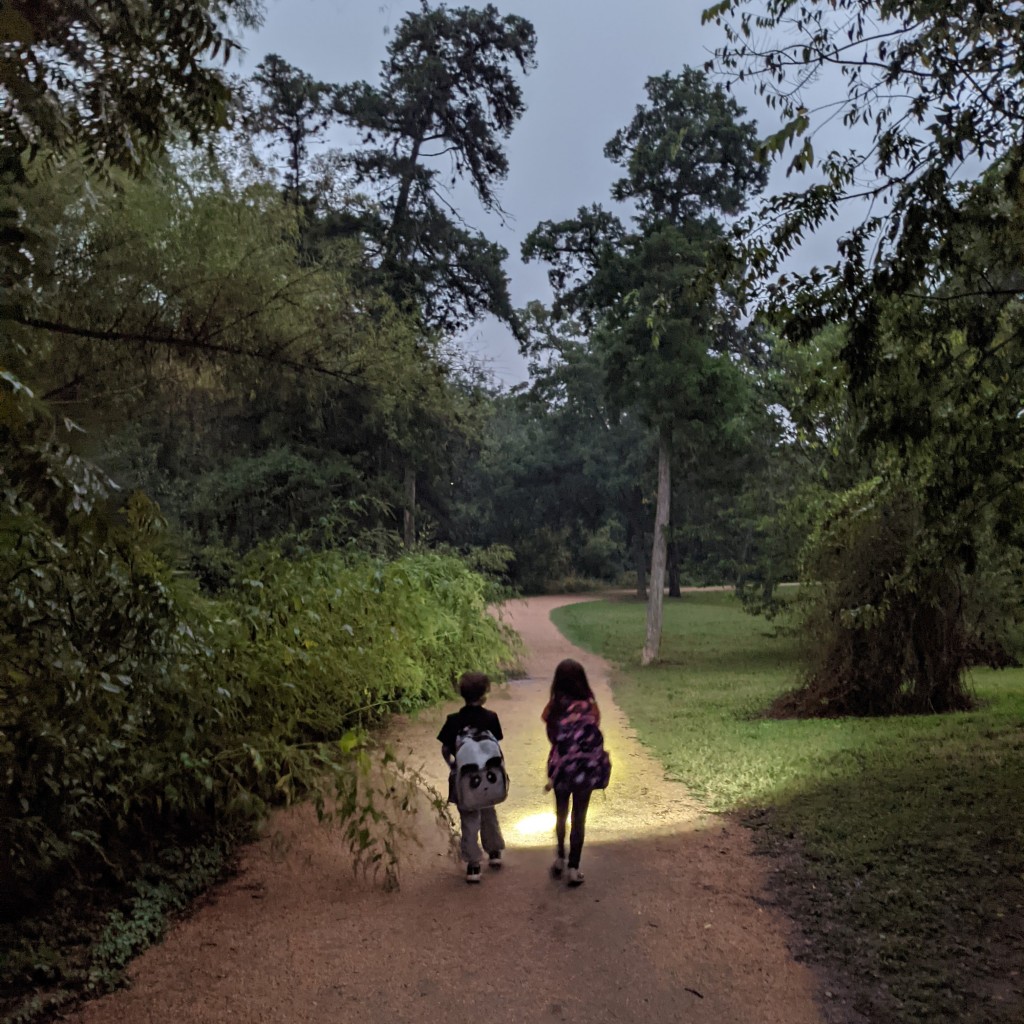 Dad walks you to the school door, and we say goodbye. You have, I don't know, a day at school. At our parent-teacher conference yesterday, Mrs. Dunbar told me you and Eric James are her "math boys." He changes the date on the chart every morning, and your job is to move the counter to show how many days you have all been in kindergarten. You called her over recently to show her how you'd written the number 452, which doesn't sound like all that much, but I happen to know at this precise moment in my life that reading/writing numbers over 120 is a second-grade skill. She described herself as "blown away." You have a joy for learning that delights her, and are often the only one enthusiastically engaged when she's explaining a new concept. You also, ahem, have trouble sitting still on the carpet.
Anyway, you have a day, and tromp home after Creative Action with Dad and Annie. I've just put dinner on the table, and you go quiet as you sit down and devour the fruit. We vote as a family to approve your motion to switch a dessert day from Fridays to Tuesdays. Motion passes. You make sweet boba tea for your first Tuesday dessert, and do not like it.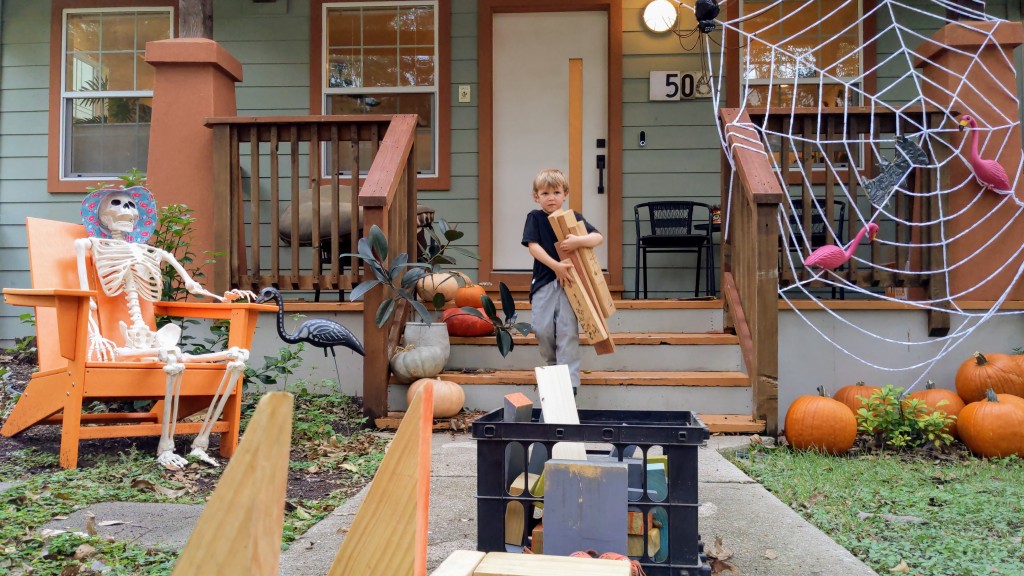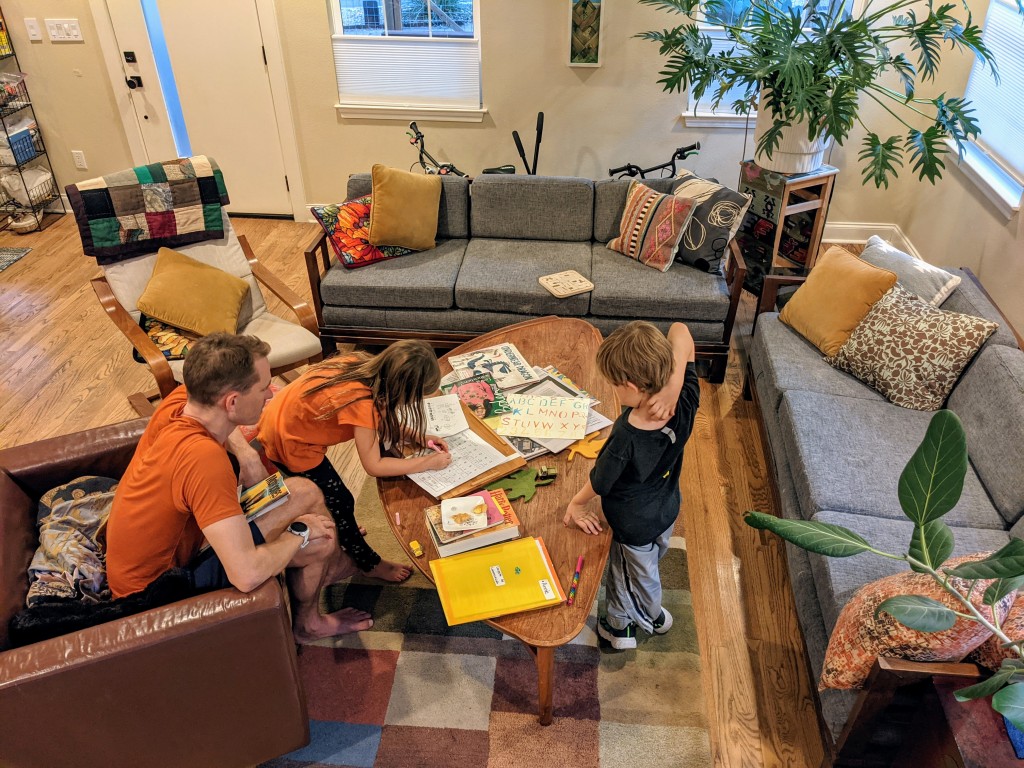 We go to the front yard to build a house for Little Doggy with our big wood blocks and tape. I think it's our best one yet. The mosquitos drive us inside, and you hover near Annie completing her subtraction worksheet. I lure you upstairs with the promise of together time, and we draw pictures at your desk until it's time for your bath. We put conditioner in your dry hair, and you make a tremendous number of silly noises.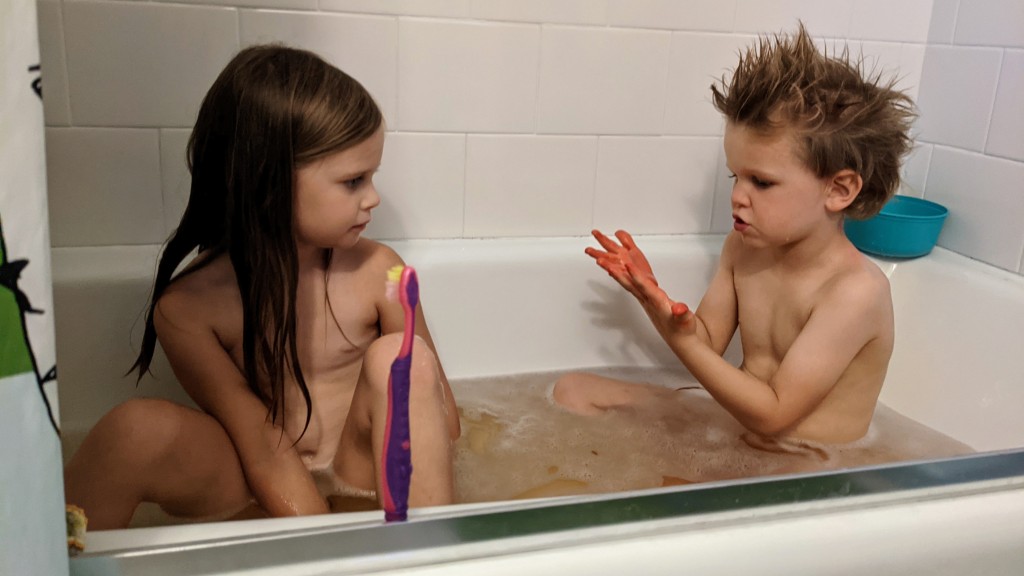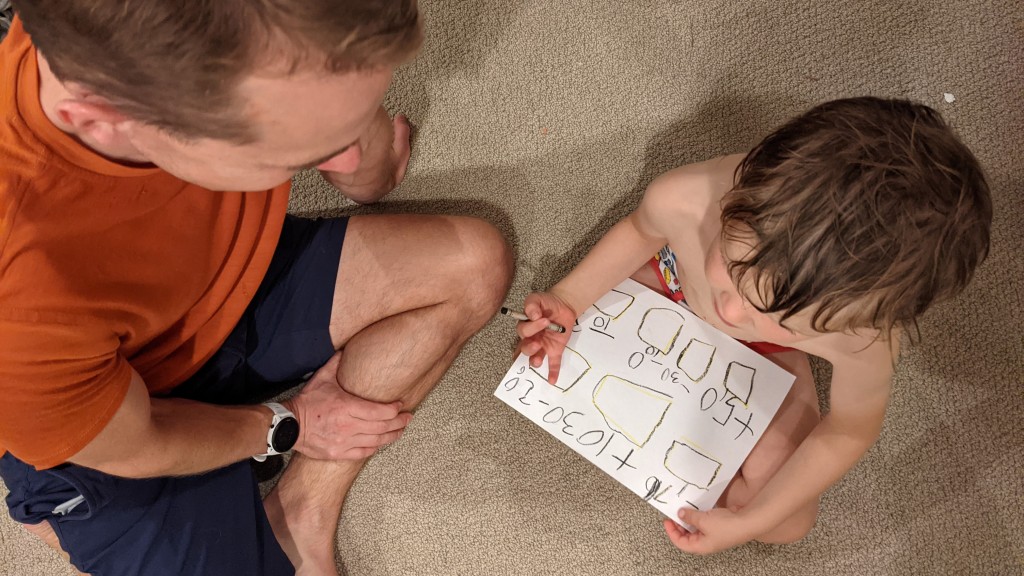 Clean and dry, you get back to work, making your own darn math worksheet! You head up to Annie's bed with supplies to continue crafting while Dad reads the beginning of The Wonderful Story of Henry Sugar. He says goodnight, and you keep drawing until an altercation with Annie requires our intervention at about eight. The feelings, OH, the feelings. We get you set up back in your bed, and you blink right out.