To Annie: this is how you spent the day you turned 6 years and 2 months old.
You and Paul are on the move first thing, constructing something big in your room. We listen until about 7:20, when you invite us to the ribbon cutting for your new library. You've got blankets and pillows on the floor, books distributed in piles, and big ambitions to move your beds to locate lost items. The tension between furniture moving and maintaining perfectly tidy floor coverings is nearly unbearable, but you persist and eventually make it down to breakfast.
No Kindergarten lesson this morning. The school year is over, and I confess I sort of miss a little brain stretching first thing. Bryan drops you off on his way to the climbing gym, and you and Paul sail into Colibri, queen and king of the yard.
There's water play every day now instead of the Montessori time, and I hear later about Paul sneaking around with a squirt gun, and some sort of water explosion machine. Face painting is also a regular occurence, today no exception. The volume of clothing and towels you go through now is…high.
A wonderful surprise at pick-up: Dan is in the car with Dad! By the time you arrive home, you're over your shyness already, and excited to read books with Peanut and give her your latest updates. You remember every present she has given you, and display your butterfly dress with rainbow sleeves to show her it still fits, and you still love it, and one of your friends has it, too!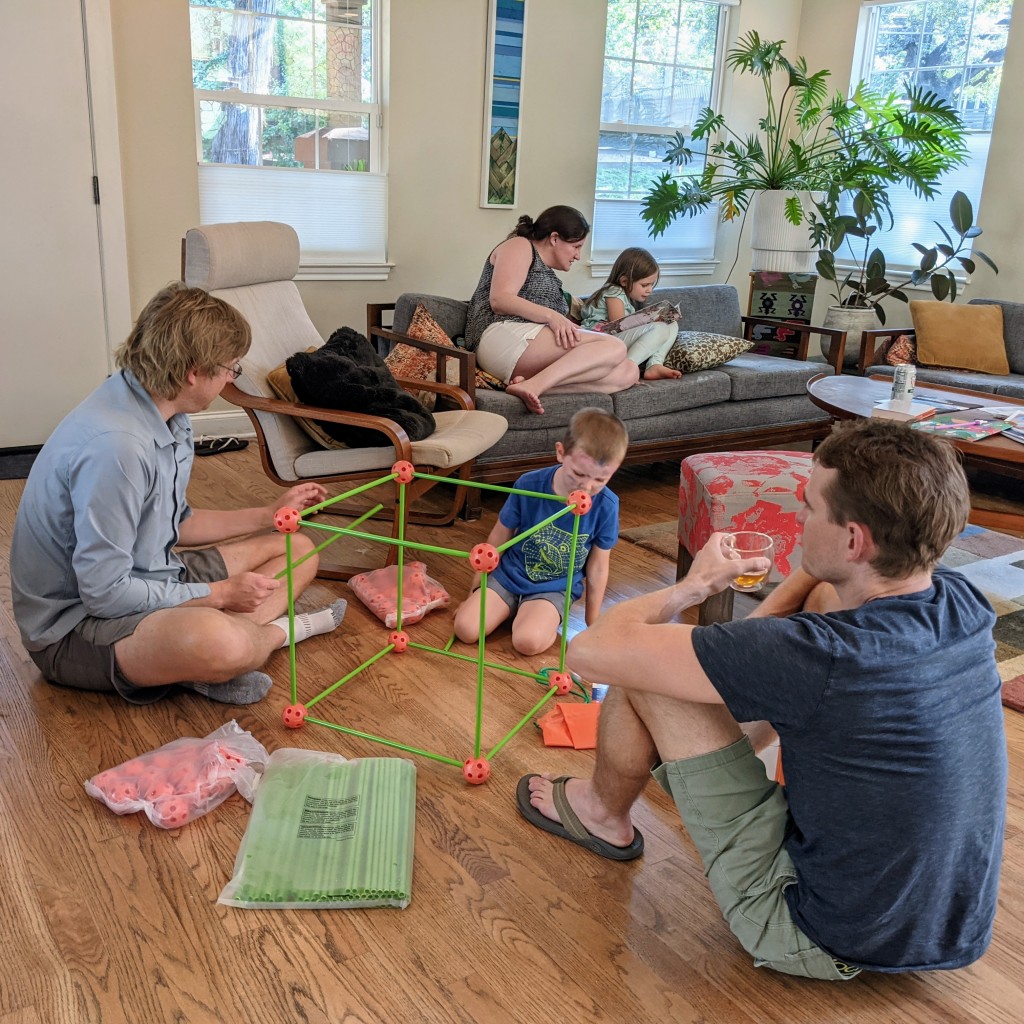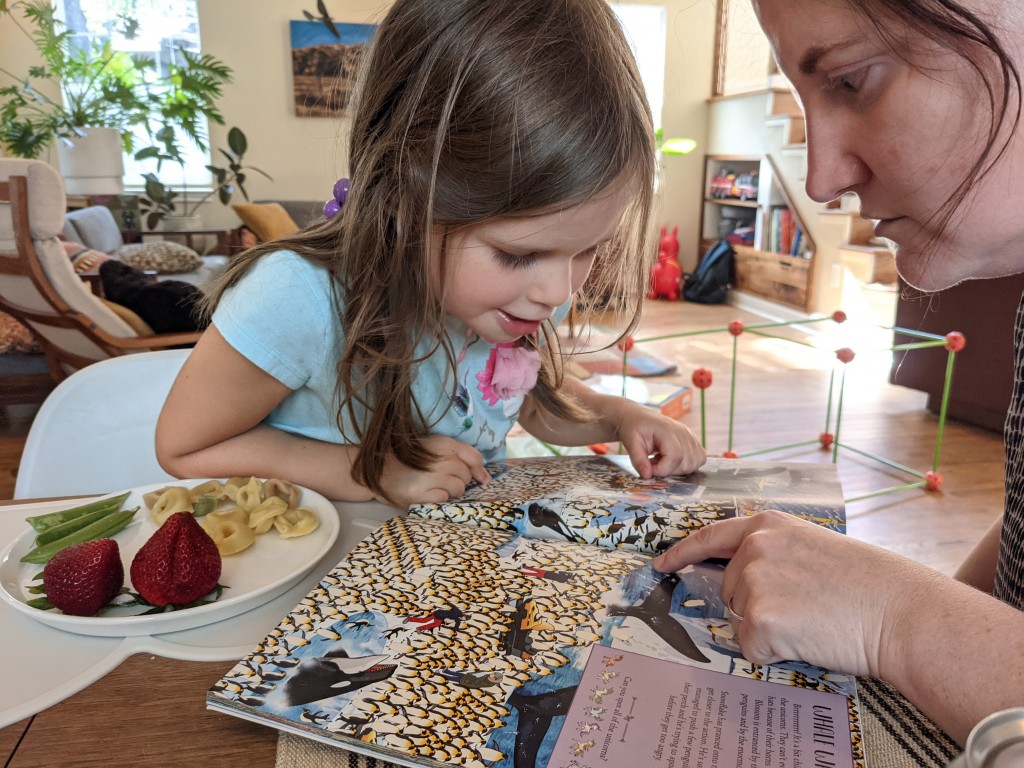 You hunt for unicorns during and through dinner, then retrieve the memory card game Peanut and Dan made for us years ago and play a round with me. We all work together on a tower with the building kit that's their latest piece of generosity. It becomes a double tower, and then a unicorn/dragon/race car, and you pilot it around the house.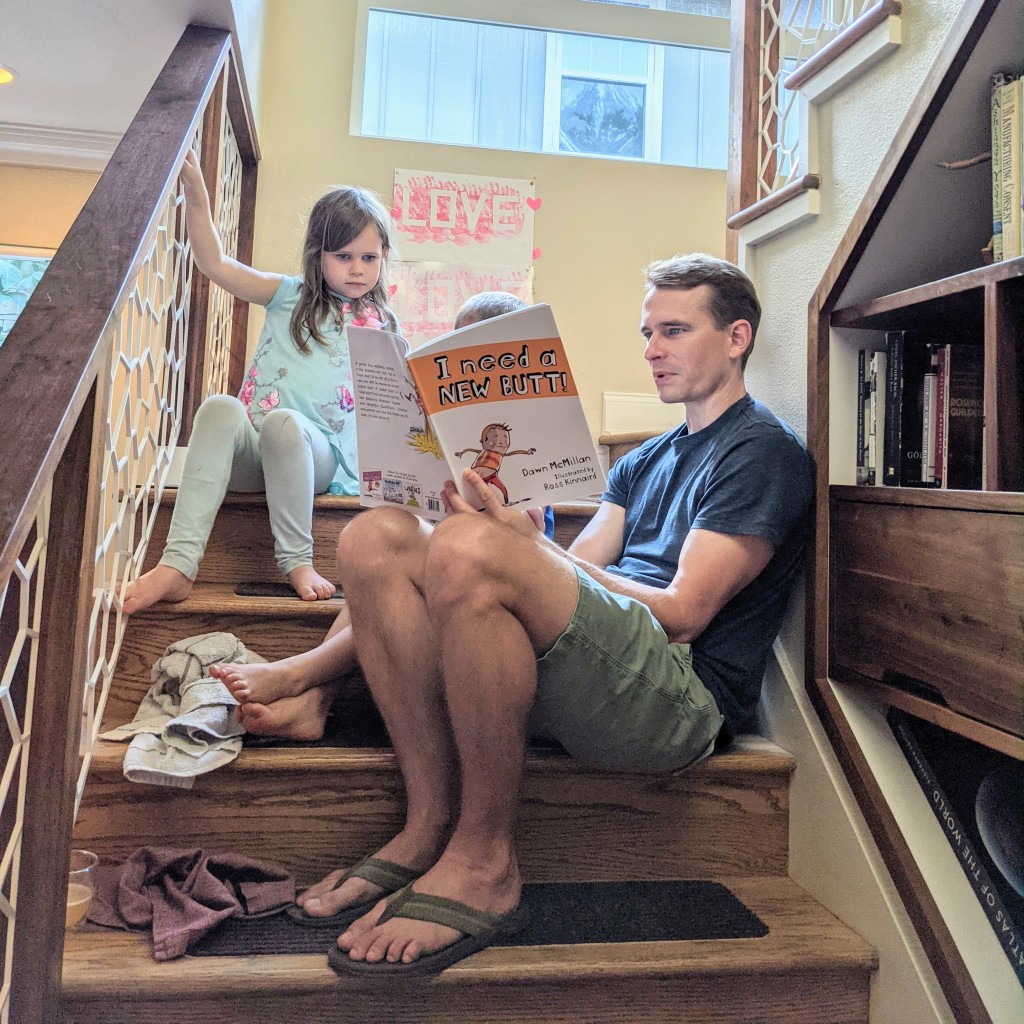 We inch our way up the stairs with books, and make it to bed at last. Peanut sticks around for the latest installment Harry Potter and the Chamber of Secrets. We say goodnight, and only have to herd you two back to bed a time or three before you fall asleep.