To Paul, this is how you spent the day you turned 4 years and 8 months old.
You pop up this morning raring to go, clad in a girls-fit Halloween shirt with sequined jack'o'lantern and your standard track pants. You claim to have brushed your teeth—questionable—but we elect to take your word. Downstairs you and Annie launch a play world, but agree to pause for a waffle and yogurt. While Annie does kindergarten work, you and Dad make paper airplanes.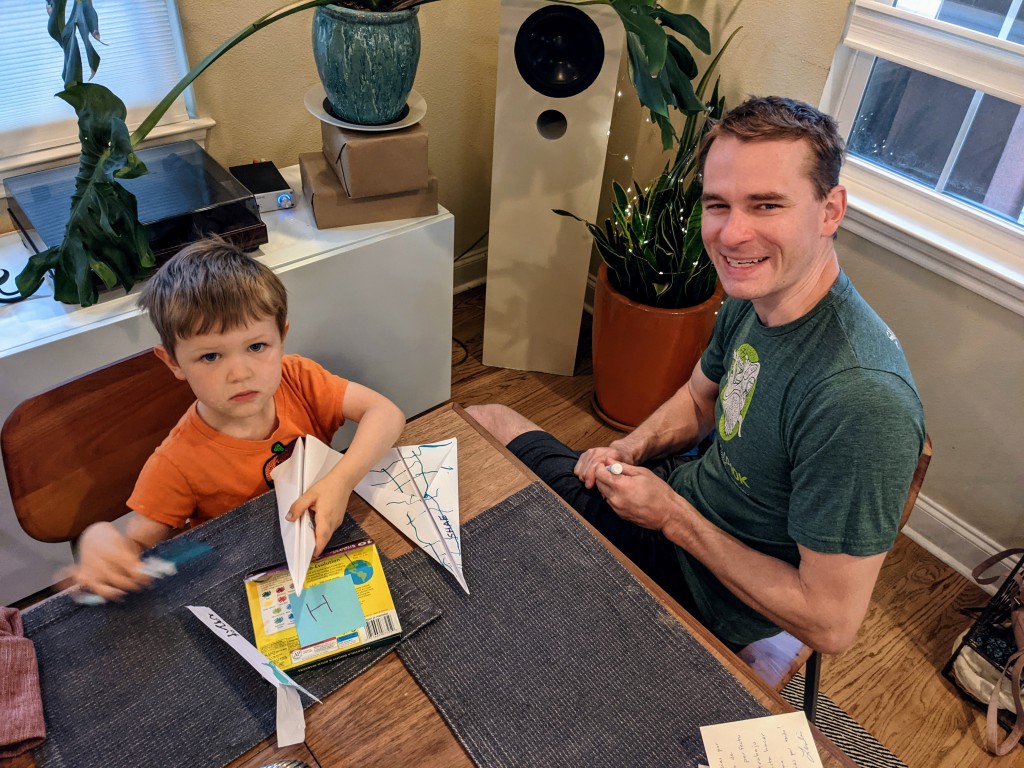 Dad drops you at school. You've brought the airplanes: one for you and one for friend Shae. At 9:15 Annie joins you after her annual check-up, and at lunch you are dismayed to discover it's the sandwich which used to be the only thing you liked so we ordered them forever and now you hate them. Ah, life. You're engaged in some sort of circle game at pick-up.
Home, you bustle in and are delighted to find blackberries on your dinner tray. You trade me five peas for one of mine, and save one tiny seed to plant so we'll always have plenty. (We do not, alas, actually plant the seed.) Annie invites you to the bathroom to tell you a secret, which pleases you. You finish the fruit parts of dinner and ask to be excused.
It's time to jump on the couch, which you haven't done in so long I'd hoped you'd forgotten about it. And of course you need the White Stripes, "side D." Annie finds some of Dad's rejected neck gaiters in the give-away pile, and these become costume pieces. You rock out.
Couch jumping evolves into obstacle-course building, which you two collaborate on and lay in a track all the way to the downstairs closet. There you create a nest we will later discover to be a disaster, but keeps you happily entertained for at least 20 minutes. Overheard: "Now I need a TRILLION pillows!!" You emerge and decide it's time for an airplane ride on my feet, and carefully position me so that, without any risk to my person, you can pretend to knock me backwards from sitting and then launch into the air. "No tickles but high," you specify. Yes, sir.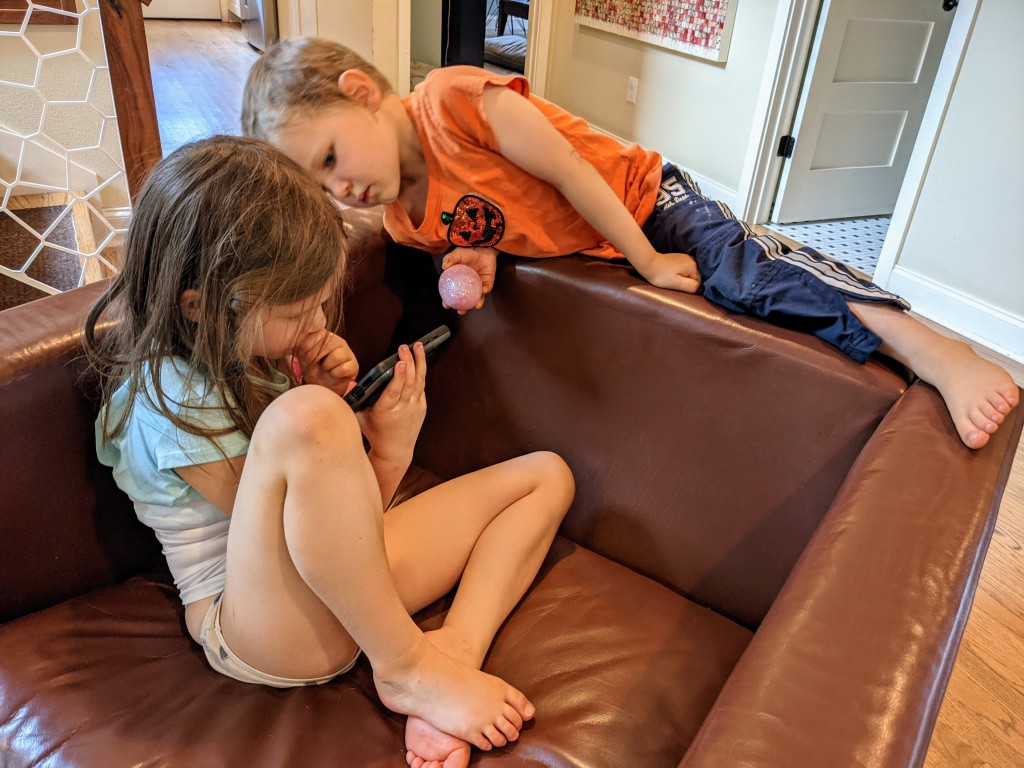 Unfortunately, during the nest-build Annie cuts her foot on something, and screams in fear of the blood. We manage to get it bandaged, and you get in on the post-war-wound soothing video, an episode of Nature Cat via Dad's phone. Then it's upstairs. You brush your teeth, really this time, and make it clear you'd much rather be playing with your cars and helicopter than listen to stories. Dad lets you take them into bed while I read and you ignore The Great Kettles. You stay reasonably near bed, though, for the story and then afterwards. You flip through a book about the planets and ask me which planets have rings, and how do they get rings, and could the Earth have rings, which causes me to talk about the moon exploding, and then Annie to ask whether the Earth could explode. "No," I say firmly, then, "Okay, goodnight, I love you!"
…
I see you again at 8:45. Annie has accidentally awoken you with some elaborate plans to act as the toothfairy and leave you treats under your pillow. (This is the secret she was telling you earlier.) I soothe you back to bed…and assist her with execution at 9:30.