The cracks started to show on Sunday. We'd already cancelled my parents' trip down to Austin, in advance of the winter storms. I'd gone out for a run and taken a fall. We wanted to check out a swelling on my arm before the roads got dangerous, so pulled into an urgent care clinic on the way home. It was closed. We called another, and it was about to close. The receptionist was flustered and seemed happy to talk to someone sympathetic. So, no urgent care. I ended up at St. David's ER, totally fine it turned out, and we headed home. Ali and Doug had been aggressively winterizing their places; we belatedly wrapped our plants and turned on the faucets, but otherwise had a normal afternoon as it grew colder.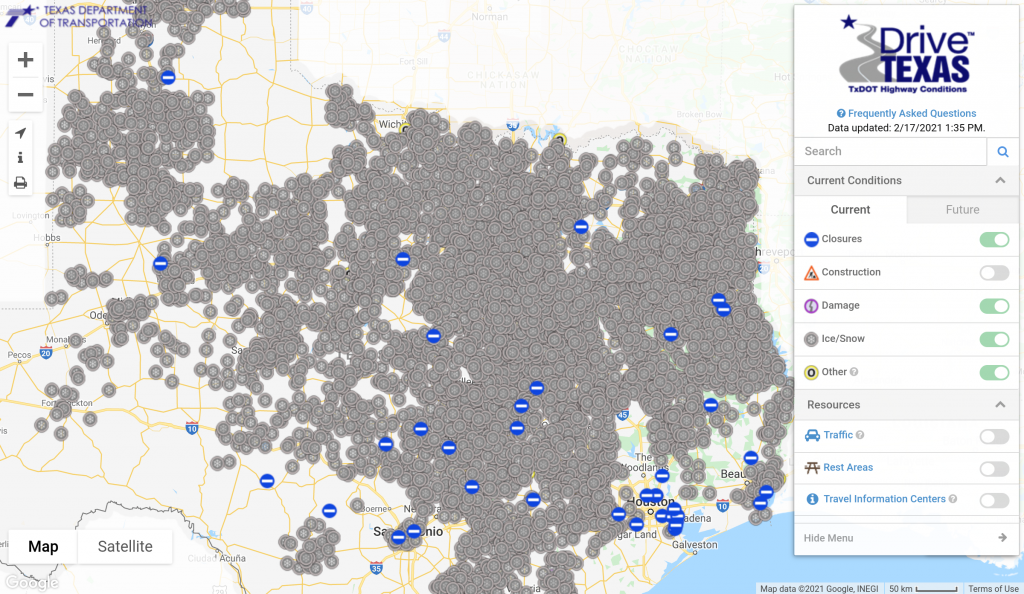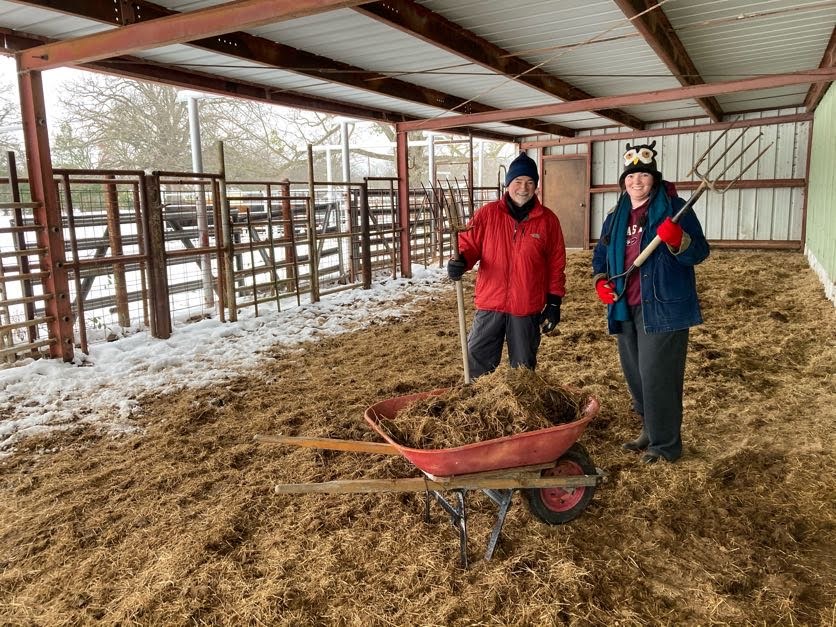 At 2am, the power went out. We had texts from Austin Energy telling us that rolling blackouts were starting, and should last 10-40 minutes, which gave us great peace of mind. We woke up at 6 to a still-dark house, and a beautiful snowscape across the neighborhood. Ten degrees outside. The kids were thrilled, and we had a brief romp through the virgin snow down to the park. The cold quickly penetrated their inadequate clothes, and we headed back to warm up, grateful for at least our good insulation. We searched for information with little luck. A city press conference at noon didn't illuminate much. Weren't these blackouts supposed to be rolling? Hadn't we had our turn? We got our best info from a city countil member's Twitter thread: the city had turned off all non-essential switches in order to meet the requirement from ERCOT, the state grid. There was no margin left to alternate power between neighborhoods.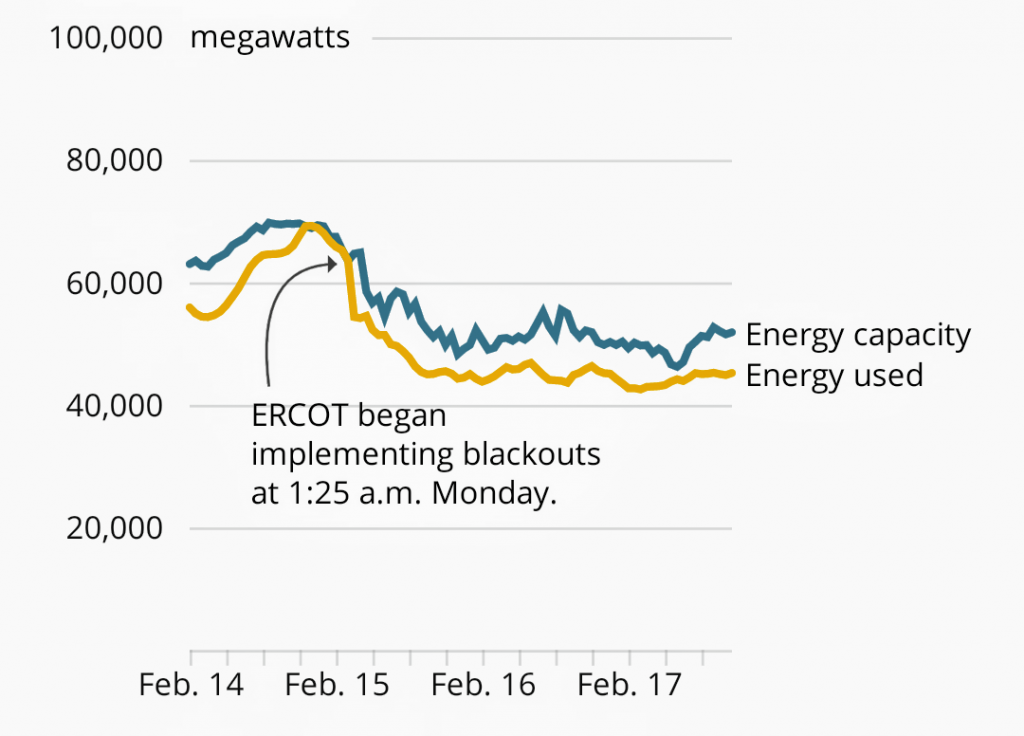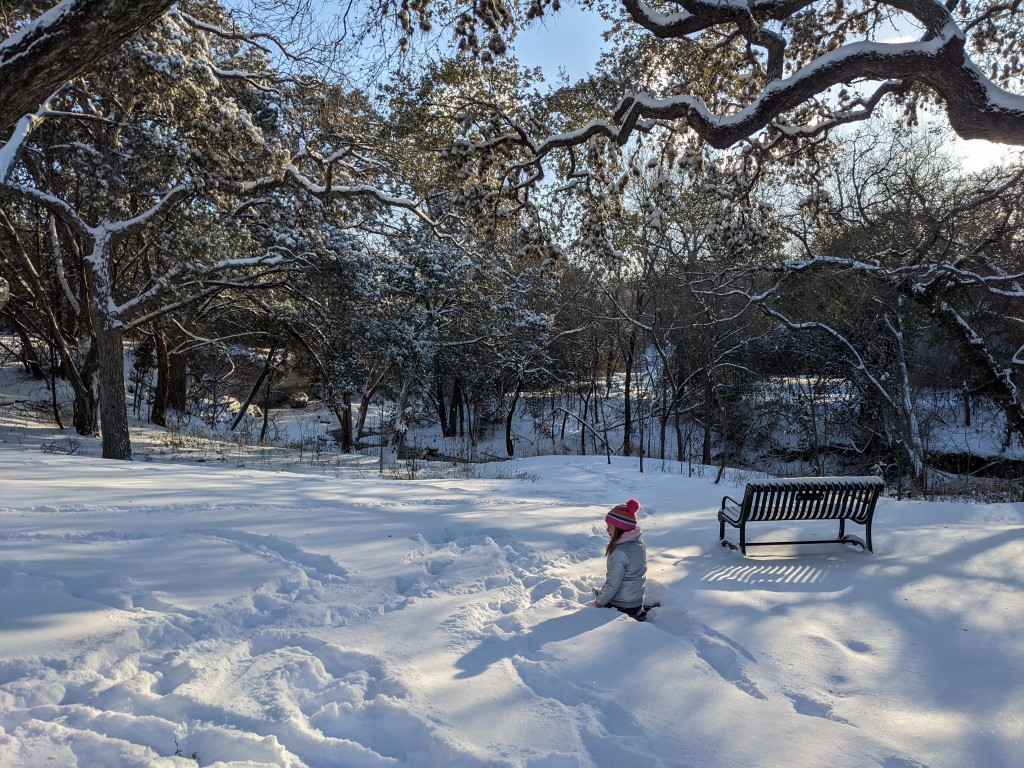 Our cell service was getting worse, but our battery-powered radio gave us music and a much-needed connection to news and a sense of the outside world. Meanwhile, we texted with our parents. Power was also out at the ranch and intermittent in Kerrville. My parents were breaking ice on the tank so the cows could drink, and staying warm by a fire. Bryan ventured out to Congress to check out the scene. Cars were starting to drive on the roads, and drifts of snow and slush made it look like a ski town, without the road maintenance. We started stashing the perishable contents of our fridge on the front porch, nestled in a box of snow.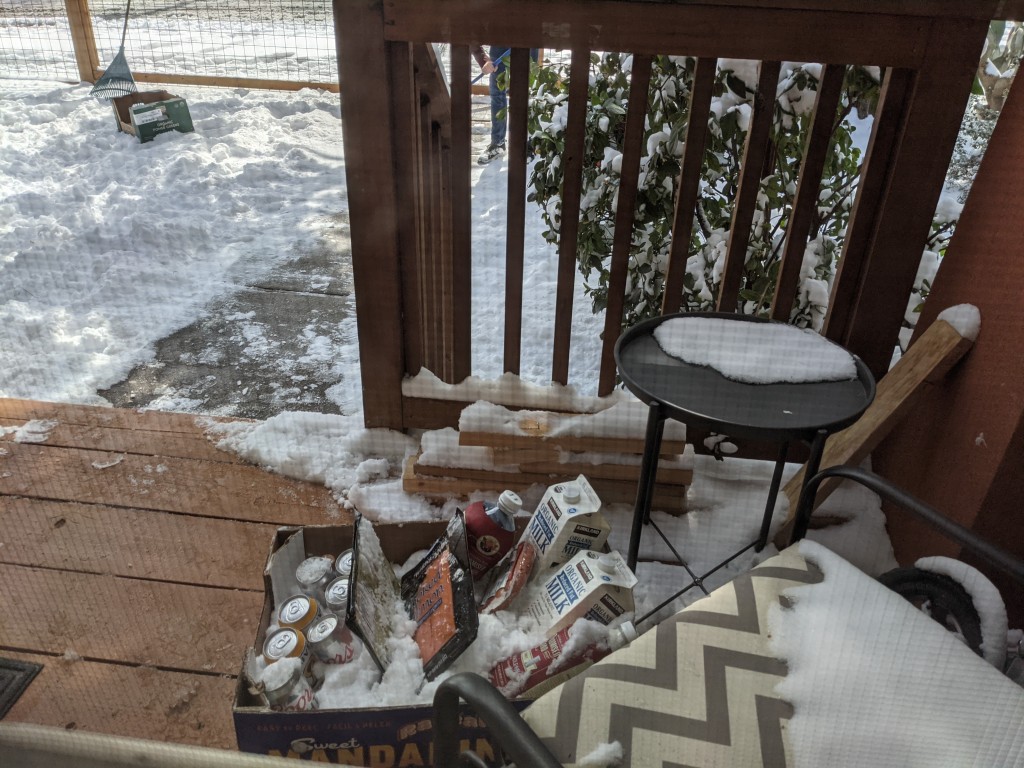 The kids had an awesome snowball fight with Bryan in the front yard, and I built them a tent-fort-megacrib by pushing their beds together and hanging a bedspread over it. We moved the freezer foods to open coolers outside. We cooked a hot dinner on our stovetop, and the kids retreated to their bed-fort with a tablet for an hour of Peppa Pig. We handed them toothbrushes; Dad read them a story through the side rails; and we left them cozy for the night with a couple of electric candles for light.
Cell service was degrading, and our hopes for the power to come back on were fading. The Crowders' was also out, and Doug had rewired his solar panels to run their heater and refridgerator for the day. Some other acquaintances in South Austin were in similar situations, but most of our friends around town had power. Lisa offered us a rescue and lodging if things hadn't improved the next day—a tempting offer. We slept warmly Monday night under extra blankets. It was 58 degrees inside when we went to bed, and about 50 when we woke up. I scrambled a bunch of eggs and griddled bread for breakfast. Nine degrees outside. We haphazardly packed some bags for our evacuation and watched cars struggle up our Monroe hill.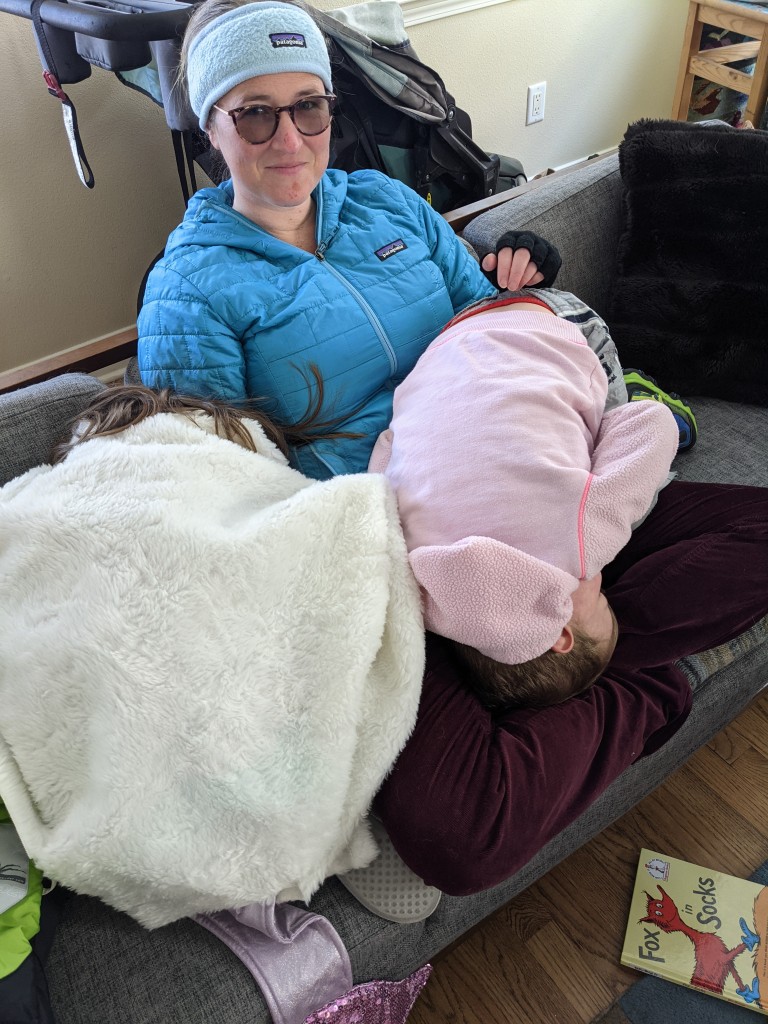 At 10:45, Eric arrived in his Jeep. Bryan installed carseats. We left faucets dripping, locked the doors, and loaded up. Eric drove slowly up eastside backroads, careful on the ice. We piled into Lisa's house, thrilled to be warm and disoriented to be sharing airspace with other people after so many months of masks and distance.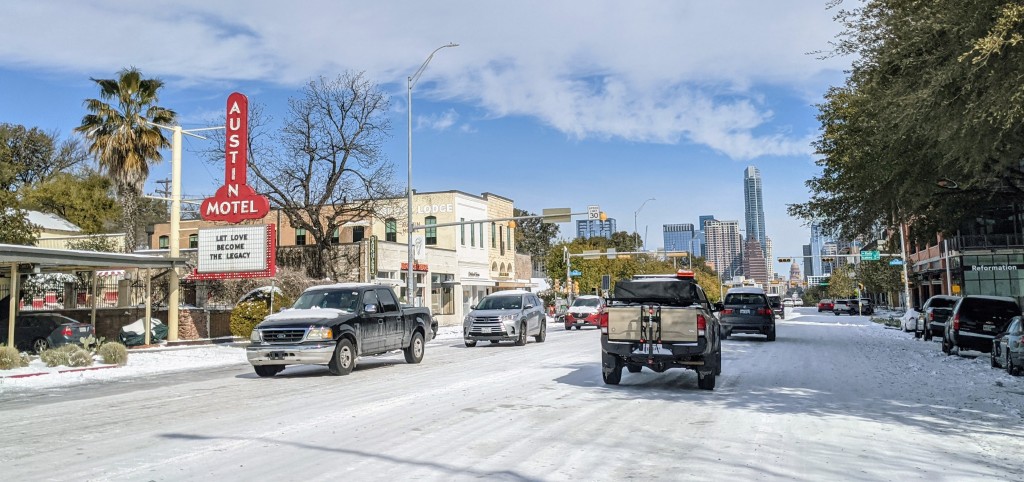 I went for a run. Bryan went on a beer run. He and Eric found hundreds of people lined up at the HEB for their first limited hours since Sunday. I picked my way carefully through ice and snow and melt, like the parking lot at a ski mountain. The kids knocked around the house, and Eric cooked red beans and rice for dinner. Lisa gave us her bedroom, and we made up a cozy family camp for us. My parents finally bugged out to the Pous' house, on a different power grid, and the Klingners, still with intermittent power, got a boil-water order in Kerrville. Rumors started going around about water shut-offs and imminent electric grid collapse. We drank beer and texted friends.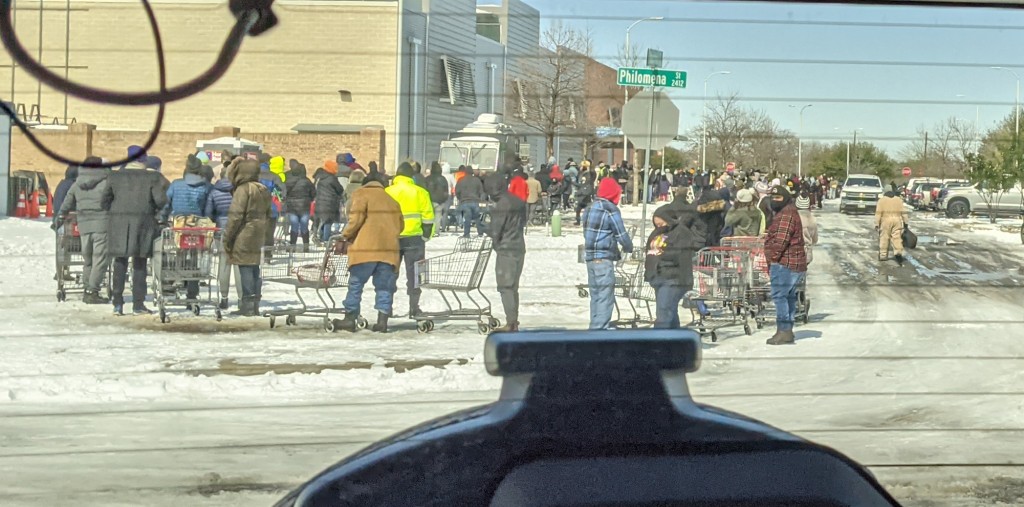 It sleeted through the night. Wednesday arrived with warmer temperatures—merely 32—but frozen tree limbs that crashed through power lines and brought more outages. A couple of water mains broke in our neighborhood, but we remained safely unaffected at Lisa's. A quarter-inch of ice covered everything. I spent another day reading Twitter, checking on people via text, and watching unsatisfying press conferences from city and state officials. The kids watched TV and played with their cousins. As the day went on, power started flickering back in places, and water started shutting off. St. David's South, where I had gotten x-rays days ago, was running out of water and heat. Other hospitals, too. We filled a bathtub as a precaution, feeling both safely prepared and guilty for hoarding. As we got in bed, a power loss to a water treatment plant resulted in a boil-water order for the entire City of Austin.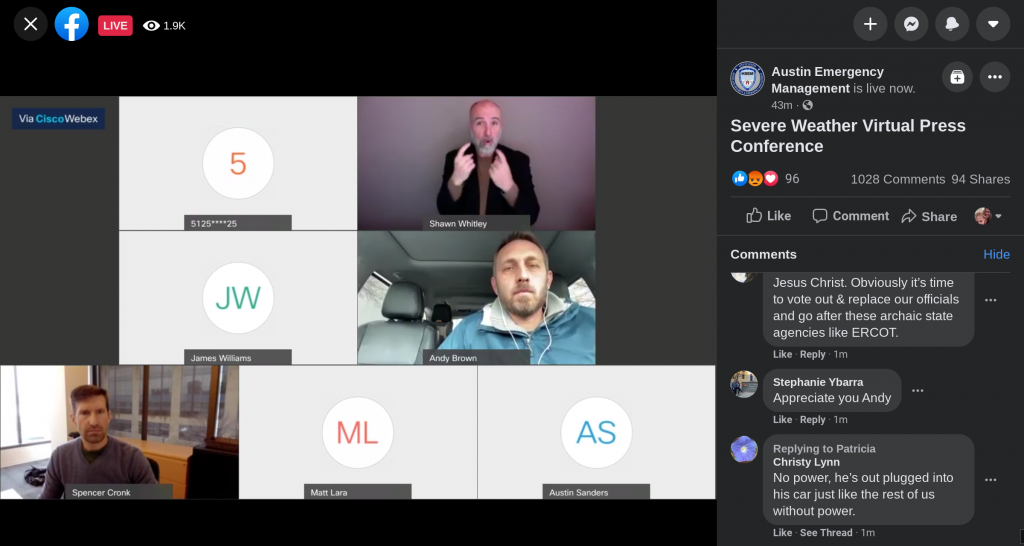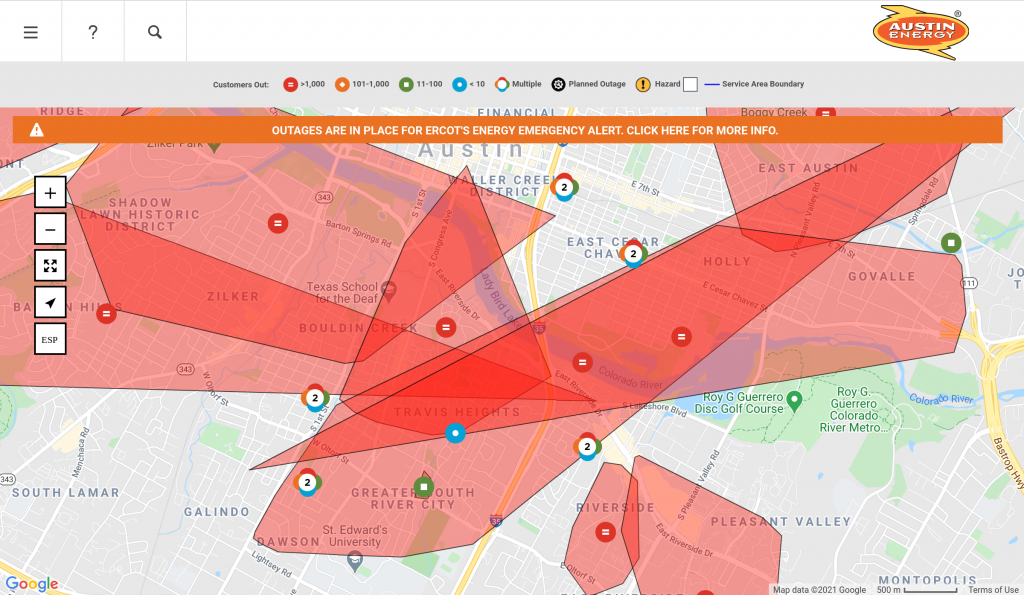 Thursday dawned cold again. My dad went to check on the ranch and found the power restored. They started trying to figure out how to melt water for the cows to drink, and get more to them despite the frozen pump and hoses. In Austin, it was snowing again. The kids were stir crazy, so we picked our way through the ice to the playground, where Paul had a blast knocking down icicles and navigating the trecherous equipment. While we were there, Bryan got a follow-up call from Sous' vet visit the week before: it's lung cancer.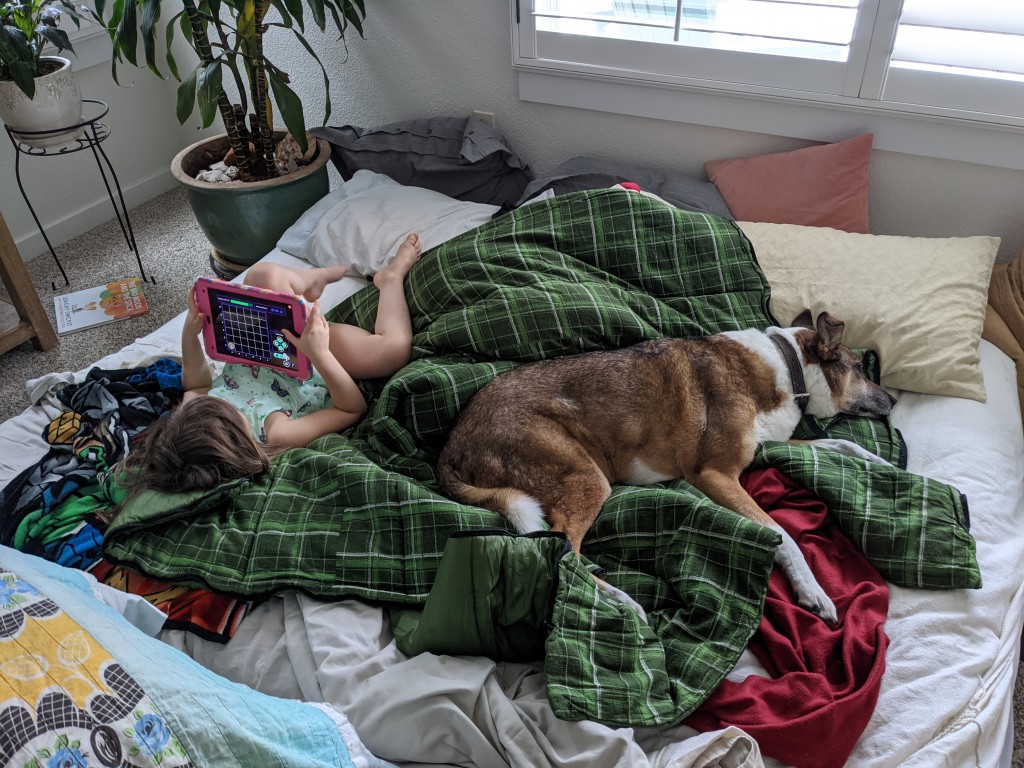 Eric offered to take us by our house to check it out and grab fresh supplies, so we did. The roads were better, and we made the drive on the backroads in about 20 minutes. Our neighborhood seemed significantly more wintery: lots more snow remaining on the ground and trees, and no evidence of power. We arrived at our house to find that a medium-sized branch from our cedar tree had crashed to the ground, happily missing the power lines, and another looking likely to fall. Everything else was the same as we'd left it. The house felt desolate, dark and in the high 30s inside. We tested the water and found it running, then turned off all the dripping faucets to help conserve it. We packed up the coolers full of freezer goods we'd left on the porch, salvaged some other things from the refrigerator, and swapped out two days of dirty clothes for clean ones, feeling post-apocalyptic.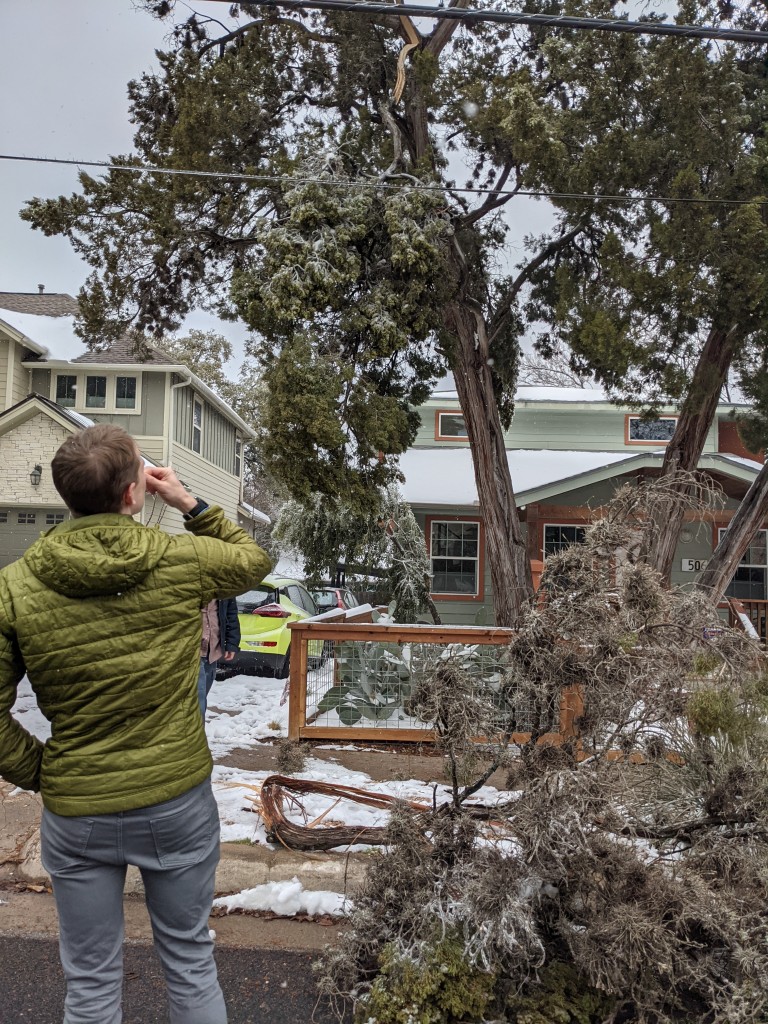 As we left, we met our next-door neighbor John returning from a friends house where he'd been staying. Five minutes into our drive back to Mueller, he texted to tell us the power had just come back on. Thursday at 1pm, 83 hours total. We turned around and returned so Bryan could reactivate the internet and our ability to check our cameras and remotely operate the thermostat. For the rest of the afternoon, we watched the temperature inside climb from 37 to 60. I made another dinner for us, and we watched a movie. Eric lost water at his apartment building and watched his neighbors there collect snow in cooking pots; he filled used milk jugs to take back with him for the night.
Now it's Friday. I'm 40.