To Paul: this is how you spent the day you turned 4 years and 5 months old.
At 7:05, you parade in cheerfully, and make an announcement: it's snuggle time. You scooch right into bed between Dad and I and let us both cuddle you close. Annie is still in bed, and you are quite content to have us to yourself. You ask for my help getting dressed, and I bring you clothes and your toothbrush. We head downstairs.
You are determined to prepare breakfast yourself. You hunt for the dried mango in the pantry, stack up mini-pancakes into two towers of four, and carefully punch the microwave buttons to cook them. Triumphant, you tuck in.
Annie joins us and you have seconds. You bop around the house while she listens to her kindergarten teacher on the tablet. When it's time to load up, you climb the counter to retrieve your daily vitamins and head out to the car with me, declining a jacket. It's 30 degrees outside. You joke around in the car while I hover at the door, trying to playfully persuade you to sit down so I can I buckle you in. Frost is melting on the roof of the car and dripping onto the back of my neck. We accomplish our mission. Dad drives you to school.
You tell us nothing about your day. Dad picks you up at the end of it, and you and Annie watch 10 minutes of Blippi (Google him) while I finish cooking. Dinner is tortelli, tomatoes, and cheese, and you put it away fast.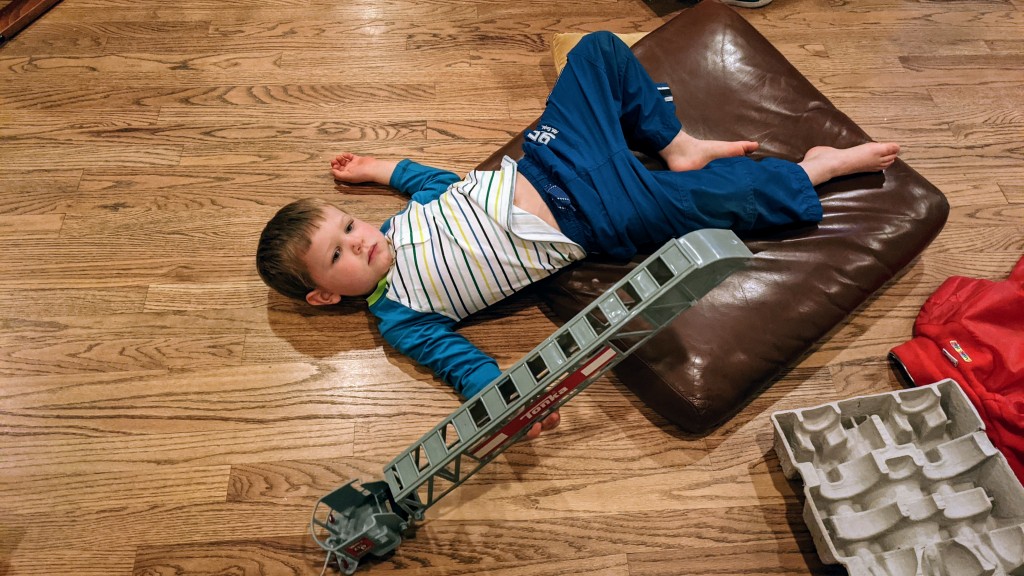 Excused from the table, you launch into solo play, riding your firetruck around the house and talking to yourself. About 10 minutes in, you have crash-landed back by the table. I jot down the following exchange:
Paul: It seems like I'm always sad. I always have a sad face.
Mom: Mmmmm.
Paul: But I don't know WHY I'm sad.
Mom: Hmm.
Paul: (flipping over and examining the firetruck ladder in your hand) But at least I have this boat!
And the ladder becomes a boat and you are off and running again.
You help me order groceries online from Costco—"of course blackberries"—and then agree to play upstairs. You and Annie start with running camp, doing tight laps around the inside of your room, and then evolve through a few other sports into ballet. Dad arrives. Swan Lake plays.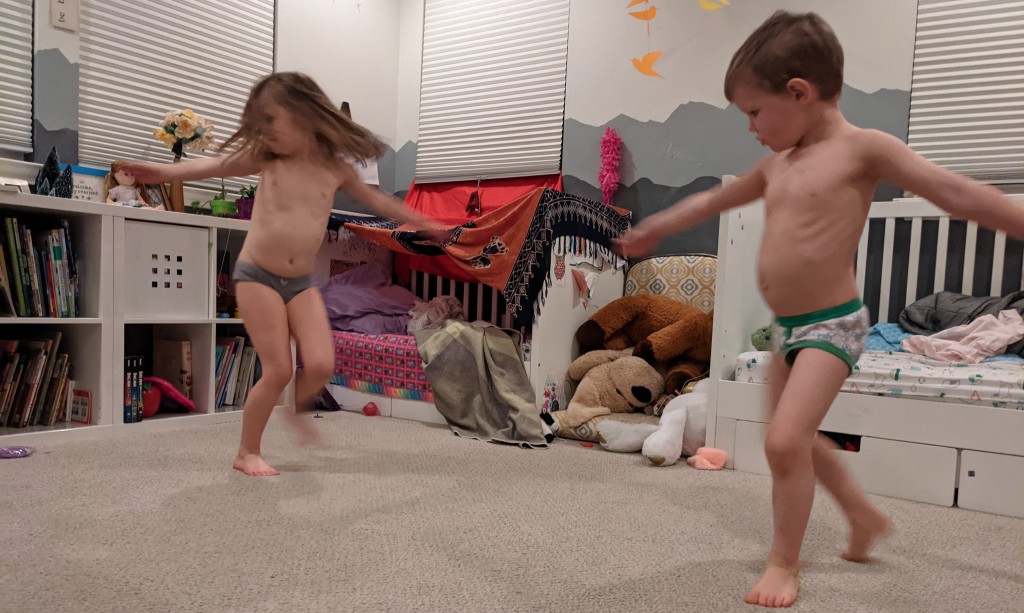 Annie assigns you roles as a co-dancer and team doctor, and when our attention wanders from the performance, abruptly announces a game change to garbage trucks + throwing balls at each other. Okay, sure.
Given that progression, it's unsurprising that bedtime is a little wild. You sit in my lap for a book despite seditious Annie whispering in your ear that you should come run around with her. Dad has to threaten no story at all to get you in your beds, and after a chapter and a goodnight, you and Annie appear out of bed another time or two with additional demands. One is to hold you and sing Twinkle Twinkle Little Star, which I'm not unhappy to do, rocking you ineptly while your long legs dangle past my knees.