To Paul: this is how you spent the day you turned 4 years and 4 months old.
At 6:45, you are crying, loudly. I enter. You are in your sleeping bag on the floor, in a circle with Annie, Eleanor, and Riley, on the morning side of a sleepover. "Eleanor HIT ME," you confide/accuse, tears in your eyes. "She hit me in the cheek. And she called me STUPID."
Yikes, brother. I issue the verdict that Eleanor has made a bad choice, and ask you all to use your words and bodies to help each other feel good, not bad, then leave you again to your own devices. You all keep talking and playing. You start crying again, in a more performative tone, and we hear you say, "I'm going to KEEP CRYING until MOM COMES." I decline to be summoned in this manner. We hear Eleanor apologize to you for unknown infractions. You calm down. The playing continues.
At 7:05 you all burst screaming into our room. The light, it turns out, has turned green. You all work through your short list, then assemble around the dining room table for pancakes and grapes and dried mango. Calories ingested, you get right back to playing, chasing each other around the house, pulling toys off the shelf, loudly denying Riley the right to play with your firetruck—the usual.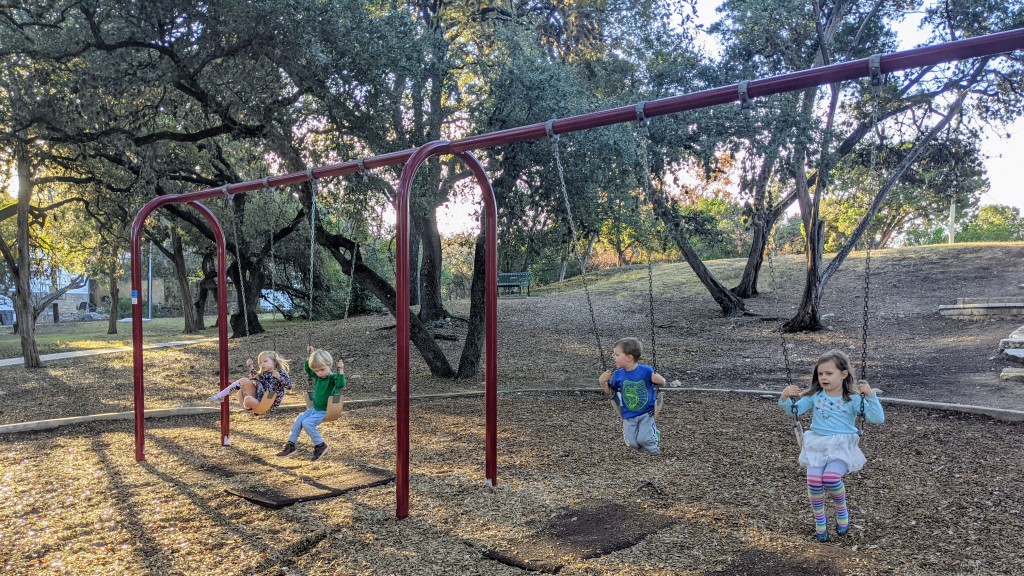 After about an hour of this, we decide the walls can't take much more bouncing off and launch a walk. You lead the pack down the hill, determined to go all the way to the trail. Fortunately, the empty playground proves a suitable distraction. There's a man sleeping under a tarp at the entrance to the big slide, but otherwise many possibilities available to you. We head home in time to meet Doug and Kalia with a mess of breakfast biscuit sandwiches, and you fit in one last round of imaginative play, building a dinosaur world with Eleanor and Annie before they depart.
You are interested in a breakfast taco, so we make one together. You carefully tap the eggs to crack them, then squeeze them with your fingers until they explode over the bowl—aside from the mess on your hands, a suprisingly effectively technique. You eat your taco proudly and declare yourself ready for our Saturday morning walk. "FARTHER than Colibri," and also "to the trail." With those requirements in mind, we decide on our usual loop in reverse. You are riding your bike, and Annie's on her scooter. All goes well until the downhill on Bouldin, during which you seem to be having a little too much fun at the expense of safety, cruising across streets without requisite adult accompaniment. At the bottom of the hill, consequences come due, and I basically pry your bike out of your hands. This does not land well. Some time is spent in reconcilliation activities. With assurances of safer practices and listening ears, we agree to another chance. We cross Barton Springs, and you tear off into the park, quickly out of range again. Oy.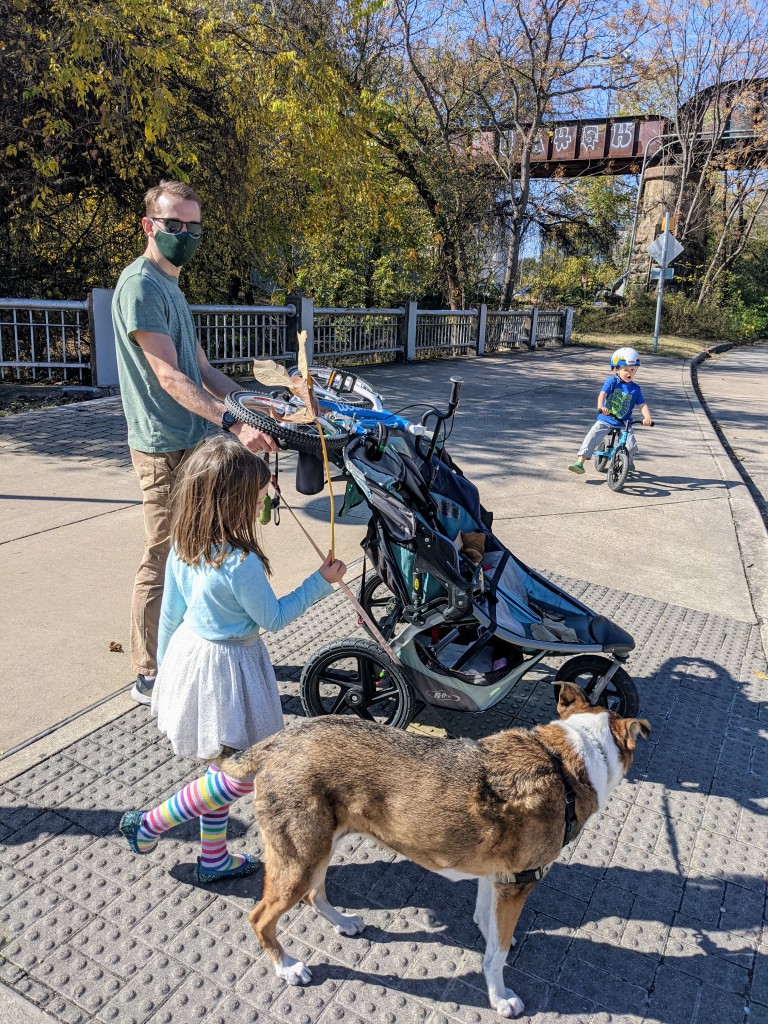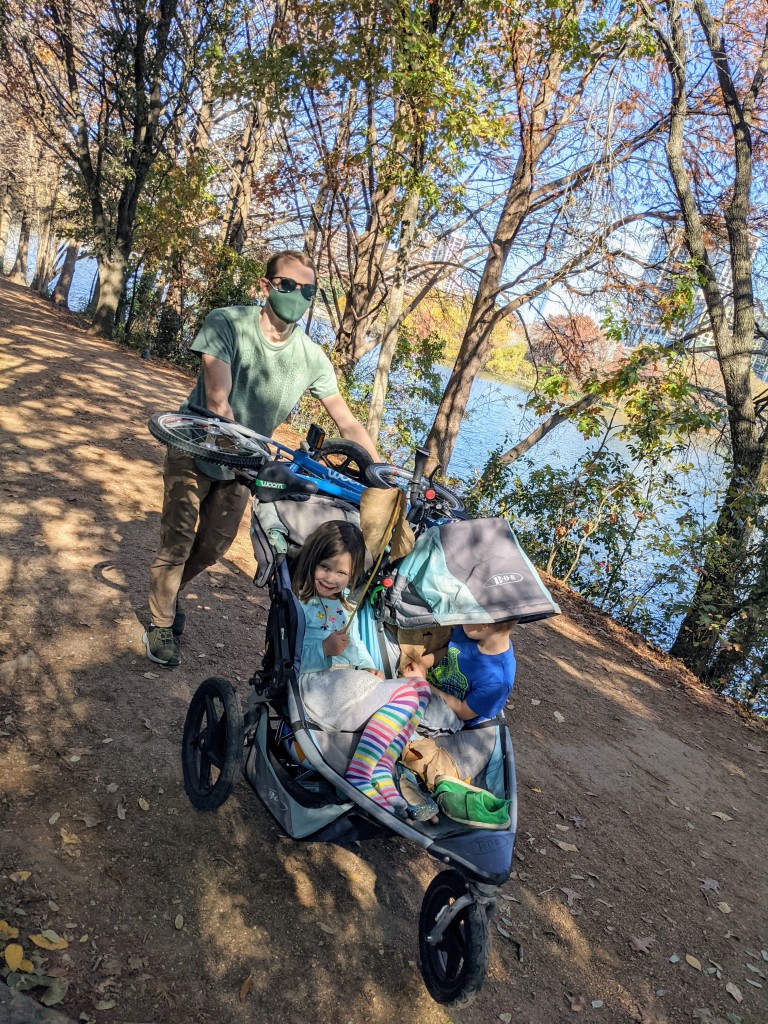 You continue to test the proverbial fence line until we're nearing the final leg, then surrender your vehicle and ride the rest of the way home in the stroller. Phew. It's 1:30. We're beat, and give you over to the embrace of your tablet for an hour or so.
At 3:30, we continue our wildly social day with a masked, backyard playdate with Shae, a new friend of yours from school. Your initial reluctance gives way to great fun swinging and shoveling gravel and chasing each other in circles around the deck. (We enjoy chatting with his parents; his dad is a physical therapist at UT's medical school, and in line to get the Pfizer vaccine in the coming week.) When you accidentally clobber Shae and retreat under the dining table for a shame spiral, I manage to redirect you with gift-making possibilities, and you reconcile over a handful of balloons.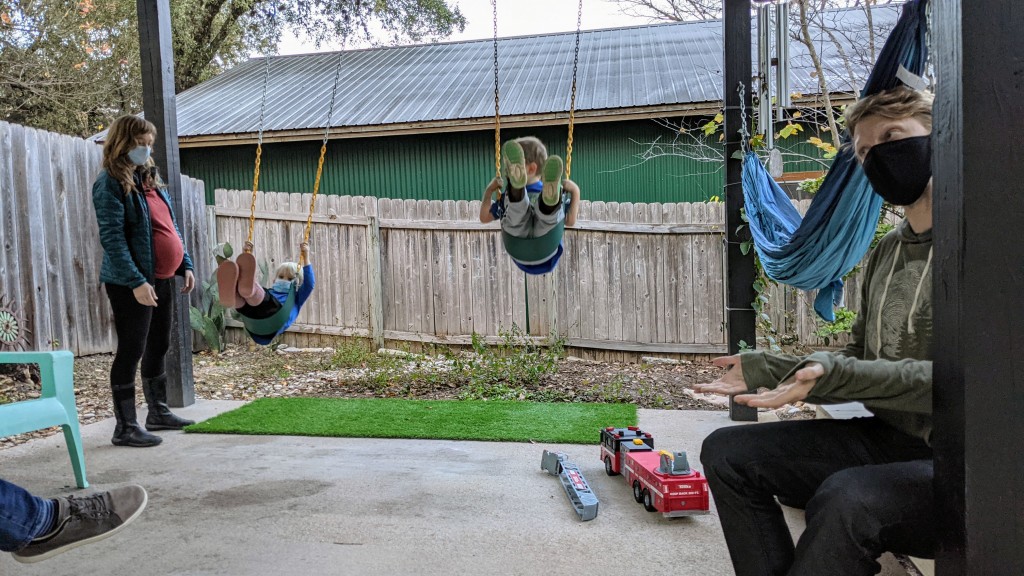 We say goodbye to them just before six, and head inside for dinner. While Dad and I dine on a delicious pot roast, you inhale half a cup of refried beans and eat a mango popsicle for dessert.
You sit in my lap for a few pages about road-building in Cars and Trucks and head to bed pretty willingly for the last chapter of Stuart Little. Stuart is driving in his mouse-sized roadster, heading north with a song in his heart. I say goodnight, close the door, and you wink out like a light.