To Paul: this is how you spent the day you turned 4 years and 3 months old.
For the first time since the time change 10 days ago, you sleep until 7. Accustomed now to half an hour of playtime before you emerge, you and Annie launch into some extended imaginings in your Pinky Store / Turtle Store playscape. You burst in around 7:20 to let us know the light has turned green, and Dad steps in to help with your preparations.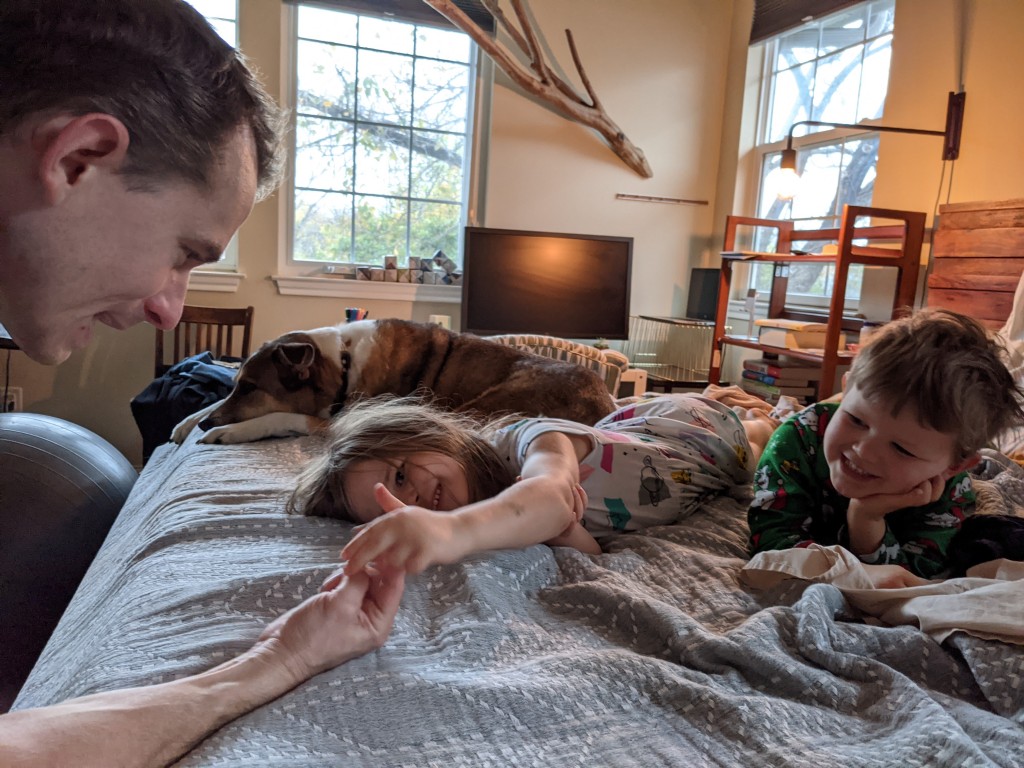 Downstairs, you eat buttered toast, dried mangoes, and pear slices for breakfast, then request some sausage rolls that we happen to have left over. Sure. We grab Annie's kindergarten tablet, and you help her add different numbers up to ten to turn in for her daily attendance; then I read you both a picture book at her request, Salty Dogs.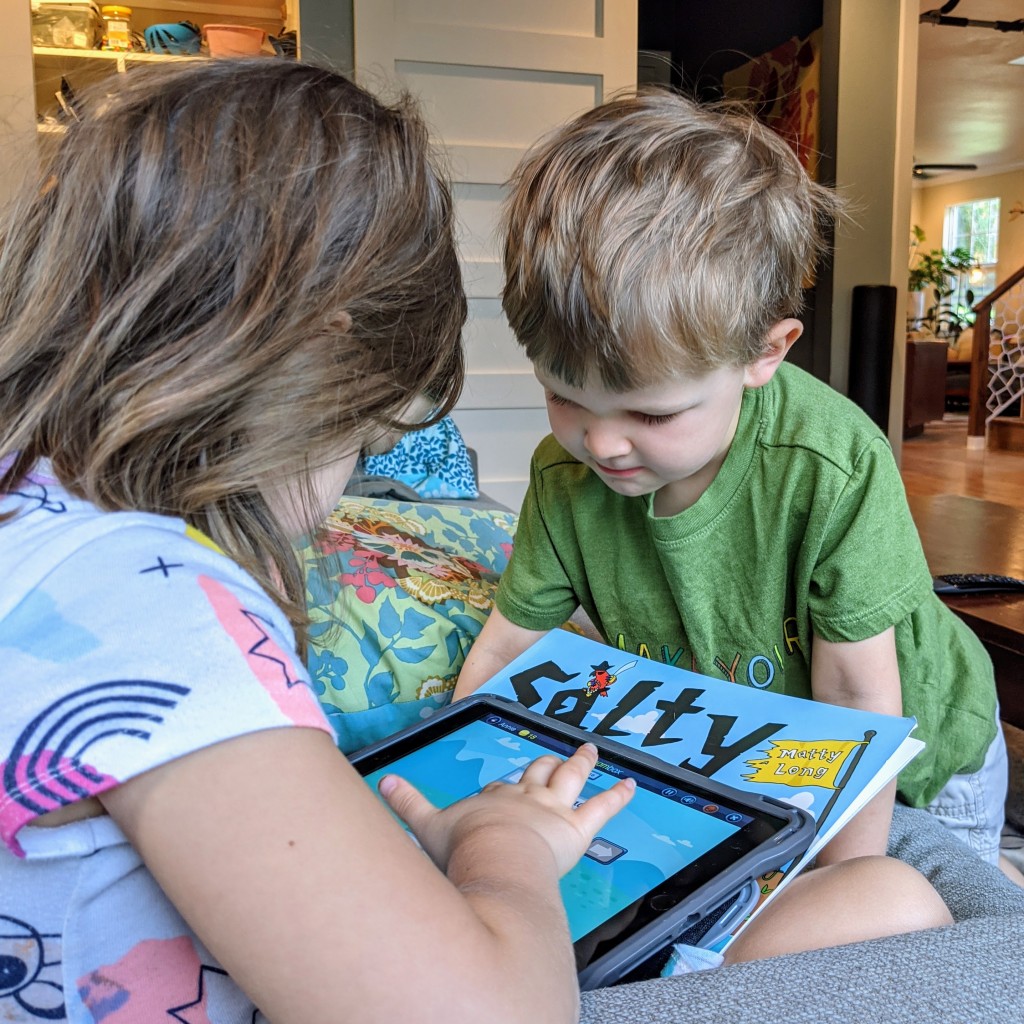 The pirate story, I speculate, inspires your subsequent rowdy behavior. Uncharacteristically, you declare your refusal to go to school and run around the house, squeezing into various hiding places. Under the kitchen desk, you pull the chairs together and tell me your door is locked.
Somehow we lure you out to the car. Dad takes you to school, and you tromp in. Here's what you tell me about your day: "Shay played with me for the WHOLE day and NEVER stopped." This is a good thing. "And even wanted to come HOME with me, but, the teachers made him not." What did you play? "Me and Shay were the flies, and we got caught in a spider web, and the spider wrapped them up, and it ate them."
You also make a pretty cool orca out of paper plates.
At 5:15, you throw open the front door. Paul is HOME! Dinner is apple, cheese, and some noodles that are flippin delicious. You eat the apple + four tangerines. Sigh.
We're just finishing up dinner when, surprise! Aunt Camei walks in! You and Annie are thrilled, and immediately incorporate her into your plans to make carpet angels in the TV room, and then show her the deck and the slide and the swings, and then it's a mandatory tour of The Pinky and Turtle Store(s). You head back downstairs wrapped in blankets: you are, I believe, Baby Prince Snoopy.
You and Annie have a little art time. You write your name on a chalkboard. Names, actually. "My first name was NO," you tell me. Then, it was "O. M." Then it was "P Y T," and now, of course, it's "P A U L." Right on, kiddo.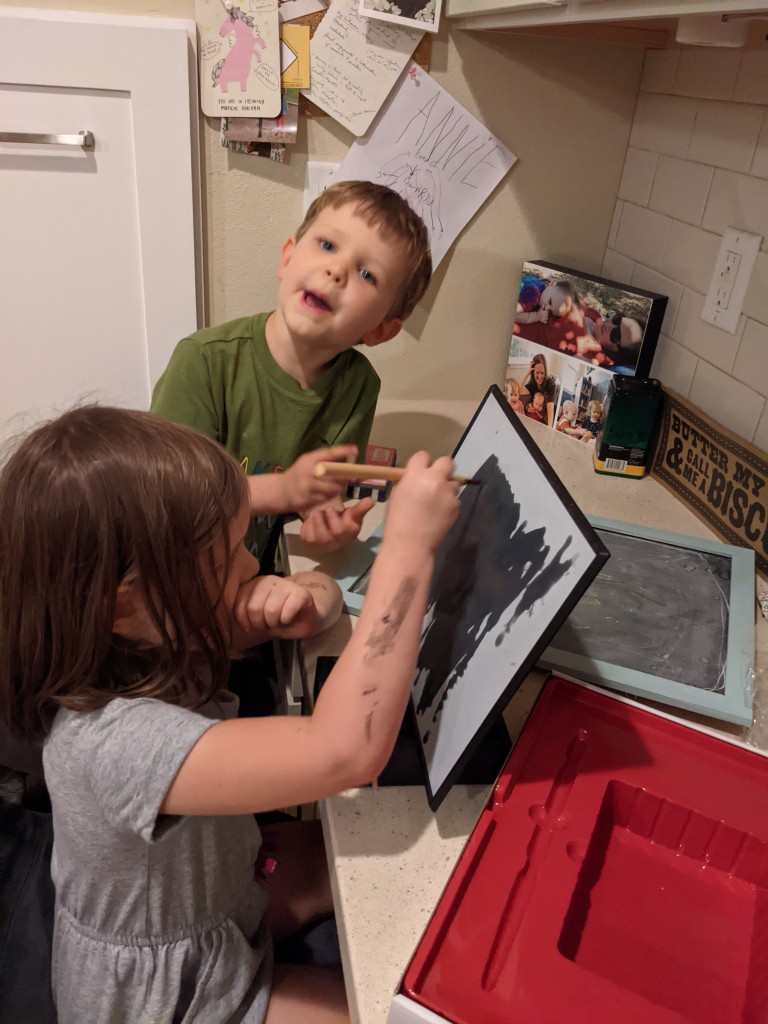 Bathtime. You're happy to hop in the tub and show Aunt Camei how you can mix exotic coffee drinks with the colored bath drops. We cap off the night with a little Ruff Ruffman Show, and a few pages from What Do People Do All Day, one of the many fine Richard Scary books beloved by you and gifted to us by Aunt Peanut and Uncle Dan. Into bed, you listen to a chapter of Charlotte's Web courtesy of Dad, wherein Charlotte weaves the word "Terrific" into her web.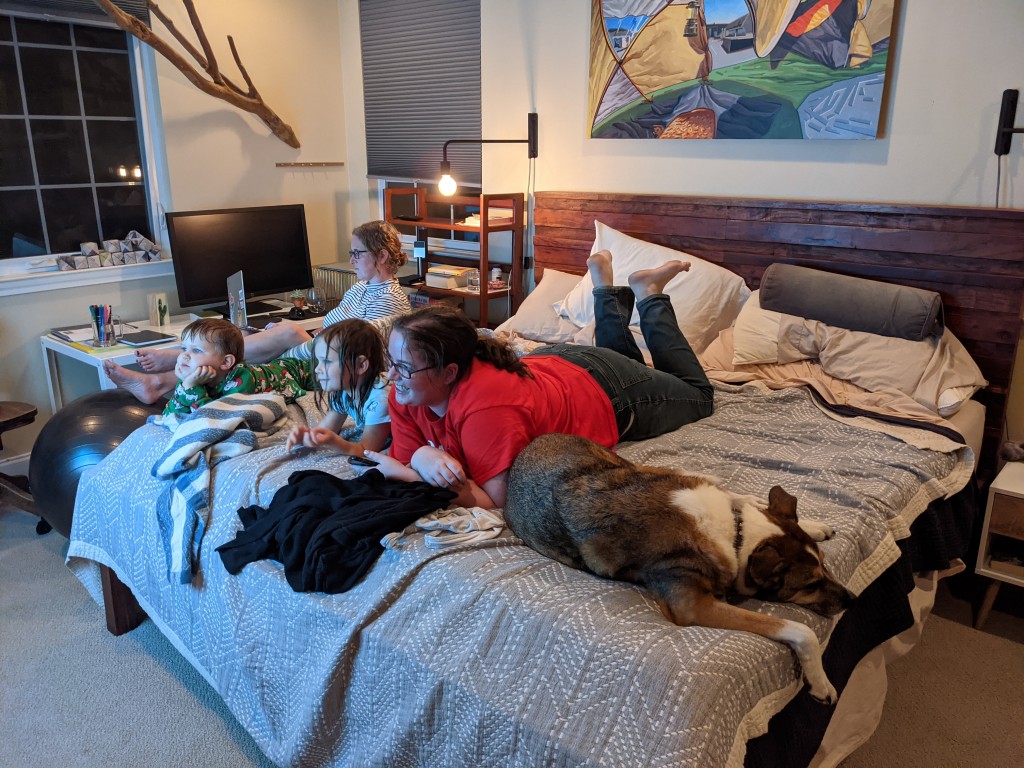 Another terrific day. Goodnight, Paul!