To Annie: this is what happened the day you turned 5 years and 7 months old.
You wake me out of a dead sleep at 6:23, standing at the bedside to tell me, "My tummy hurts and I think I have to throw up and there's a hair in my throat." Paul is on your heels with a, "Me TOO!" I look at you, clearly in the prime of youth and health. I send you back to your room with the suggestion to have a drink of water, and you and Paul start building train tracks.
Ten minutes later you're back. "Paul made me hit my face on his bed!" you say, and point to your forehead. I retrieve an ice pack for you. Back in your room, it is clear the source of the drama is a conflict between the expansion of the railroad and your elaborate "Pinky Store" industrial complex that covers 100% of the floor space with a meticulous and continually evolving arrangement of pillows, blankets, stools, pathways, nurseries for animal babies, books, and suppplies of various sorts. New train tracks have disrupted your horse's stable and grazing territory. Story of America. I leave you to broker a peace deal with the offer to come divide the room in half if necessary.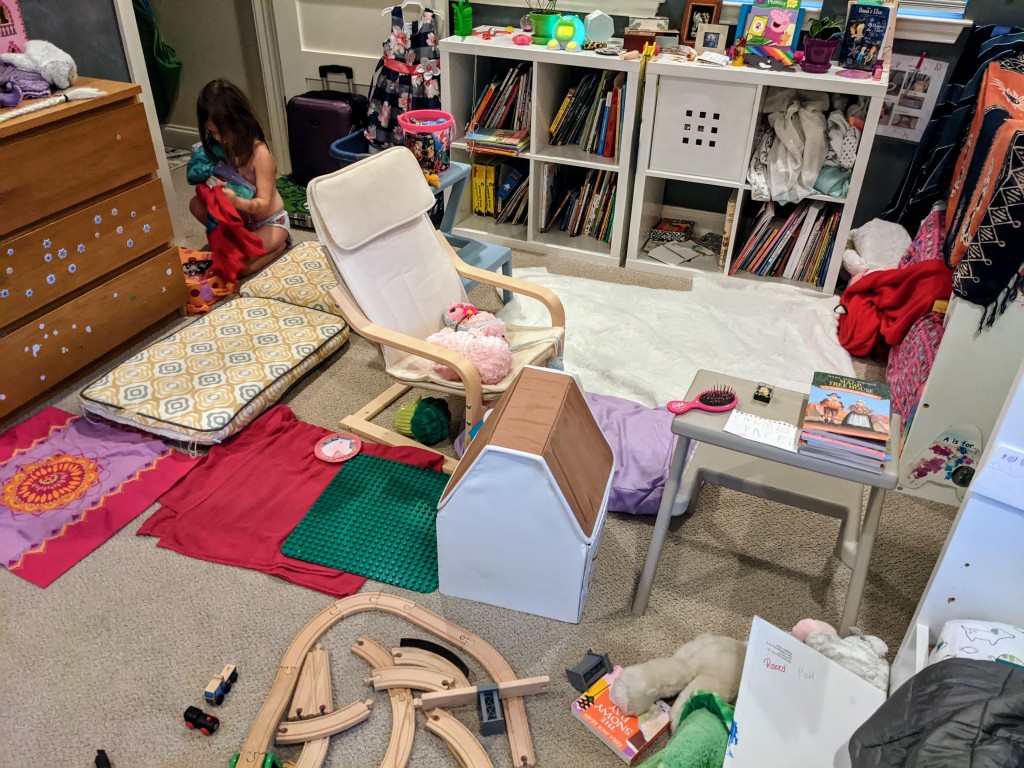 Ten minutes later, it's Paul. You have broken his train track, and it's pretty clear your relationship is over forever. After a great deal of silent contemplation, you agree to relocate several Pinky Store components to make way for the railroad, and Paul returns to the scene with the stipulation that I help him with construction. It is 6:55.
Dad returns from his run and tags in. Plenty of playtime already under your belts, you get dressed and brush teeth quickly, and head downstairs for cereal and to watch me pack your school snacks with great interest. You decline your kindergarten work, and since you've been reliably joining your teacher for a lunchtime call and work session, we don't push it. I help you into some tights, and we load up in the car. Dad drives you to Colibri, and you head through the health checkpoint for a day of enriching activity.
At school, you tell me, you play in the sandbox, log into Kindergarten at nap to learn about farm animals with Mrs. Dunbar in Spanish and English (gavra, burro), and then join virtual art class with Ms. Isolene. Did you do any art? I ask. No. But, "I learned that art is beautiful, even if you mess up." Excellent.
Dad picks you up and you trot up to the house at 5 or so, finding me sitting on the front porch. You crawl into my lap for a quick cuddle, then ask why I didn't take your picture—because now you know about the 10th of the month. You give me a quick download of info from school, then pursue your interests inside. "Can I have some apple chips as an appetite?" Appetizer, I help you say, and yes, you may have three. While dinner finishes cooking, you watch an episode of Let's Go, Luna, learning about pasta and Rome. It's a good lead-in to our lasagna dinner, which you relish. Paul is having none of it, though, so you do your best to coax him back to the table, telling him it's made with Snoopy's secret ingredient. Magic poop.
"I don't LIKE magic poop."
"Well, what DO you like?"
You lost two teeth in the last month.
We straggle through the end of dinner, and play a game together that involves sending pings through a coordinate plane. Muy educational. It's 7pm. We head upstairs, and you change clothes, brush your teeth, and bustle around Pinky Shop for a spell. You decline to read a picture book, but we review what happened last night in our chapter of Charlotte's Web. (Fern and Avery eat blueberry pie, we remember together, and Avery has a frog in his pocket, and they swing on the swing for an hour, and then Fern goes to visit Wilbur, and Avery tries to knock Charlotte out of her web, but he accidentally breaks the rotten goose egg, and it smells so bad that they run away, and then that night Charlotte tears out a big part of her web and starts WORKING ON SOMETHING. And we don't find out what it is until Dad reads us the chapter tonight, so, Bodies in Bed!)
Dad reads the next chapter. You hang on his words. Some Pig.