To Annie: this is how you spent the day you turned five and a half years old.
A few minutes before seven, the sky begins to lighten. Crickets are singing their hearts out, and a jet roars across the sky. We are cozied up in our family tent, at McKinney Falls State Park, site 041. The thrill of this fact ensures you will not drift back to sleep once you're awake, and you and Paul begin a joyful wrestling match. Time to get up. You put some clothes on and brush your teeth while Dad makes coffee, and then we all tumble out of the tent to breakfast around the picnic table.
We are here with our camping buddies, Silas (4), Sage (7), Amy and Eric (40ish). You and Sage, fast friends, decide to take a walk, so I tail you around the loop of campsites as you run flat out, pretending to be queens.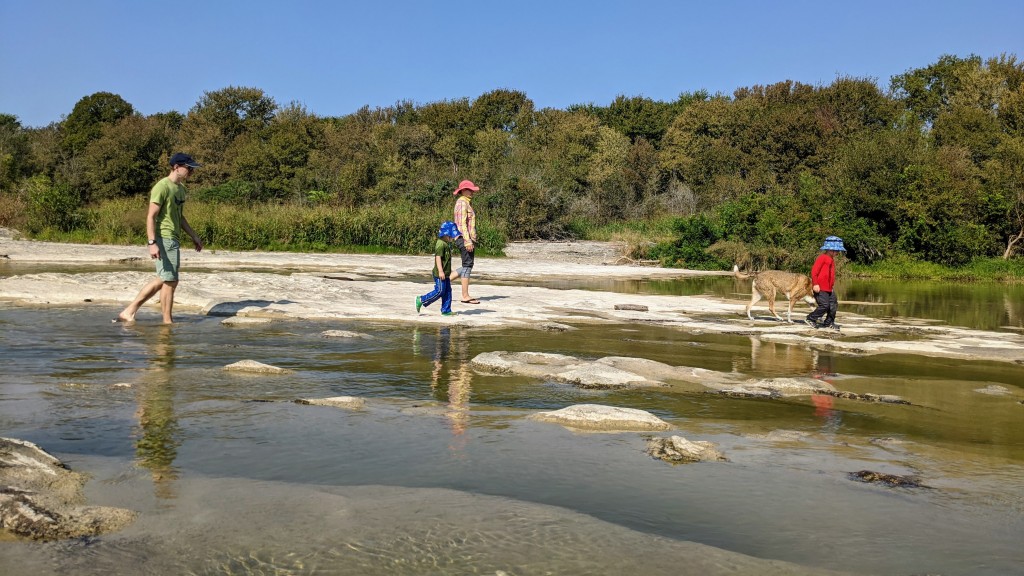 Next up is an excursion to the lower falls. Unlike the rest of us, you have the foresight to wear a swimsuit. Aside from a brief tussle over shoe-wearing, we have a ball. You wade with Sage and I across an expanse of slippery limestone, and we peer down at the swimmers at the falls. Back with the rest of our family, you play something make-believe with the rest of the kids until we decide it's time for lunch.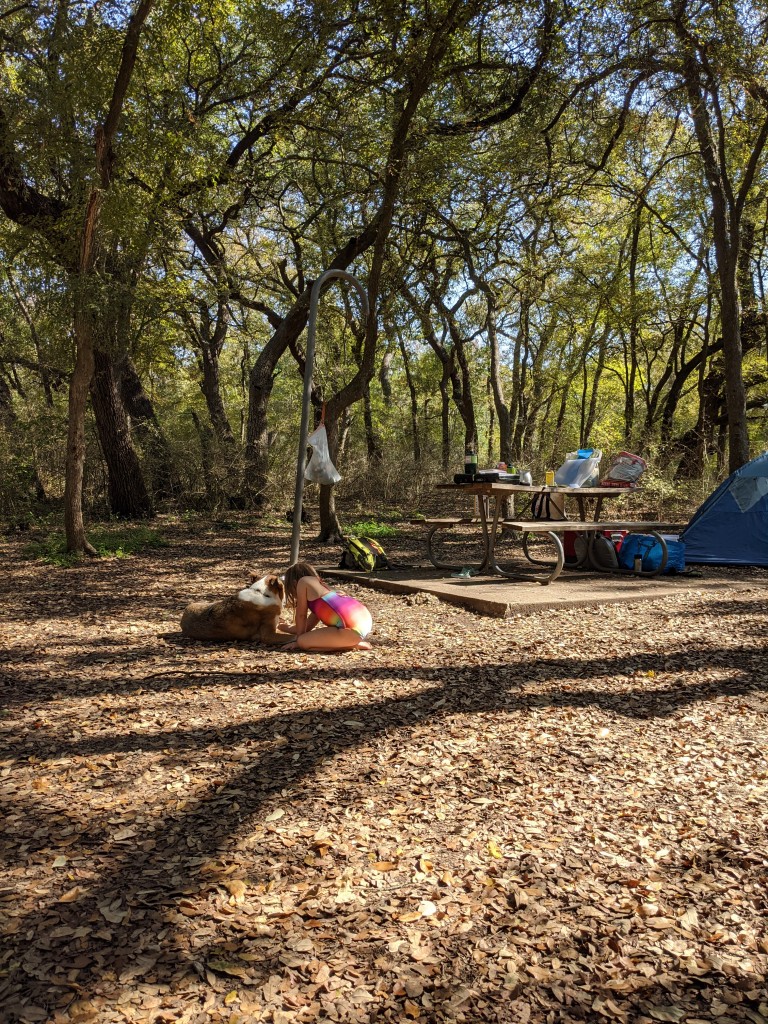 We head back to the campsite and unfold the chairs into cots for some quiet time. You chill and listen to stories for an hour or so, then bounce back into action. Our camp offers plenty of playscapes for imagined adventures, so we hang out for a couple of hours before gearing up for another swim at 4. Upper falls, this time. It's an unseasonably hot day, 95 degrees in October, so the cool water feels good. You are ecstatic to be swimming, and Dad and I swing you around in the water and pull you forward to practice your kicking. When the adults retreat to the shore, you kids find a log to serve as your boat and play an elaborate game of mermaids.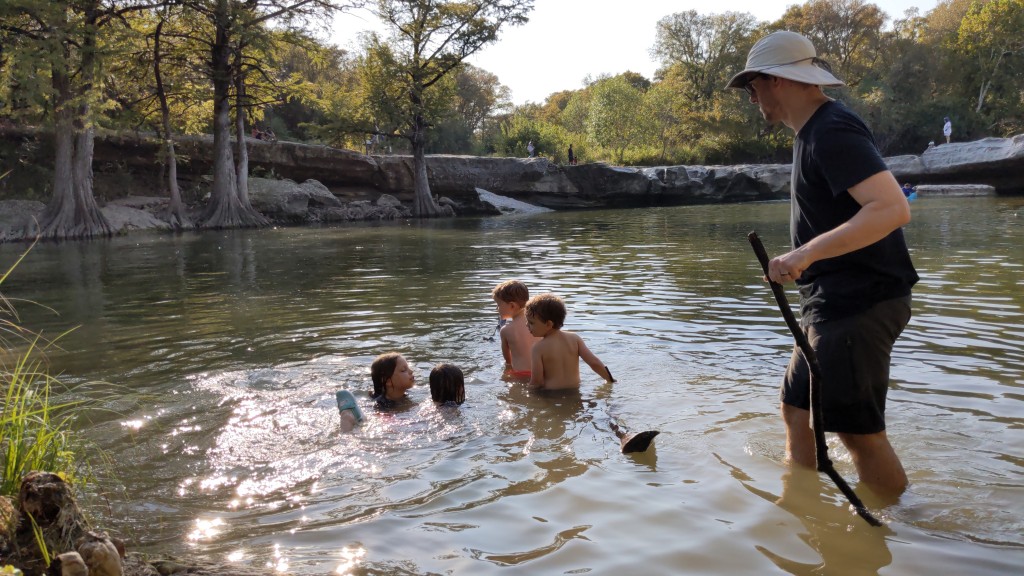 You are determined to take the hardest route back, climbing capably up some steep rocks and leaping across crevices. We buckle in for our 2-minute drive back to the site, and you execute a wardrobe change into your evening wear, handily winning Best Dressed.
Dad builds the fire, and we grill hotdogs. After that, naturally, it's s'more time. You wave a marshmallow near the fire until the edge turns the barest gold, and then happily squash it between chocolatey graham crackers. After one more marshmallow, you inform me your tummy hurts. I do not doubt it.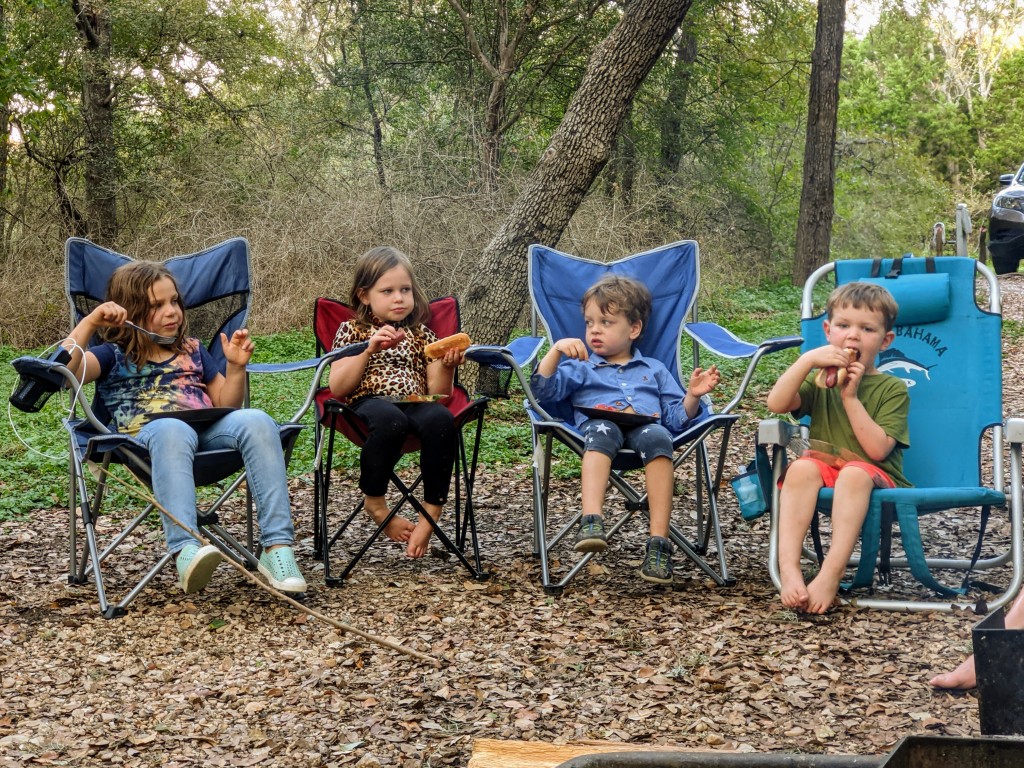 We hustle to the tent for a thorough tooth-brush, and you and Paul, quite exhausted, climb into your sleeping bags in your clothes. I read one chapter of our latest book (Charlie and the Great Glass Elevator) and go to rejoin the adults. You blink out like a light.