To Annie: this is how you spent the day you turned 5 years and 4 months old.
You wake up right on schedule, in good spirits on this Monday morning. You have "Love" the dog, a year-old party favor you've recently rediscovered, and you are making her kiss everything she sees, and moving her stuffed legs to show us how she walks. Today will be our third day at Colibri, the new Spanish-immersion Montessori school started by your erstwhile nanny and some colleagues. It has been open a week, and you and Paul represent 1/3 of the current student body. You must appreciate the structure and challenge to some extent because your level of complaining about the change in routine has been very low.
While I pack lunch and three snacks each for you and Paul, Dad helps you get dressed in what is among your most fabulous sartorial compositions. You don't even mind wearing shoes. Breakfast goes quickly, and you kiss and hug Paul to cheer him through a small fuss. I buckle you into the carseat and administer your vitamin, and we're off on the 5-minute drive through quiet streets.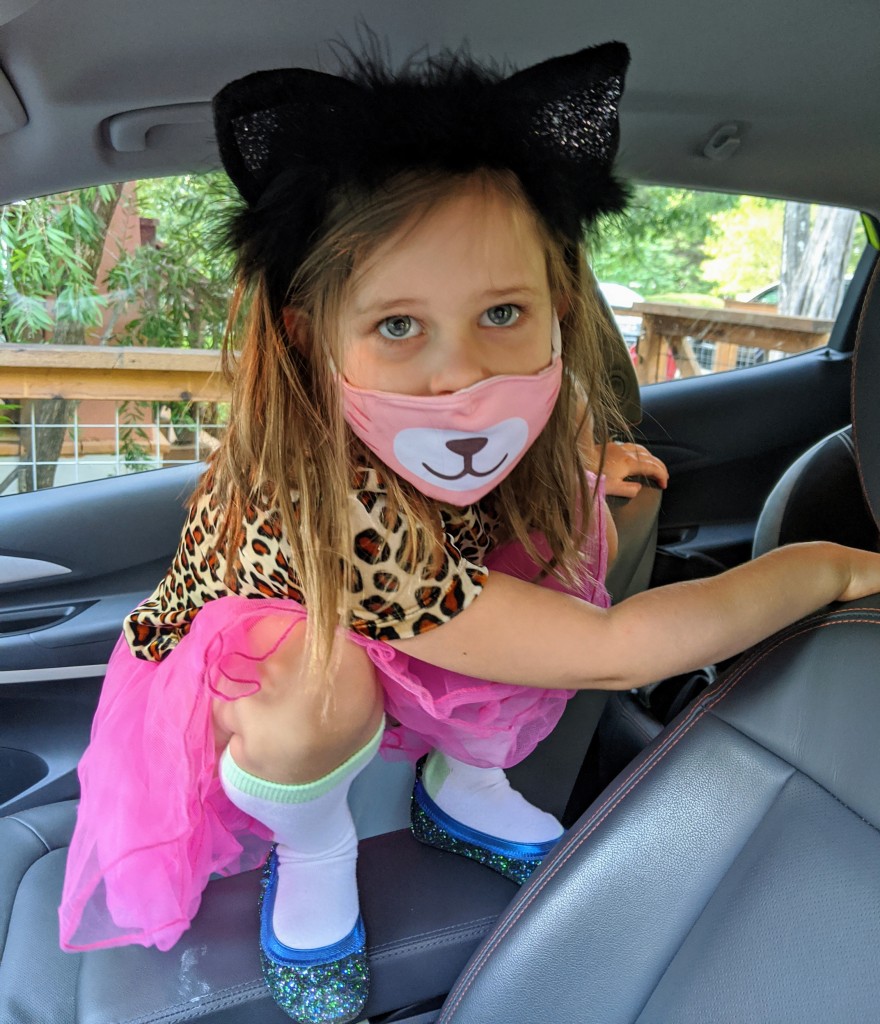 I pull into the circle drive, and we put on our masks. The teachers, also masked, greet us at the door, take your temperature, and give you sanitizer for your hands. You and Paul submit earnestly to the routine, and Ms. Patricia takes you around to the yard to play. Before you enter the school, they'll sanitize your shoes.
The school routine is similar to what you had at the UT CDC, and I suspect you appreciate it. After morning playtime with Eleanor, Riley, and a couple of new friends whose names you can't remember, you have a snack, some self-guided learning, singing, a video about germs that scares Paul, lunch, nap, and then more of the same. You wear a mask all day. Our pick-up window is 5:30-45—families are staggered to avoid crowding—and the teachers escort you outside. No other non-staff adults are allowed in the facility. Common pandemic-era practices.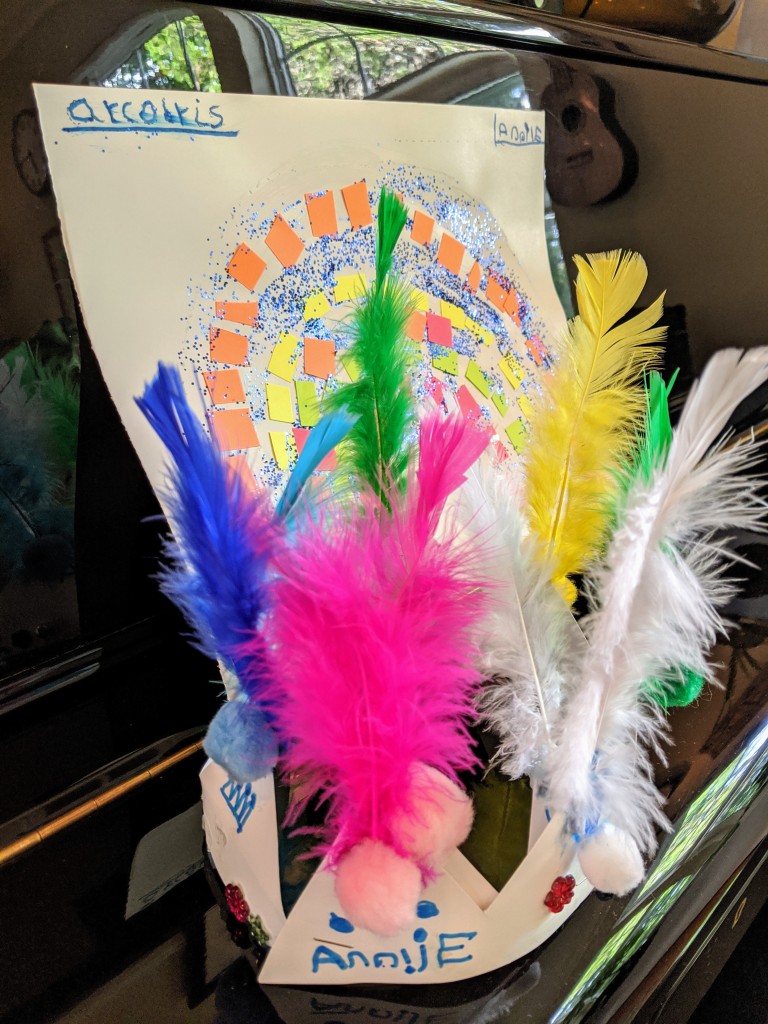 Dad brings you home. You bustle in, curious about what's for dinner, and eat strawberries and milk while Dad and I feast on fancy Mexican food from a favorite restaurant.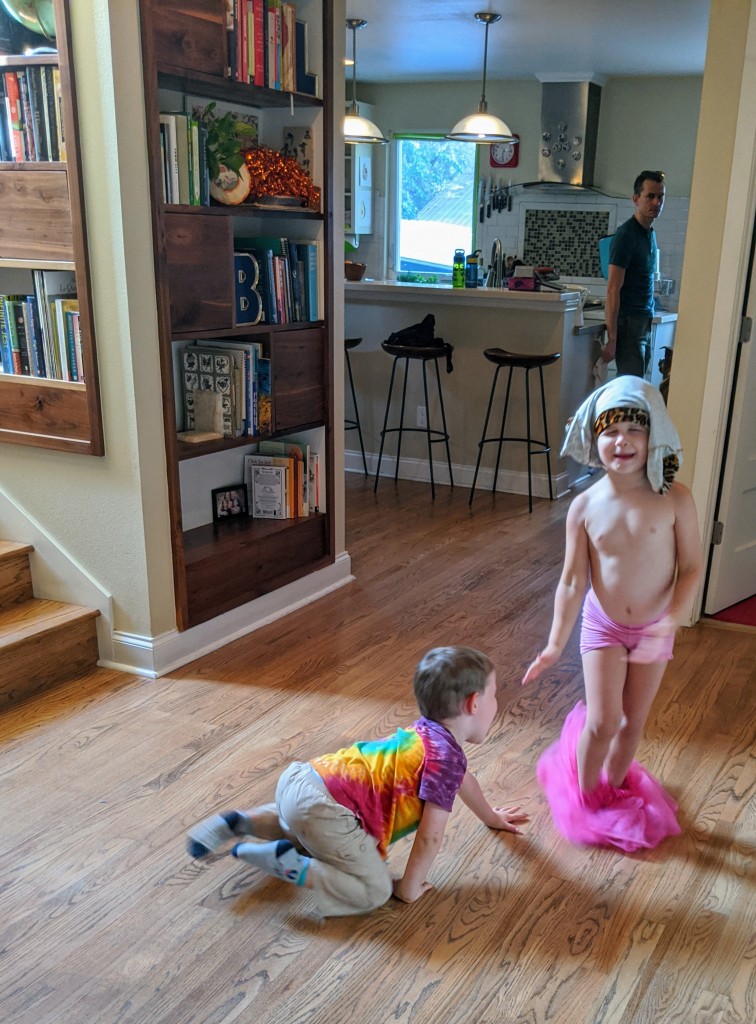 It gets briefly silly after dinner. About one second after I take this photo, Paul accidently trips you. The mood is broken; you head up for a bath. After a good soak, it's off to snuggle into our bed for an episode of Molly of Denali. Our TV consumption has definitely escalated. Ours and the rest of the world's.
I read you Bubble Trouble, a fun tongue-twister of a book, and Dad follows up with Tidy, about a badger who paves over a forest in a neurotic fit of cleanliness. Once you're both in bed, I give you two chapters of your latest Jack and Annie book, a series about a time-travelling brother and sister. In this one, they help prepare the first Thanksgiving meal.
You need to find Love the Dog again for more tricks and kisses and bedtime companionship, and retreat into your bed-cave, which has been draped with one of our king-sized sheets for a few weeks now. It makes you feel safe. One more drink of water, and a few more questions, and goodnight.