To Paul: this is how you spent the day you turned 3 years and 8 months old.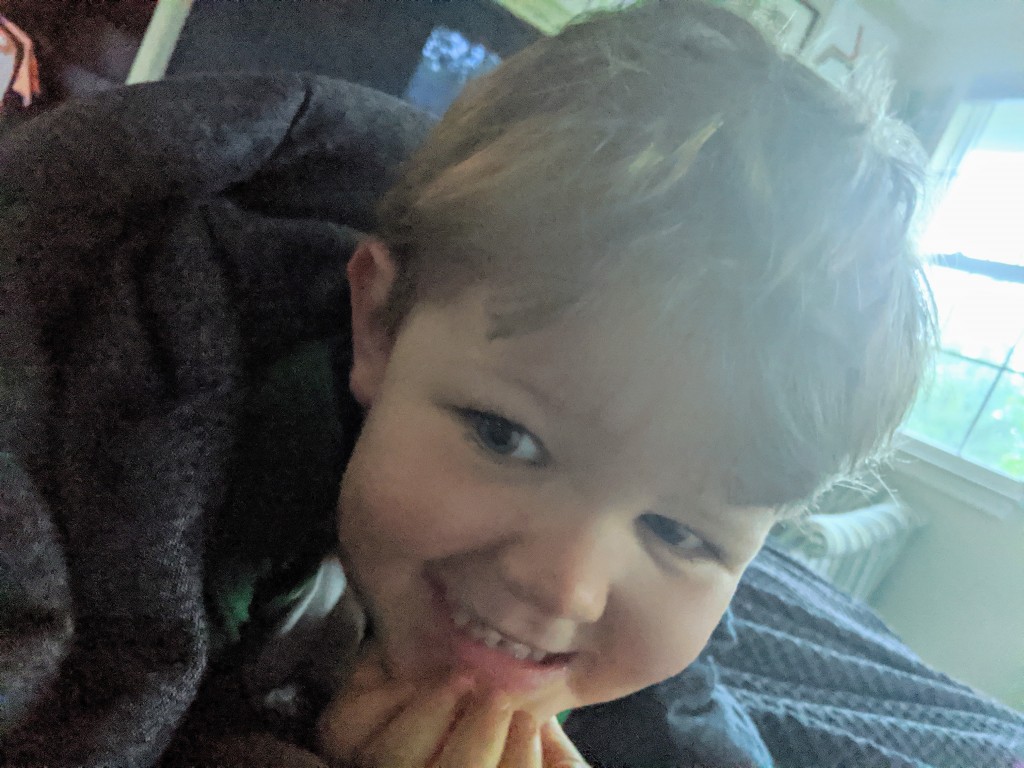 You trot out of your room at 7:15 and climb into our bed. I meet you there. You are happy to get some only-child time and initiate a game: you are a baby chicken, and I am the mama chicken. It involves hiding in the covers and some light wrestling. "Oh, it's Paul!" Dad says cheerfully. "No!" you correct, "I'm a baby chicken." We transition to a game of moving mountain, where you climb on my back and rest, and then there's an earthquake and I shake you off. We romp for maybe 20 minutes before Annie joins us. We get through the morning routine pretty easily, cheered by the prospect of chocolate croissants and egg hunts later on.
Downstairs you have a few crumbs of dried mango while I make cups of blueberries and tangerines for you to take on a run with Dad. You buckle into the stroller, and we all head down the street to the Croissant House. I wait with you outside while Dad ventures in, masked up. He comes back with pastries, and you tuck in happily while he puts on his running music and heads out. It's a new route today through the neighborhoods since parks and trails are closed to prevent Easter crowds.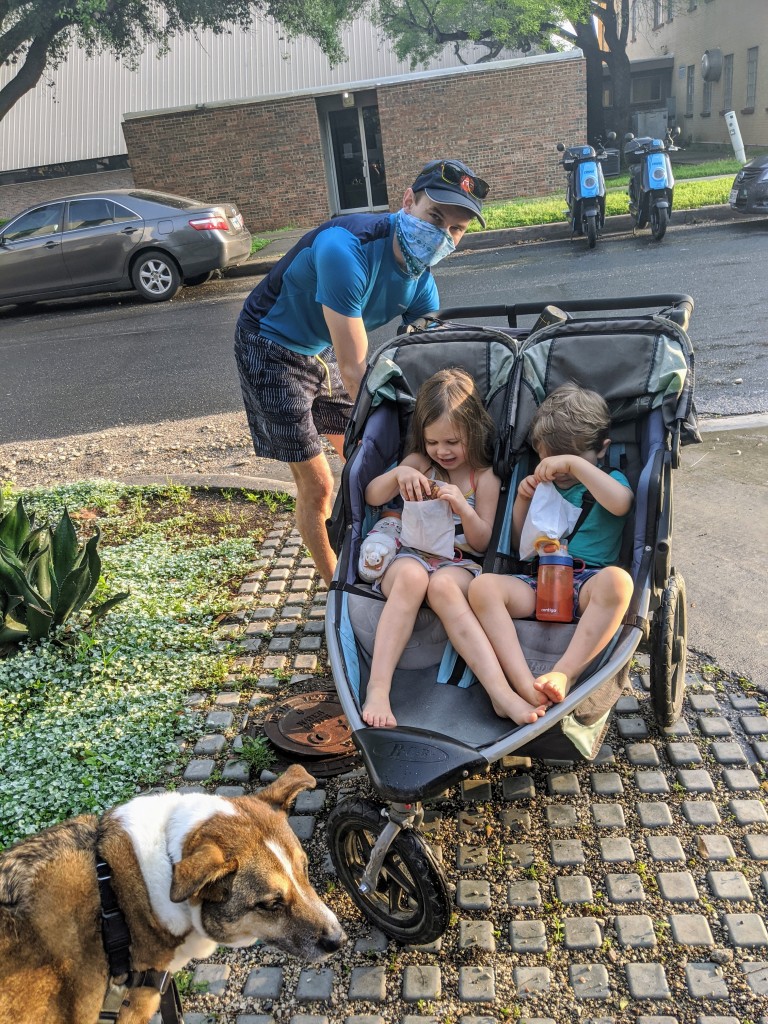 A rain shower catches you, but you deploy your shades and pick up your feet to stay dry. You spot a turtle on the sidewalk, hiding in its shell. Back home, you and Annie launch into a happy imaginary world upstairs, and Dad and I enjoy some quiet grown-up time (I use mine to write this).
Around 10:30: "Is it time for the egg hunt??" Well, sure! We decide to pick egg colors to hunt for so we can be sure to get an equal number. Yours are green, yellow, and orange. I ask for 10 minutes of patience while I stuff the eggs and hide them in the front yard, and then—the hunt begins!
Once all eggs are located, you have a treat picnic, cracking them all open and feasting on jelly beans and pez. Then, naturally, it's time for some bouncing.
You distribute the sofa cushions around the house and jump from one to another, a frog on lilypads. You keep up the indoor play while your parents get lunch ready and Annie stuffs the eggs with bits of nature ("because grown-ups like science") for me to hunt.
I offer you some packing material, and you turn it into another train, full of big ideas and tiny bits of things. You play some video games with Dad, then help me sew masks for our friends. Your job is to raise and lower the presser foot, and you perform it admirably.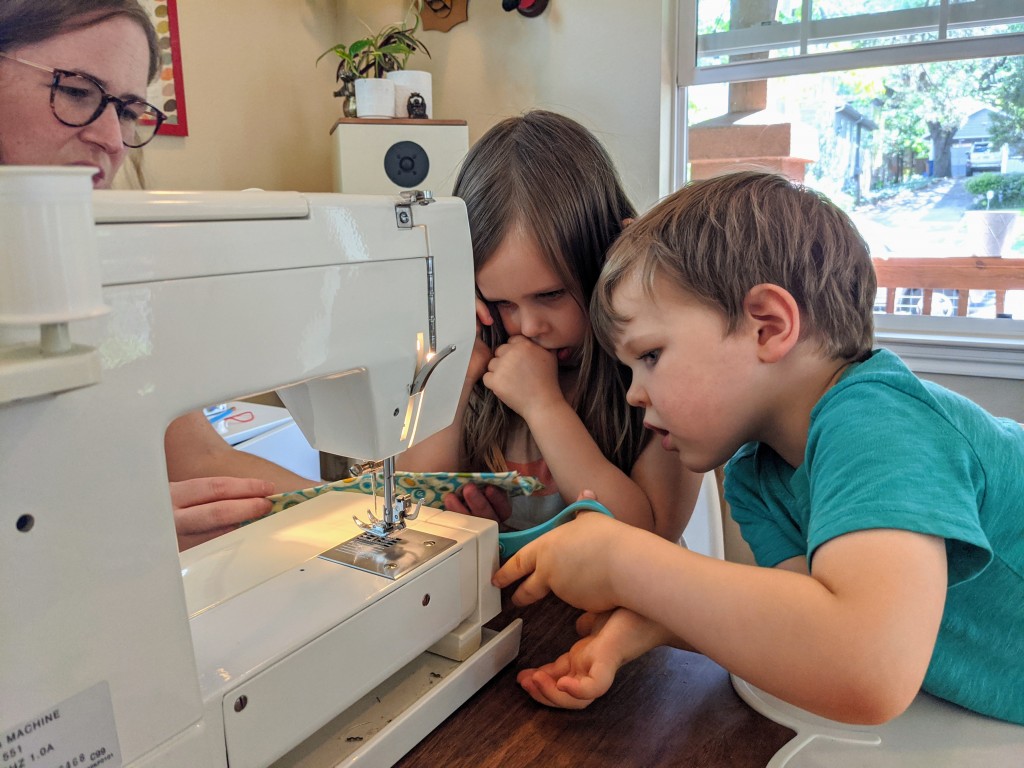 Our cousins visit from the fence line, to say hello and allow us to trade birthday presents for Annie and Miles. Good news for you: there's also a singing, dancing, egg-laying Easter chicken.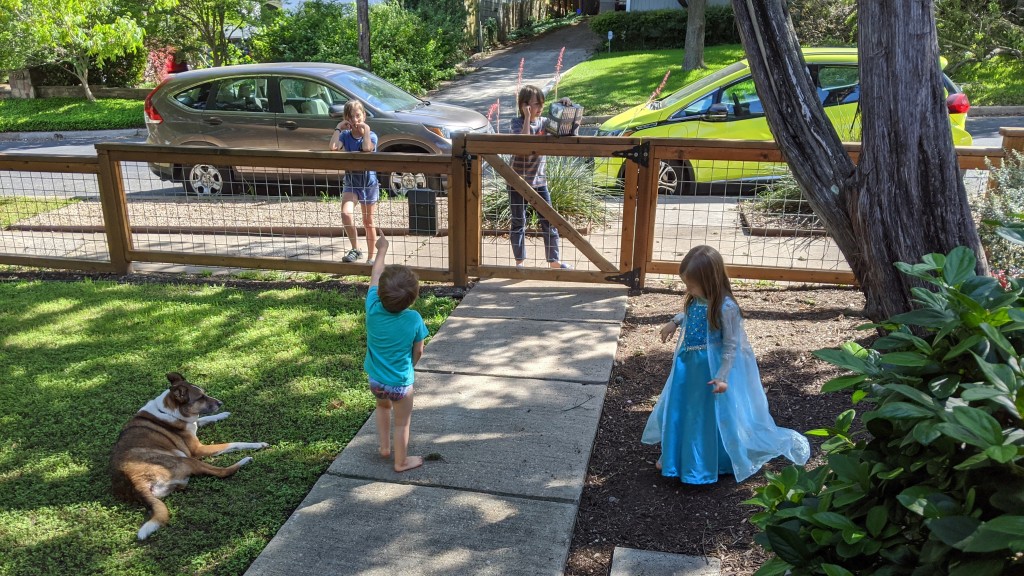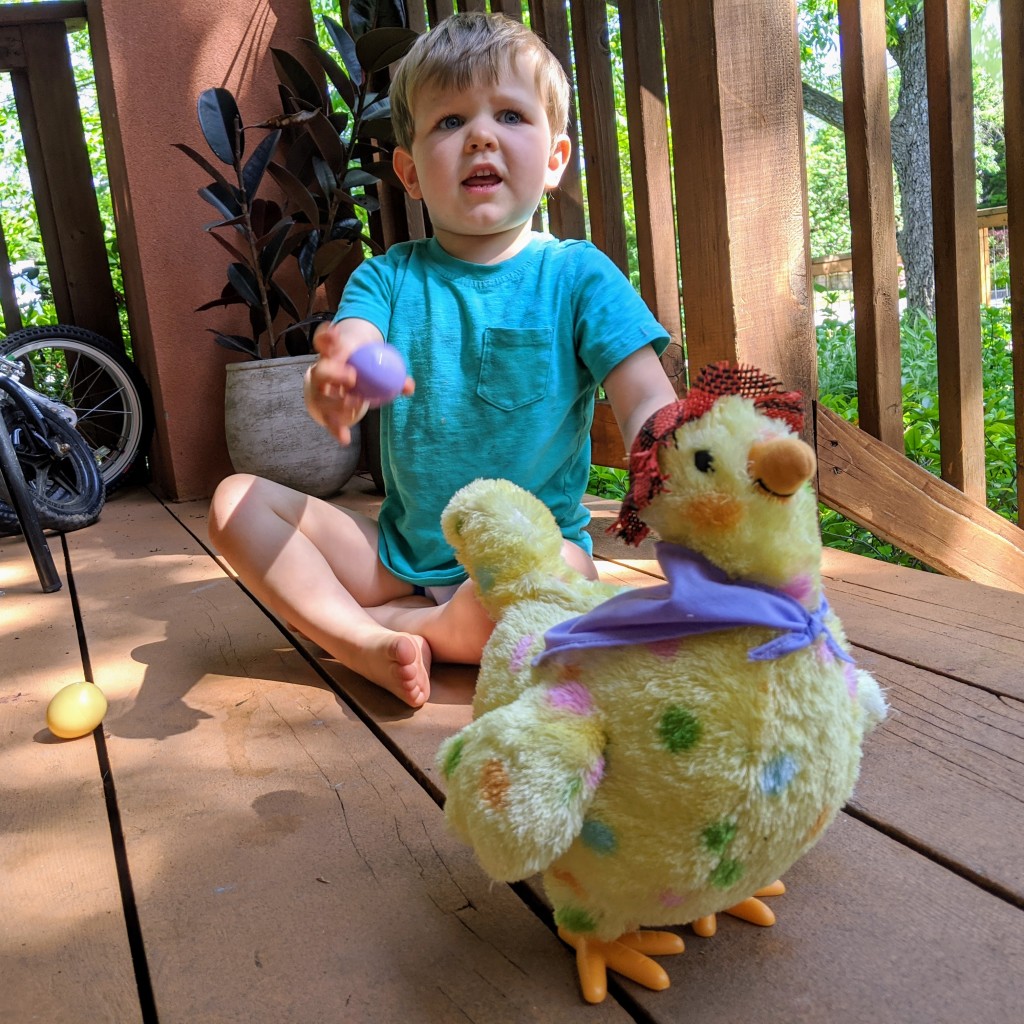 We say goodbye, and you suggest to Annie that since she has a new Elsa costume, her old one can be yours! She goes for it, and King and Queen Elsa eat an improvised dinner of eggs, beans, chips, and cheese. Gobka and Gamma call while we're eating, and you enjoy a video chat. "Gobka's pretty silly, right?"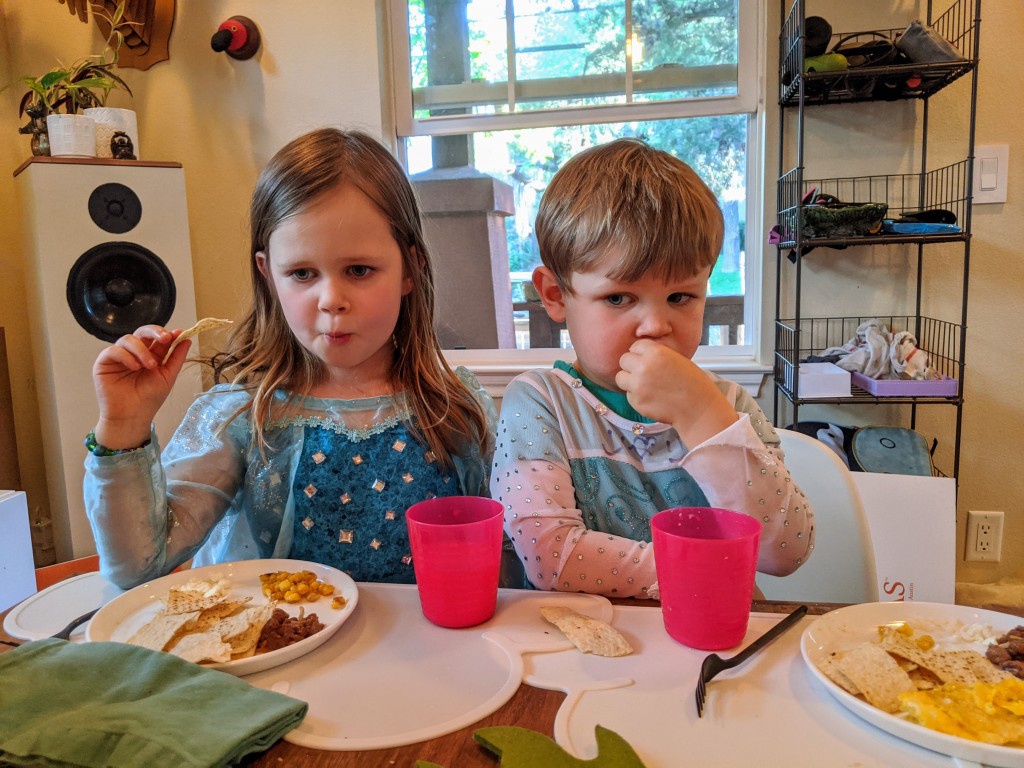 Our bedtime books are The Jungle Book and, a current favorite of ours, Who Wet My Pants? You are administered a story by Mom, and engage in quite a bit of post-bedtime ruckus with your sister. At 8:30, you're asleep.