To Annie: this is how you spent the day you turned five years old.
You tiptoe into our room at 7:04, asking, "can we get up a little early since it's my birthday?" Sure, sweetie. Happy Day. You and Paul climb up into bed, and you stretch your long body across the mattress. I've spread out special birthday clothes: a new dress for you that reminded me of your very (and my very-least) favorite "butterfly dress," worn ages 2-4. Obtaining this new one was an important moral exercise for me in allowing you your own taste and opinions. You love it.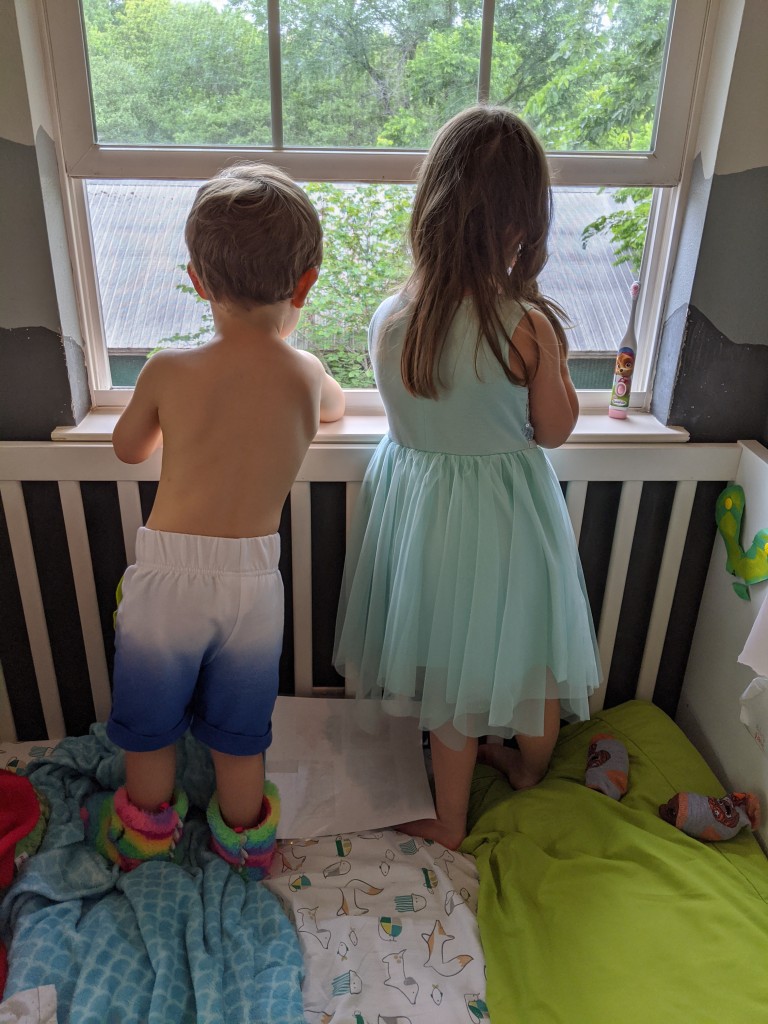 Two hours of playtime follow. You and Paul reprise your Swan Lake ballet dancing in the dark, play a bit with your new bucket of dinosaurs, and watch Chris in the back saw wood for the deck. Eventually you realize you have to pee, and omg is it an emergency. I take off your birthday dress as requested, but you have an accident at the finish line. Just a huge volume of pee. Oh my goodness.
You rinse off in the shower, and cleaning up the floor launches Dad into a house-wide project with our new mop. We get dressed again and head downstairs for a late breakfast of oatmeal and berries, and to open some presents.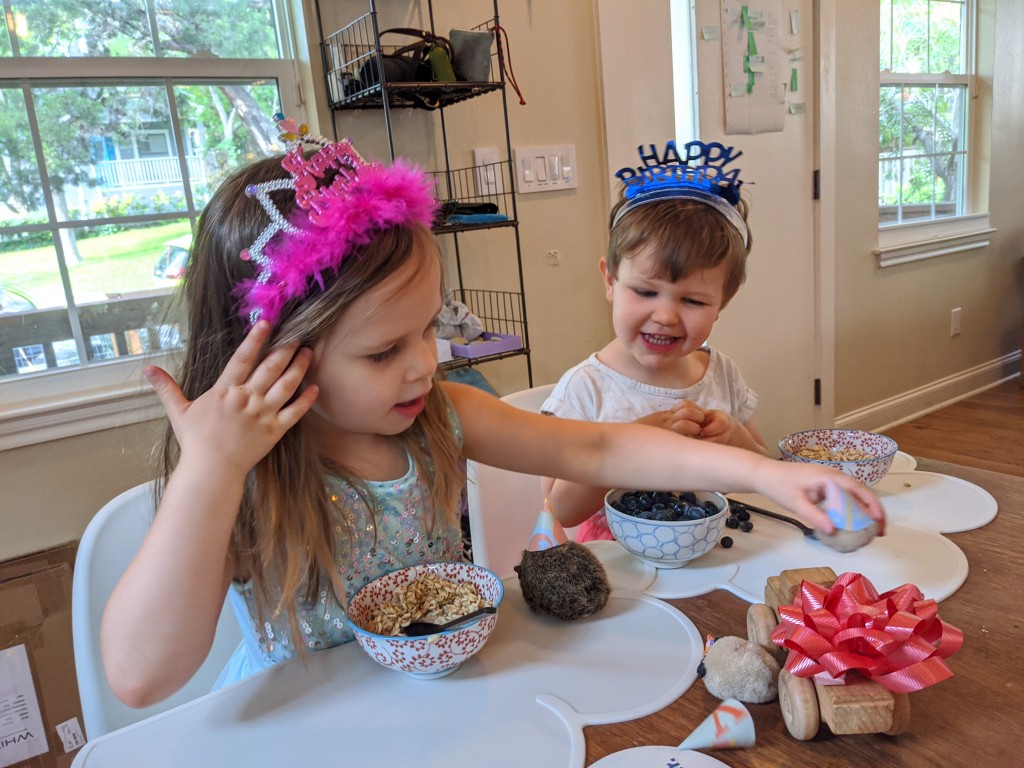 "I have a riddle for you." Dad sets the stage for something mysterious and exciting, that you must ride your bikes to find. You dictate a paragraph for me to post on your helmet, so everyone knows it's your birthday. I abbreviate. The parks are closed, so we set out for the church parking lot.
Coming around the corner, we find Dad with your new bikes and helmets. !!! Initial joy gives way to a fair amount of anxiety as you try to figure out the pedals and cope with the sensation of a much-larger vehicle. Paul heads home with Dad when he poops out. You keep at it with tenacity, albeit a constant whimper, and we circle around the lot until you take off on your own, for a few seconds, two or three times. We take a long break, sitting in the parking lot, and we walk your bike home together.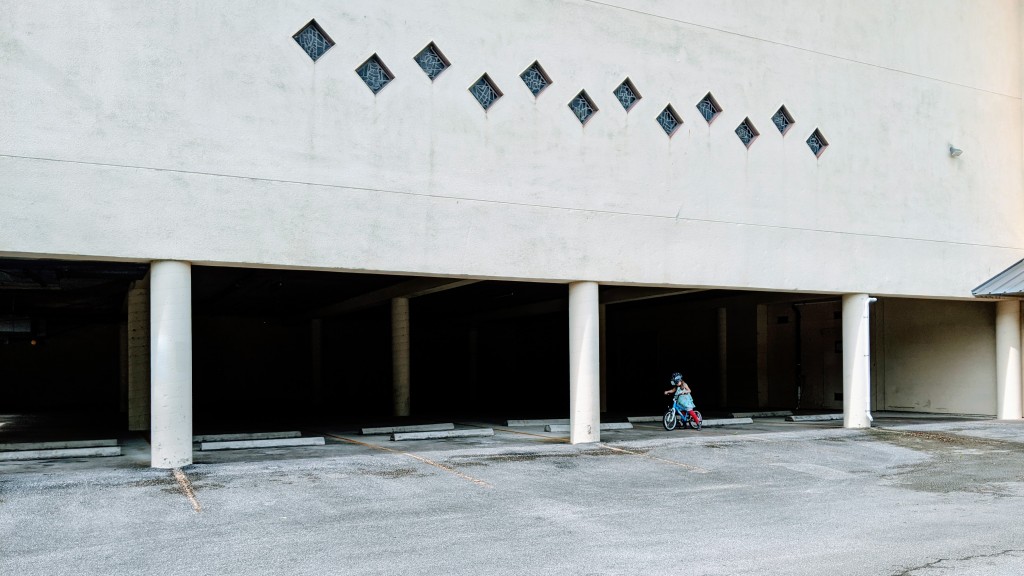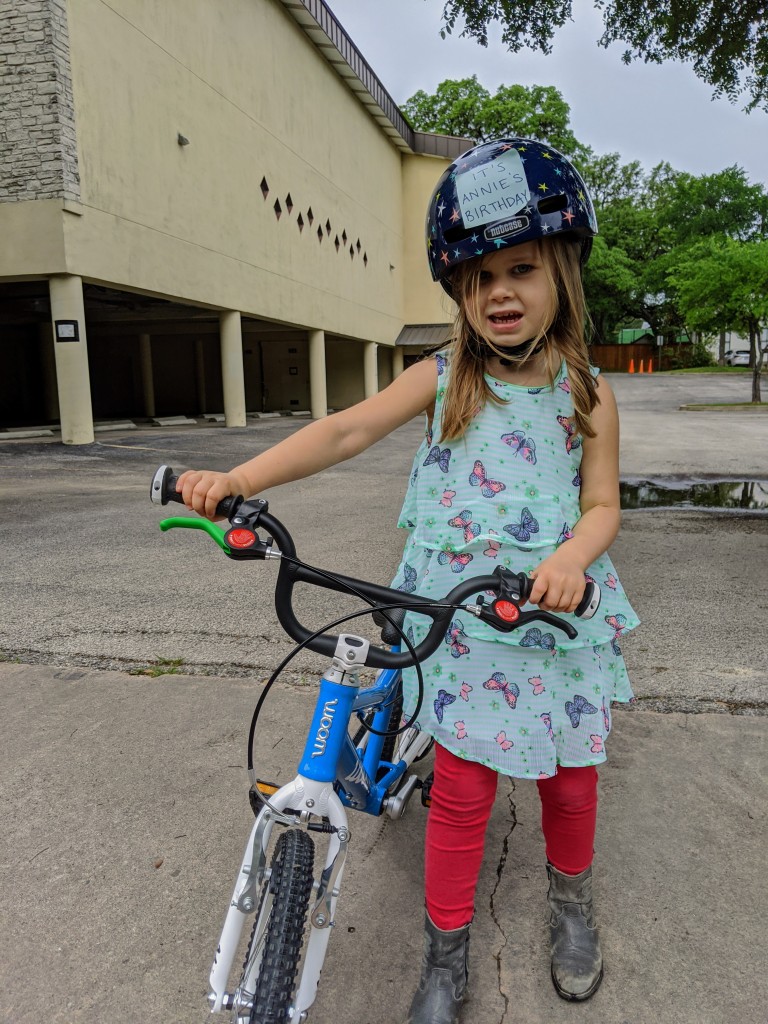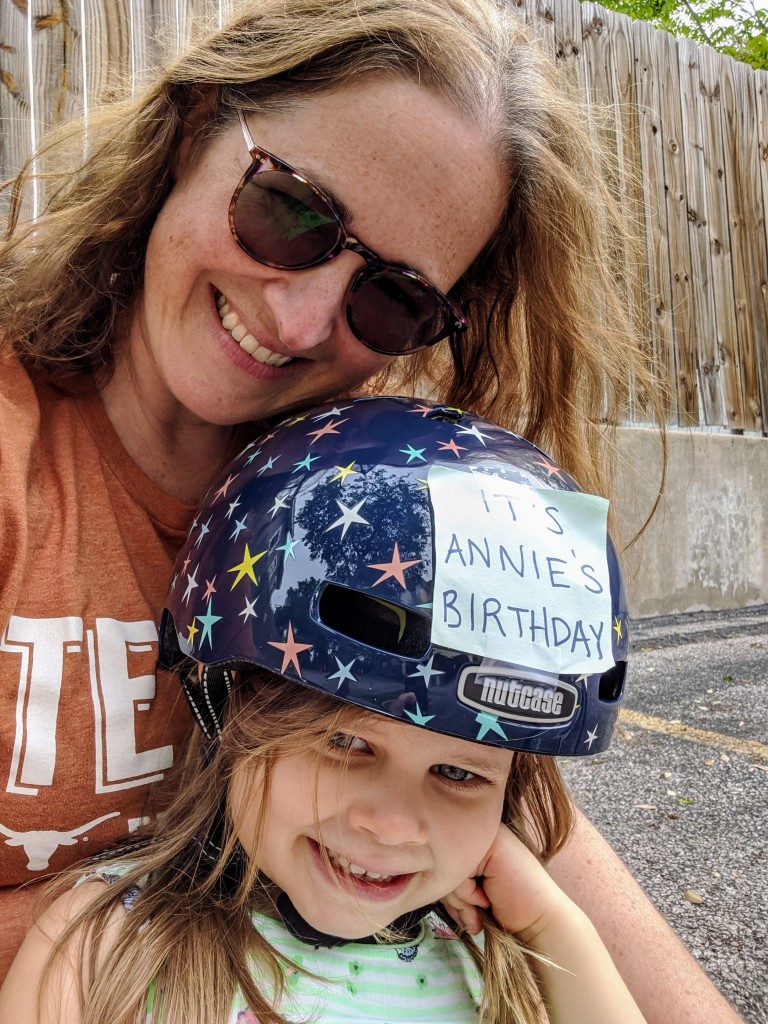 You and Paul enjoy some tablet time (Khan Academy Kids = the pandemic's MVP) while I bake you a chocolate cake. I toss in a half-cup of chocolate chips and forget the baking soda, and the result is beautiful and dark and dense. (This recipe has become my chocolate cake go-to for some reason, with butter for the shortening.)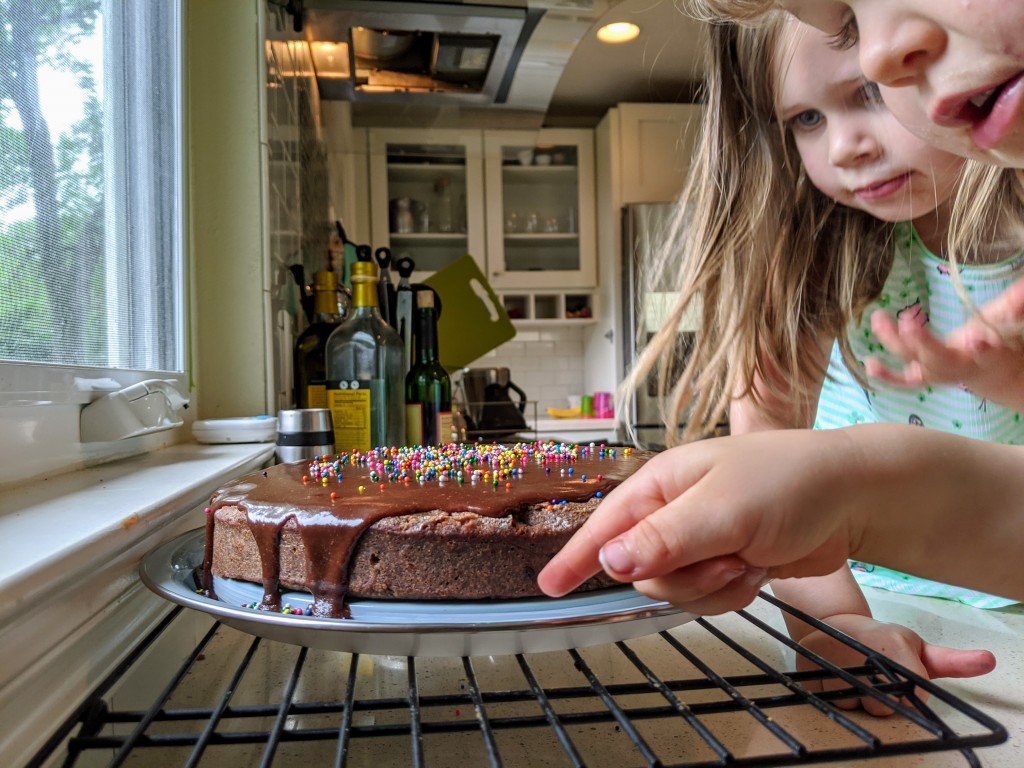 It's lunch time. PBJs and cherry yogurt. You and Paul are looking for mayhem, so Dad corrals you with video games. You help him kick off Final Fantasy 7 and then play some Donut County, a favorite of yours. This time you work hard to get the hang of controlling it yourself. I work on a fun project of my own, making us cloth masks to CDC specifications.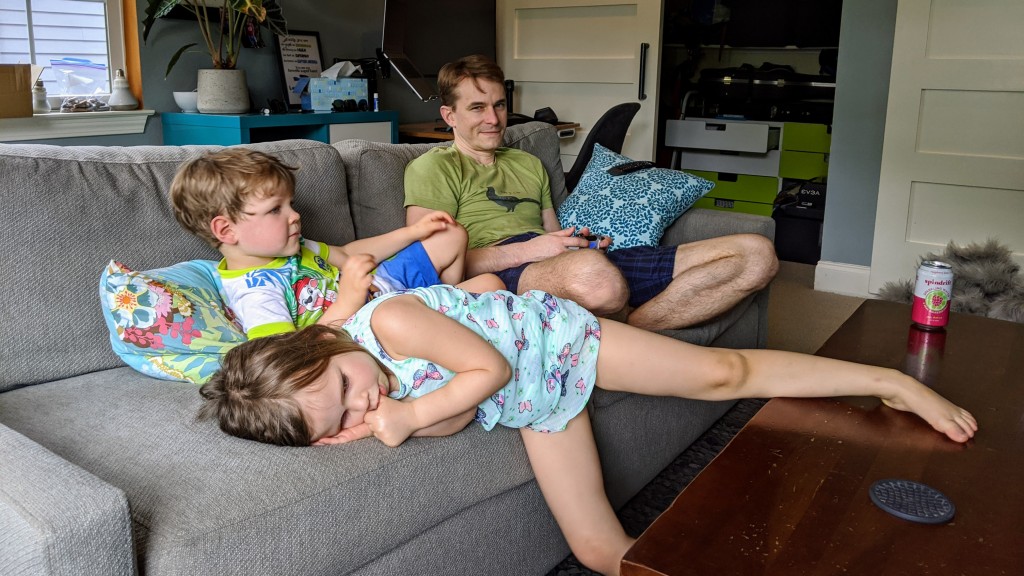 You two pop out and are excited to come watch me finish up. We're having an awesome, fun sewing-machine tutorial, until Paul touches the hot iron oh sweet Jesus. He's in pain and I'm angry at myself and we're all screaming and crying and tearing around for what feels like an hour. I can't get him to keep his hand under running water or against something cold. You are doing your best to help both of us—but you also really want to read your new Frozen chapter book.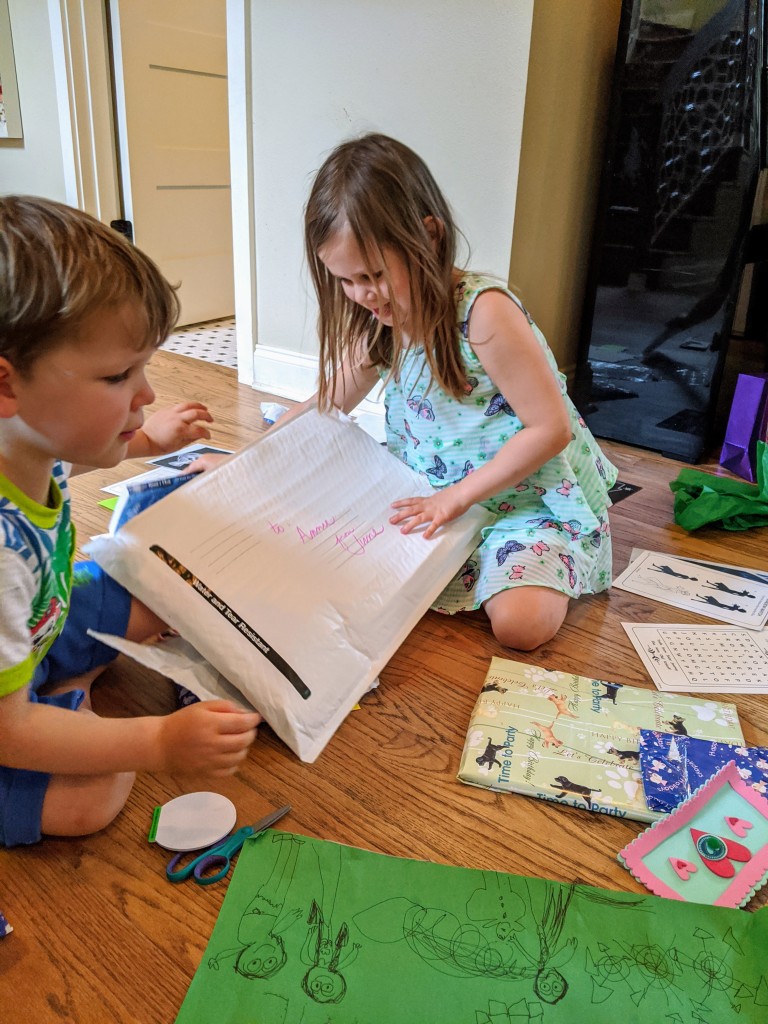 Dad comes out of a half-hour work meeting to find a trail of wreckage around the house. We've opened your gift from June: a giant padded envelope full of books and drawings she's made, and an assortment of kid nonsense. ("MOM! It's YELLOW STRING!!!") You love every bit of it. We've pursued various components of the package to try and help Paul feel better, many of which worked for 30 seconds.
At last, we settle into some Dinosaur Train on the couch, with a bowl of ice water for finger-dipping. Dad and I pick things up. Paul's ibuprofen has kicked in. I finish sewing your child-sized face masks. You learn about the 50th type of dinosaur I have never heard of.
I make your favorite dinner: Annie's-brand macaroni and cheese, with shells. You eat a giant plateful. We bring out the cake and sing, and you're blowing out the candles before it's resting on the table.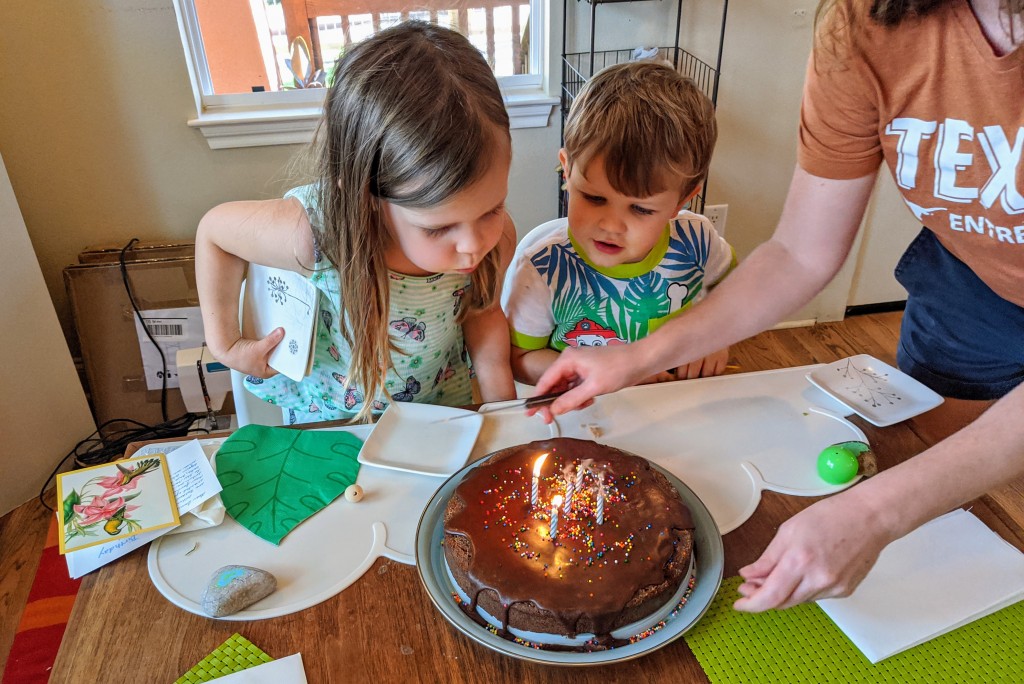 Dad invites Paul on a special bike ride, and you and I lag behind so I can show you your recorded birthday greetings from all our favorite friends and family. We lay on our stomachs on the floor in your room and watch them one-by-one on my laptop. You keep turning to me with a delighted smile and telling me fun facts about the classmates who are talking. It's lovely. We are going through a second time when we hear the front door and the boys are back.
Eleanor Crowder doing her thing:
You want to go for another bike ride, too, right up until you remember the terror of your new bike, so we don't make it farther than the end of our block. Good news for Mom and Dad's back muscles—we are happy to head for home and bed.
You pick Make Way for Ducklings for your bedtime book, and I treat you to the unabridged version. Paul's pick is Dragons Love Tacos—another solid choice. You opt for another book instead of a Mom-original bedtime story, so I read you a vintage 1980s Berenstain Bears number, and then, okay fine, Dragons Love Tacos II for Paul. Phew. 7:20, goodnight. Except not really, and we see you and Paul at least half a dozen more times and herd you back towards your beds.
Five years old. We made it.