To Paul: this is how you spent the day you turned 3 years and 5 months old.
You walk out of your room and cheerfully announce that the light is green. Annie is still asleep, so we close the door quietly and tiptoe out. You climb up on the bed and sit next to Dad to discuss our next steps. Putting on our new fuzzy pinks is the decision. We do it, so quietly, and get through the rest of the routine. Downstairs, you select four "mango chewies" while I microwave you some waffles. You relish your breakfast and our undivided attention until Annie wakes up around 7:40.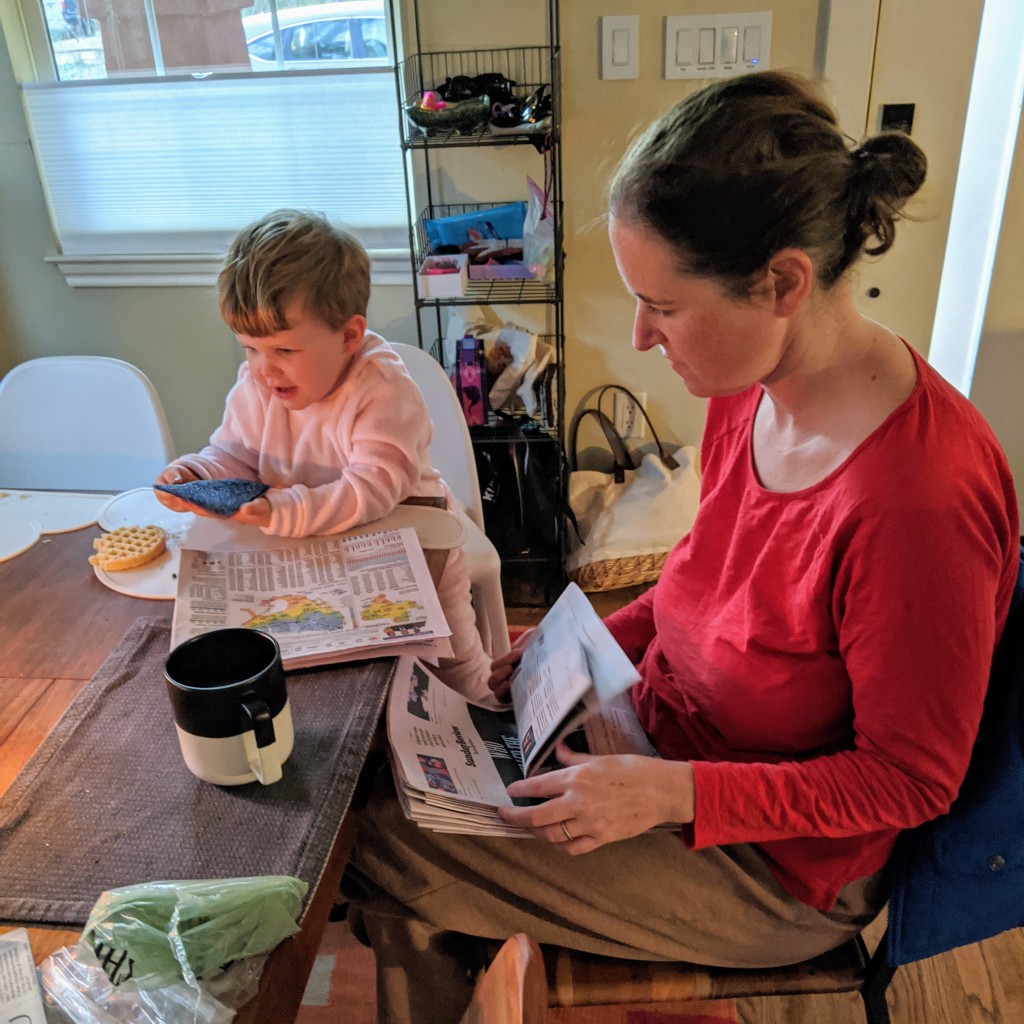 You're ready for the donut run and start loading yourself in the stroller pronto. We administer your chewable vitamins and stash some extra warm clothes under the stroller, and off you go, down to the trail and around a loop to Mopac. You're back around 9:30, and I pick a dozen sprinkles off your shirt.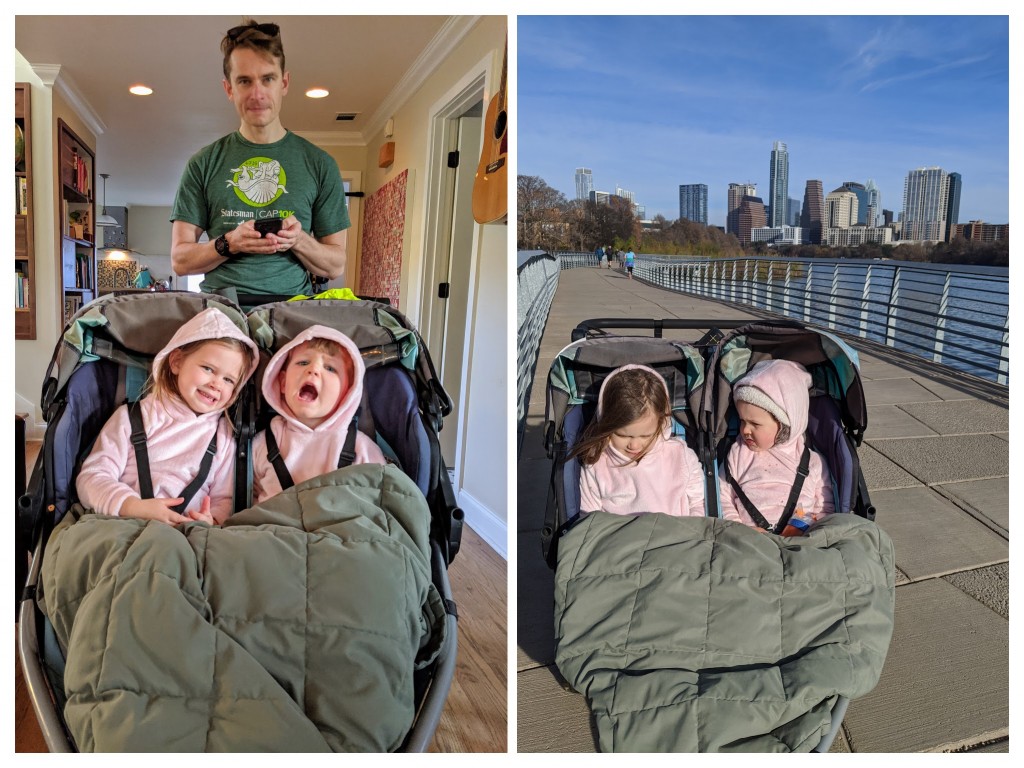 You and Annie play an elaborate game of turtle-family downstairs while Dad and I shower, then we hop into the car and head out for dim sum with the Crowders. Dad buckles you in, after which you decide you want to buckle yourself. Dad declines, and you literally scream in fury for the first five minutes of our drive.
Paul: AAAAAAAAAAAAAAAAAAAAAAAAAA!!!!
Dad, calmly: Please don't scream in the car, Paul, it's too loud.
Paul: AAAAAAAAAAAAAAAAAAAAAAAAAA!!!!
Dad, calmly: Please don't scream in the car, Paul, it's too loud.
Paul: AAAAAAAAAAAAAAAAAAAAAAAAAA!!!!
Dad, calmly: Please don't scream in the car, Paul, it's too loud.
At the restaurant, you are delighted to be seated in a GREEN booster seat, and nibble on a number of things before the pineapple cream dumpling of your dreams arrives. It's a wonder you have any room in your tummy after our non-stop eating spree this morning, but you're very patient through the meal. Dad takes you and Annie outside while we split the check, and we run around the corner for some bubble tea. You and Annie share some strawberry milk tea, and then officially start bouncing off the walls.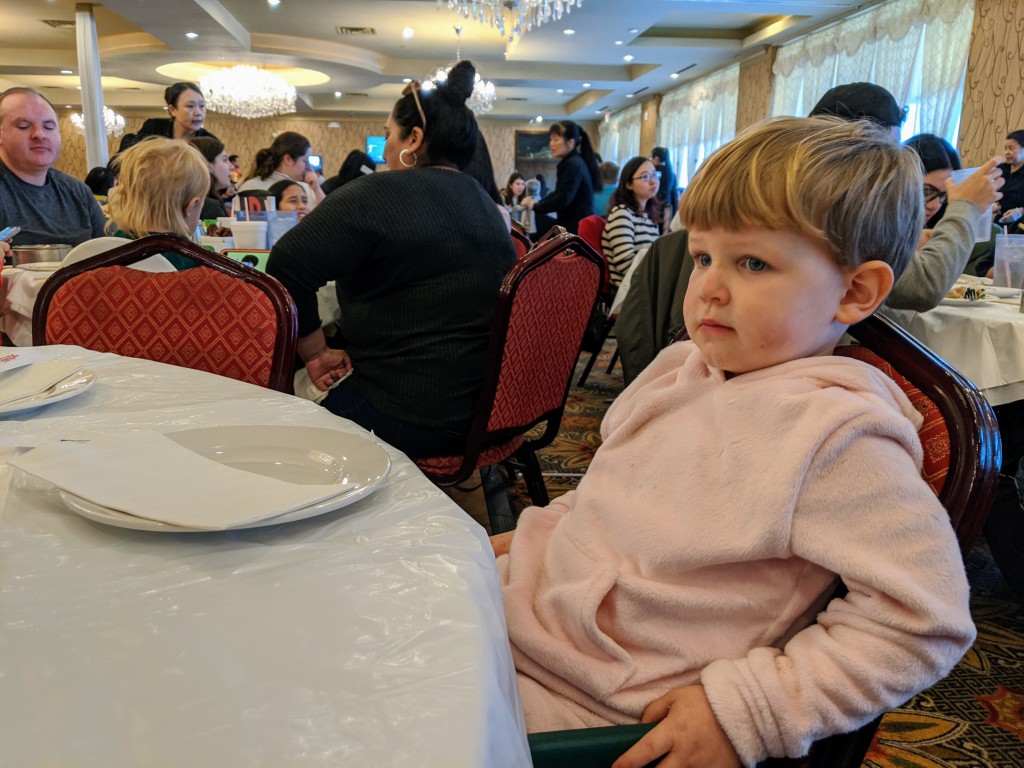 Back home, we head upstairs to play. We're all characters in a castle, and you are also approximately 30 cars, which have terrible pile-up accidents and also come crashing against the walls one by one, creating castle-rattling earthquakes. Some individuals reform.
We head downstairs, and your playing on the coffee table when you look at me and announce cheerfully, "I'm holding it!" while tinkle runs out of your pant legs. I do not think it means what you think it means. We clean up with the usual mini-lecture. If you have to go potty, stop, and go right away—a tip you'll whisper to Dad later in the day. You have some Dad time, playing and talking and having a snack. We all watch a couple episodes of Dinosaur Train.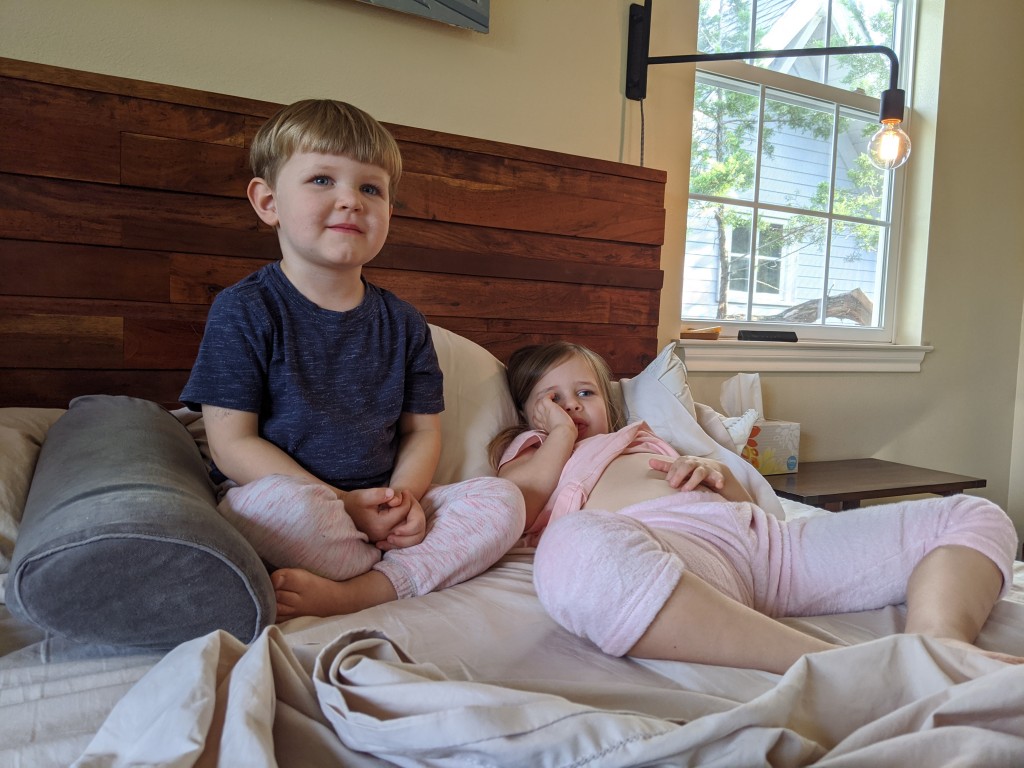 Our friends the Brocks come over, and Annie whirls Poppy away for some Frozen-related activities while you mostly play solo, absorbed in your cars and the big cardboard box I have fashioned into Mater. Your cars are living in it like a big truck-shaped fortress. Later, you drag it back and forth across the house and sit on it until it comes to pieces and you tell me you don't want it anymore "because it's smushed."
You play a really exciting game with other kids and the doorbell, wherein you ring it and talk to Dad and I via our phones. This goes on for some time. When dinner is ready, you sit down between Doug and Annie for grapes and steak, and ultimately a yogurt popsicle in my lap. We decide to introduce Poppy to the new Frozen short we just discovered, and you all watch 20 minutes of cartoons while we clean up the kitchen.
We say goodbye to our guests. To Poppy, you ask, "Do you want me to get close to you for you can have some of my warmth?" An offer I find sweet, but she declines. Bye, Brocks! You have been angling for a "night walk" since you heard Silas took one, so we bridge the gap to bedtime with jackets, headlamps, and a very enthusiastic walk to the end of the block and back. I talk you into the bathtub with a reminder that the turtle eggs you've been playing with all week are actually bath toys. You and Annie spend 15 minutes playing in the tub.
For storytime, Dad and I both get to do a rendition of Super Happy Magic Forest, and then he gives hugs, says goodbye, and heads to the airport for a standard California jaunt. You get in bed reluctantly, and I have to threaten no story to stop your disagreements and interruptions, but finally we make it through a hybrid Dinosaur-Train-meets-Frozen adventure. We're big into fan fiction these days. I say goodnight at 7:35, and by the time Annie tiptoes out at 7:45 to tell me her ant bites are hurting, you're already asleep.