To Paul: this is how you spent the day you turned 3 years and 5 months old.
You and Annie thunder into our room when the light turns green and climb onto the bed, happy to find Dad and I in place after his California trip and your night with Charly. You make it through the morning routine with him, and more or less no tears.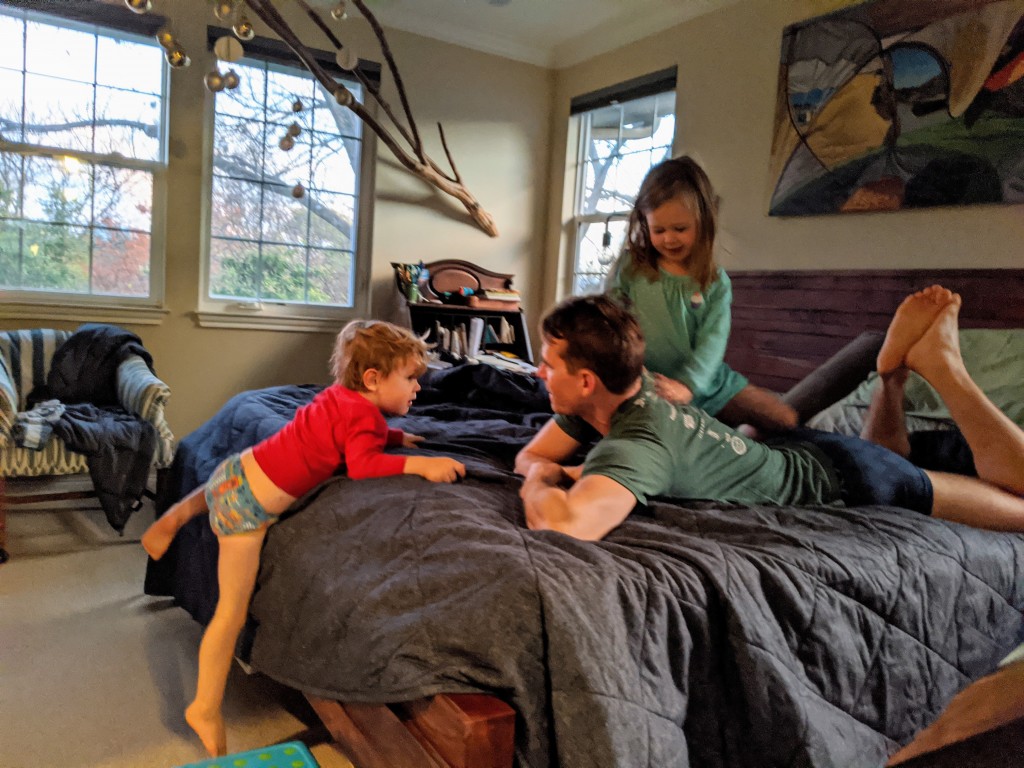 It's Cheerios and milk for breakfast, with one piece of "grownup cereal" (frosted mini-wheats) stuck in the center, its dome of hardened sugar a special prize. After breakfast, you help Dad put together his new battery-powered lawn mower—the kind of really exciting Christmas present grown-ups get for themselves.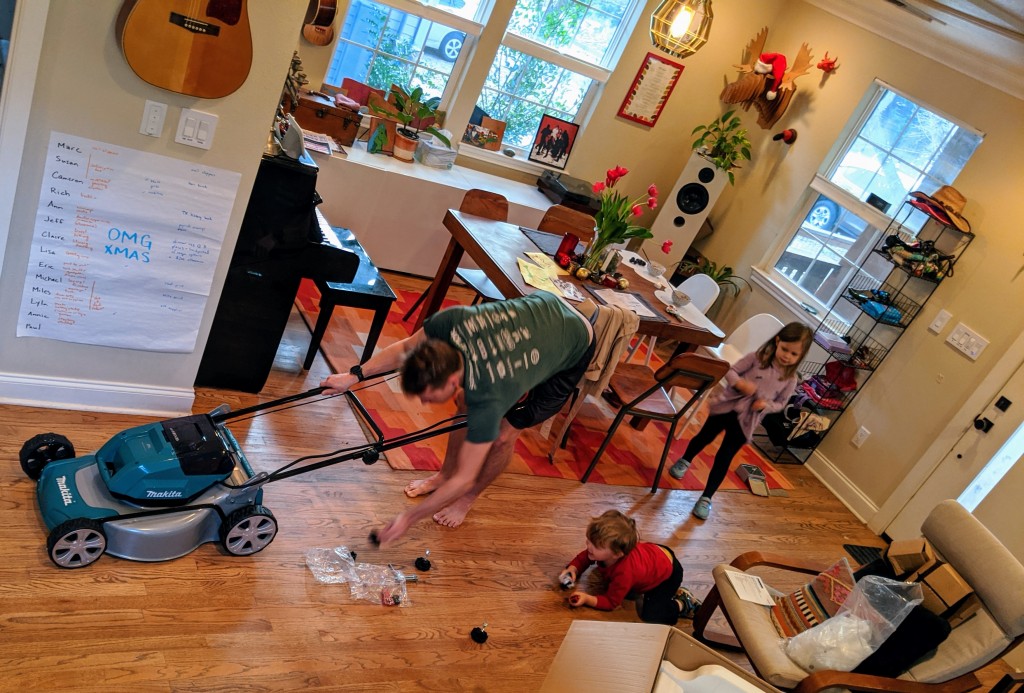 It's chilly outside, so we hustle to the car and drive to school. You escort Annie into her class, and we head for the Owls, where the expectation of jelly on english muffins eases the pain of separation.
It's a normal day, as far as I know, with spaghetti and pears for lunch, and who knows, maybe even a nap. I find you at 4:45 engaged in your current favorite activity: running around on the playground turf with Fletcher and Silas. Fletcher is chasing you and tackling you. You tell me it's "tag." Mmhmm.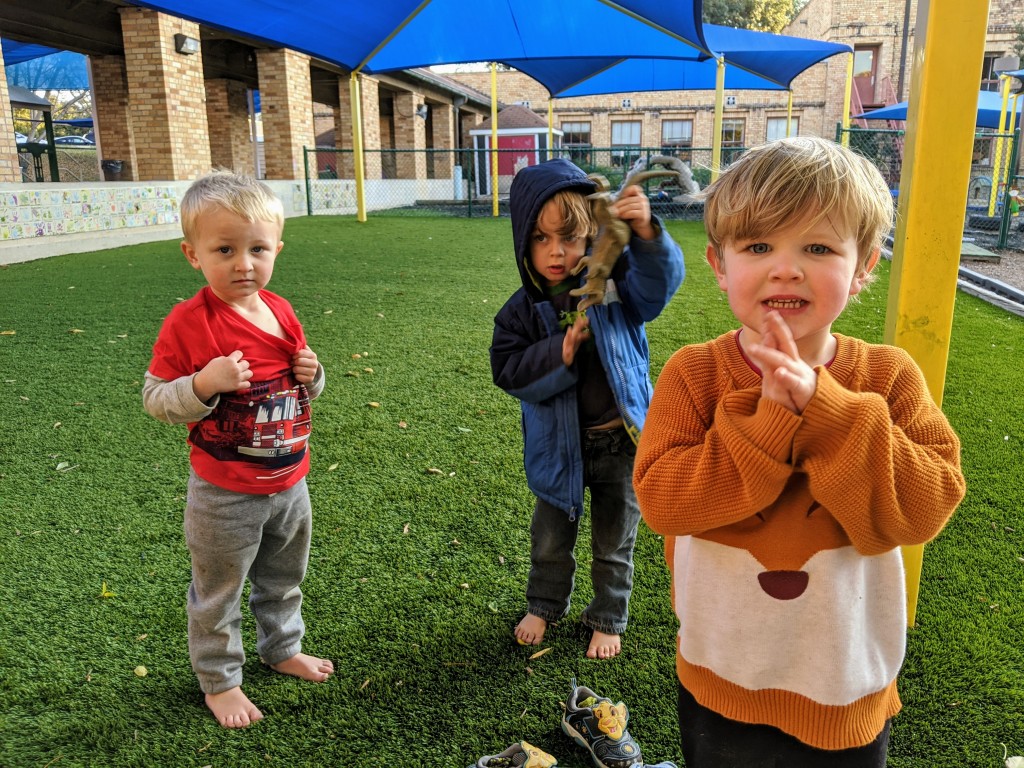 The very last thing in the world you want to do is go home. I have to carry you off the playground and all the way to the car. New construction work around your school (building the new Moody Center) has closed roads and led to disastrous traffic. So it's a long journey home. We make the best of the time, addressing such questions as:
"What are the soldiers doing in that statue with the person with wings?"
"What are 'peace' and 'freedom'?"
"What makes a boat sink?"
And of course listening to Frozen 2. Oh my goodness, yes.
Home at last, we eat a quick dinner, and you and Annie have some playtime. You make up the kitchen tower into bunk beds, complete with your blankets and pillows, and do a little ukelele practice, centered on pressing buttons on the tuner. I show you how to play a C chord. You take a shower in our bathroom and snuggle into Dad's lap for a book.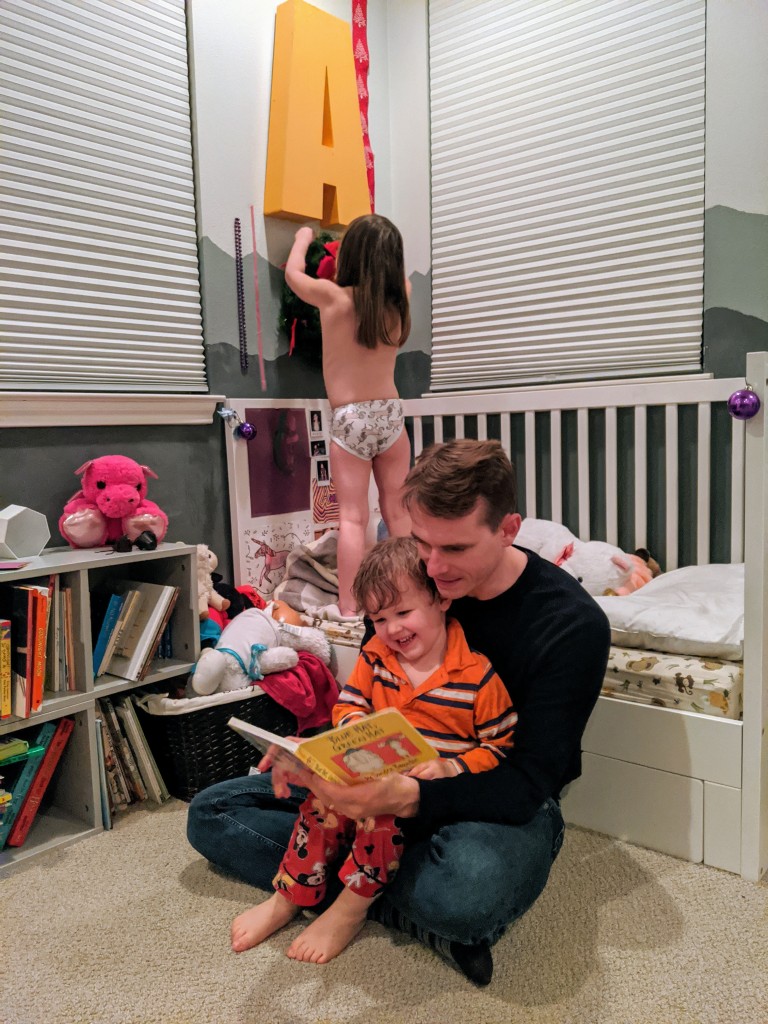 Dad tells the bedtime story—the latest in his Smaug the Dragon series—and reminds you to keep your body in bed. And you do! Nice work, buddy.