To Paul: this is how you spent the day you turned 3 years and 1 month old.
You are still testing the stay-in-bed limits, and Dad fields a wee-hours potty request. You have correctly identified potty needs as the trump card. When the light turns green, you charge into our bathroom as I'm getting out of the shower, and our day officially begins. Somehow you both end up swaddled like babies in your old muslins. It's hard to explain.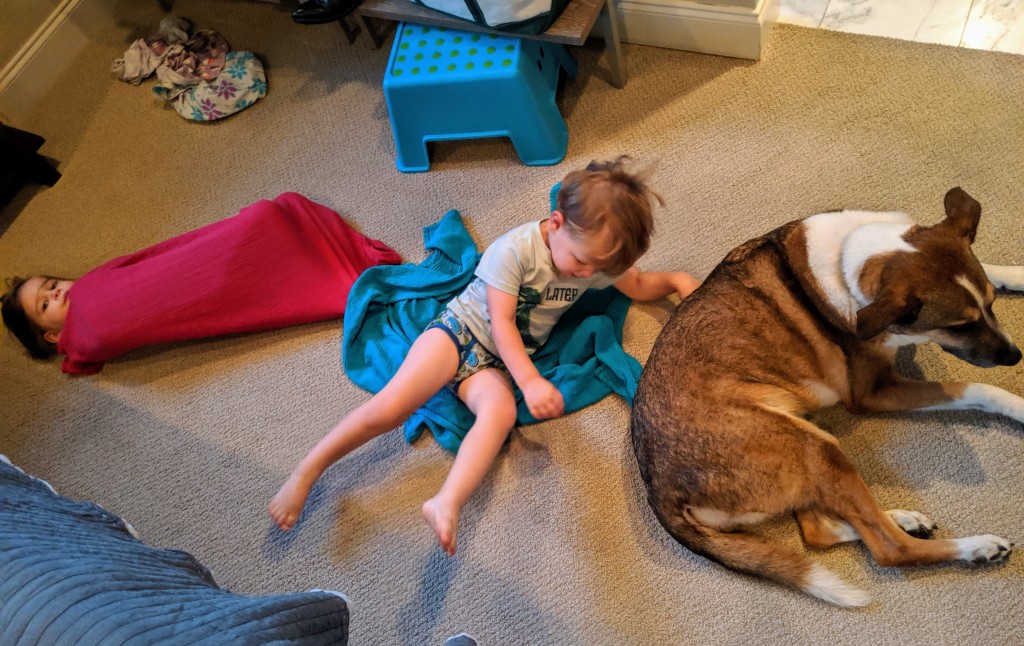 We make it downstairs for breakfast—more banana muffins you helped bake on Sunday, and fruit, and a bonus bowl of cold oatmeal. You strut to the car carrying the vitamins, and Dad buckles you in. We talk and tell stories and ask questions all the way to school. Your classroom was temporarily relocated yesterday after a burst pipe rendered the floor unsafe, so we drop you in the ex-Sea-Turtles class right by the entrance. The Owls have all moved in, and you seem happy to be back there. There's a library loft! We have a hug, and you insist on kissing both my cheeks, and then my legs. Yep.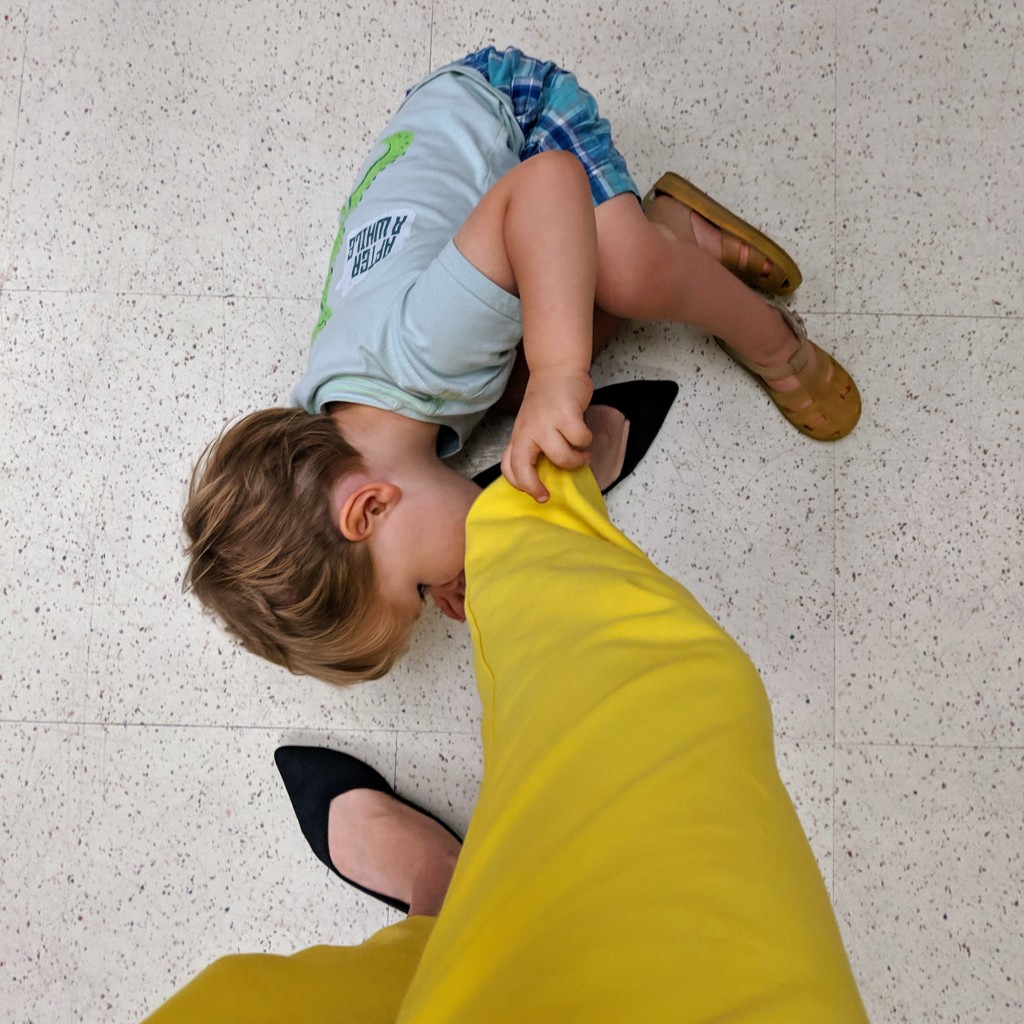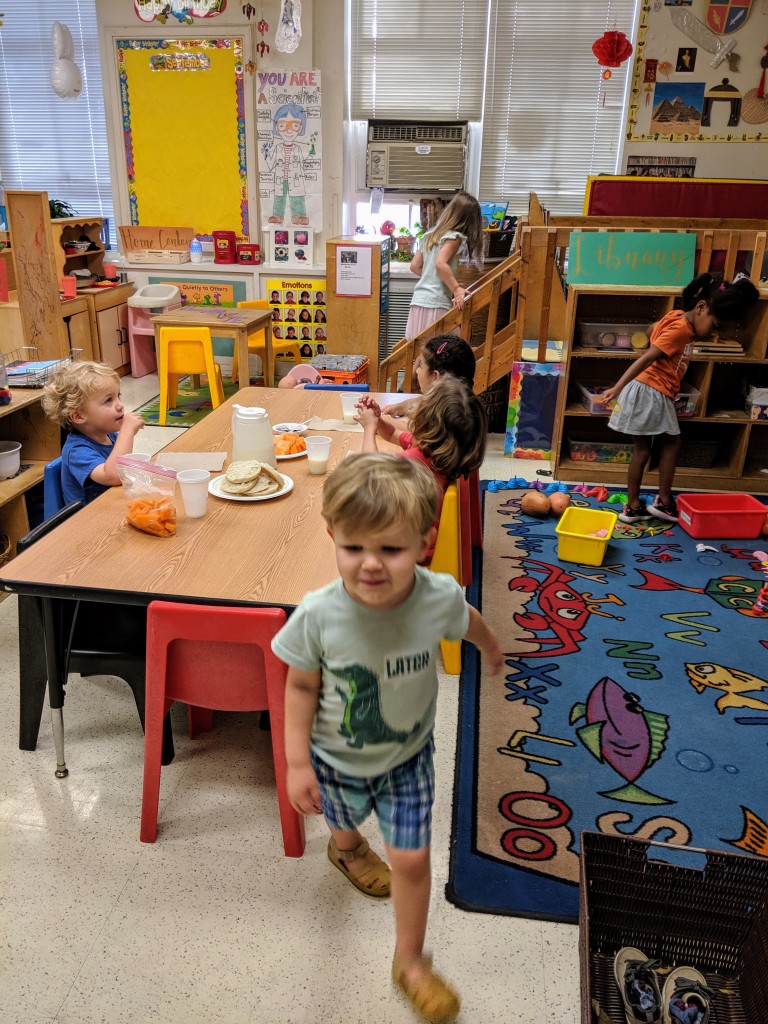 Other than the new classroom, it's a typical day at school. Lunch—I laugh now to notice since I just served the exact same thing for dinner—is spinach quiche. You nap. The afternoon on the playground must have been fun, because your feet are FILTHY when you come home. Dad finds you at 5, working enthusiastically on some dot art. He lets you hop on the stumps by the door, and then you head home.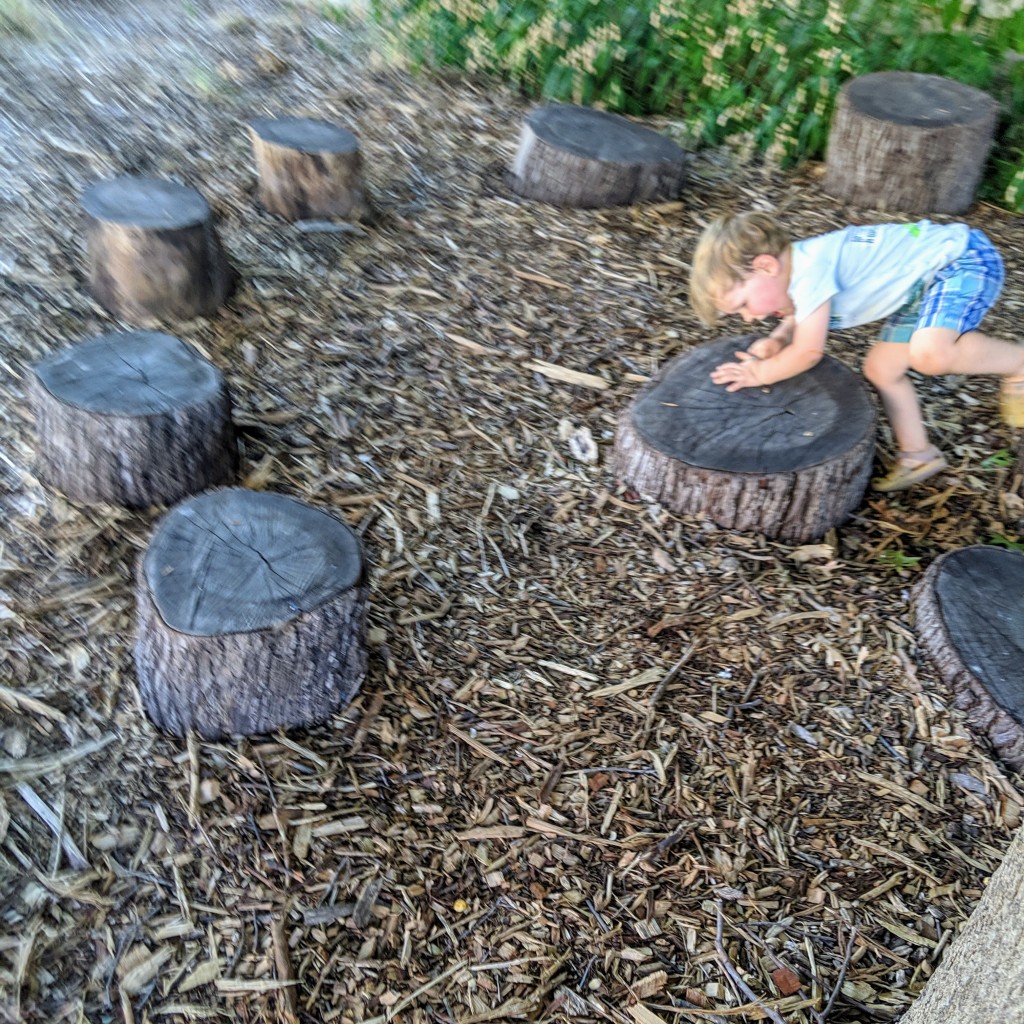 You must have missed your last potty trip because you have an enormous accident in the car on the way home. Dad strips down the carseat and tries to mop your pee out of the perforated leather while I sponge off your legs and butt. Mmmm, dinner time! Unsurprisingly to me now, you are not very enthusiastic about the spinach quiche on your plate, but you scarf your strawberries and eat black beans by the handful. "What's in this quiche?" you ask, and then answer yourself, "Eggs and cheese and BOOTY."
After you handle every piece of pepperoni on the serving dish, Dad works in a pro-parenting lesson on not touching food and silverware you aren't going to use. You end up with three spoons, somehow. You relish our full attention as Annie lies down on the couch—she spiked a fever this morning and has been home and pitiful all afternoon.
You are extremely dirty. I convince you to go upstairs for a bath, and you convince me to crawl like a turtle with you to get there. The tub is a blast.
We complete our grooming rituals, and when you and I return to your room, we find Annie there in bed. It's 6:45. I sit so she can see the pictures and start reading our new Baby Mercy book from Aunt Peanut. You sit in my lap, only a little squirmy, then pick out three more books and allow Dad to read a couple. He tells you the story of Hansel and Gretel, and says goodnight when, wow!, it's still just 7:15.
And you're quiet for 20 minutes, and then you emerge and tell me you have to go potty, even though you peed literally half an hour ago, but what am I gonna do? Walk with you to the bathroom, that's what. You pee a tablespoon, and then get back in bed, and then request a BIG hug, and to kiss both of my cheeks. Smack, smack. And my forehead. Smack. And my nose. Smack. You chuckle. "That's a hard one, right?" Right, Paul. Right.