To Paul: this is how you spent the day you turned 3 years old.
You and Annie come out and tell me it's my turn to turn off the green light. Thanks, guys. In return, Dad and I share the exciting news that it's your birthday. You had forgotten.
We have a quick snuggle, and I turn you loose to get ready with Dad. He teaches you how to pee standing up. MILESTONE.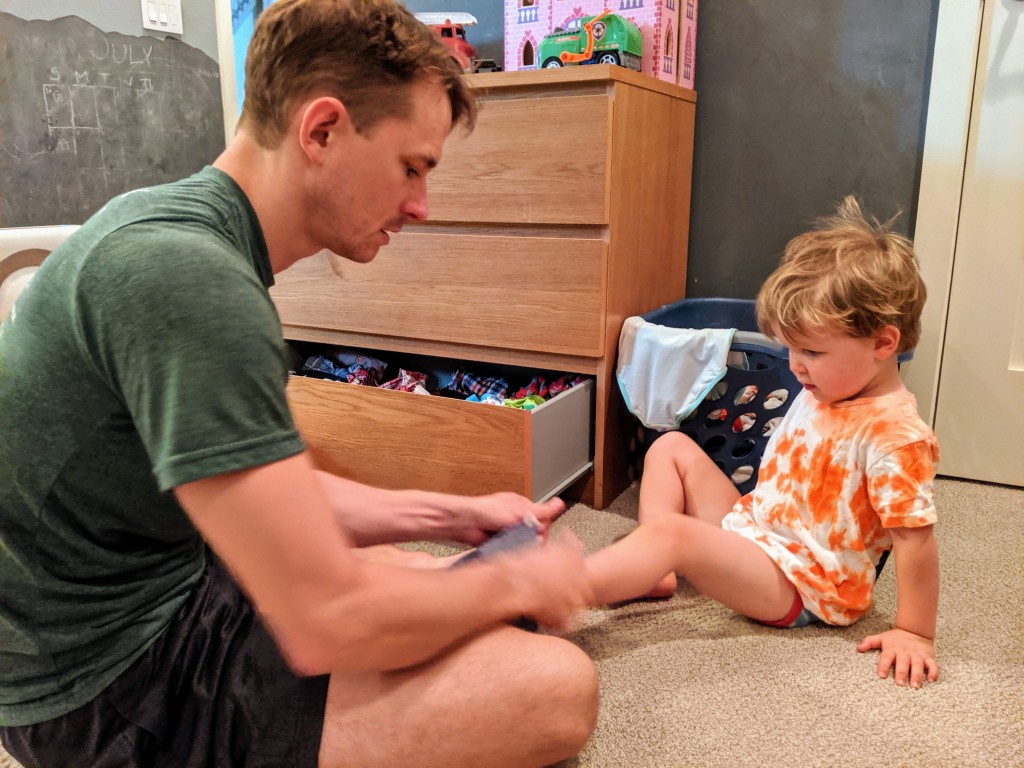 You get dressed in the greenest shirt that's still clean, and then switch to a different one, and then switch to your orange tie-dyed Panda shirt, and some camouflage socks because why not. Then it's downstairs for a pile of blueberries, a peach, and some mini-pancakes—pretty much your perfect breakfast. You finish up, wash your hands unprompted, and ask if you can play for a minute. You race cars around the coffee table while the rest of us finish our preparations. Your special day nets you the privilege of carrying the vitamins out to the car. We pass them out once everyone is buckled in.
On the way to school, Annie asks for a story, and I hem and haw before proposing the one on my mind: how Paul was born. I hit the high points for you and field a number of mechanical questions. You enjoy the story but are disappointed to learn that you will not have a baby in your tummy one day. I feel disappointed, too, on your behalf.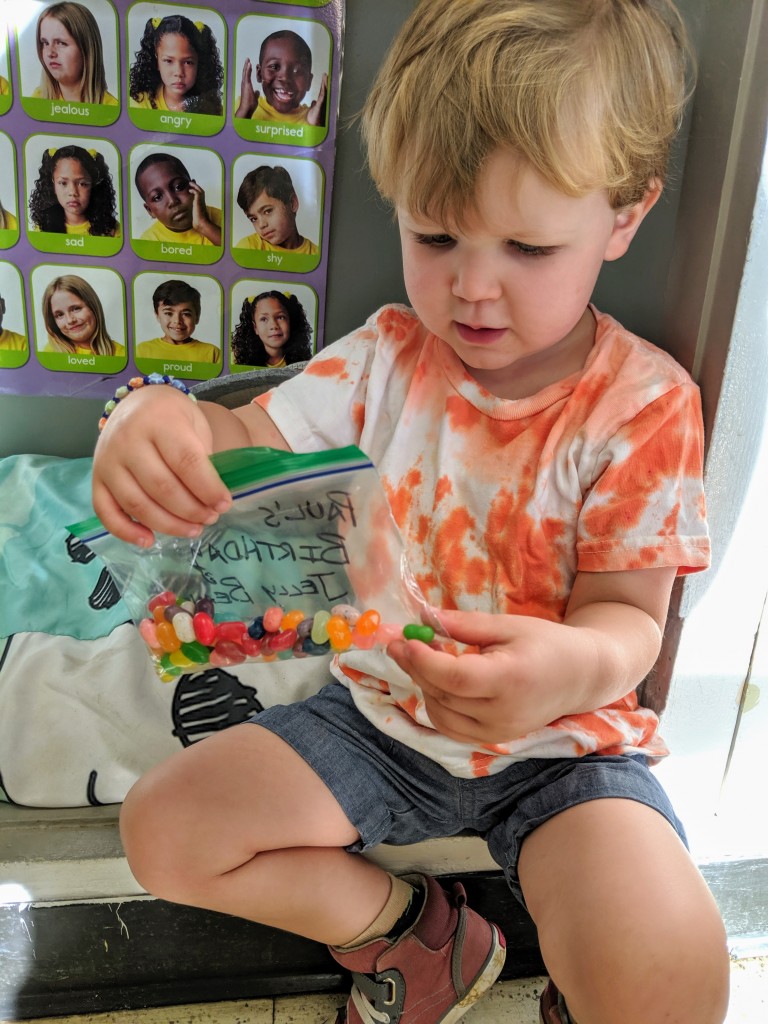 At school, you open the door by yourself and head inside. You hand over a small baggie of jelly beans that Ms. Natalie will pass out as treats (one each) for your birthday in the afternoon, and tell her about the most important part of your weekend: "Yesterday I had TURTLE CAKE AND TURTLE CUPCAKES." You say goodbye to us as you pick up a paper towel for second-breakfast. Oranges and cheerios.
It's a typical day at school, by all accounts, other than welcoming a couple of new Pandas to the class, and of course your jelly bean distribution. You nap with your doggie and eat well. I pick you up at 4:15, and you leap into my arms. On the way to the car, you ask, "Mom, could you hear me talking when you were at work?" I love the stuff I have to explain to you.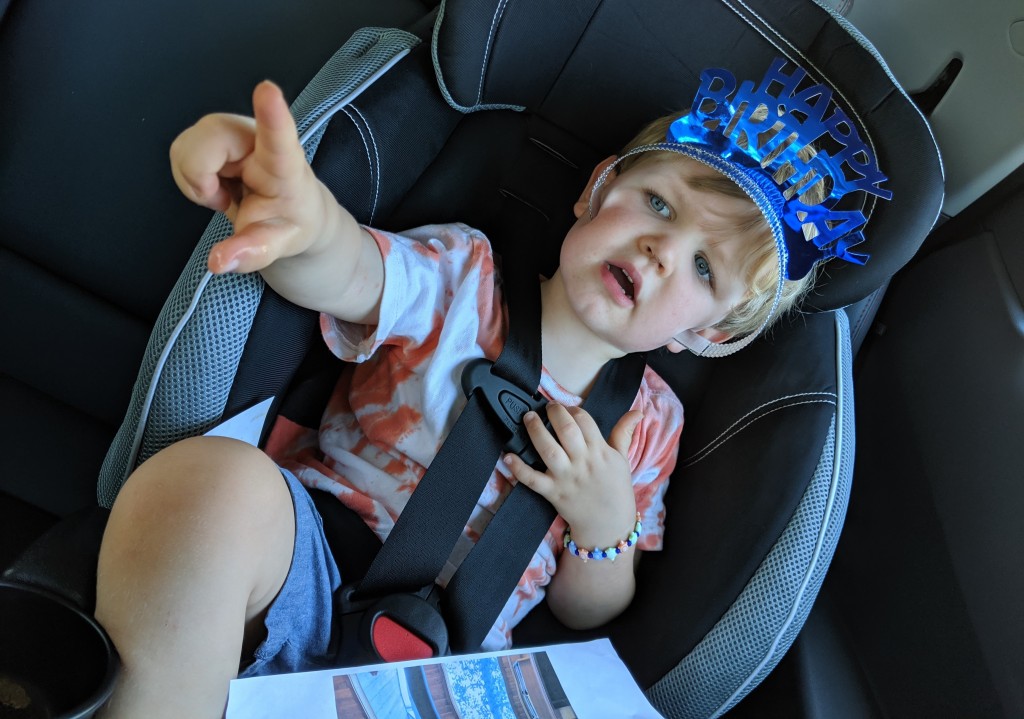 You wear your birthday crown all the way home, and at 4:30 I tell you you're EXACTLY three. Annie tells you that because you're three now, she's going to teach you something new tomorrow. Stay tuned.
Dad scoops you up at home and asks for your consultation on dinner. You decline the pizza restaurant in favor of mac and cheese at home, and when things get a little too rowdy for constructive cooking, take in a few happy episodes of Peppa Pig. At the dinner table, you demolish your mac and cheese and are delighted when I stick candles in your leftover turtle cake, and we sing to you again. You blow out the candles like a pro, have a few nibbles, and ask to save the rest of it for breakfast.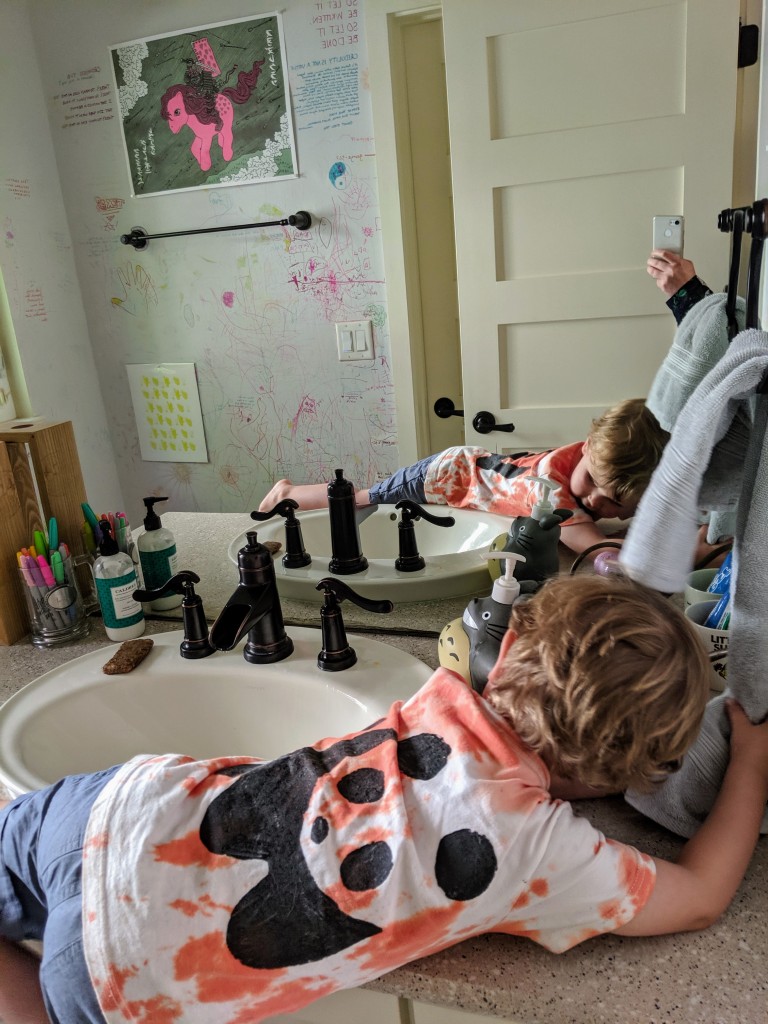 Afterward, you hustle to the bathroom to wash your hands so you can open your last birthday present—the rest we have trickled out over the prior two days, so you could have them for your pool party and also as motivators for various desired behaviors, SORRY. You are super excited about this one—three construction vehicles you can take apart and put back together with a working drill, nuts, and bolts. Big fun. You execute capably under Dad's tutelage, and enter another elaborate pretend world with Annie, involving home-building and the cast of Cars.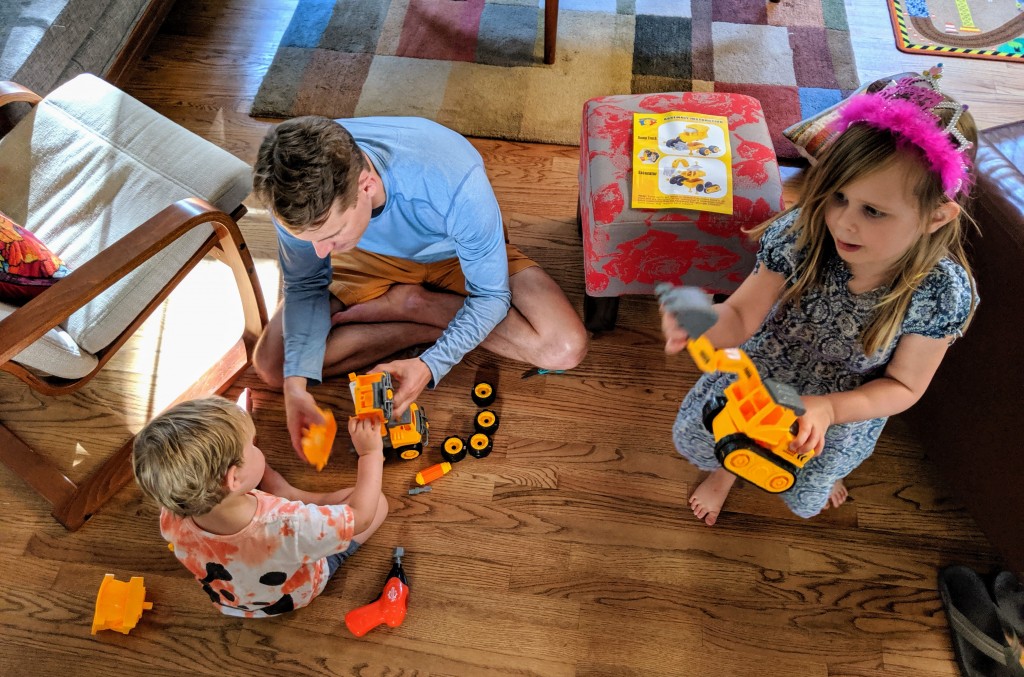 Time marches on. It's time to bathe, and Dad gets you washed pretty cheerfully in a green-tinted (turtle) bath while Annie showers on my watch. I help you into some undies with Cookie Monster on them, but you ask me to pretend it's really Mater. We read a sweet short book together, Our Car, and then dabble in some baby-book selections while Annie veers into mania. Neither of you want to get in bed, but after a last pee and a countdown from 5, you manage it. I do my best to spread your blanket on you with NO WRINKLES. Dad gives you another rendition of The Tortoise and the Hare and sings you a song about Lightning McQueen. I see you once more about 10 minutes later, when Annie summons me. You tell me you're almost a grown-up, and when you're a grown-up, will I still be a grown-up? Yes.
"And Annie?"
"Yes."
"And Dad?"
"Yes, we'll all be grown-ups together."
"But," adds Annie, "They'll have lots of wrinkles on their face."
True enough. Goodnight, kiddo.