To Annie: this is how you spent the day you turned 4 years and 4 months old.
At 7:05, you come in our room for morning hugs, then make me a pretend smoothie for breakfast and get dressed and ready with Dad. Downstairs, you and I make a real smoothie while Paul stays away to avoid the loud blender noise. We add a side of mini-pancakes, or as you're calling them today: lion ears. You continue your practice of inhabiting the characters that disturb you, and have been pretending to be a hyena for a week or so now, ever since The Lion King became your go-to movie. (Just to connect the dots in case 4-year-old logic doesn't translate: Hyenas eat lions, in your mind, hence lion ears for breakfast.)
Over breakfast, from the table, you call out to inform me: "Mom, every time I do something, it feels a little harder, so I think I'm flying." Sounds awesome.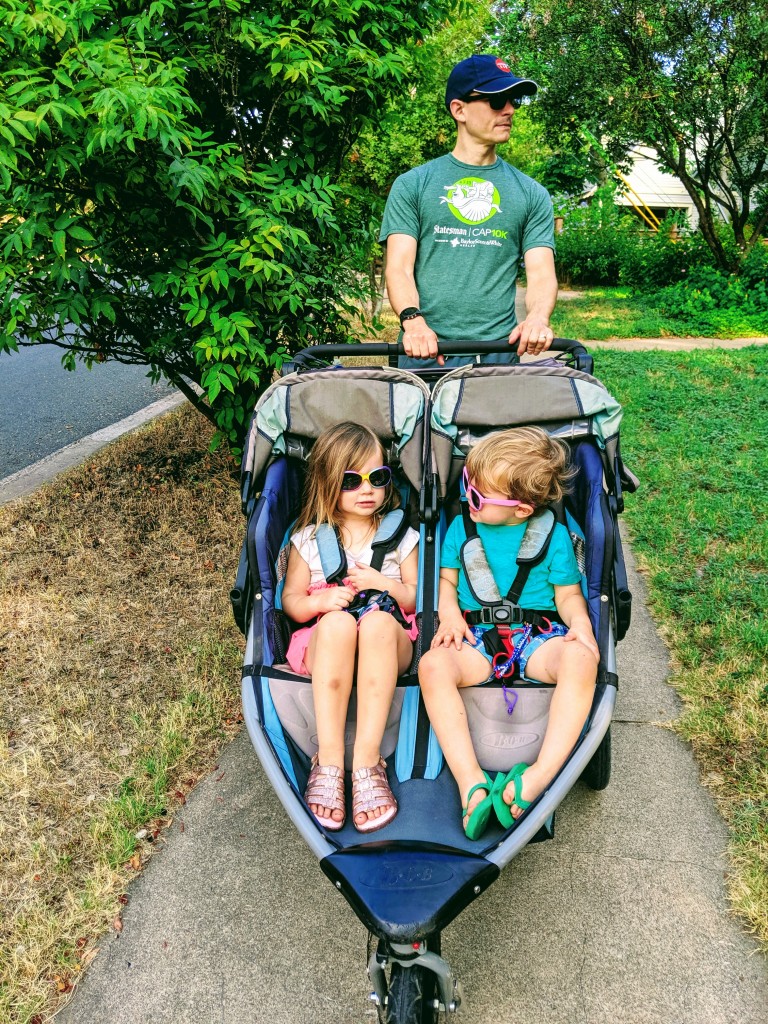 It's Saturday, so after breakfast you climb into your stroller and request all three pairs of your sunglasses—which you never wear, but maybe today's the day. We buckle in and head for the trail, enjoying signs of progress on Little Stacy Park renovation. It's hot on the trail, and Sous can't swim thanks to deadly algae, but at least it's early, and there are a few clouds. You and Paul have saved some toast for the turtles, and we also meet a new family of nutria, our pond's cutest invasive species.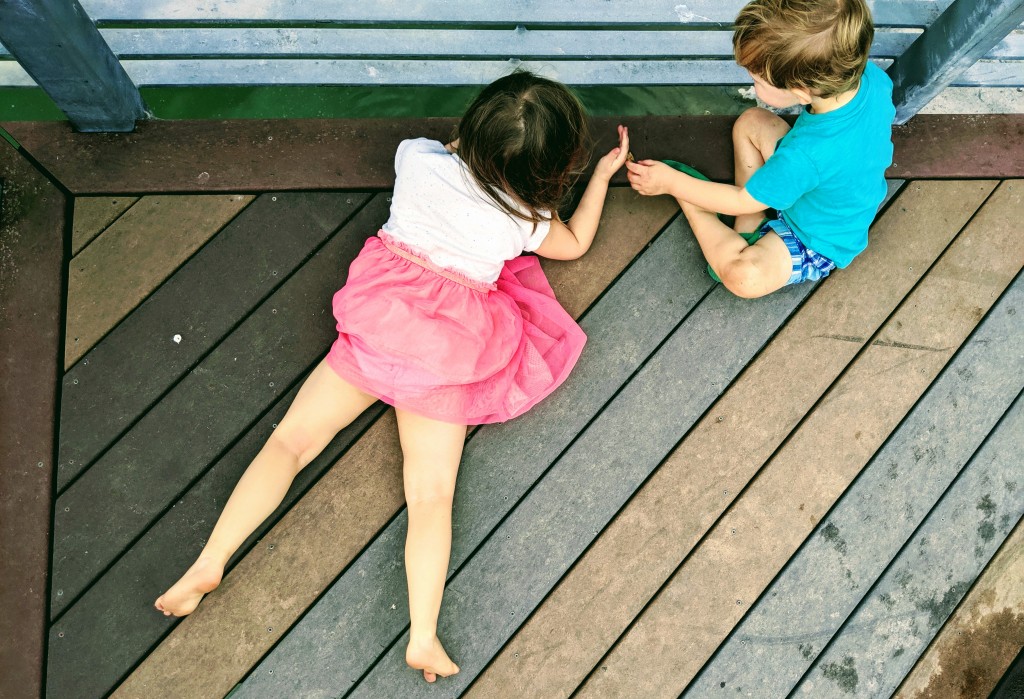 You ask for stories, and Dad and I offer the requested plot summaries of The Lion King (you make me tell this twice since I tried the highlights-only version on round one), A Christmas Carol ("why do we only watch that movie at Christmas?), the Boy Who Cried Wolf (we introduced this one for its "stop whining" moral, but you're clearly just in it for the wolf), and The Tortoise and the Hare. I hold you up to a break in the construction barrier to check out our other playground-in-progress at Butler Park. At the taco truck, you eat in the stroller so you don't have to put your shoes on.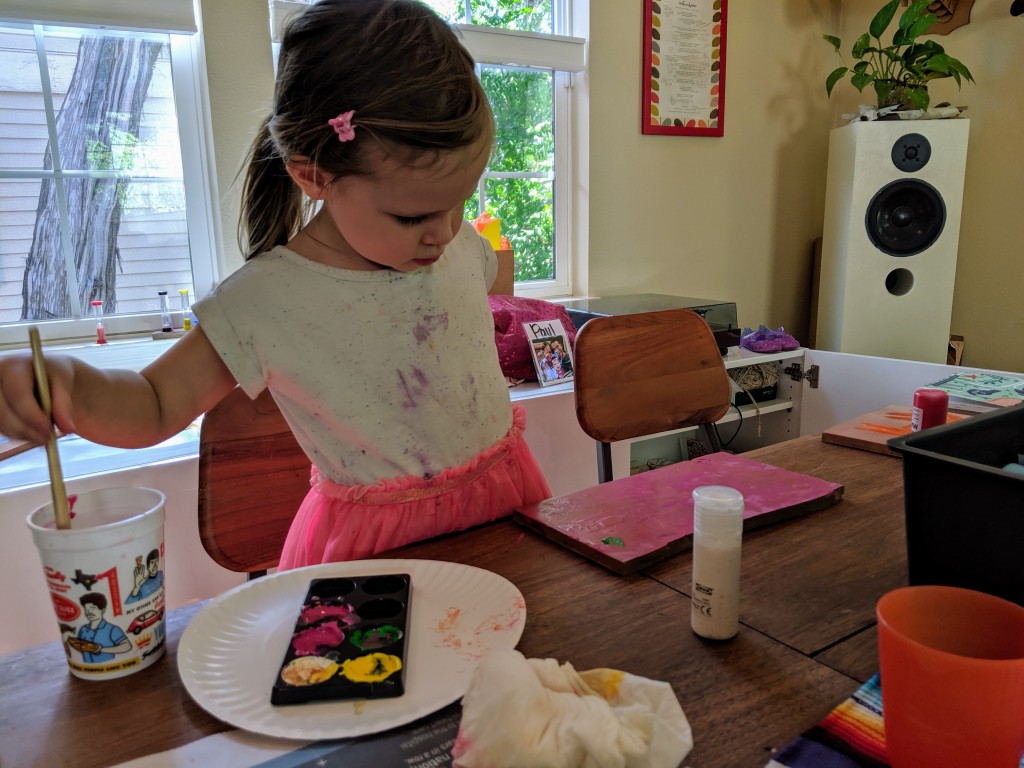 You and Paul bomb around the house while Dad works in the yard. We execute a modest art project. At the grocery store, you sip on a half-ounce sample of juice for 15 minutes and help me find supplies for Paul's birthday cupcakes. From the cart, you load items onto the check-out belt and ask to push the buttons on the credit card machine.
We have a quick lunch—cherries, cheese, corn nuts—and wish Paul a good nap. You and I call Susu to wish her a happy birthday, and you fill her in on all your major news, including receipt of a sweet card and pictures from Auntie Peanut (thank you, Peanut—they loved them!!). Then it's to work: we have cupcakes to make. You do all the scooping, stirring, and egg cracking—anything I will let you attempt, which means anything not sharp or hot. We make a mess baking and then move onto frosting. Adding the food coloring is big fun.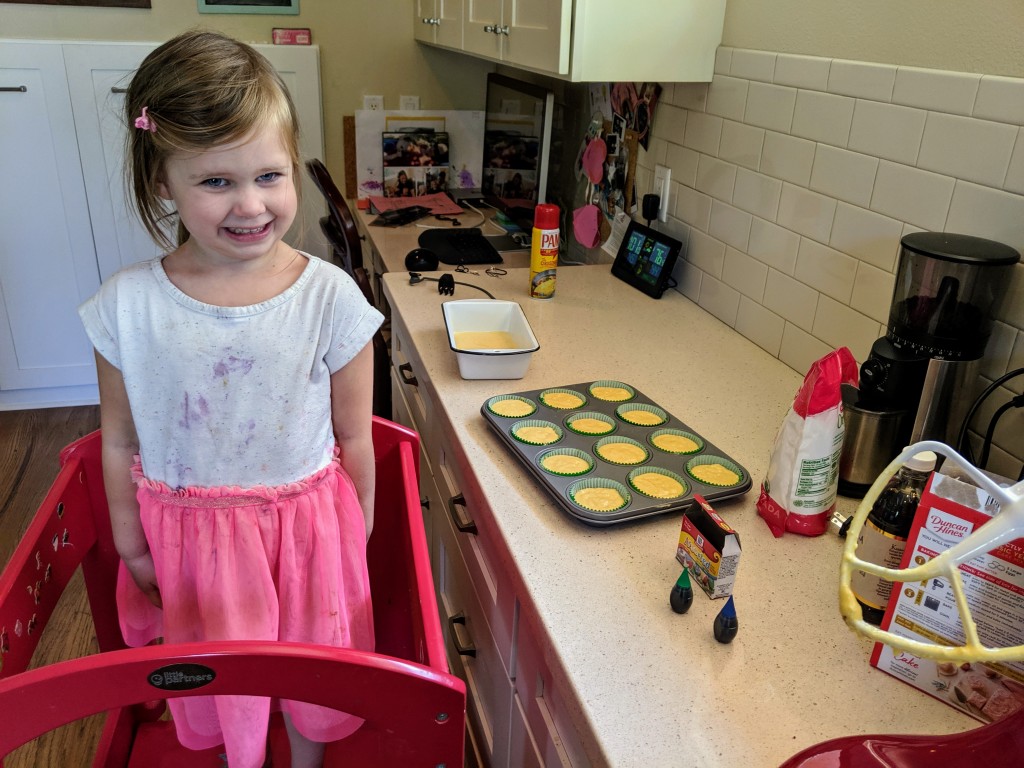 I'm beat, so we sit down for one episode of Doc McStuffins before Paul's up and you're back at it, racing toy cars around the house and pitching each other ever-evolving pretend scenarios. I dabble but mainly let you run it together. Dad returns from an errand and suggests a visit to the wading pool for 45 minutes before it sinks in. I help you into your suits and wave goodbye.
The pool is crowded, but you are ready to swim. In your goggles, you get your head under water and your feet off the ground and kicking. First swim??? Let's call it. You're home an hour later and into dry clothes for a dinner out. I motivate you through the change by offering Paul the chance to open a present before we go. He selects the box that includes a turtle-themed bracelet for you both. You don't wait for the offer, just pluck yours out of the box and slide it on. We're out the door.
Tonight we're trying Matt's El Rancho, Austin Tex-Mex institution and apparently where to find Republican party members in central Austin. We could have been in MY hometown. But the food is pretty good, and you and Paul are champs in a noisy and hectic environment. I happen to have quarters on me and introduce you to a gumball machine. You chew a giant ball with determination and grit. Paul eats his.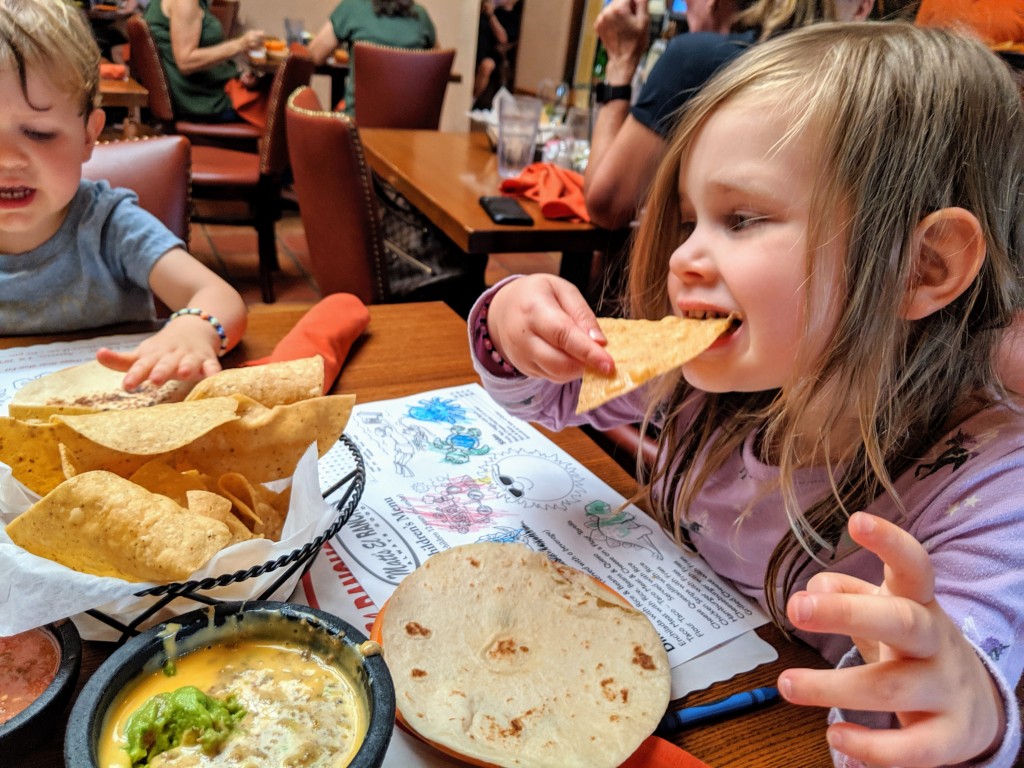 I teach you how to keep your napkin in your lap and eat your ketchup with a spoon instead of sucking it off your finger. Mother of the Year. You actually really do great. A year ago in this environment you would have gone to pieces; now you're a pro.
Back home, you and Paul take a shower with Dad, who gets you thoroughly clean. You "teach him" how to scrub the glass, and then diligently wash and rinse a dozen tiny toys. You're winding up for a frenzy, but we manage to lure you into attention to a couple of books: Your Body Belongs To You (ironic as you had to be manhandled into sitting still for it) and The Grouchy Ladybug. As I tuck you in, you tell me, "The sooner we go to sleep, the sooner it's Paul's party!" Dad ends the night with a lively encore of The Tortoise and the Hare. You pop up one more time to pee, and then, the end.