To Paul: this is how you spent the day you turned 2 years and 11 months old.
You and Annie giggle your way into our room at 7:05. No early rising today—you were wide awake in your beds until almost 9 last night. You set up temporary camp in your pillow, wearing your baggy Ninja Turtles underwear and announcing you are a baby pony today. Once Annie is off and running, you consent to take my hand and begin the morning drill, and we go pretty quickly after that.
You're happy to see a bowl of cold oatmeal with sliced banana for breakfast, eat it all and spend a few minutes with your toy cars before we head for the real one. You conduct your usual traffic inventory on the way to school, spotting police cars, taxis, school buses, and trucks of all sorts.
You cruise into class with a confident stride, and then, oh my goodness, if it isn't another line up of cars and trucks. Ms. Natalie has a different cool activity to start every day. You and Annie both admire it as your bagel breakfast gets set up. When I pop back into your class to find my lost car key 10 minutes later, you're still there.
Thank goodness it's splash day, because it's been too hot to go to the playground all week, and you like to MOVE. Your teachers report you have lots of fun. Dad picks you up at 5 and ferries you and Annie to Home Slice for a pizza dinner. (I have decamped to California to celebrate my friend Debbie's 40th birthday.) You peel off each piece of pepperoni and hold them up for Dad to blow on before you eat them. Then you salt your slice, declare it's too spicy, and eat no more.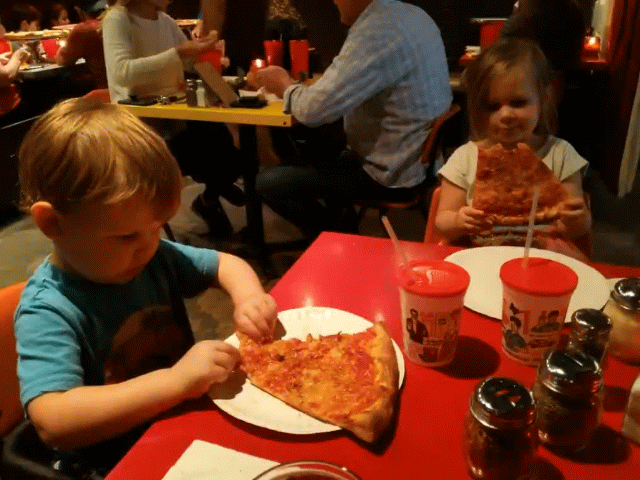 Back home, bed preparation is accelerated to allow 15 minutes of Cars 2 (Holly Shiftwell! Finn McMissile!). Dad reads you two books (trolls, buses), and wraps up the evening with a story about a chocolate earthquake. Goodnight, goober.