To Paul: this is how you spent the day you turned 2 years and 10 months old.
I'm washing my face in the shower when I hear knocking noises at roughly knee level. I open my eyes and see you and Annie gleefully waving good morning. What do you know—the light turned green! It's 7:05. Admittedly an odd time to set an alarm for, but it lets us shoot for 7 with a grace period, which obviously we use.
Actually I should back up: we first saw you today at 5:45 am, when you appeared at the foot of our bed to tell us blythely that you had tinkled on your pillowcase, and needed a new one. Annie had been dealing with some intestinal distress through the night and had put herself on the potty; you tagged along with your own important news. I changed your pillowcase, and you both went back to bed.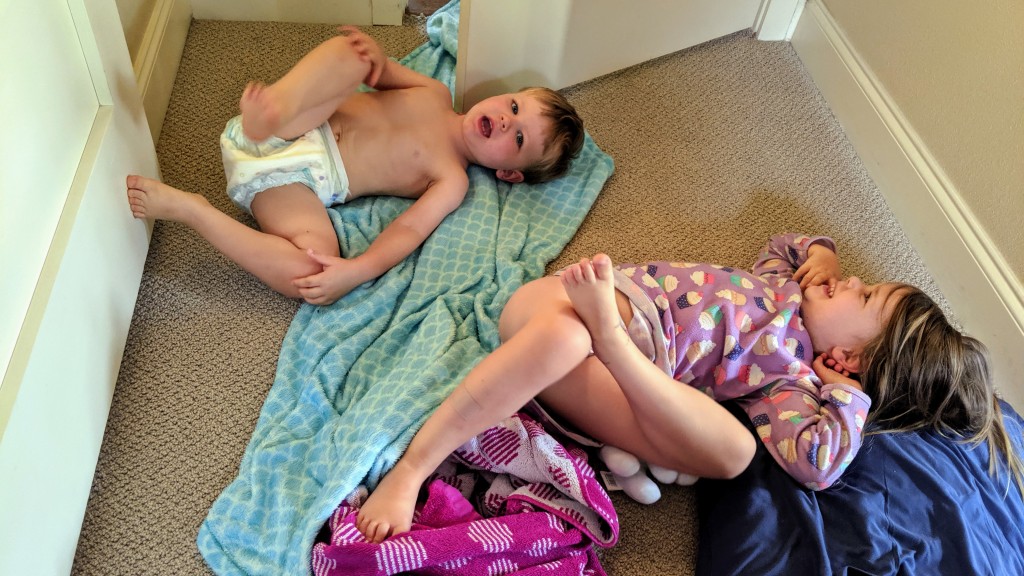 Forward again to 7:06, you're wallowing on the floor with your sister and saying hello to your dad, who arrived home in the wee hours from a California trip. We tag-team getting you through your morning tasks. You put up some fuss but make it down for waffles and whatnot. Dad gets you buckled into the car and fishes out a blueberry-flavored vitamin. (Or is it vitanim? You two have mispronounced it for so many years it's hard for me to remember.)
I drive you to school, narrating a Brand New Story about, oh what was it? A kid had a dream about climbing a rainbow, and then jumped around in the clouds. Bambi made an appearance. I was freestyling. You have lots of ideas to offer about plot twists, and I remind you and Annie that we say YES to all story ideas. YES AND. You and Annie crow about everything you see in safety-vest green or taxi-cab yellow. "THE COLOR OF DAD'S CAR!" "THE COLOR OF A TAXI!" "Where??" "We passed it."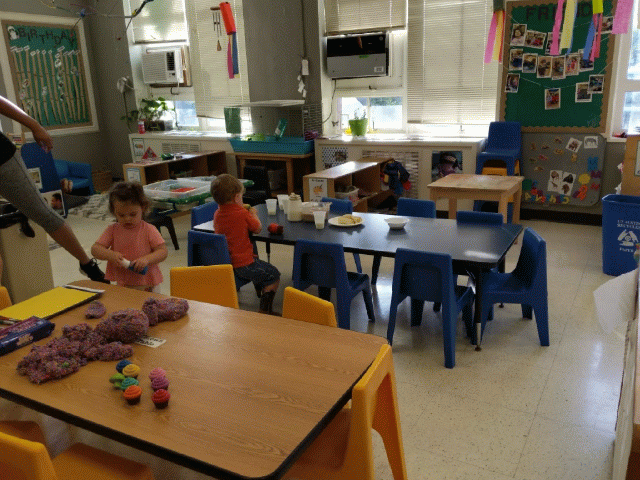 Annie's tummy is rumbling in a bad way, so we hustle into the school and head for the Owls first. Ms. Jolene reminds you that you will be an Owl soon, and you hide behind my legs. We say goodbye to Annie and make for the Pandas. You cling to me through our goodbyes but consent to sit down for second-breakfast, and you're waving to me cheerfully by the time I leave.
According to your teachers' report, you engage in "footprint art," read a Llama Llama book, and—my favorite—care for your baby dolls during circle time. Ms. Bertha has to remind you a few times to play safely with your trucks. You do all your peeing in the potty.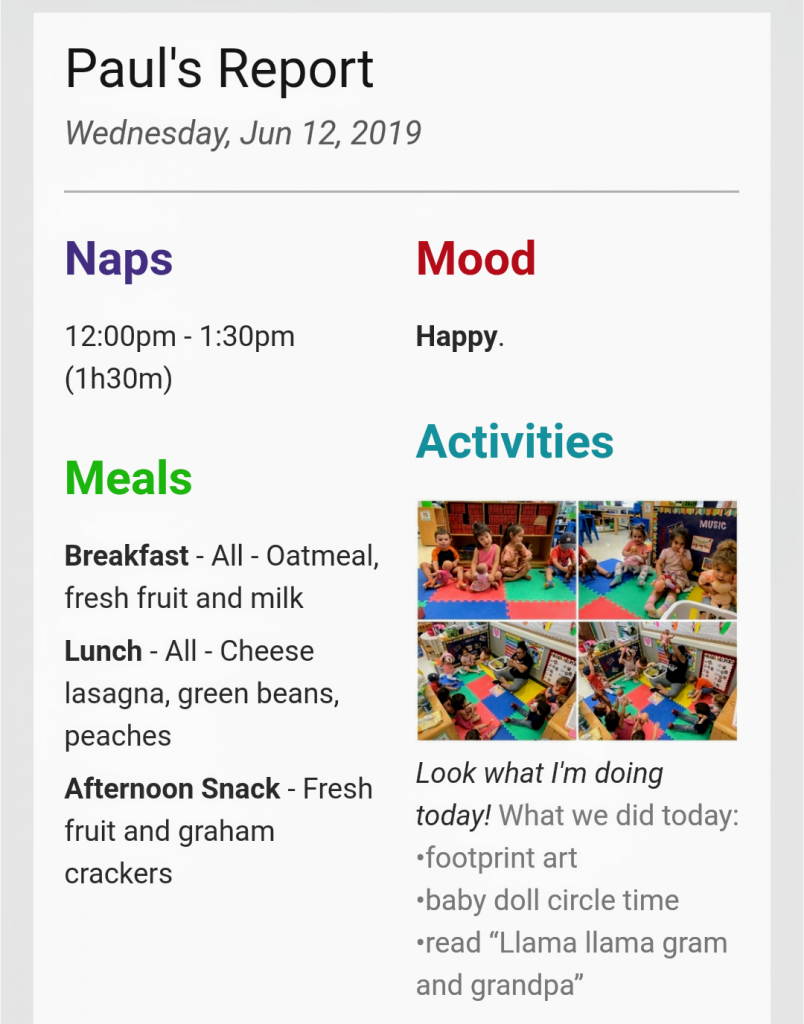 I see you again at 4:45, with Charly in tow. It's Wednesday, and she is taking over from Shanna for our Adult Liberation Night, so I am walking her through the pick-up process. You run to me with your pink playground face, and we gather your things and get the report as Ms. Bertha hands you a graham cracker to go. Charly and I strap you into her car, and I say goodbye as you dig into an overdue Easter present from her sweet mom.
At home, you and Annie have some conflict over our limited supply of frozen corndogs and chicken nuggets, and you end up with a perfect division of each. Plus two peaches. You both work on decorating your playhouses with very permanent markers. You poop in the potty and earn a round of jelly beans for the family.
Bedtime goes okay although forensic evidence suggests you neither took a bath nor brushed your teeth. Life goes on. At 10pm, here you are: