To Annie: this is how you spent the day you turned 4 years and 2 months old.
I'm downstairs when I hear you emerge from the room, and you call me from the top of the stairs. It's wake-up time, but you have brought your pillow and blanket to snuggle down on the floor in our room. "I really like the way the carpet feels on my feet," you tell me, as you create your campsite. Paul isn't up yet, so I seize the opportunity for a chat. Dad flew out last night for his monthly California trip, and we strategize about how to make it though.
"Yeah, I told Dad we'd work as a team," you say. "That means we help everybody stay safe, and do what the grown-ups tell you."
Close enough. I suggest that you start getting ready by yourself, and after a brief detour for a bug-bite band-aid, you seize the opportunity to get ahead of Paul in the box-checking. You're on the potty when he's getting out of bed, and blaze through the rest of your list.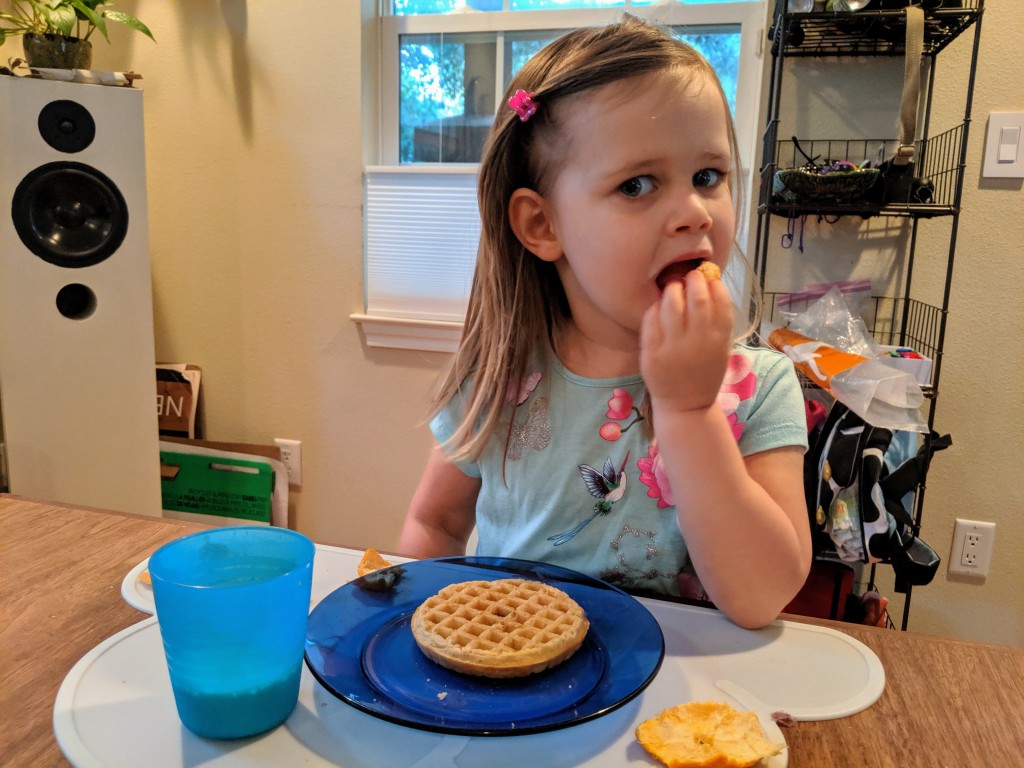 We head downstairs, and make waffles and pancakes for breakfast. We eat together like civilized people, and then head out to the car. You climb into your new carseat and buckle your own self in—still rare and worth celebrating.
In the car, you request your usual brand-new and very-long story. I refuse to tell another one about Bambi getting shot, so you and Paul specify that YOU are the hunters in this story, and you only shoot bad animals, so you and Bambi figure out a way to get along. He even invites you into his castle that Elsa-deer made of trees. (Thumper, unfortunately, is a bad animal, and gets what's coming to him. That was Paul's call.) We draw this out all the way to school.
Dropping Paul in the Pandas, you pay a visit to the guinea pig and run your fingers through the sand in the sensory table. Then you give Paul a hug and head to the Owls. You're a little reluctant to enter class, often the case on Monday morning. I get it. Your teacher Ms. Jolene is in a medical boot with a sprained ankle, gamely limping around. You linger next to me but ultimately consent to push me out and move on to your day. I don't hear much about it other than late-afternoon emergency drill that has you all outside for 20 minutes.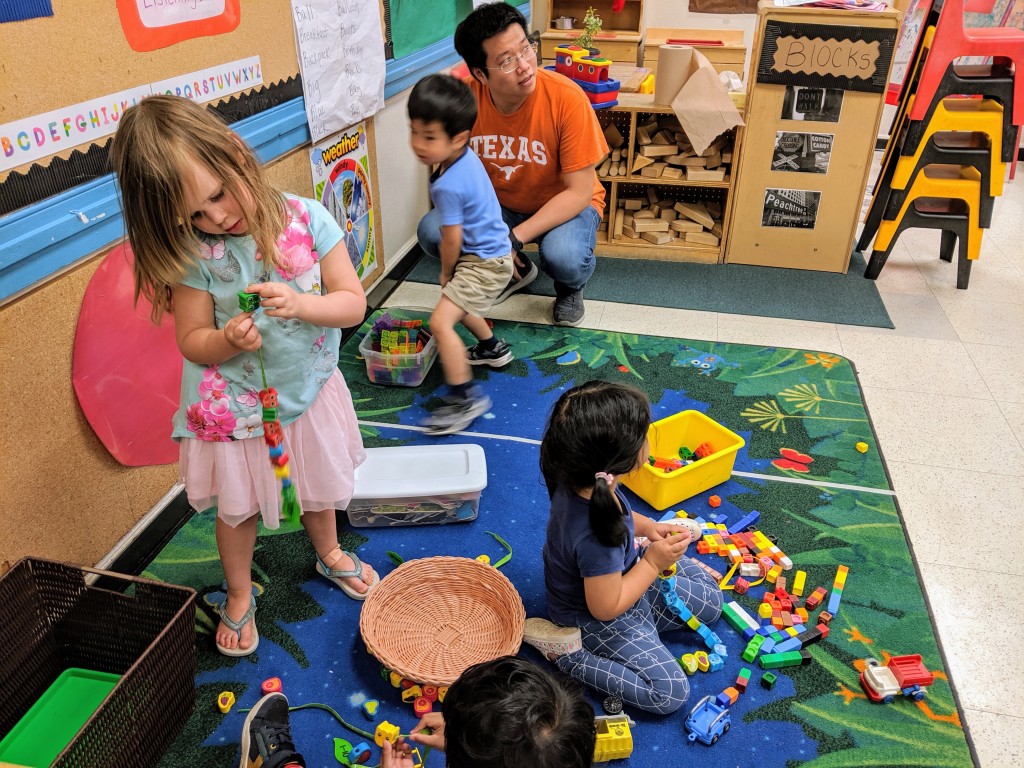 I pick you up on the late side, around 5:30. You're stringing beads with DaRong and some other friends. Happy to see me but also happy to be engaged in your activity. We pick up Paul, and you use the potty in his class, "to show him how."
On the way out, we pass Ms. Rachelle, coming in to pick up her son Boden. You compliment each others' shoes. "I always wanted grown-up shoes like that," you tell her. "I always wanted sparkly shoes like you have," she says. "I love sparkles."
You climb in the car and buckle your own seatbelt, again. The half-cookie I've dangled as a move-it-along incentive may have motivated you. I really do apologize for using food treats as rewards. Wiring your brain this way feels both like a parenting failure and an inevitability.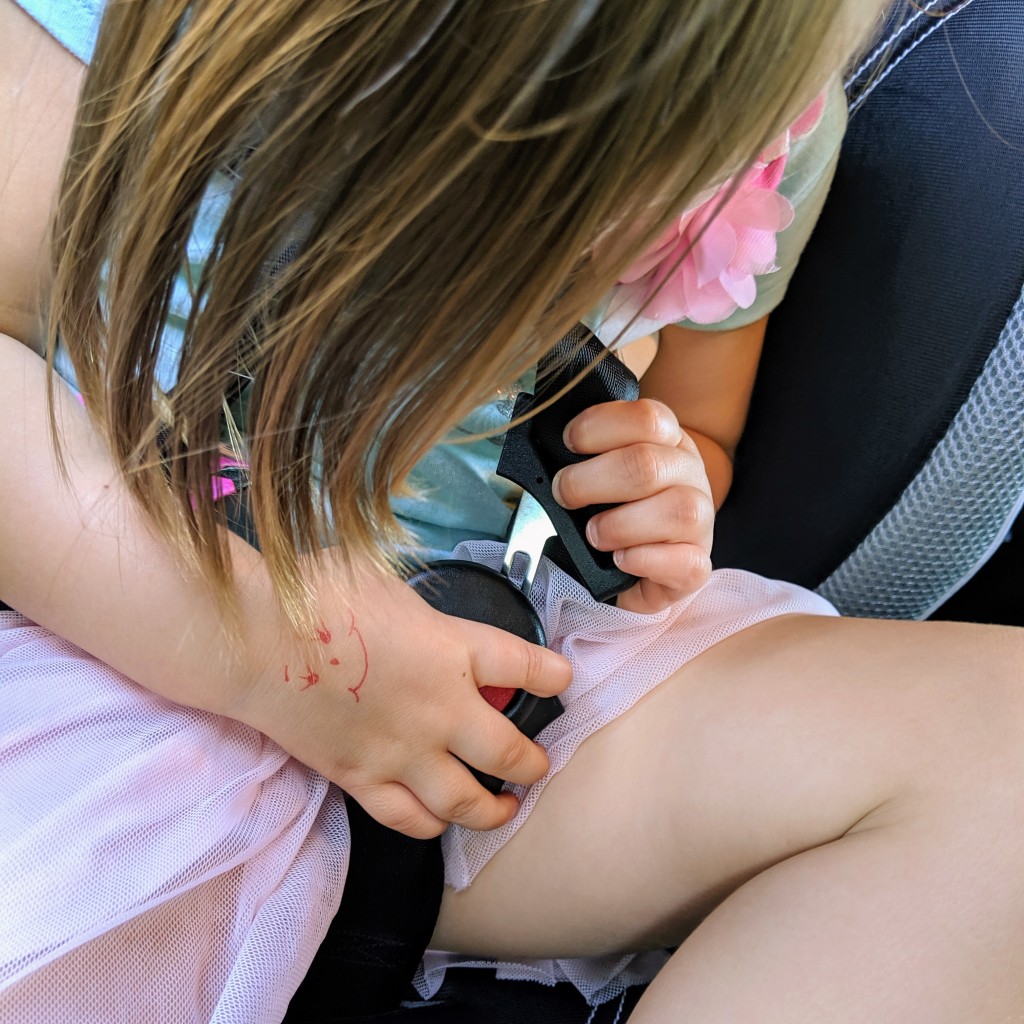 We tell more stories on the way home. Again the request is for shooting deaths; I tell a story about Elsa planning her 6th birthday party instead. At home, I toast leftover pizza for dinner and wash some peaches. You enjoy a leisurely meal and volunteer for clean-up crew when Paul has an accident (just pee).
You spend your last few minutes downstairs decorating your new playhouse with markers. You ask me to write a 4 and then write your own. I ask if it's your first "4," an you tell me it is. Totally possible.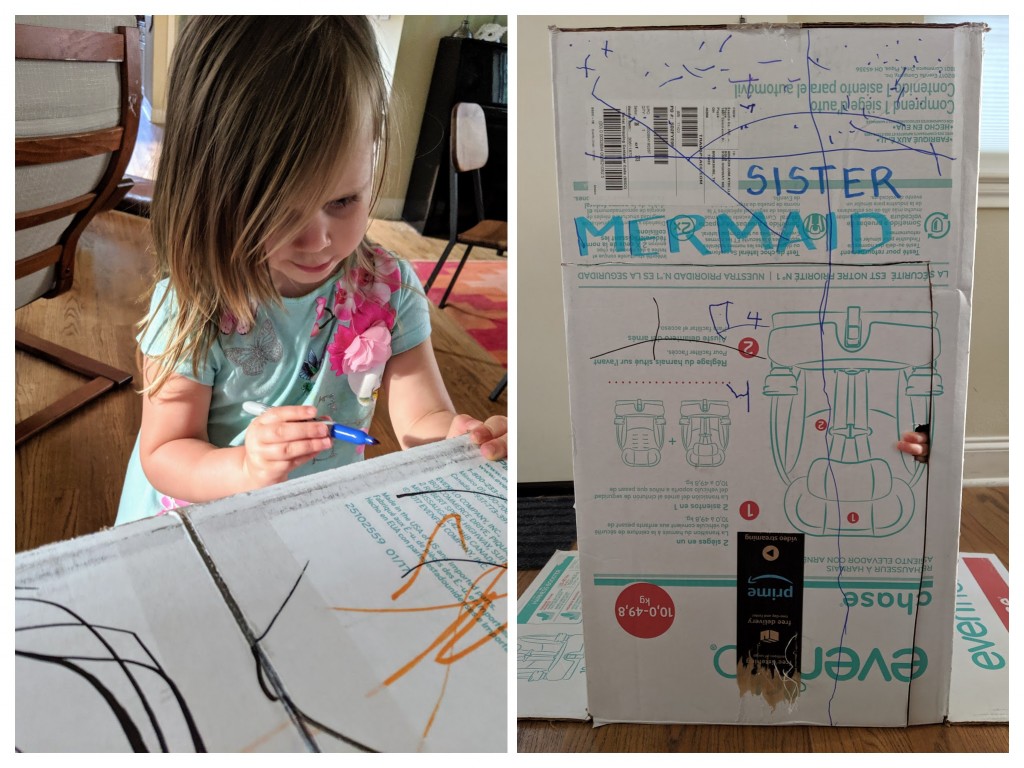 It's time to go upstairs, and miraculously, you both do. We wash hands and face, brush our teeth, and pick books. Your pick is one Aunt Peanut gave us, about a red cat who has an adventure that happens to be aligned with the alphabet. Then we read Paul's choice, about a garbage truck who burps. You hustle into bed when I guarantee you a Very Long Brand New story. I start with the plot of Shrek, which you've never seen. You and Paul quickly modify it with suggestions worthy of an improv routine. All the characters we've ever known play a role. It ends up with everyone friends, of course, and being nice to each other. At the end, Lightning McQueen and Mater bring the dragon truckloads of fruit.
One quick drink of water, and then I "goodnight I love you!" right in the middle of some other nonsense request. "Goodnight, Mom, I love you!" you call through the door.
At 9, I hear you fall out of bed, but by the time I'm opening your door, you've climbed back in and are arranging your blanket around you. You're a kid now; you've got yourself covered.