To Anne: this is how you spent the day you turned 4 years old.
At 7:05, I hear you call my name and come out of my room to find you and Paul sitting politely at the top of the stairs. "Is it a school day or a home day?" Paul asks, and I tell him, "It's Wednesday; it's a school day; and you know what else it is?" You look up at me, smiling, and I say, just to you, "Annie's birthday."
You go to the bathroom all by yourself. You've graduated yourself from the little potty seat in the last week, telling me you don't need it because you're almost four, and maybe it can just be for Paul now. You climb up on the stool to wash your hands and hold them out so I can admire your excellent bubbles. I retrieve your party dress from the closet, and a back-up dress in case you want to keep it clean at school. We complete the look with your birthday crown and the pipe-cleaner necklace you made at school yesterday.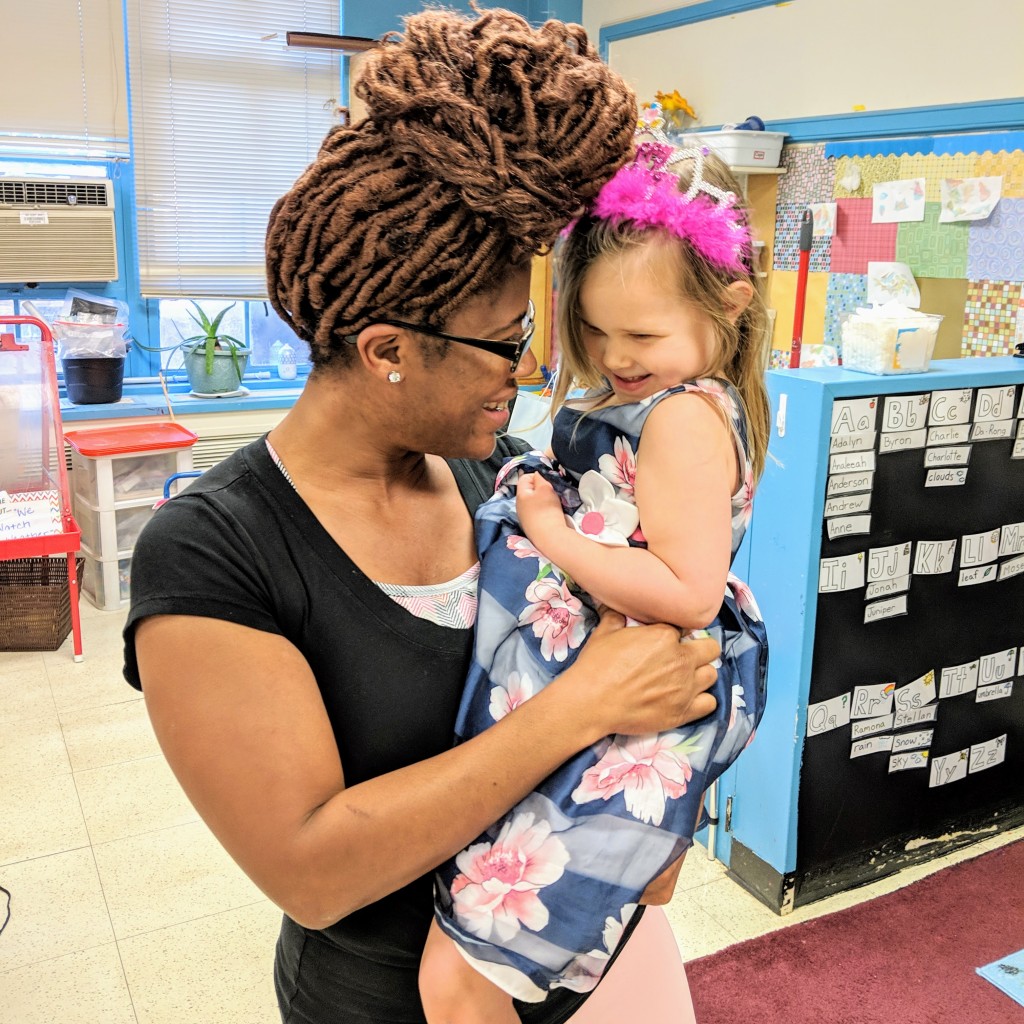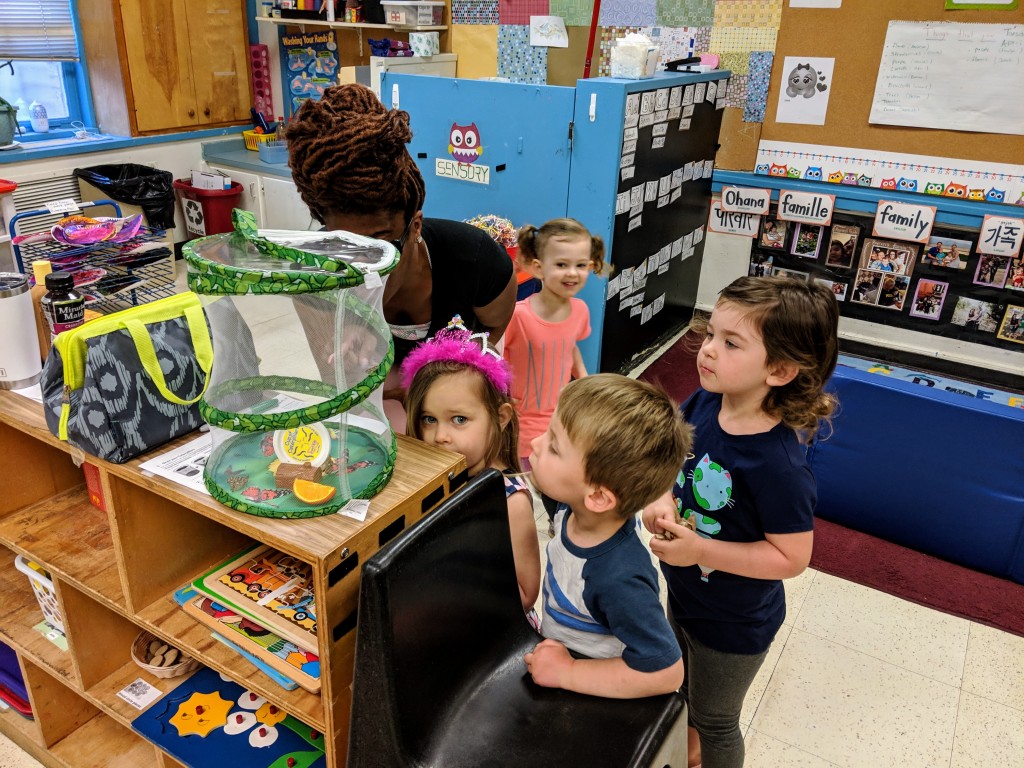 You're excited to go to class and be celebrated all day. Ms. Jolene greets you with a hug, and as Dad leaves, you are with your class, checking out the new moth that's come out of its chrysalis overnight.
Later in the morning your classmates throw you a dance party, and sing you happy birthday as you share the frosted cookies we brought for the occasion. You will later identify this as the best part of your day.
I pick you up at 3 as you are reading books at a table with Eloise. "Can I finish this book first and then come?" you ask. Of course. We grab your flip flops from the shelf, and you tear off down the hallway to get Paul. You carry his dog for him until we get to the front door; then you perch it on the handle and ask Paul if he can reach it (he can). "Because you can reach it, it means you're almost three!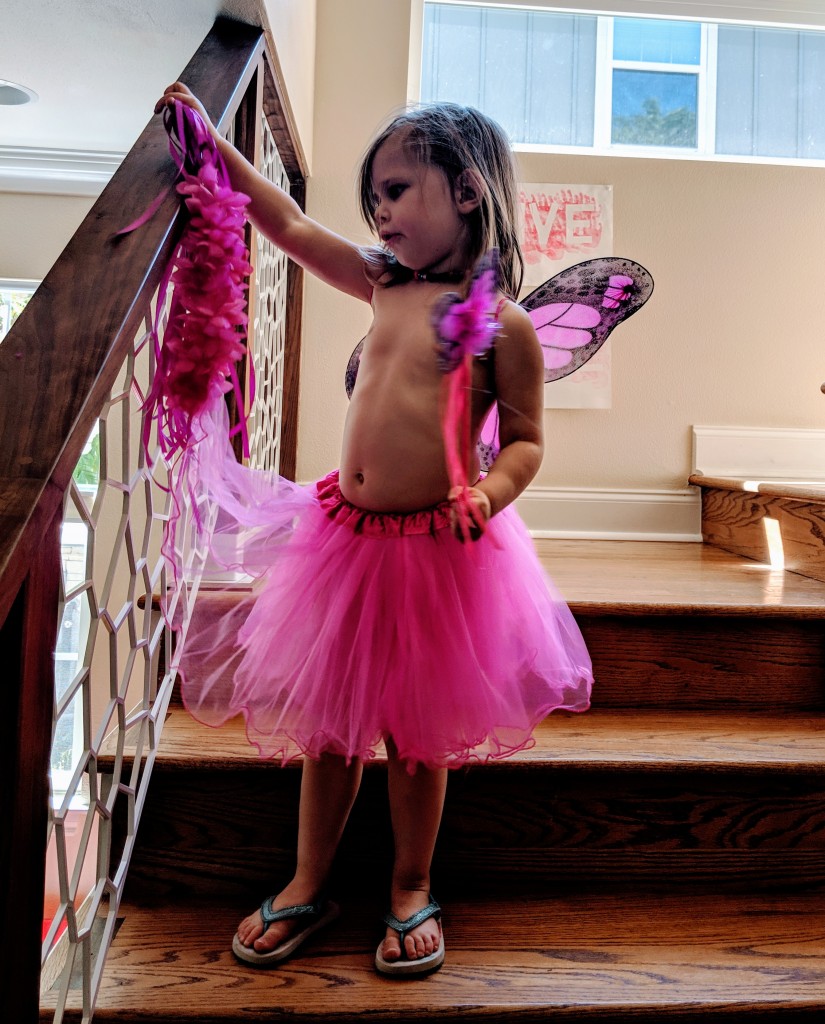 At home, you open two more presents: kitty-cat ears and tail, and a doll you can draw on, from Aunt Camei and Piper (selected because it has the very most beautiful bag), and a fairy princess (but you call it a butterfly, and we do not correct you) costume from Gobka and Gamma. "Oooooo," are your precise words, and you immediately strip off your dress.
It's a pretty day in the 90s, but you do NOT want to play outside because of a morbid fear of bumblebees. (No, I can't explain it.) So we build another superfort in your room and play an elaborate game of Mermaid and Shark Friend (that's me), later joined by your brother butterfly.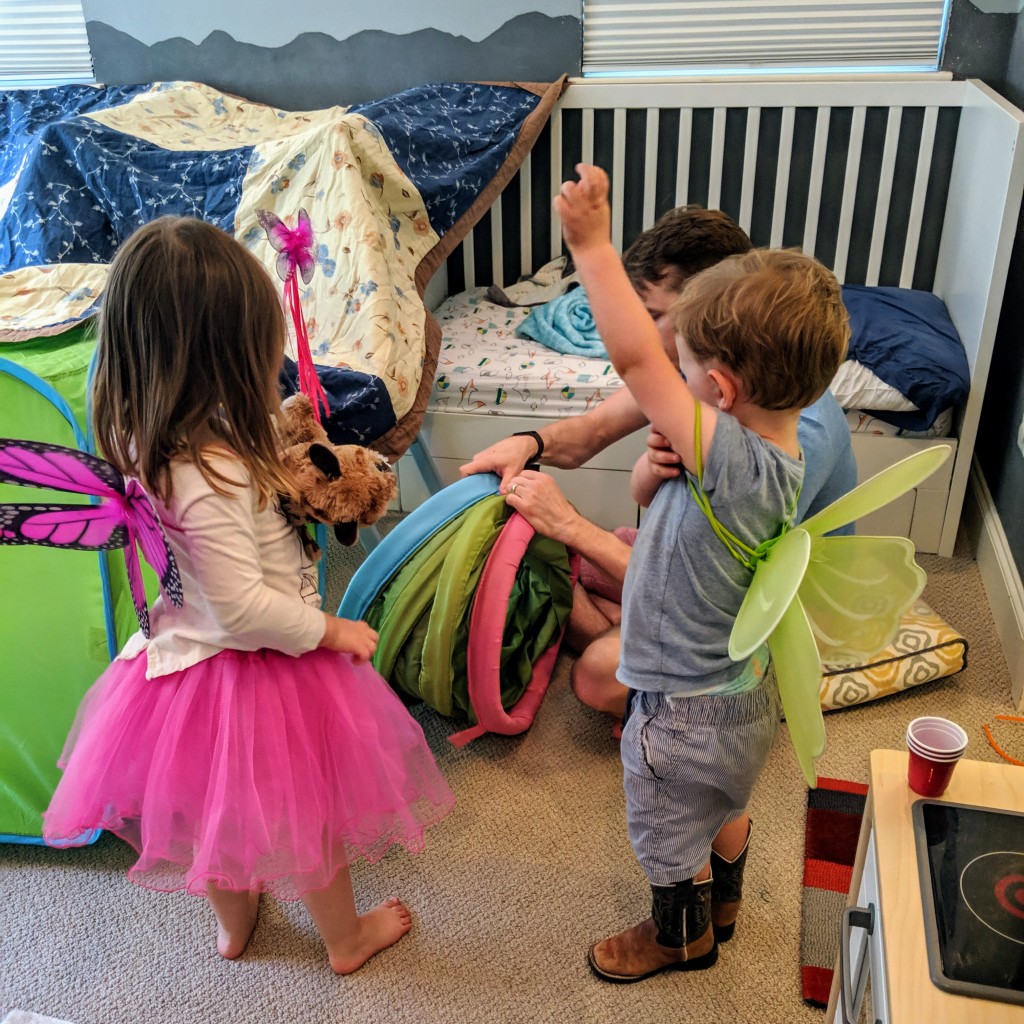 Despite the dire bee threat, you consent to leave the house for dinner at Home Slice, our friendly neighborhood pizza-joint-slash-Austin-sensation. They give kids wads of raw dough to play with; service is prompt; and pizza is great. What more could you ask? Oh, to DRIVE to the restaurant so the bees don't get you, and for Dad to pull the car out of the driveway so you don't have to walk anywhere near our flowering tree that's buzzing with pollinator activity. Oookay, sure.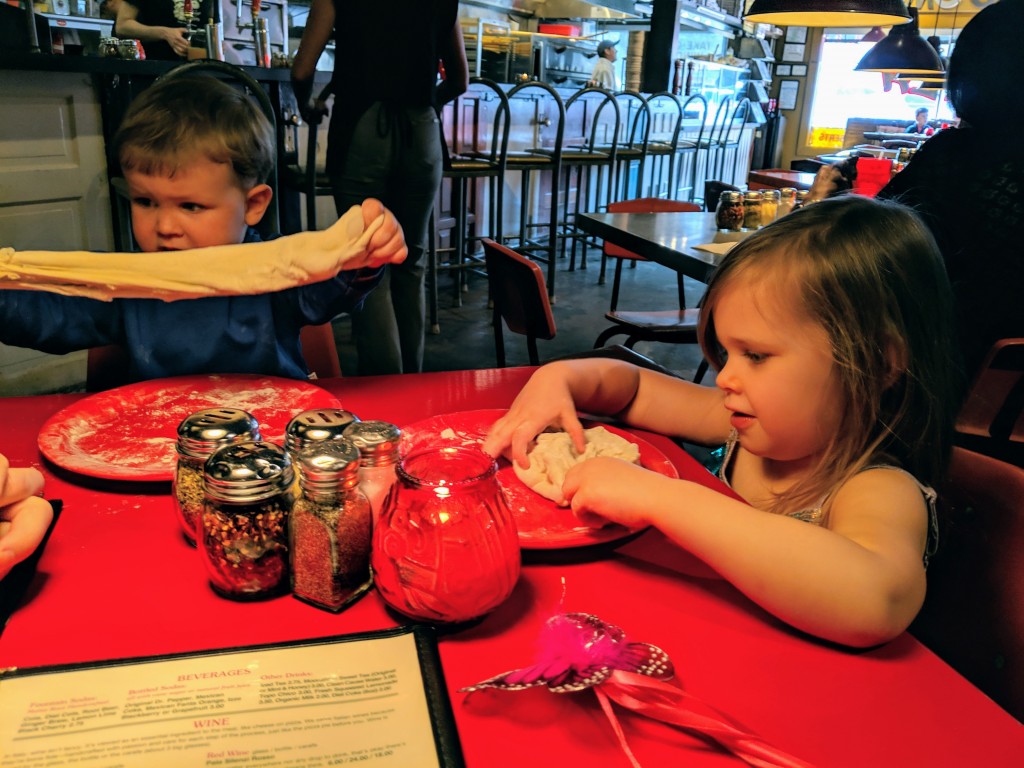 You get some friendly attention at the restaurant when we let slip it's your birthday, and have a surprisingly long video chat with Granddad and Susu, undeterred by the difficult audio. You explain many things to them they probably cannot hear but gamely attempt to respond to because they love you. We order you and Paul a chocolate Italian Ice (gelato? who knows—we do not get a bite) to split, and then the restaurant-birthday gears spin into action, and they bring you another dish of lemon with a candle in it. Apparently waiters singing "Happy Birthday" died with the 20th-century—no regrets—so we do a quiet version, and you blow out the candle and dig into Dessert #2.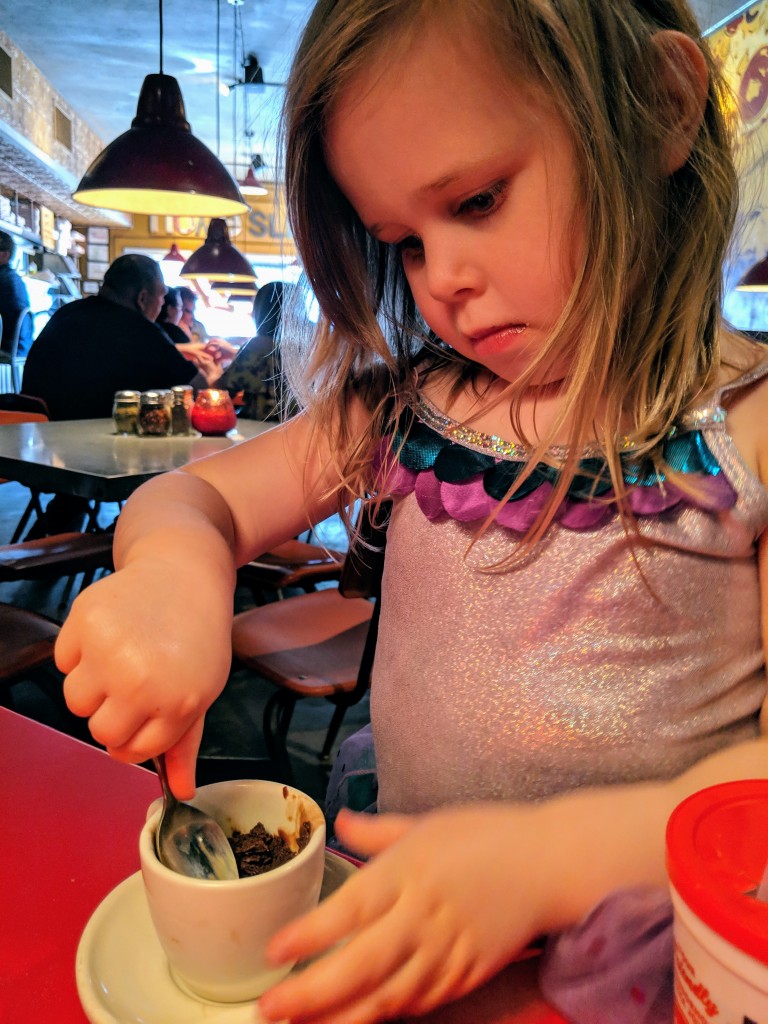 Back at home, you hop in a bubble bath enlivened by Gobka and Gamma singing to you and mercifully distracting Paul from a meltdown (1 of 2 for the evening). Our alacrity leaves time for an episode of Pete the Cat, for which you don the ears Piper gave you.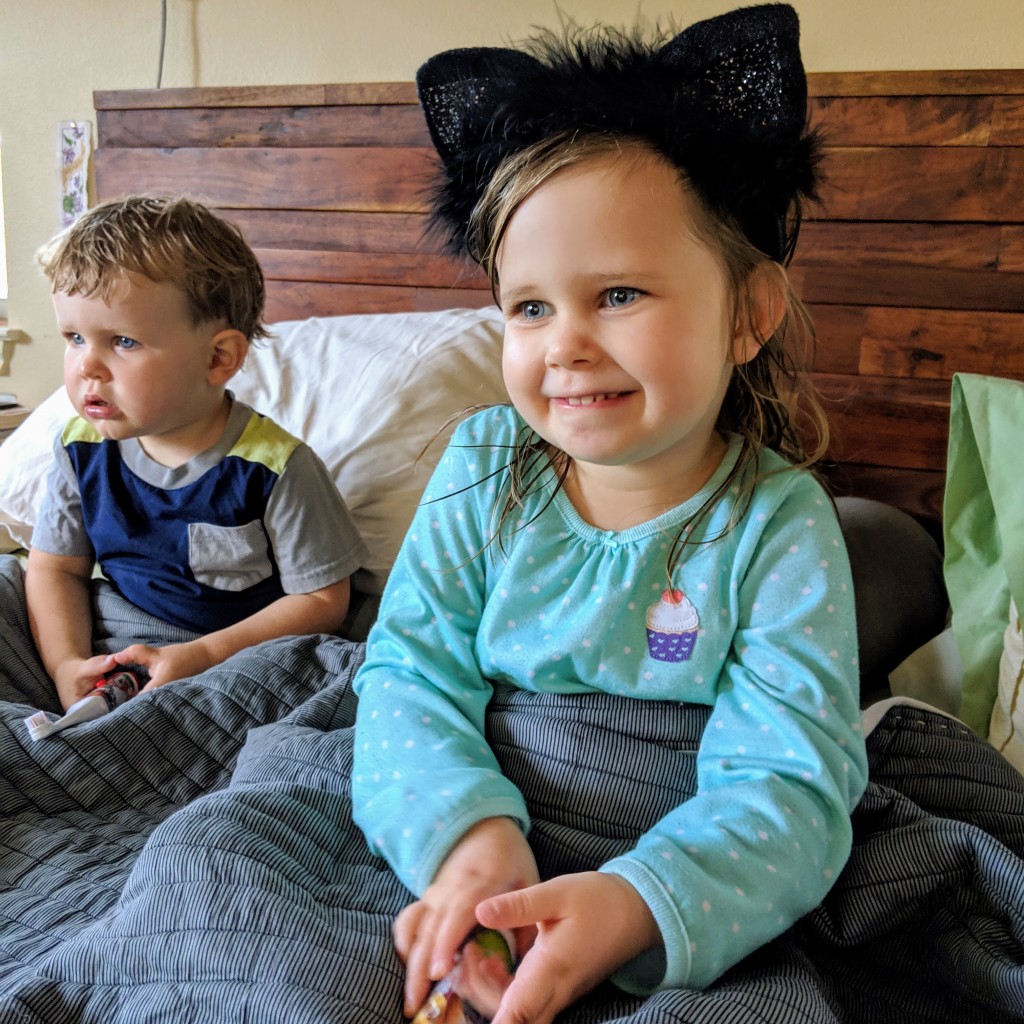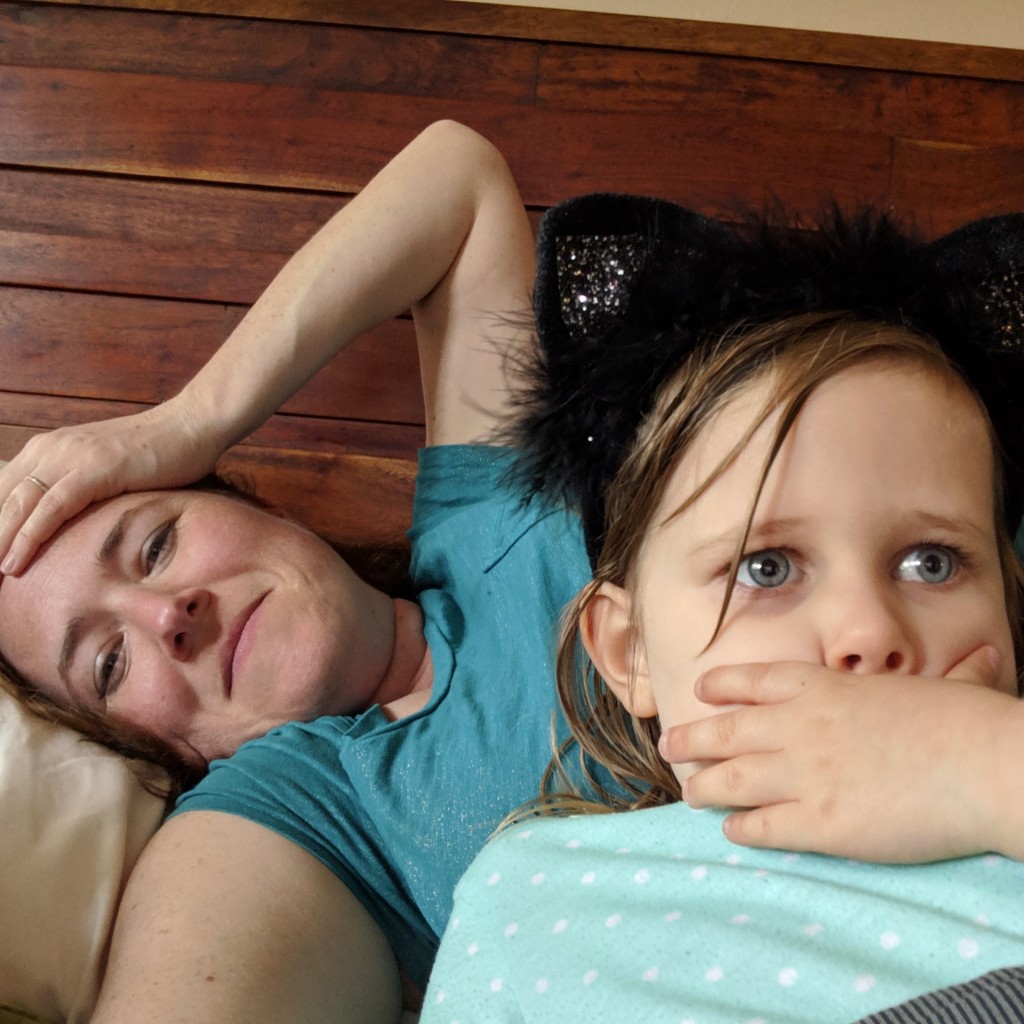 At 7:10 we begin our bed routine. It's Mercy Watson x2 for you and Paul, and we navigate the delay tactics of light-turning, potty-going, water-drinking, various snuggling and comforting, etc. I tell a story from the door about Mercy stealing everyone's popcorn, including Elsa's, and Dad segues into a candy-forest chapter that Paul requested, which has you in tears. I don't think you want your special day to end. We keep easing towards goodnight and pull it off by 7:50.
FOUR YEARS! I love you, Biscuit.