To Paul: this is how you spent the day you turned 2 years and 7 months old.
You wake up, notice the light is green, and bound out of bed. Annie tries to summon you to to turn it off together, but you race over and do it yourself while she slumps in defeat. Okay, not our finest start. "Tomowoh, we'll do it togever," you pledge. (Note from tomorrow: pledge broken.) We regroup. You tinkle in the potty, and you and Annie complete your lists without too much dithering. The 10-minute hourglass helps. We make it downstairs for a breakfast of oatmeal and bananas.
It's just the three of us this morning, so getting out the door with all of our boxes checked takes some time. Sous snatches your toast, and you threaten to tantrum. I take it back from her, and you help me trim off the chewed-on part, then keep eating. Your immune system is gonna be great. I carry you out to the car at your request, juggling bag and keys and toast cup and dog. When we get there, you decide you wanted to walk by yourself, and come unglued. A passing neighbor looks at me in sympathy as I try to get you into your carseat and offers, "Been there."
You manage to collect yourself at last after spending some time in the footwell and climbing into the seat by yourself. Phew. We're on the road. You argue with Annie about whether you'll listen to music (your request) or hear stories (hers), and I arbitrate: we will take turns. Your request is the beginning of Moana. All is calm by the time we reach school. You administer all your hugs, and you and Annie have your usual tender moment.
On pick up at 5, the caretaker tells me you had a good day, and we launch ourselves into SXSW traffic to get home.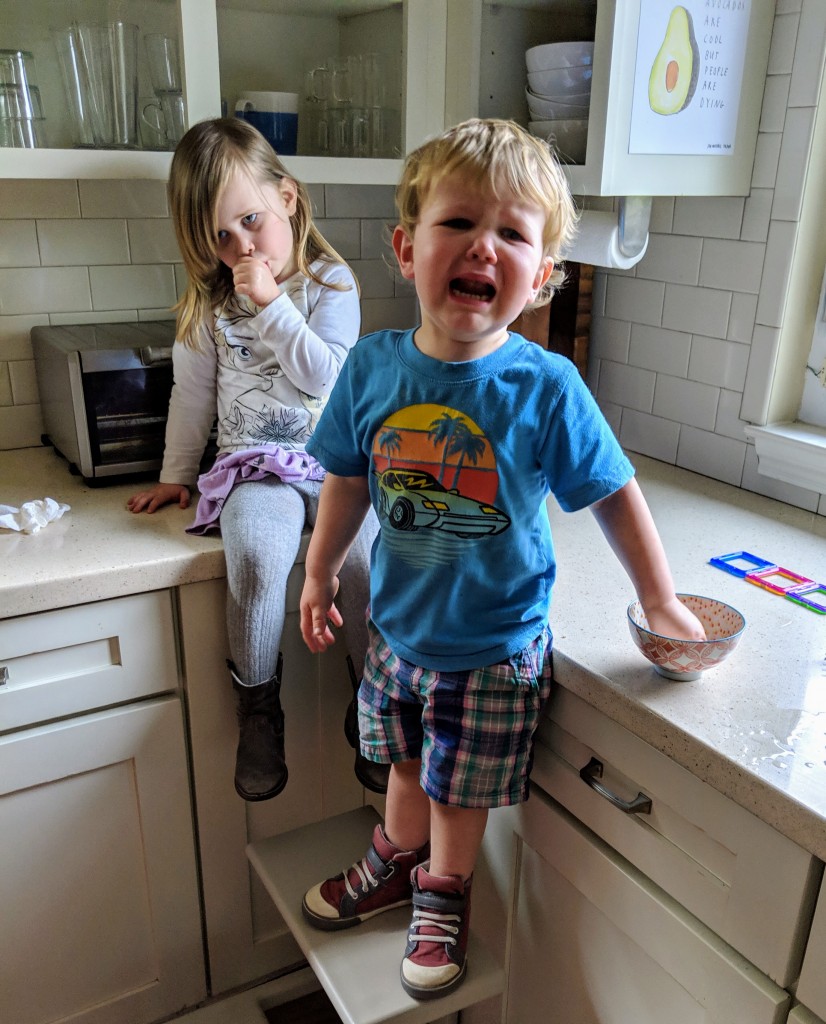 I heat up leftover tortellini and lasagna for dinner, surfing on the edge of your mood swings. You're hungry. After dinner you do some sweet, solo make-believe play with your trains. I lure you upstairs and through most of your bedtime routine with promises of fresh toenail polish and a phone call to Dad, who's in the SJC airport.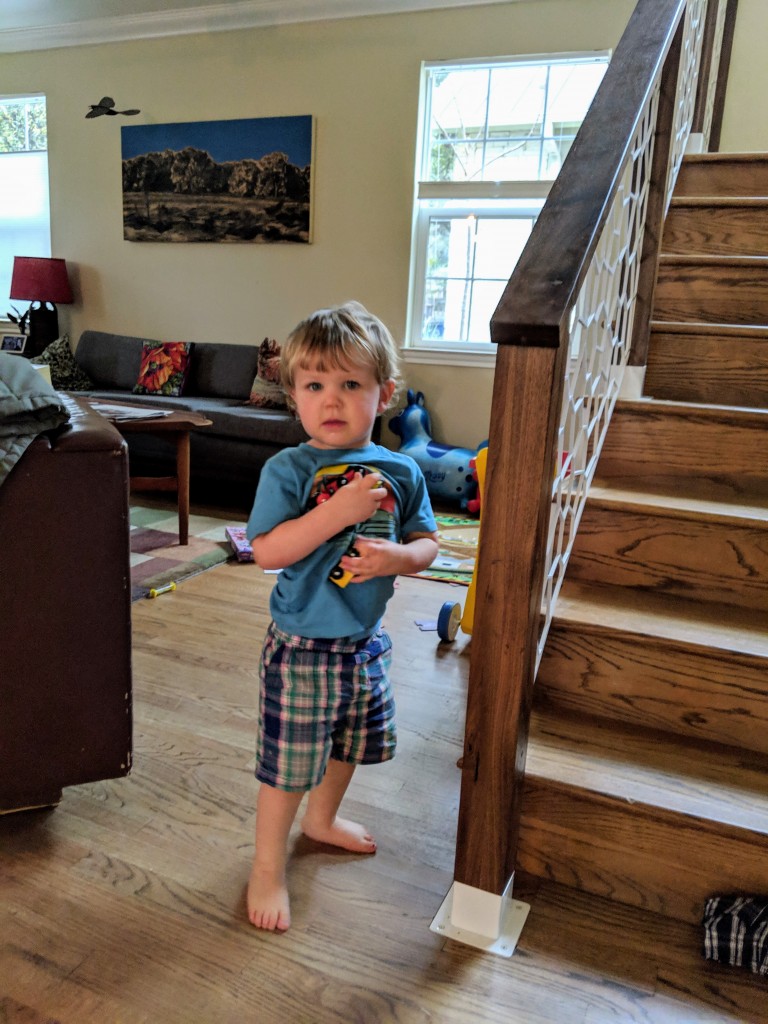 Two-and-a-half, by the way, is significantly too early for the attention span and understanding to sit still and not on top of your wet toenail polish, but we manage without too big a mess. You are delighted to talk to your dad. "I see your eyes," you inform him.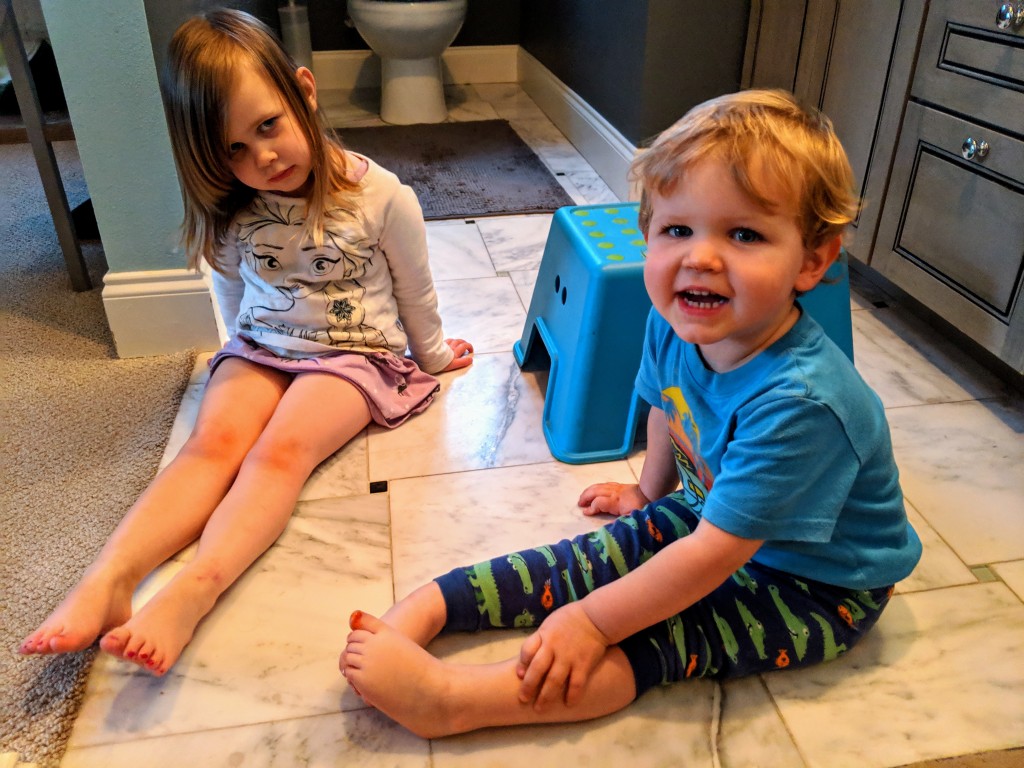 We hang up at 7:15 and head to your room for a few pages of Cars and Trucks, and a full rendition of A Cowgirl and Her Horse. We're just getting in bed when I realize your dog is downstairs, and of course we all have to parade down together to find him. We travel through the house in a pack when Dad isn't home.
You do not want to go to bed, but we get there. At Annie's request, I tell you both a story from the door about Elsa and Anna playing together all day, and not eating, and not going to bed, until they both get so tired their bodies fall asleep.