A guest post by Granddad
L&B go to Florida while Susu and Granddad (or "Grandy", as Paul now says half the time) spend the weekend when you, Paul, are about to turn two years, five months of age, on Saturday.
To properly set the stage, we begin with events on Friday. The first thing you did after school that afternoon was take us to your room to 'show and tell' about the new beds and wondrous clock. In an authoritative voice, Annie then quickly informed us that you both could watch Frozen as many times as you wanted on the weekend.
Saturday officially begins at 7:05 when you burst out of your room and implore us to see the green glowing clock. You had been awake, quietly talking, since 6:20. Your game plan is to divide and conquer immediately; so Annie begins work on her checklist, and you state that you want breakfast NOW, in your pajamas and with a dirty diaper. We negotiate at least the diaper change and head down to forage breakfast.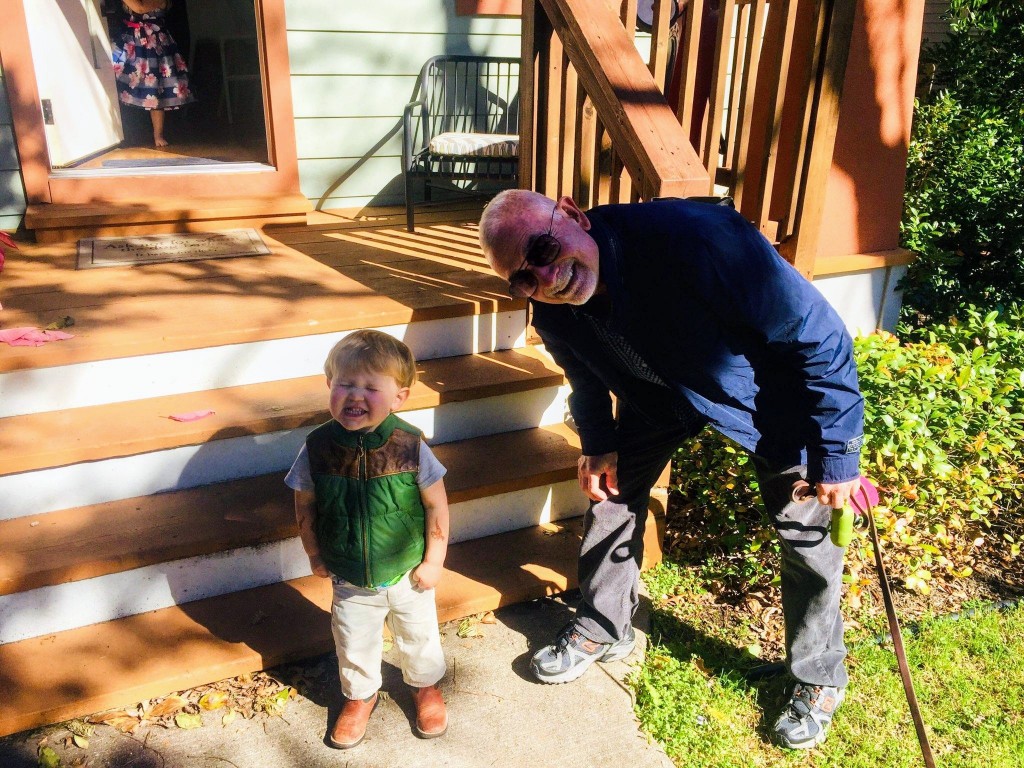 After finally reuniting you with Annie upstairs, both of you refuse to wear a stitch of clothing beyond your diaper and panties and flatly refuse the traditional Saturday walk. Perhaps half of the new checklists are accomplished. We improvise until lunch time with laundry, photos of cows and mermaids, and rolling tennis balls around. It's leftover manicotti for lunch followed by a pre-nap walk with Sous to the swings at Little Stacy Park. You are outfitted in your new cowboy boots and the outrageously cute Gap vest, prompting several compliments from other park visitors. Annie decides to stay home with Susu. All goes well, and Granddad successfully manages a calm slow-down that leads to an hour and a half nap. Meanwhile sister Annie gets her first viewing of Frozen. You awaken with the most mellow and relaxed demeanor, loving the world and the grandparents that are in it. You ask about Mom and Dad.
A trip to Central Market highlights mid-afternoon. And no trip is complete without balloons and free cookies. Granddad quickly corrects the mistake of procuring balloons of two different colors. The balloon tied to Annie turns out to be the only way we can keep up with her as she darts about. You, on the other hand are unusually sedate as you ride in the cart. The large red holiday grapes turned out to be the reason for your calm attitude. Two pounds of grapes were reduced by half, one grape at a time, as you surreptitiously plucked them from the produce bag. When we arrived home, it looked as if a plague of locusts had attacked the defoliated stems.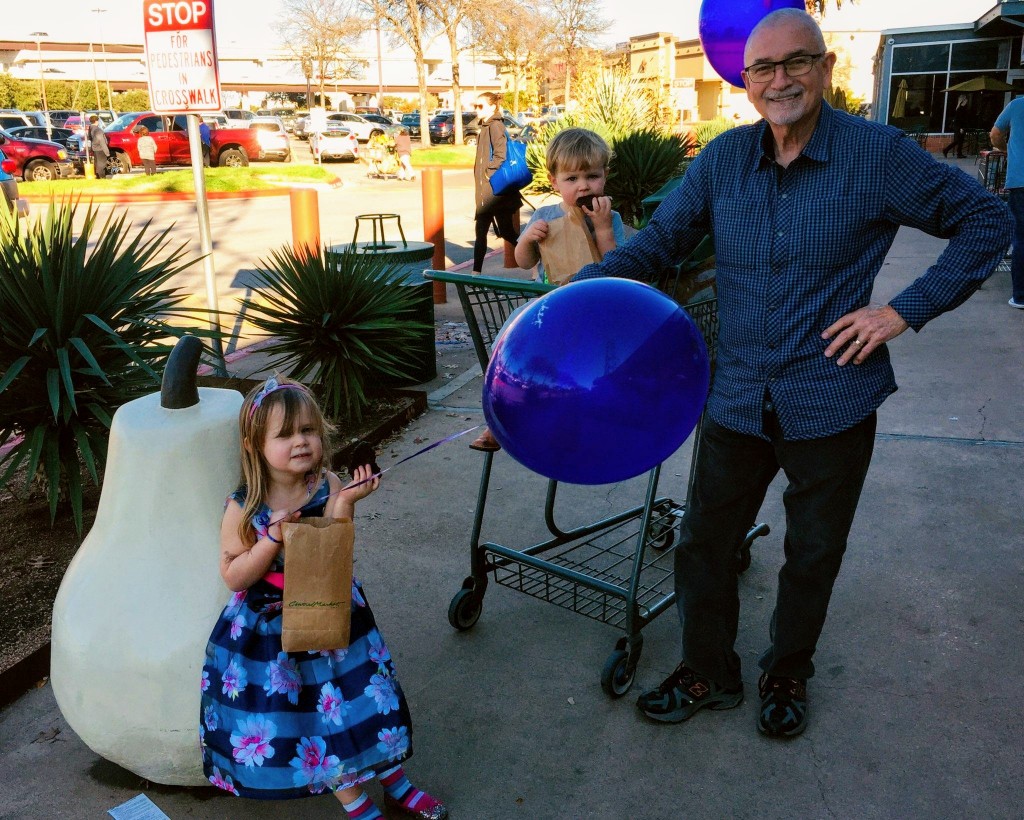 After dinner, it's relatively sane play time, and a shower. Ever hopeful Granddad attempts watching his beloved Cowboys in a playoff game; you are mildly interested but beg off after a few plays. The Cowboys lose. We are only 30 minutes late for story time and Where do Diggers Sleep at Night? You relentlessly request additional readings; but after three, Granddad firms up, and with a stiff upper lip, you call it a night. You request that Susu rub your tummy and hold your hand like Mom does. (Mom and Dad are in Florida, you and Annie tell us again.) Good night sweet prince. Can't believe you are already 2 years, five months.