To Paul: this is how you spent the day you turned 2 years old.
You spend your first half hour in crib-to-crib conversation with Annie, who relates an involved tale of needing to go potty. At 7:30, Dad and I enter the scene and swoop you down to a breakfast of blackberries and mini-pancakes. "I'm HUNGary," you tell us pitifully, as you tuck in.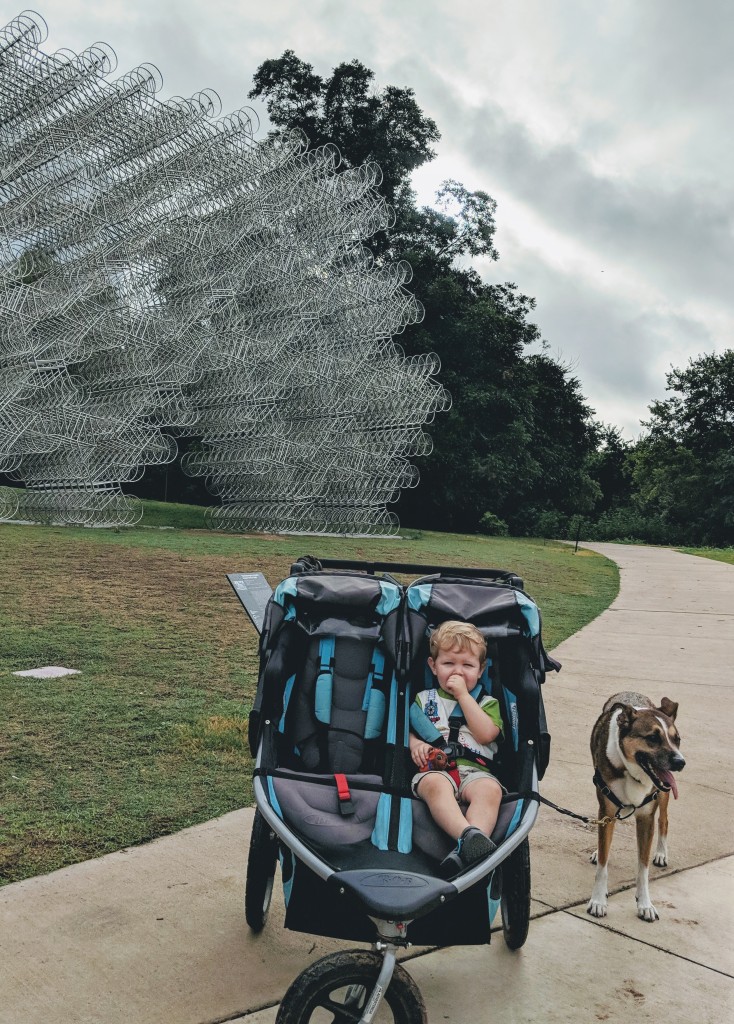 Dad takes you on a walk, and reports that you talk quite a bit when you're on your own. Not words he can understand, but still! Words words words.
Back home, you bust into another birthday present, which we've been dribbling out over the last three days. This one is a Spiderman-themed set of Duplos. You are particularly excited about the red motorcycle.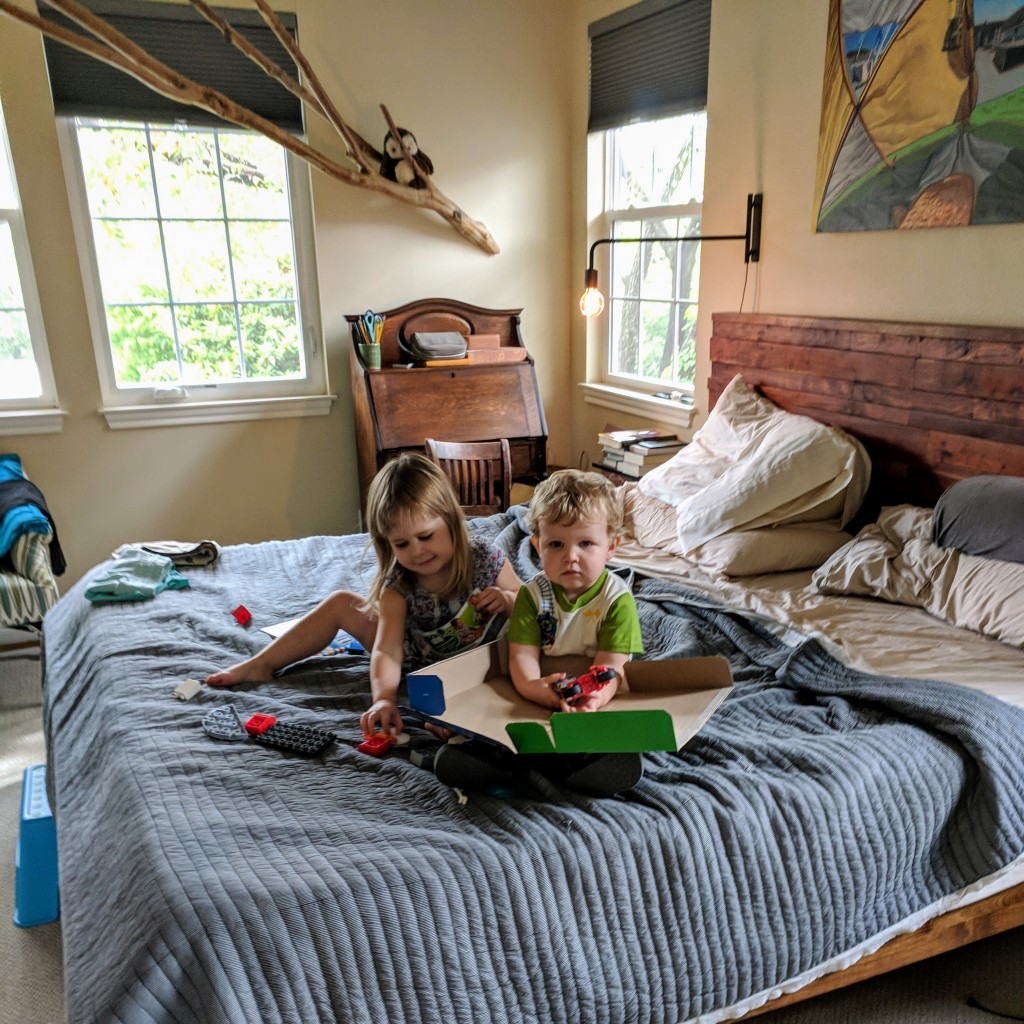 We load up into the car and head to Waterloo Icehouse on 360 for a playground brunch with the Crowders and Smid-Saidis. You romp all over the playground like a pro, and track a load of wet sand back to the table. Your blueberry pancakes—yes, more pancakes—must be a little gritty, but you don't seem to mind.
We drive home through Dad's childhood neighborhood, and Annie tells jokes to make you laugh (example: "apple pizza" — hahahahaha). You spot the AIRPAINS at Camp Mabry. We get home and settle down for a nap.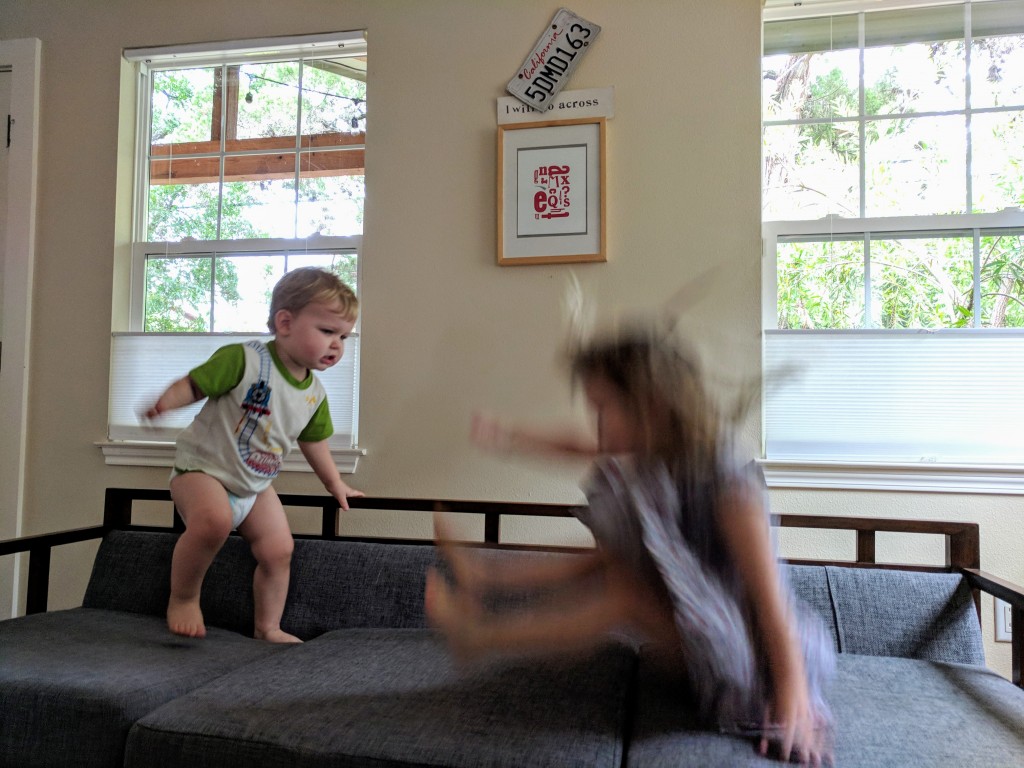 We spend the afternoon at home, doing all our favorite things. You bounce on the couch with Annie to the tune of the White Stripes, build with legos, and eventually Dad and I remember your birthday present. Dad assembles your first bike on the floor while the anticipation builds, and you helpfully identify the wheels.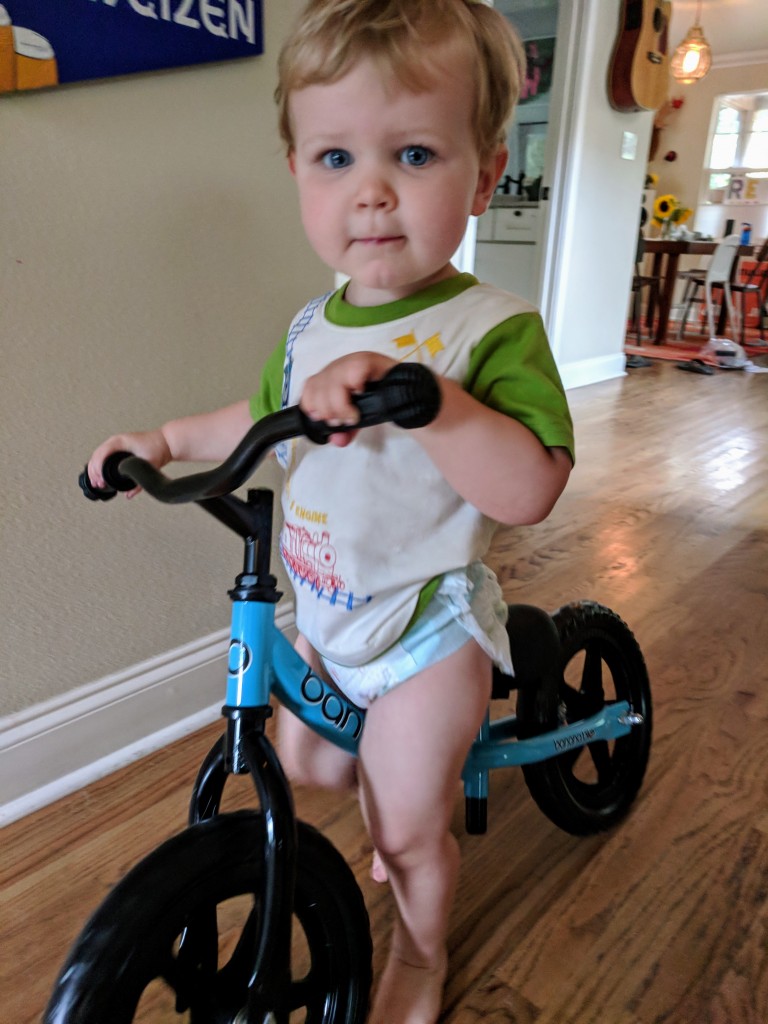 The bike is still a little bit big for you, but something tells me you'll be tearing around in no time. The "labeebug" helmet you picked out is on its way. We do a little more romping, and I pretend to be a monster and chase you and Annie around the house (video withheld for the preservation of my dignity). You take in a little Finding Dory while I cook dinner.
Our cousins arrive at 5 or so—Lisa, Eric, Miles, and Lyla. They've come bearing hand-me-down gifts, the best kind. Eric presents you with beautiful hand-carved cars and trucks, and Miles and Lyla pass down a little green spinner thing that you and Annie have always enjoyed at their house. You and Annie take it for a, well, a spin.
Miles helps you assemble your Duplo kit, and the four of you play together while the adults talk about boring grown-up stuff. Dinner is skirt steak, salad, potatoes, and corn. You eat three cobs of corn and nothing else.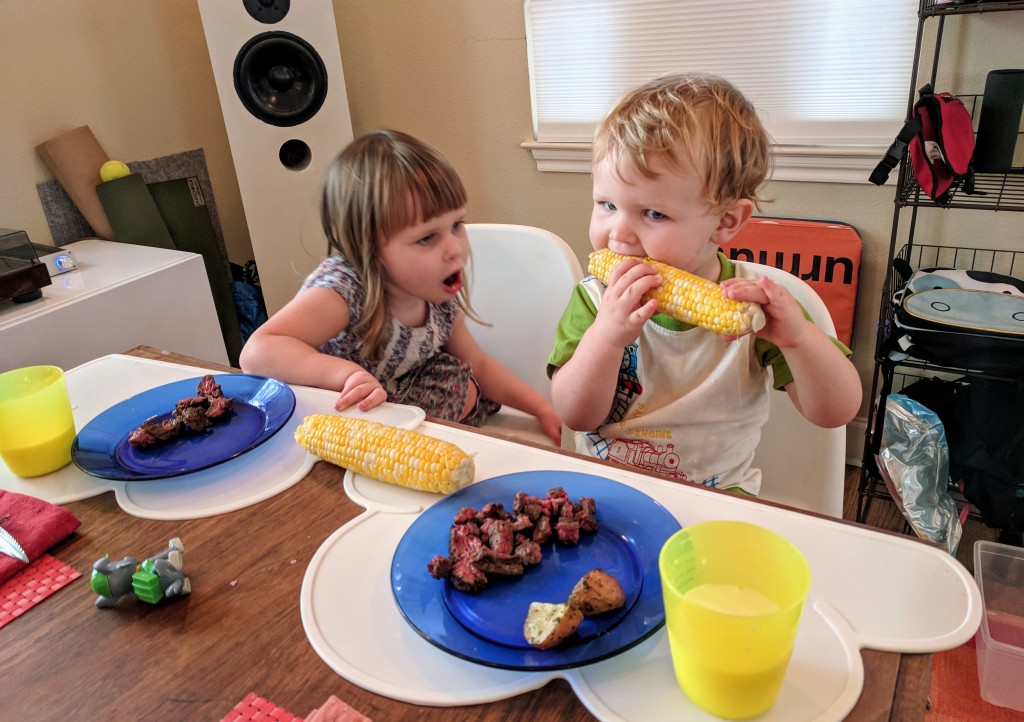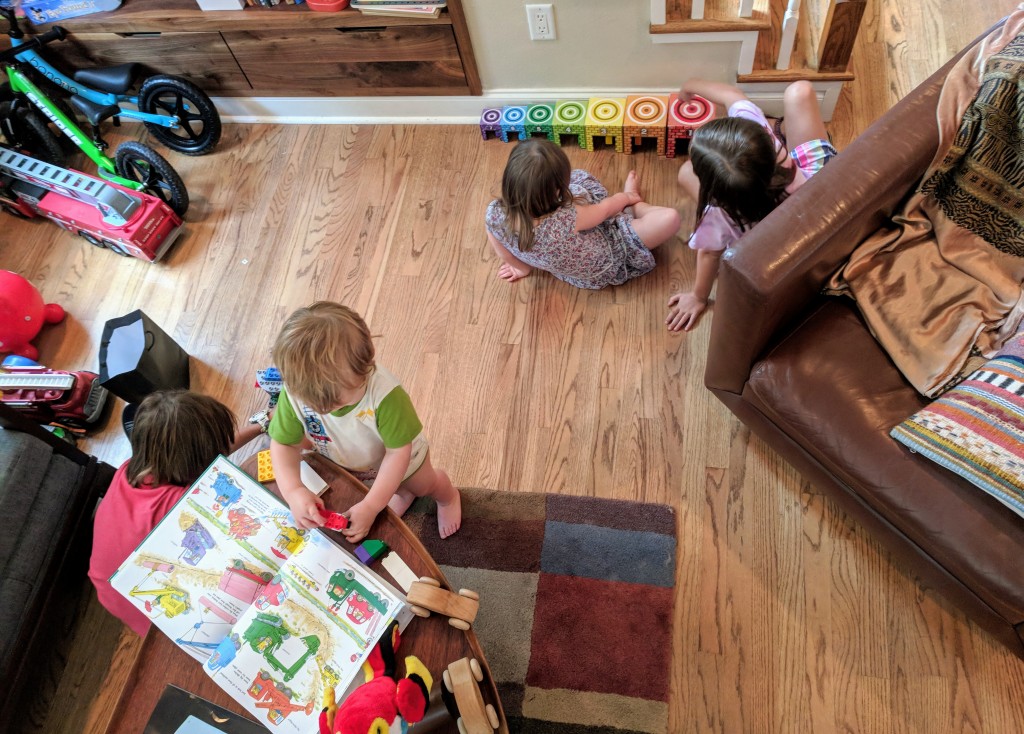 We sing you happy birthday and bring out cupcakes with a candle. You attempt to blow it out; we attempt to instruct you on technique; you misunderstand and put your fingers in the flame. Ouch. Buoyed by frosting, your recovery is swift.
Bedtime looms, and our family says goodbye. We march upstairs for a bath and an accelerated bedtime routine. Acknowledging your age and sophistication, Annie announces that it's YOUR turn to do the lights. Dad hoists you up to press exciting buttons on the wall. In your crib at last, you certify the presence of MY DOGGY, and all is well. Goodnight, my 2-year-old.