To Annie: This is how you spent the day you turned 2 years and 9 months old.
Dad left last night for a work trip to California, so I get up early and arrange everything for a smooth-as-possible exit. (My strategy: minimize transitions.) You and Paul wake up slowly and peacefully, lying quietly in your cribs until I come in at 7:30. You stay snuggled in bed with your five stuffed friends while I get Paul changed and shod. When it's your turn, you consent to the removal of your night diaper but not to putting on undies. "I want a diaper please," you tell me in a soft and pitiful voice, so that's what I put on you. Add too-short pants and pink socks, and we're ready to go downstairs.
Paul wants to practice his stair-walking, so I carry you and hold his hand. We get into your shoes and coat, snag a chewable vitamin, and head for the door. You climb into the car and then your seat, and munch your way through the breakfast I pre-loaded into your cup holder: buttered toast, a slice of cheddar, and a handful of grapes.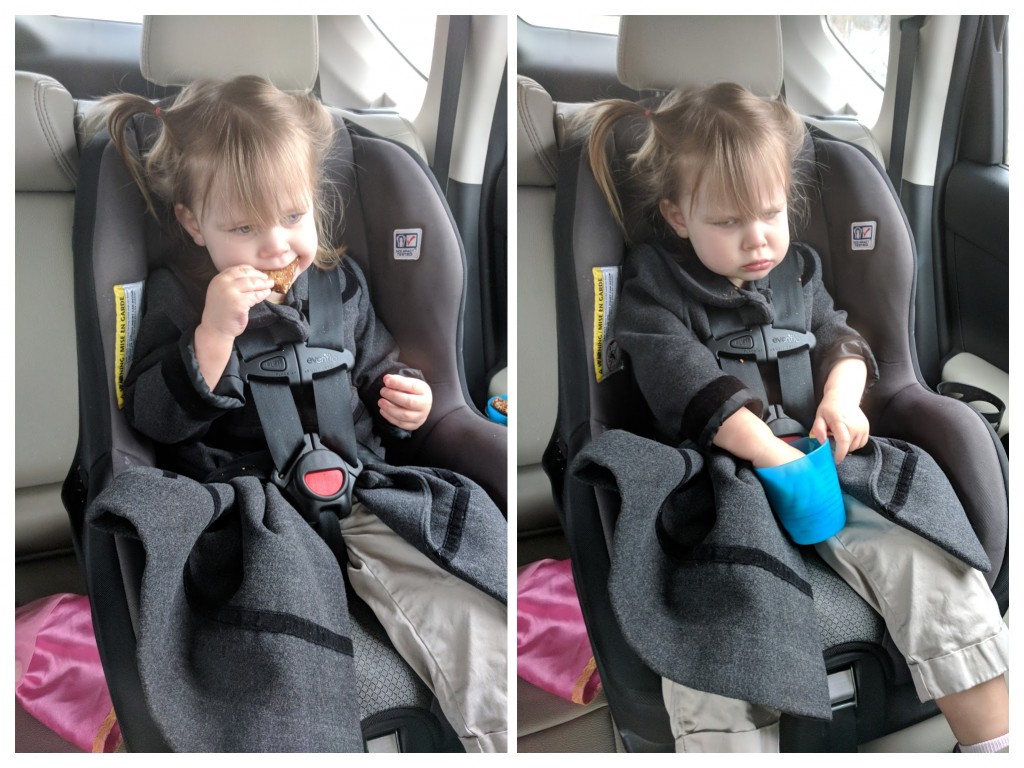 You're full of questions and information on the drive. "I see a A!" you announce when stop behind a Lagunitas truck at a light. "TWO As!" Later, you inform me that we're getting off the highway and back on the access road, then that we're turning across the highway to go to school. You have been asking a lot of detailed questions about our route in the last couple of months, and are proud to showcase your knowledge.
Parked, I unbuckle you, and you climb out of the car with only a brief detour to the front seat. You head straight for the sidewalk, walk happily inside, and wait patiently while we chat with Shanna in the Sea Turtles at Paul's drop-off. He cries hard when we leave, and as we hold hands and walk downstairs, you say, "It made me sad when Paul cried." It made me sad, too, I tell you.
In your class, you hug my ankles for a minute while I sign you in, but detach and go quietly to a second breakfast of more toast and canned pears. We wave goodbye.
Your big lesson at school today is on the five senses. With your class, you read I Hear A Pickle. Ms. Mary tells me that when she asks the class whether you can smell with your mouth, you volunteer, "No, we talk a lot with our mouths." When asked what we do with ears, you say, "We listen at school." Do you listen at home, too? she asks. "Yeah, we can."
It's Wednesday, and I am using date night to move out of my office. Shanna brings you and Paul home and feeds you dinner. At the table, you scoot your chair close to hers and pat her cheek. "It's okay. It's okay. Your cheek is very tired. I will make you feel better."
You take a bath with Paul and air-dry to the tune of "Baby Shark" and "The Wheels on the Bus" on Shanna's phone, then do a little solo book reading in the nook (still naked).
Shanna takes over reading That's Not My Puppy and makes connections with you. "Remember when we saw lots of puppies today walking?" Annie: "Yeah!" "Does Sous have a collar?" Annie: "Um, yeah." You ease into a diaper and clothes. Shanna tends to dress you in your pink, Hold Your Horses shirt; tonight is no different.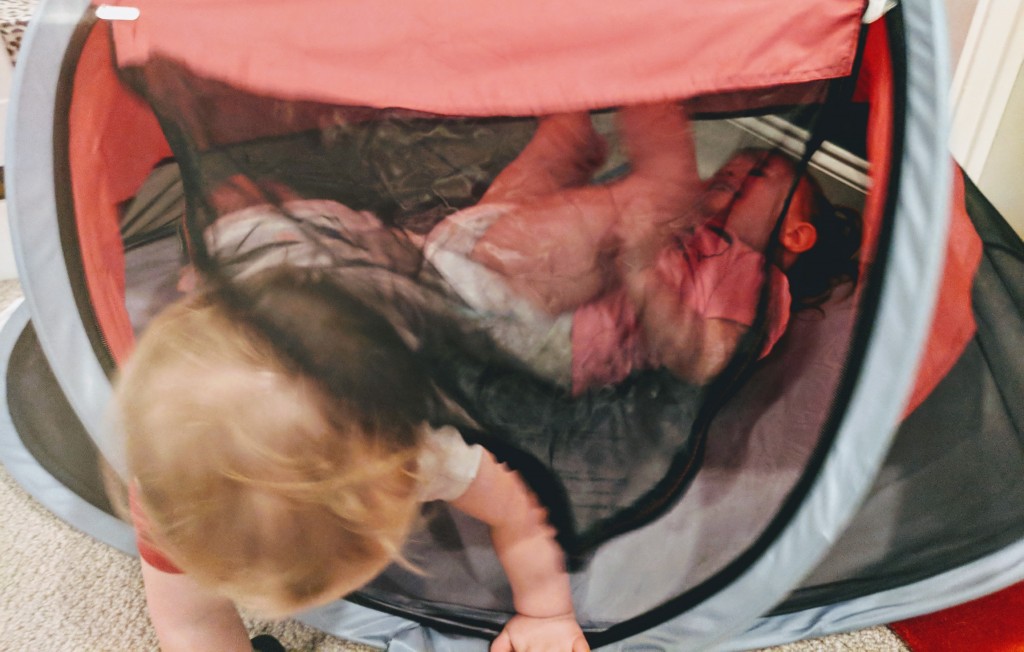 I rejoin you, carrying laundry. You help me shake out (vigorously), fold (-ish), and put away your clean clothes. Paul gets out his new sleeping tent—he's very proud of it—and the two of you romp and squeal inside it for a few minutes. You take a quick Rabumpus ride and then play with the new owl purse Susu got you for Christmas. At 7, I start the lullaby, put Paul in his crib, and then scoop you up and lay you down with your friends. "I want Peter," you specify, and are cuddling him as I turn off the lights.