To Annie: this is how you spent the day you turned 2 1/2.
Everyone wakes in a scream-y mood, and Dad is in California. I get Paul changed while you protest that you don't want to get up.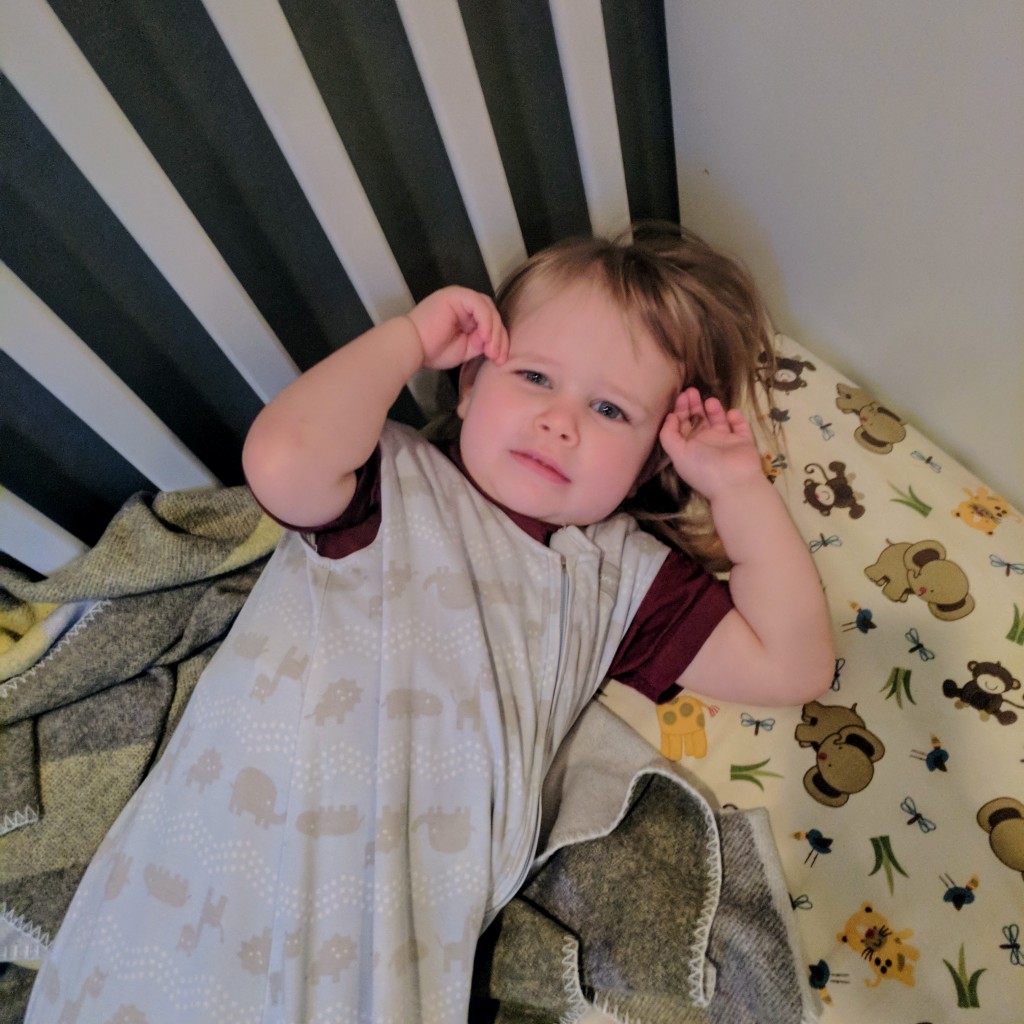 I set Paul down (to scream) while I lift you out of the crib and onto the changing table, discard your squishy diaper and help you into a dress AND…UNDIES! That's right, it's day 2 of undies at school. Success has been mixed. More on that later.
I pick up poor screaming Paul and about six other things to take downstairs, and you walk by yourself. Despair overcomes you as I outpace you; I press on and get Paul in his high chair while you execute a screaming meltdown at the top of the stairs. Apparently one of you will be screaming at all times this morning. I retrieve you and set you in your chair for a breakfast of "baby cereal"—a quarter of a banana mashed up in plain yogurt.
"I want hot buttered toast!" you wail. Prompted, you revise your request to, "Can I have hot buttered toast PLEASE." I make you some. During the three minutes of toasting time, both of you start crying again.
After breakfast, Sous must be fed (by you), and milk must be spilled (by Paul) and mopped up (by me). Finally, we set off for school, toting toast to-go and a bag full of extra undies.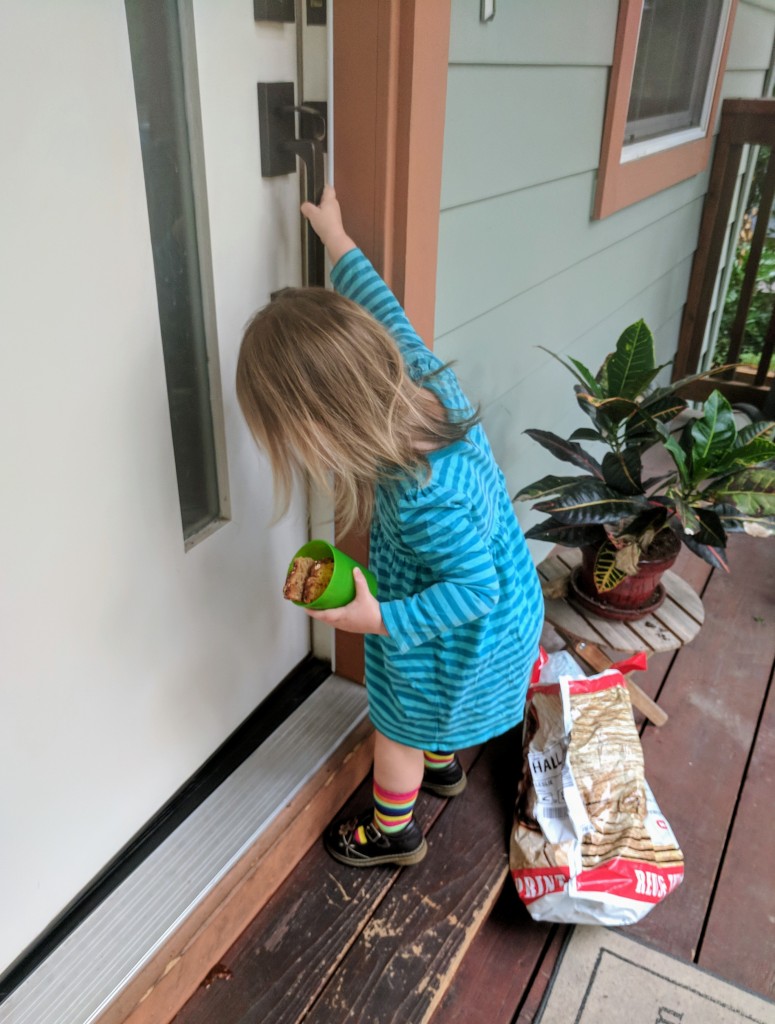 In the car, we sing the song we made up last night. To the tune of "Five Little Monkeys," it goes:
One little car was driving on the street.
He was going home to have dinner to eat.
He had his kids in his backseat.
No more cars are driving on the street!
The mood is cheerful at last. You haul the bag of undies and Paul's diapers all the way into school and tell me you will give the diapers to a Bumblebees teacher. You execute on that commitment, and we walk down the stairs to your class. I leave you in line to use the small, in-room potty, with teacher Mary.
I do not see you again this day, but receive the following reports: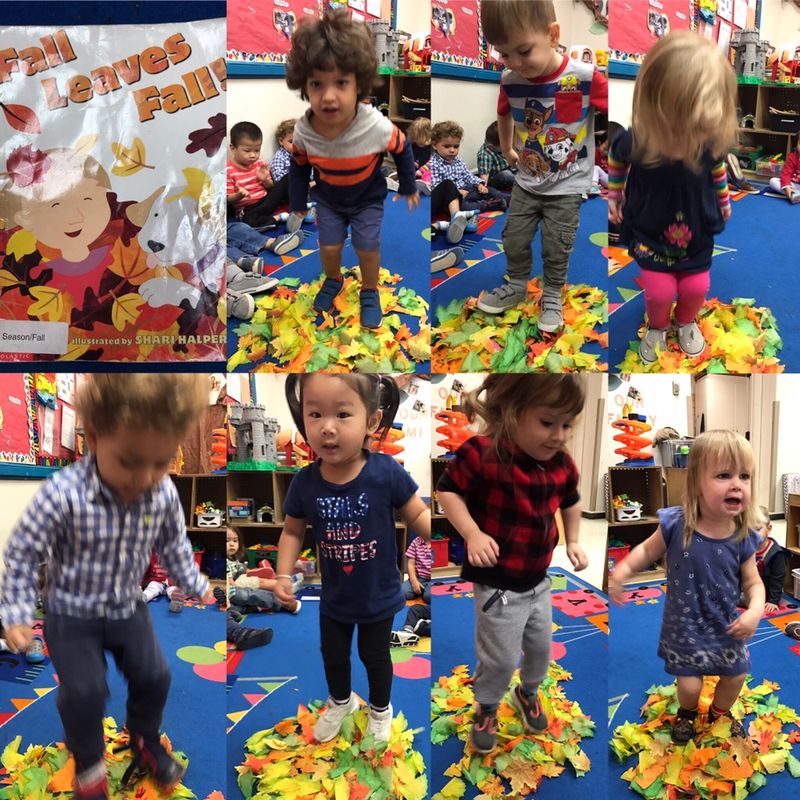 From Mary: Today we read the book, "Fall Leaves Fall" and discussed the color of fall leaves and how in the book the children raked the leaves and jumped in them. We jumped in leaves too!
(I notice you are in a different dress in this photo.)
From Shanna: The girls said Annie had 4 potty accidents in an hour and 5 total for the day. They think she kept having them because she knew it meant she got a new pair of panties each time.
Your ability to game any system terrifies me.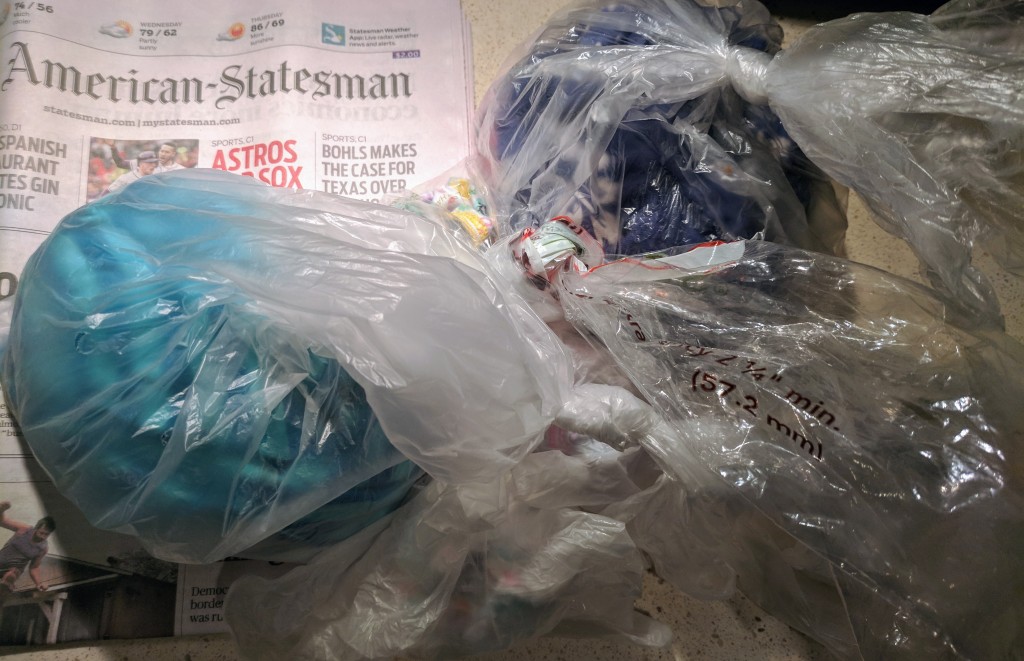 Shanna brings you home and feeds you tortillas with peanut butter for dinner. You and Paul romp happily downstairs, reading books, climbing on the furniture, and pushing around the toy lawnmower. At 6:30, it's time for a bath. You need to poop, so Shanna scoops you out and onto the potty. You poop in it for the first time. Kudos!
You get dressed in your pink horsey shirt and read one last book. Shanna zips you into your sleep sack and covers you up with your blanket. Night night, my terrible 2-year-old.