To Annie: this is how you spent the day you turned 2 years and 4 months old.
You and Paul summon us at 7:15, and I lift you straight onto the changing table for a fresh diaper and shorts. "I'm very hungry," you inform me, so we head downstairs for a banana. You bestow stickers upon us as we finish up the morning preparations, and at 7:30 we're out the door. When we get to school, I unbuckle you from your carseat, and you climb down and exit from Mr. Paul's side as I lift him out of his seat, then hustle to the sidewalk. "It's the milk truck!" you notice. "Hi milk truck!"
You want to hold my hand as we walk to Paul's Bumblebee classroom, and say bye-bye to him as we drop him off. "Mr. Paul see all his baby friends," you inform me. Then it's over to the Sea Turtles, where I leave you in Shanna's arms.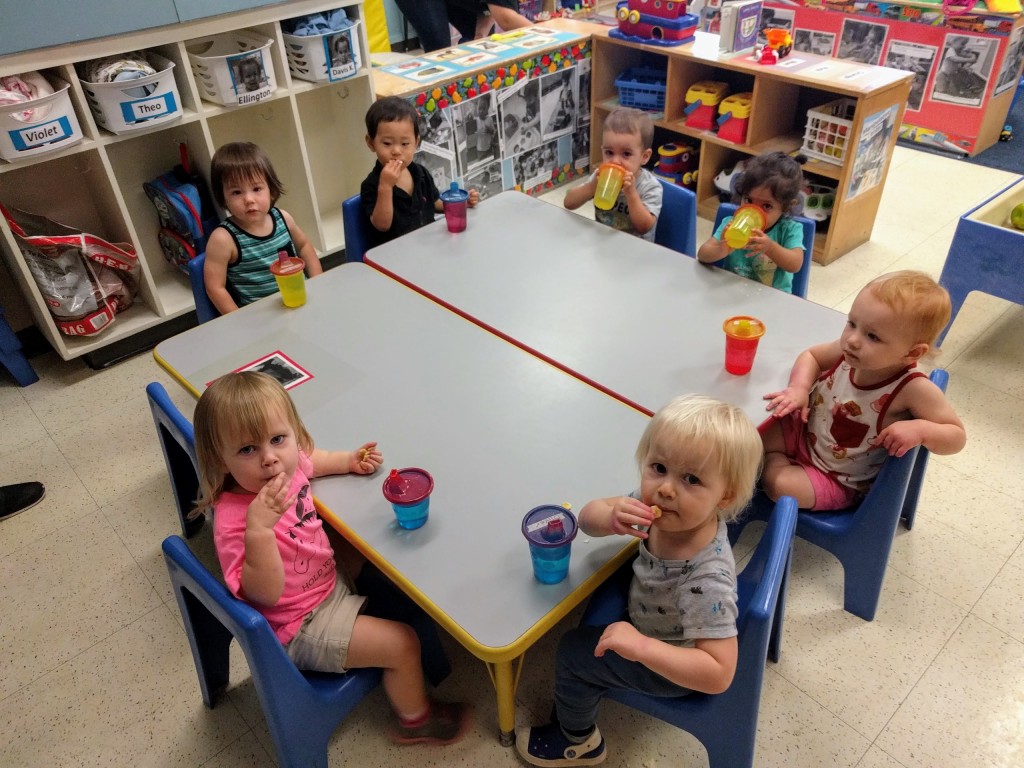 Dad picks you up, and you discuss "our street" on the way home. Several false positives. You make your way into the house, past the workers building us a new front fence, and I scoop you up for a hug, then plant you in your chair for dinner. It's a casserole with chicken and noodles, plus kale and tomatoes. You eat the noodles, and then more noodles. Then, "My butt hurts!" So I take you upstairs to the potty.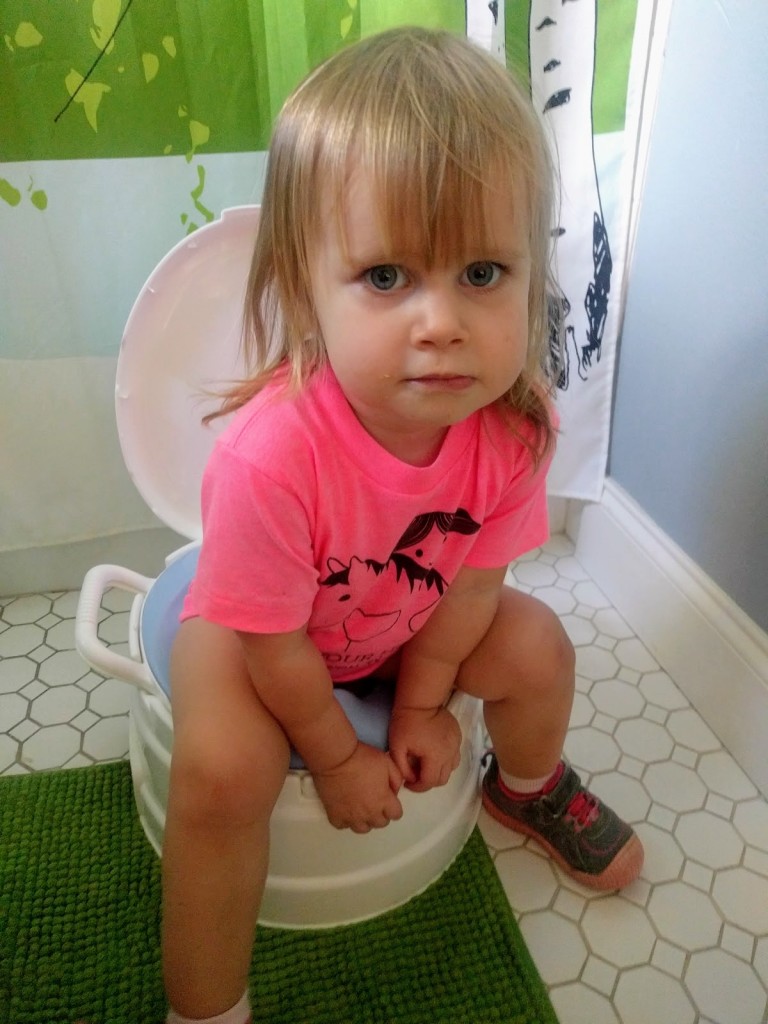 You decline more dinner, so we play upstairs. We try to call Susu to wish her a happy birthday, but don't get through. You negotiate with Dad for band-aids—your obsession continues. A miscommunication about the agreed-upon number results in you screaming on the floor, but we bounce back.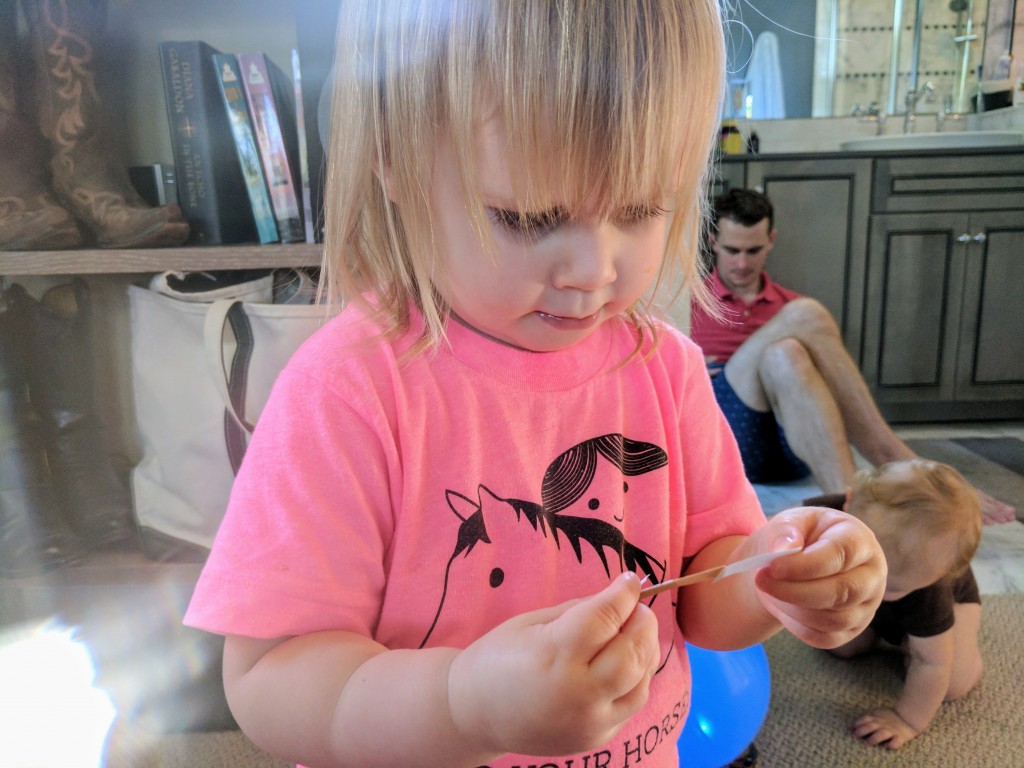 Silliness continues. We put on classical music and swan around to Vivaldi and Bizet. You and Paul roughhouse in the closet. Dad and I both hoist you up on our feet for flying.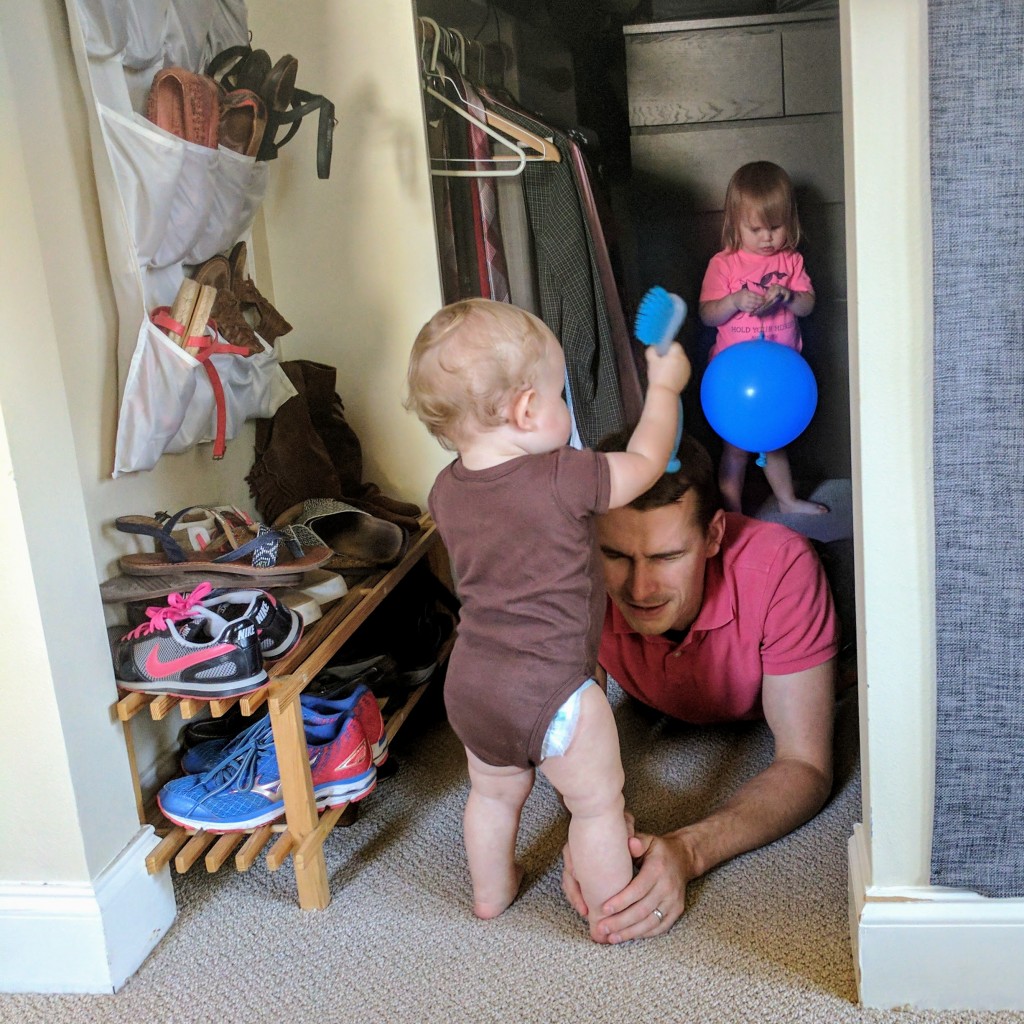 You pull one of our child-rearing books off the shelf and want to look at pictures of babies. The 8-shot sequence of a newborn getting his first doctor's exam fascinates you, and you want to look at it and talk about it exhaustively. We migrate into your room for a bedtime book, but you want to keep "reading" the newborn exam page, so we do. We start to sing the lullaby, and you sing along. "Well it's dark outside, Sous in her bed, Well it's dark outside, Sous in her bed…" You try to put the (big, heavy) baby book on your bookshelf, fail, and ask for help. "Mom I need help! You're a grown-up, I'm not a grown-up."
True for now, little one. I hoist you into bed, deflect a desperate, last-minute request for a bandaid, zip you in your sleepsack, and tell you I love you. As I leave the room, you call, "Night night, Mom!"