To Paul: this is how you spent the day you turned 6 months old.
At 6:03am, your dad picks you up, and you start your breakfast. You'd been coughing—we've all been coughing for about three weeks now—but made it past 6am before firmly waking up, thank goodness. Mornings have been a little dicey lately. You lie beside me and munch in determined fashion, then settle in to eat the Sunday paper.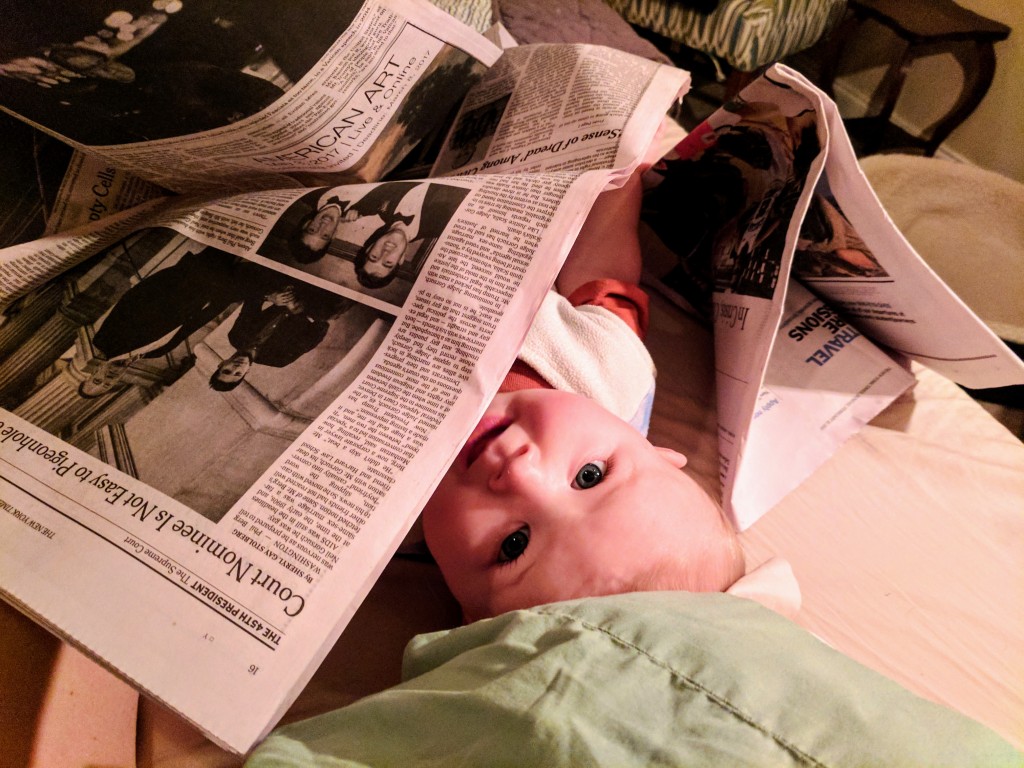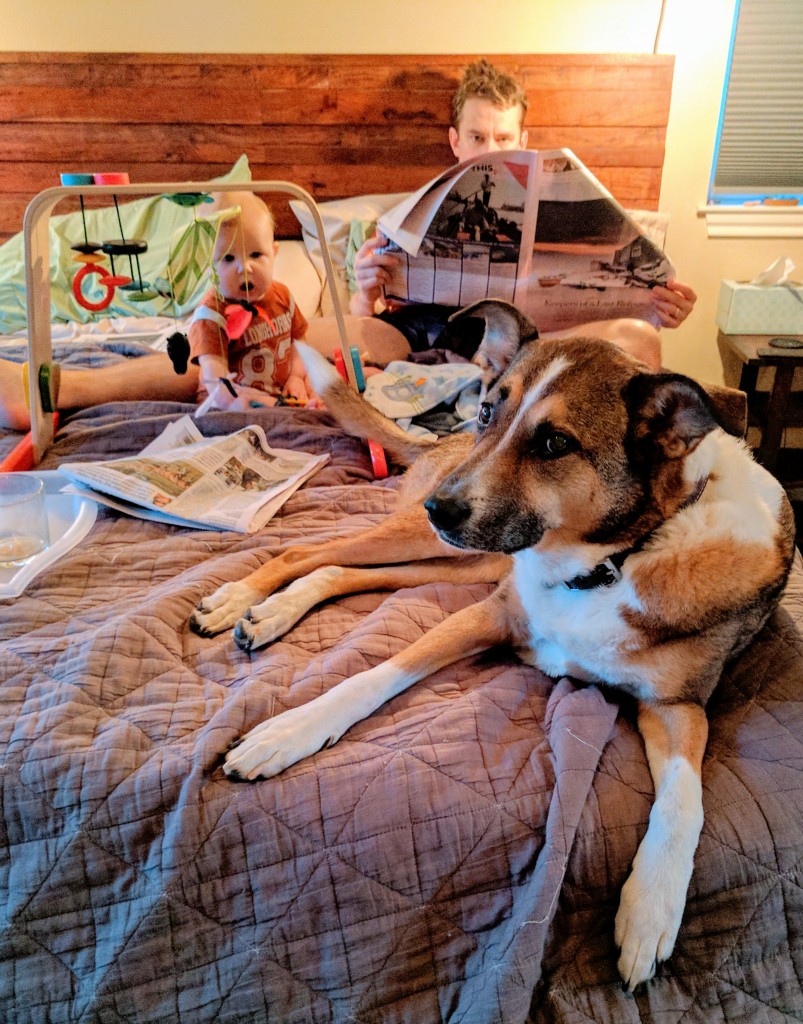 When you grow bored with the news, you begin your calisthenics: kicking, followed by more kicking, then grabbing things and pulling them into your mouth, then finish with kicking. We tote you around for various morning chores, and you join the three of us for breakfast around the table. I feed you morsels of smoked salmon off my fingertips, and you help yourself to half a cherry tomato.
A few minutes before 8, it's time for your nap. You go right to sleep, snooze until 9:40 or so, and then wake up for second breakfast. We pop you in your car seat and drive up to IKEA to buy you your very own crib. Happy birthday!  What you really wanted was something to chew on.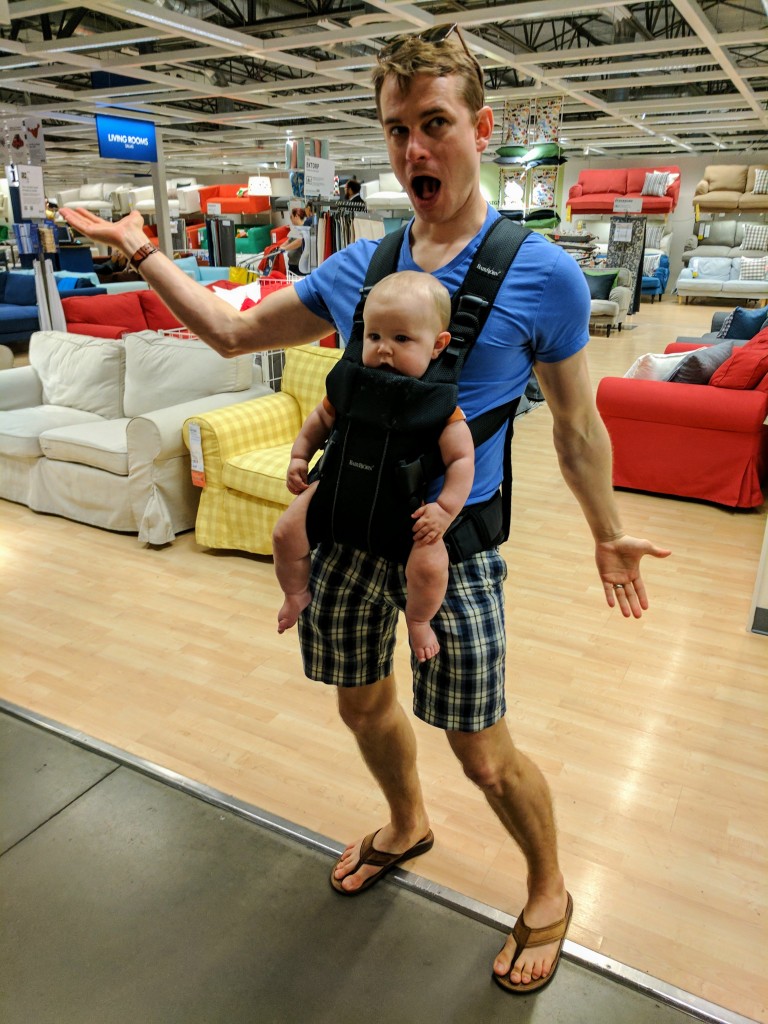 You spend the car ride and shopping trip gazing at things quietly while Annie does the talking, but you spice things up at the end by moving your bowels in a significant way. We impulse-buy a dish towel in the checkout line so Dad can soak up some of your exploded poo before it works its way into every pore of the baby bjorn. We maneuver our multiple carts and children to the car, and I mop you down in the hatch.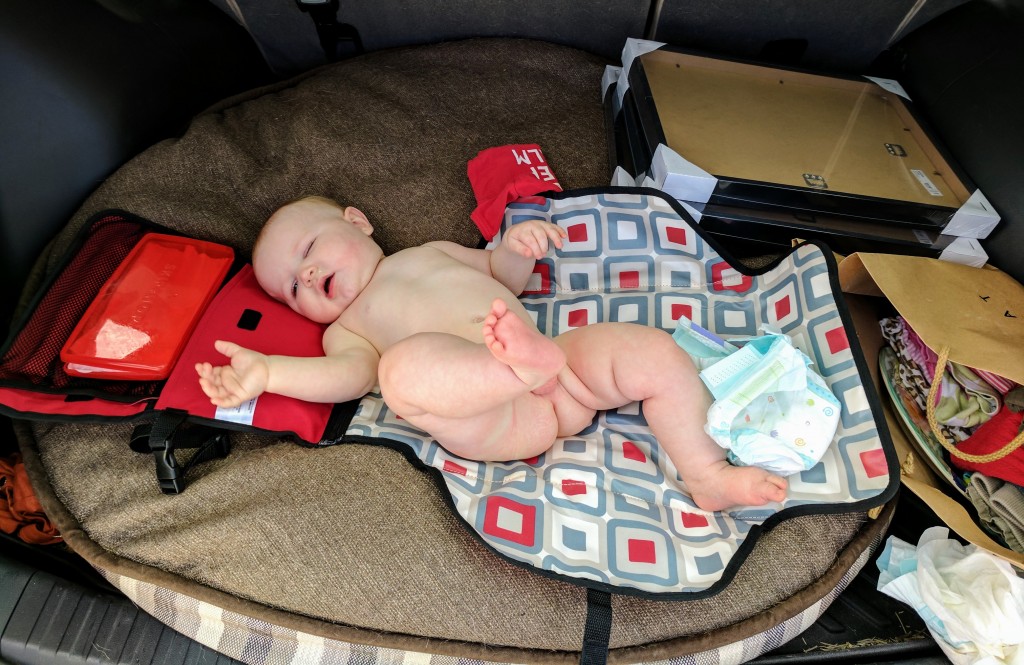 We drive through In N Out Burger for lunch, and you eat a french fry on the way home. It's half an hour past your nap time, so Dad races you inside to put you to bed before you slide into over-exhaustion.
We let you sleep for three hours. At 3:30, Dad gets you up and into a clean diaper, and I feed you. We join Dad and Annie in your room, where they're hard at work building your crib. Well, Dad's building; Annie's playing with the hardware and occasionally handing him the screwdriver. You writhe around on the floor, sweep things into your mouth, and watch the action.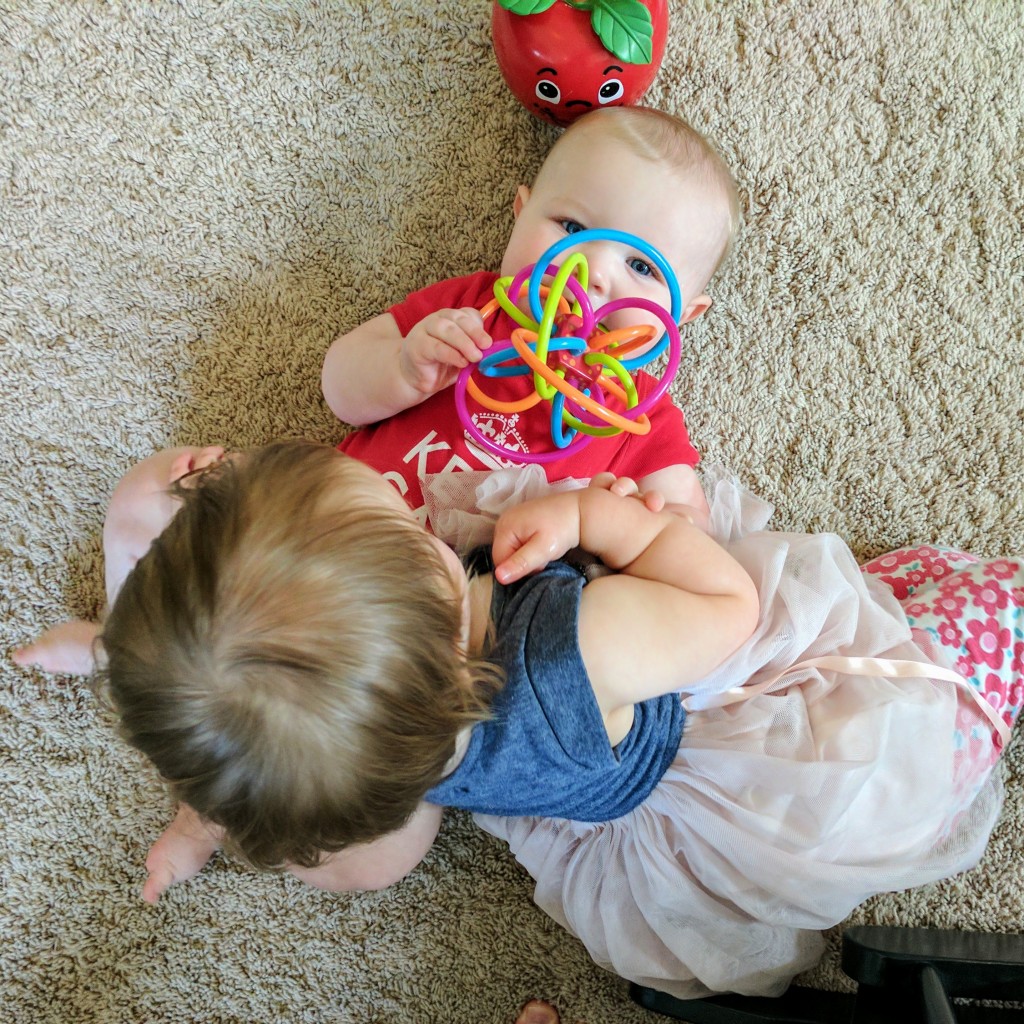 Once your crib is completed, Annie takes over entertaining you, presenting you with toys and blowing her lips for your amusement. At 5:30, you go down for another nap while the rest of the family eats dinner, and you're up for a final round at 6:45. Dad plays with you while I give Annie a quick bath, and then you and I adjourn for a final meal. You prefer to nurse on your hands and knees, like a pig at a trough, and when you're not doing that, you're grabbing hard fistfuls of my face with your strong little hands. I don't think I'm going to be all that wistful about the end of the breastfeeding, let's just say.
In our last hour, you squirm around the bed, sucking on a toothpaste tube, a hair clip, dental floss, and some actual toys. Because it's your birthday, I give you tiny drops of ice cream. You grab the spoon and slowly draw it to your mouth, then grimace but look at me for more. I bounce you on my legs and hold your hands so you can stand up and practice taking steps. You love this. At 8, Dad changes your diaper, reads you a story, and lullabies you into your brand-new bed.