To Annie: this is how you spent the day you turned 20 months old. You've been prone to lounging in bed in the mornings lately, and today is Saturday, so we just let it happen. Not until 8:20 do you summon us, and Sous and I parade in with baby Paul, and sit down next to your crib to talk to you through the slats. You smile at your brother and inquire about breakfast ("breesus"). You stand up and request that Mom pick you up, so I hand Paul off to Dad and lift you out. After a little squirming on the changing table, you consent to a new diaper ("roar," you say, because your diapers have tigers on them) and clothes. It's 40 degrees this morning, so you dress warm. Then it's downstairs for breakfast: a slice of wheat bread, cheese, and raspberries, which you eat off your fingers. We look at catalogs, and you point out pieces of clothing and food. Your vocabulary is exploding.
I bundle you into your fluffy pink coat and crocheted owl hat, and buckle you into the stroller. Dad leashes up Sous, and the three of you set out for a long walk in the wintery day. You speedwalk down to the lake, then back up for tacos. Your hands get cold, so Dad lets you wear his big gloves. You love this. Back home, you eat a little taco ("taco! taco!") and begin your usual marauding around the house. You find a rubber band and request that I put a tail in your hair ("toe?"). You find a blinking Rudolf nose and request help putting it on ("halp? aw-w?"). You find your crayons and request paper for drawing ("bahper?"). All requests are obliged. Later, you cirle the living, room, distributing books and crayons to all members of the family, including Sous.

At 11:30, we put Paul down for his nap and feed you more taco for lunch. Then you watch Dad raking leaves in the front yard through the window, and we go say hello before putting you down for your nap. At 1:30, you're up again and get a quick wardrobe change before descending the stairs, which you can do by yourself now. We bake ginger cookies, or rather, you stand in your tower and stick your fingers in things. You eat candied ginger and a handful of dark brown sugar, and then we let you lick one of the egg beaters. We have to call Granddad and Susu to distract you enough that we can get it out of your hand.
Paul goes to sleep downstairs, so you and Dad play in your room, building a massive Duplo tower and banging away on your activity tables. At 4, we head out to Aunt Lisa and Uncle Eric's. I tell you where we're going and who we'll see, and you say, "Ryra?" Yep. After 5 minutes or so in my arms, warming back up to things, you're off running with the kid pack, walking the Trail of Lights that they've set up in Lyla's room.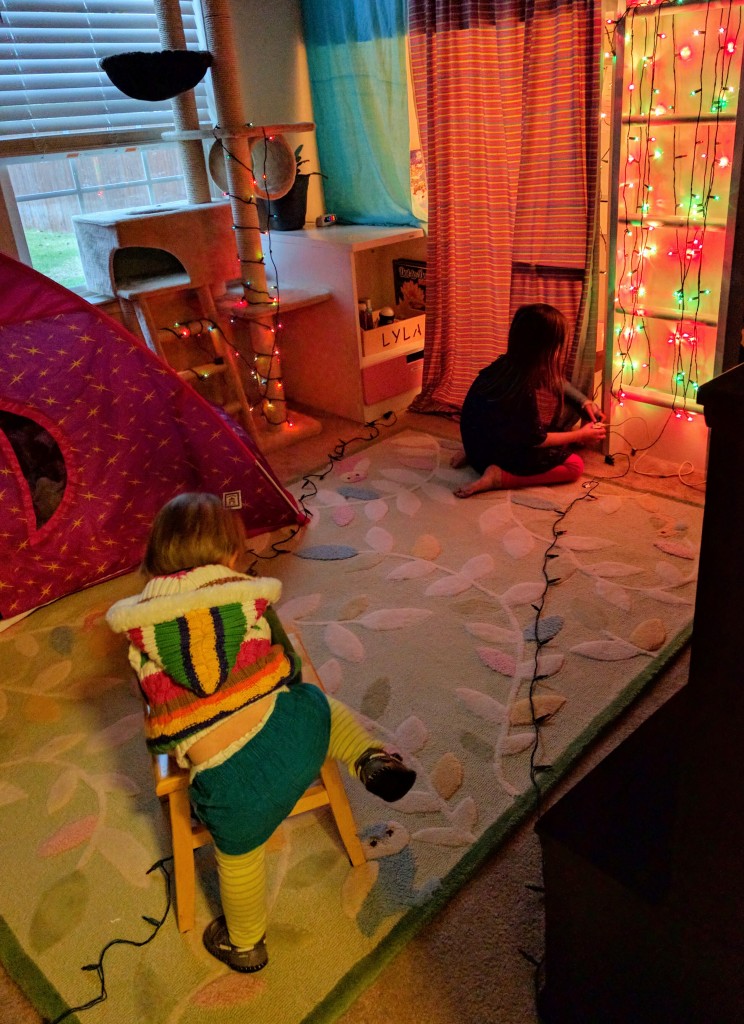 We eat delicious gumbo for dinner—you mostly want the chicken ("chk'n")—and then Aunt Lisa shows you how to lure kitties to you with treats. You do a lot of meowing ("NIOW"). At 6:30, we begin to pack up and head home. We have something almost like a conversation in the car about what's just happened. ("NIOW. Ah-shy." "Yes, the cats were outside!" "Ryra?" "Yes, you played with Lyla and Miles!")
It's past your bedtime when we get home, so we skip a bath, put on pajamas, and you pick out a book for us to read. When Peedie the gosling has found his favorite red hat, I sing you your lullaby, lay you in your crib, and say goodnight.