To Annie: this is how you spent the day you turned 2 years and 11 months old.
I lift you out of your crib at 7:15, and we check the boo-boo on your butt right off. (You sat down hard on something at school yesterday and bruised yourself; when I saw you at the end of the day, you appealed, "Mom, can you please kiss my butt?") We head downstairs for a brief breakfast, then buckle you into the stroller for a walk with Dad, Paul, and Sous. It's Saturday!
You meet Kalia with Eleanor and Riley for tacos at our usual truck, and at 9:30 are home to regroup for our next adventure. We're headed to your friend June's house to celebrate her birthday with one other classmate of yours. Y'all are besties.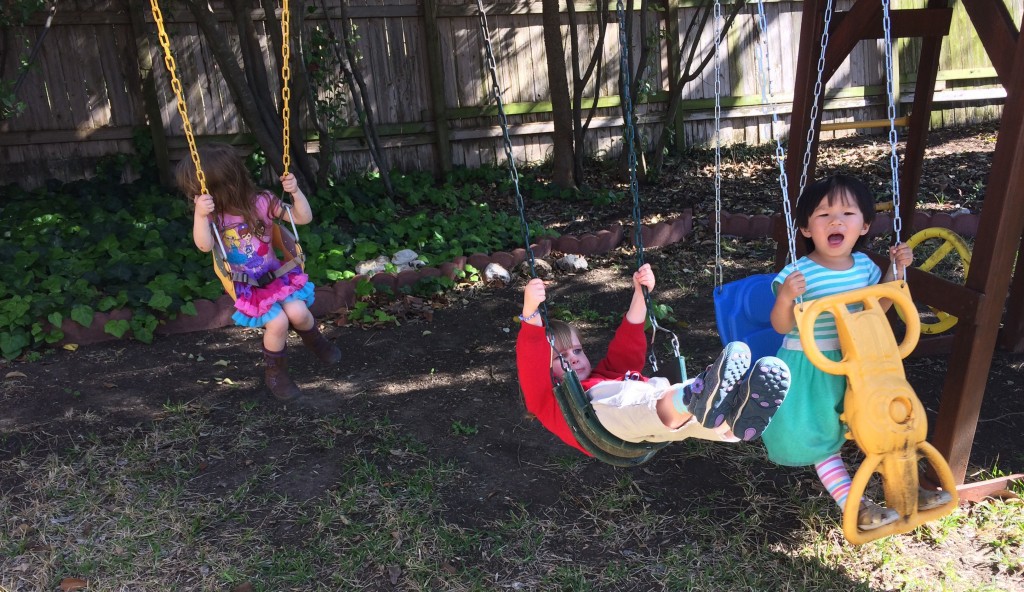 After your usual warm-up period, you're swarming all over the playground and ordering cups of water from June's mom. You feast on berries and cupcakes (you lick off the frosting, and Paul eats the cake—brilliant collaboration). June gets upset for some 3-year-old reason, and you spend 20 minutes delivering toys to her to make her feel better.
We head home for naptime, which you protest as usual, starting things off un-peacefully with half an hour of yelling. Eventually you do sleep, and we see you again around 2:30. You briefly meet Uncle George, here for SXSW and currently plugged into the VR machine. We'll get some quality time later.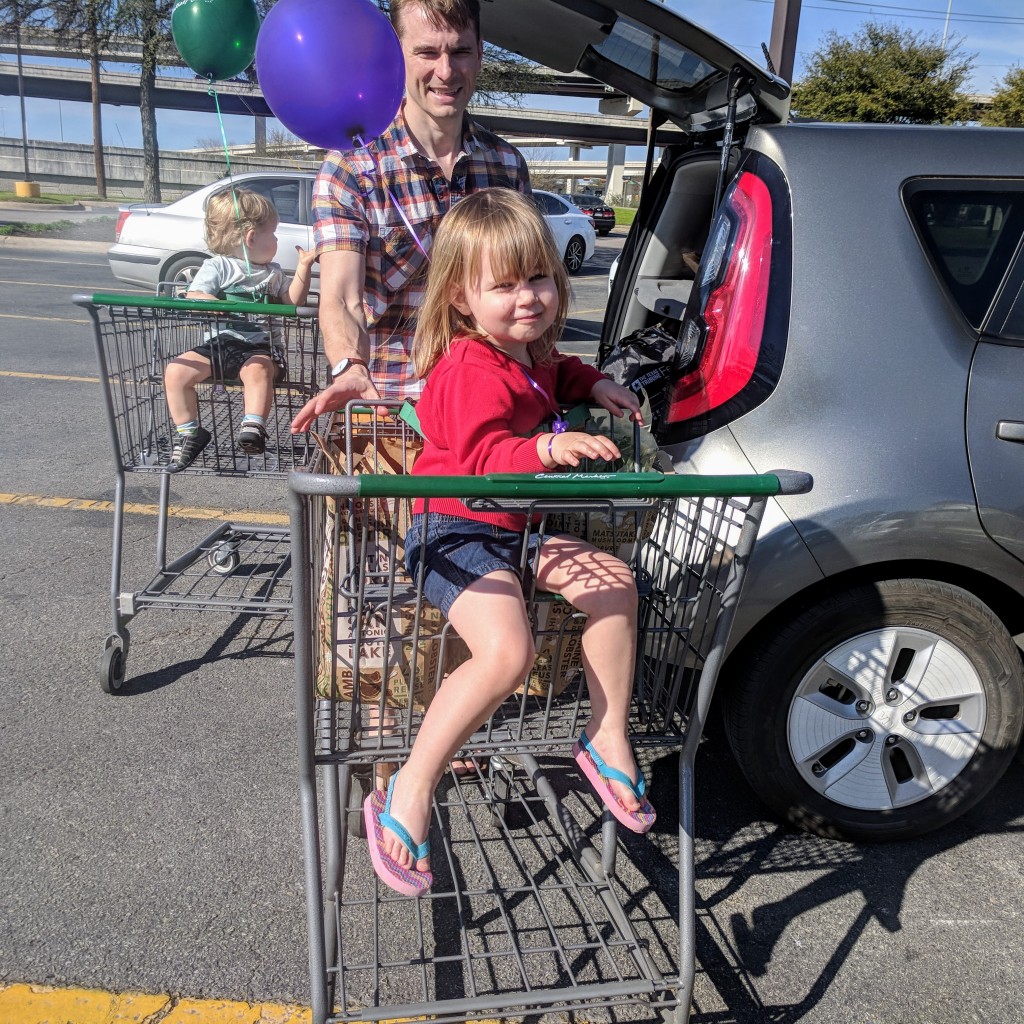 We hustle to the grocery store. After a critical first stop for a balloon (purple), we make our usual rounds. You enjoy samples of fruits, cheese, and a blueberry pancake, and select peach yogurt and a chocolate cookie, which we'll carve into 8 tiny wedges for dessert.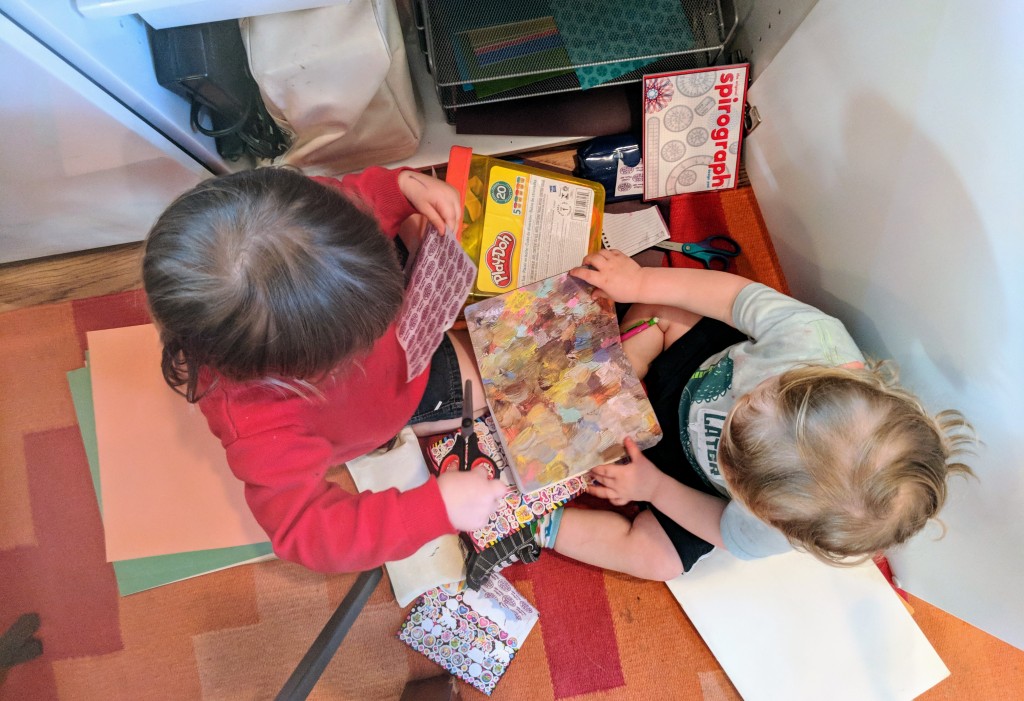 Back home, you and Paul play together with only light supervision while Dad and I get dinner started. Around 4:30, our friends Katie, Doug, and Poppy arrive. We eat shrimp and grits around the table while you stroll around the living room. (Alone, we will require you to sit at the table with us for at least 10 minutes, but with company we are not in the mood to force it.) Dad ends up eating your dinner—boy, you would have loved those cheese grits if you'd tried them—and you deign to join us for a bit of cookie at the end.
While the grown-ups linger at the table, somehow you and Paul maneuver yourselves onto your bike together. (Not authorized for indoor use, but again, we're in no mood.) You lead the pack of children in a lengthy round of pushing toys across the house. We turn on 20 minutes of Totoro to wind things down, and you use the potty to good effect.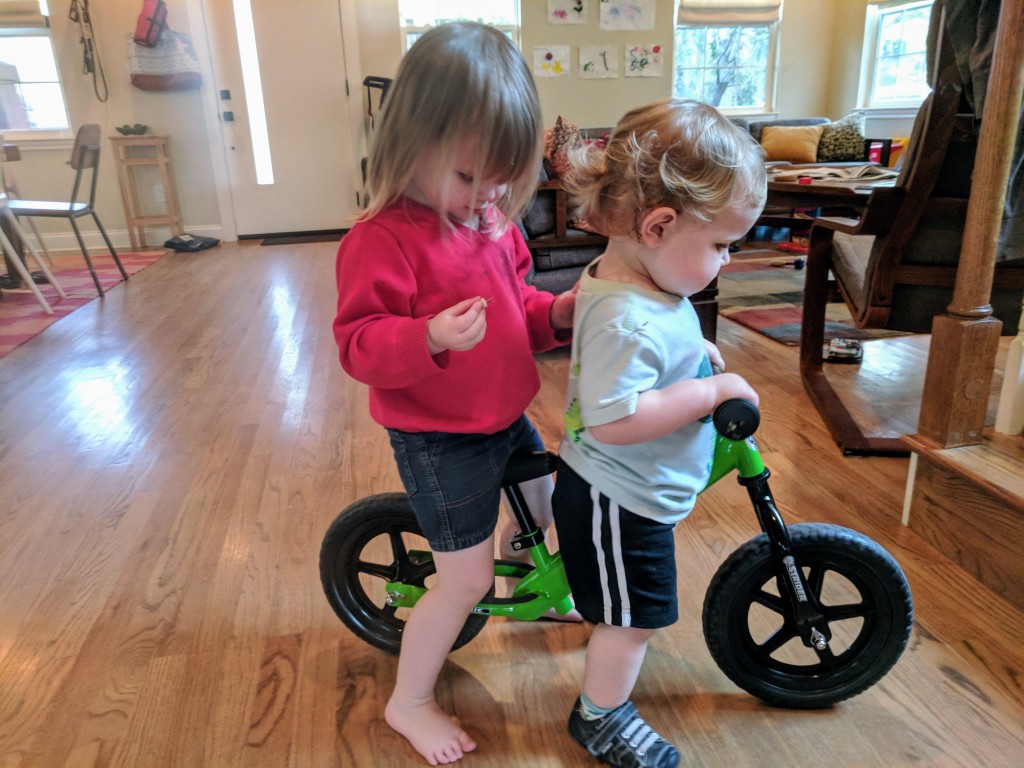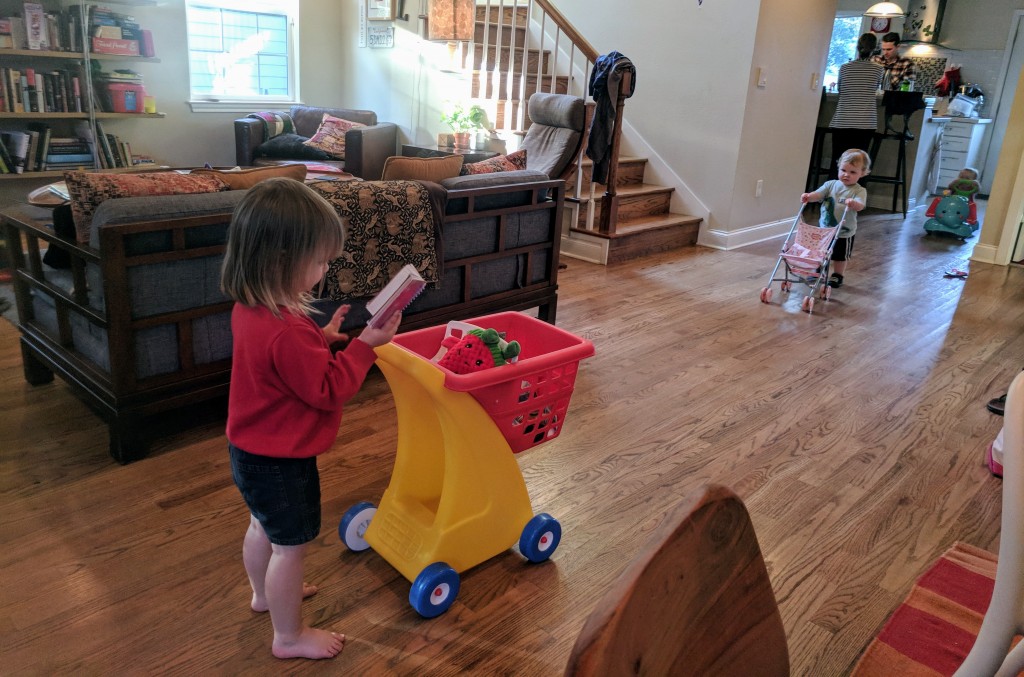 We make our way upstairs and take a quick sponge bath. You turn on the noise machine and click the lights down to a low setting. We sing the lullaby and proceed through our increasingly elaborate bedtime ritual. (It now features you standing on your crib railing, while I hold you, to check whether you've grown tall enough to touch the ceiling. "Not quite!" you conclude.) As we leave the room, you chirp a reminder not to turn the lights all the way off. You got it, boss.