To Paul: this is how you spent the day you turned 9 months old.
At 6:30, you wake. Dad scoops you up and takes you downstairs for a warm bottle, then totes you around while he makes coffee. He hands you over when I come down, warm and clean from the shower, and you and I head for the living room. I read snatches of the newspaper while you overturn your bucket of baby toys and see what you can pull off the shelves.
Upstairs, we take your 39-week picture. The sunlight is pouring through the windows, and Dad makes faces to keep you cheerful.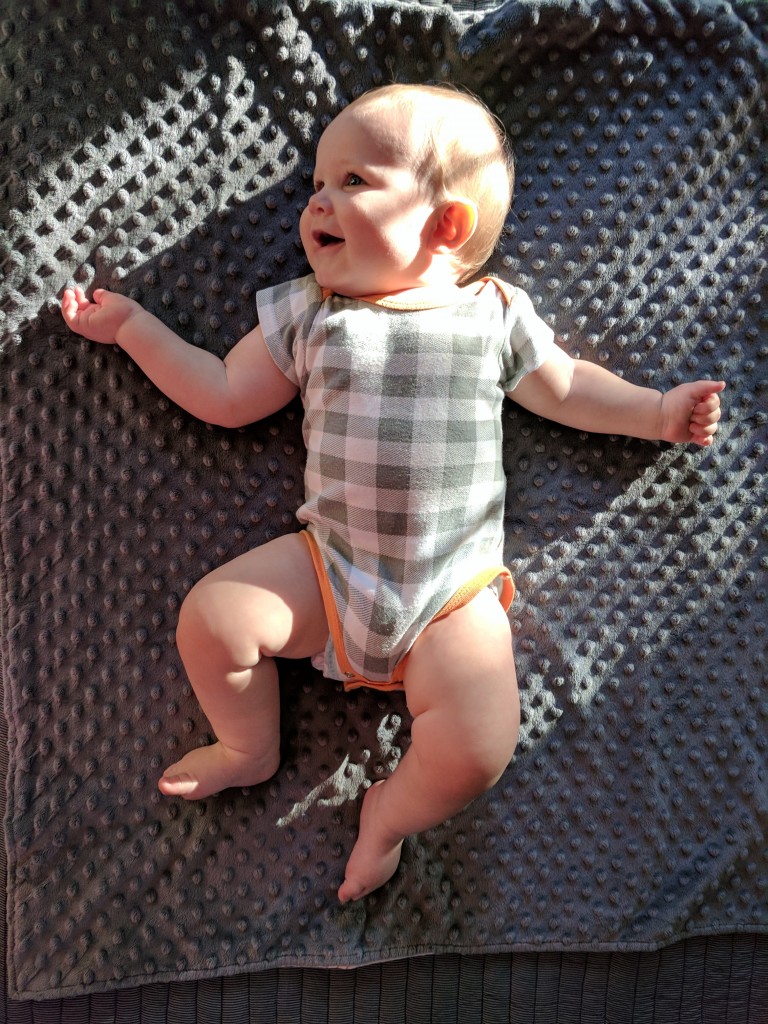 Annie is awake, so we march into the room you share and help her get up and dressed. You perch on the bathroom counter, gnawing thoughtfully on a toothbrush, as I finish getting myself ready; then you pull books off our shelves while I pick out clothes. I shut us in your room for the 45 minutes until Charly arrives. You are fascinated by the clock and try your hardest to break the glass in the framed family photos. You scoot your way to the toilet, pull yourself up, and flush it gleefully until I stop you. By the time she arrives, we've pulled every toy into the middle of the room.
You grin at her as I hand you off but follow me out onto the landing and hold the bars of the baby gate, crying, as I say goodbye.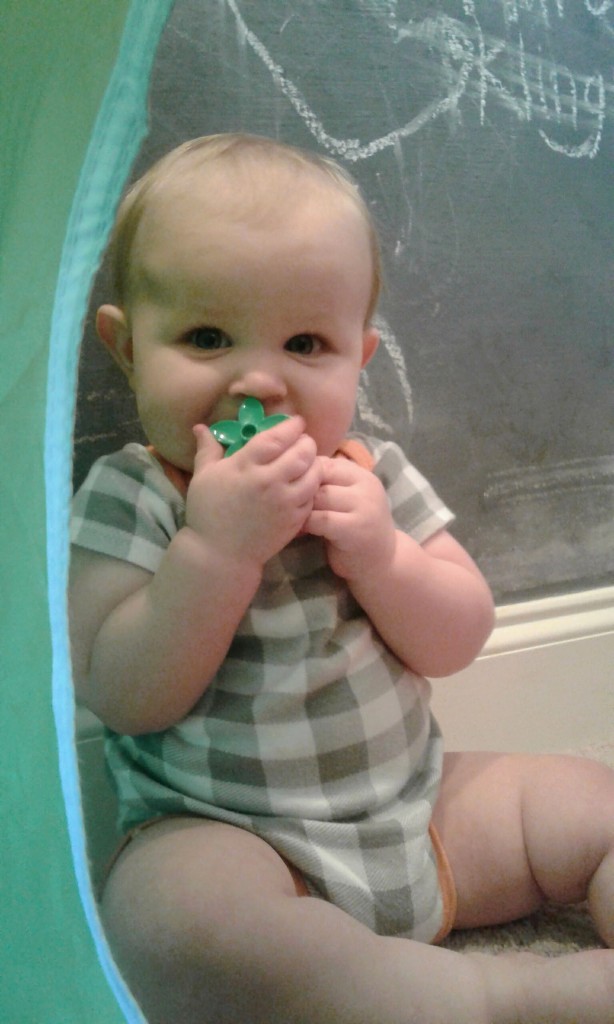 You nap from 9-11:30 and wake to play with BFF Augie, crawling through your green tunnel together and camping out with loot. You nap again from 2:30-5, when Dad and Annie arrive home. I find the three of you with Charly in the living room when I arrive a few minutes later. You're cruising around the edge of the table and seeing what you can fit in your mouth.
When Annie takes off with her lawnmower, you chase after her, eventually figuring out how to push the little elephant yourself. That challenge met, you climb the entire flight of stairs, with me in close pursuit. I read books with Annie while you play with the dryer door. If I were given to making predictions, I'd put my money on your bright future in the laundry industry.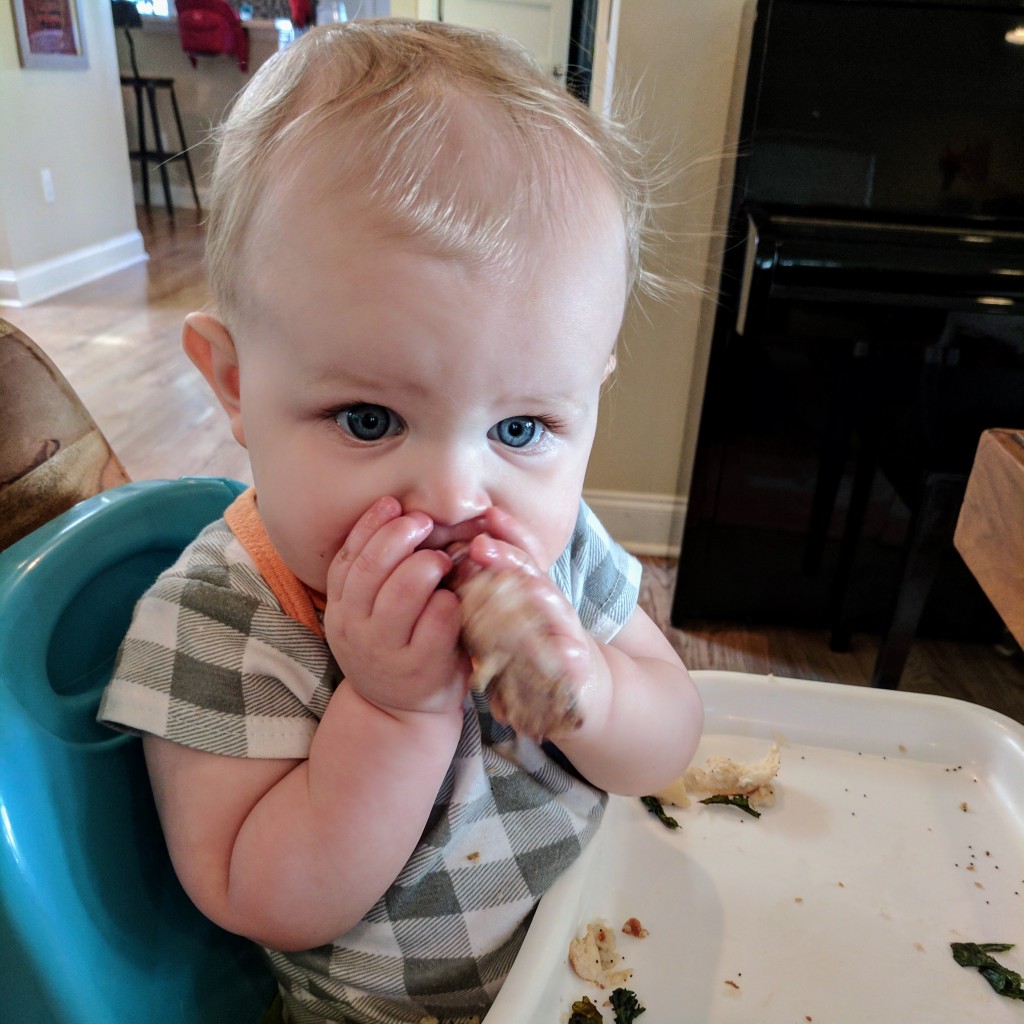 Dinner is delicious pork chops by Dad. You put away quite a bit of kale, half a bagel, and suck on a bone until you're covered in grease. I scrape a napkin over your face and hands and load you into the stroller with Annie for a warm evening walk through the park. You're quiet on walks but seem to enjoy them.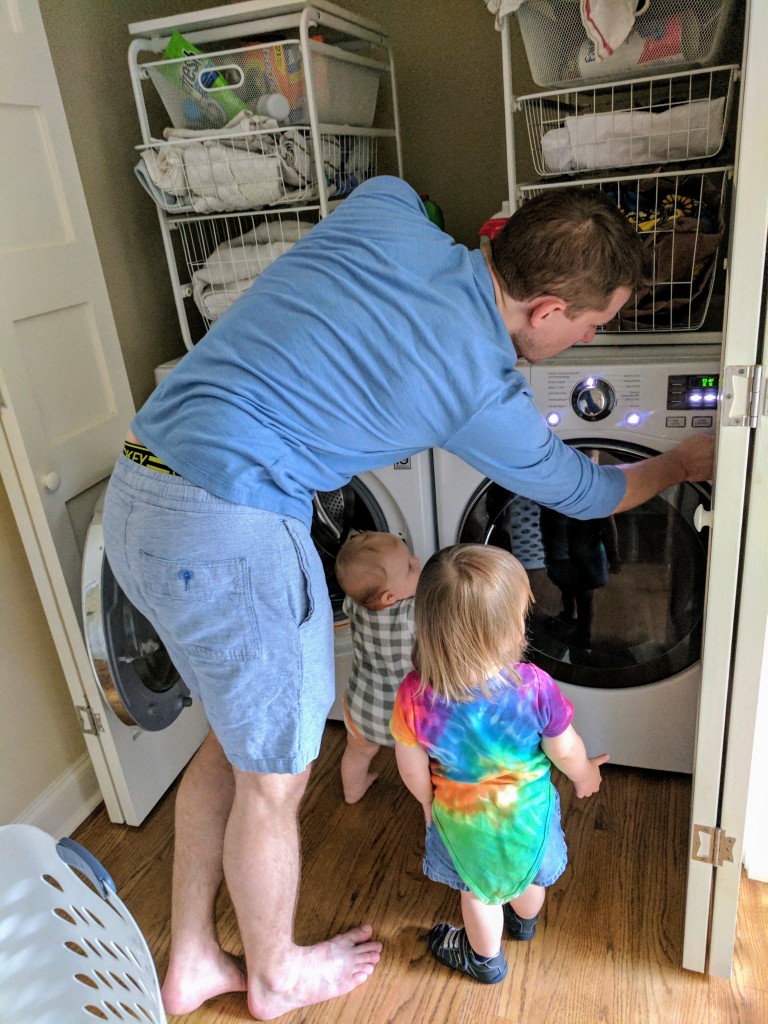 Home at 7:10, we plop you in the bathtub. Dad gives you a scrub and gets you dry, dressed, and fed a final bottle while Annie spends 20 minutes on the little potty, flirting with a tinkle. It's 7:35 before we manage to start on your goodnight book. Tonight it's The Little Engine That Could, aka "the train book." I read it, fast, and Dad and I struggle through the lullaby as you and Annie protest bedtime. We make our exit, and you two spend a few minutes hooting at each other before you drift off.