To Annie: this is how you spent the day you turned 2 years old.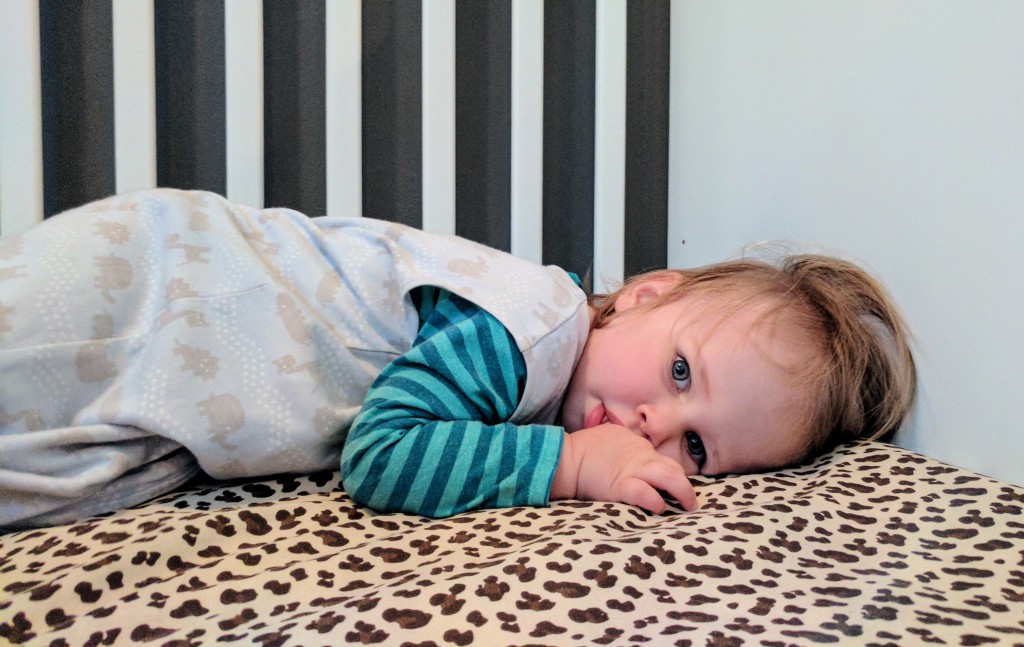 At 7:30, the family parades into your room. I throw open the window shades and set Paul down by your crib, where he clutches the railing and squeals. You smile and thrash with glee, then request "Missa Paul Annie bed?" Thus invited, he sits in your crib and squeals at you in closer range.
We remind you it's your birthday and sing the song. "Maybe have cake?" you say. Maybe, indeed! Who knows what the day will bring! Not even us. We're improvising.
"Annie have bite-en," you say and stand up.
"Yes, Annie will have a vitamin." (They're chewy and sweet—you request one first thing every morning.)
"NO fresh diaper."
"Yeah, you do need a fresh diaper."
"NO FRESH DIAPER!" you shriek, collapsing with despair.
You take a few minutes to recover, then Dad helps you execute a couple of front-rolls and scoops you out of the crib while you're still giggling. We plop Paul on the changing table to keep you cheerful while we change that diaper, give you a toothbrush to chew on, and put on your shoes and socks. Dressed, you head downstairs for your vitamin, then out the door with Dad.
At school, Dad asks Ms. Shanna if she'd mind taking a few mental notes about what you do today to tell us about. She goes above and beyond, and gives us this illustrated record: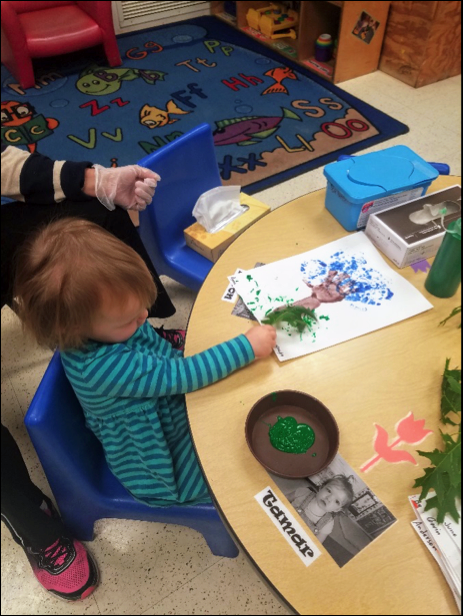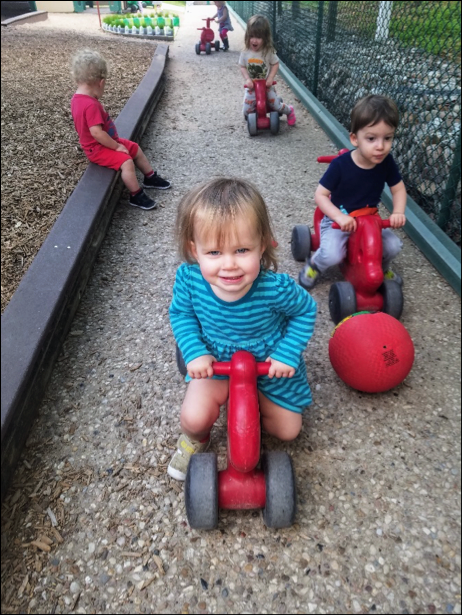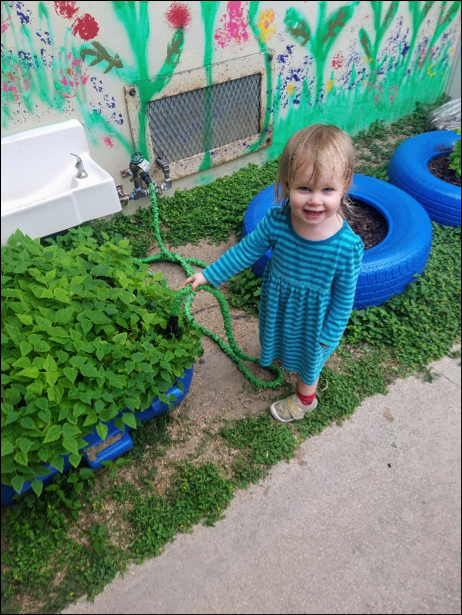 Um, amazing, right? Unbelievably, you let Dad pick you up and take you away from this incredible, loving place, at 4:45, as Ms. Maricela reads a book to your small group. He drives you home, and I come out to greet you in the car, where you want to stay and play for a while. You decide to call Granddad and Susu from the backseat, so they send you birthday wishes as you wave the phone around to show them various features of the car, mainly the ceiling.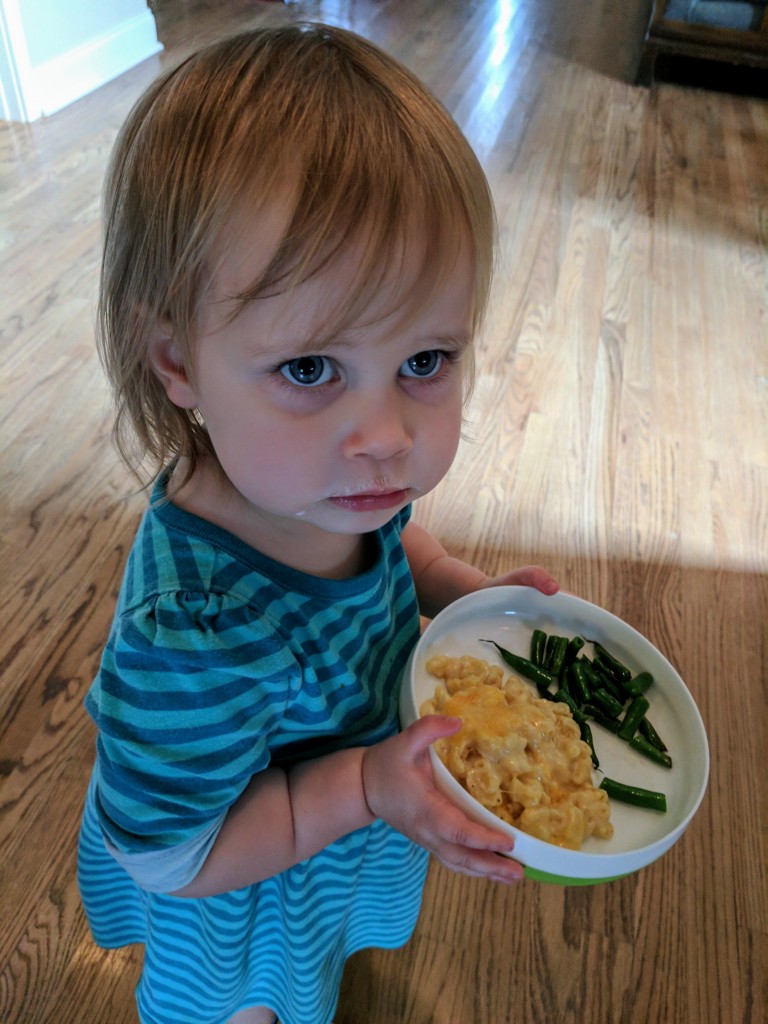 We go inside and say hello to Gobka and Gamma, who have stayed with you all weekend and now join us for your birthday dinner. We set the table with scratch-made macaroni and cheese and carefully diced green beans, all of which you decline to eat. But you're cheerful, and drink probably 12 ounces of milk while we chat. When you declare you're all done, we persuade you to stay at the table for cake. "Cake, yeah!" you agree. I bring it out with a bright birthday candle, and help you blow it out.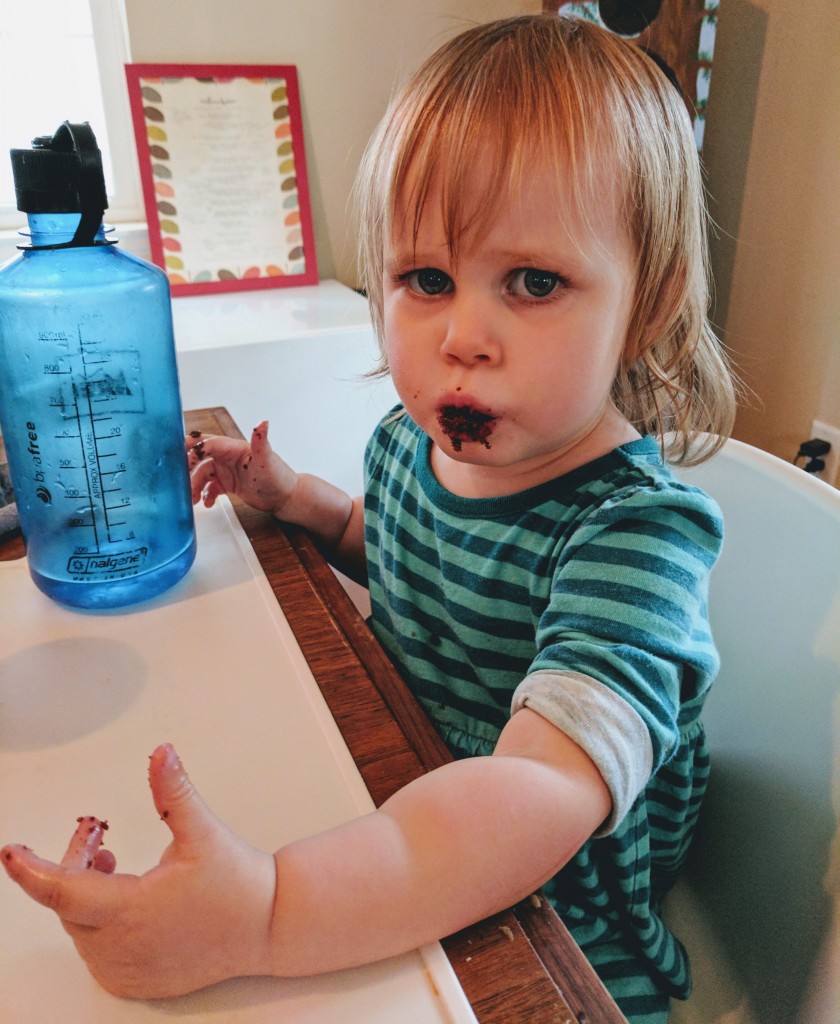 Paul wakes up, and we give him a bottle while you finish your cake, then tromp outside for a family photo in the evening light. Then it's back inside to open presents. Gamma and Gobka have thoughtfully wrapped theirs in an easy-to-open garbage bag. It's a giant longhorn. You love it. We have gotten you a bright green scoot bike. You are skeptical.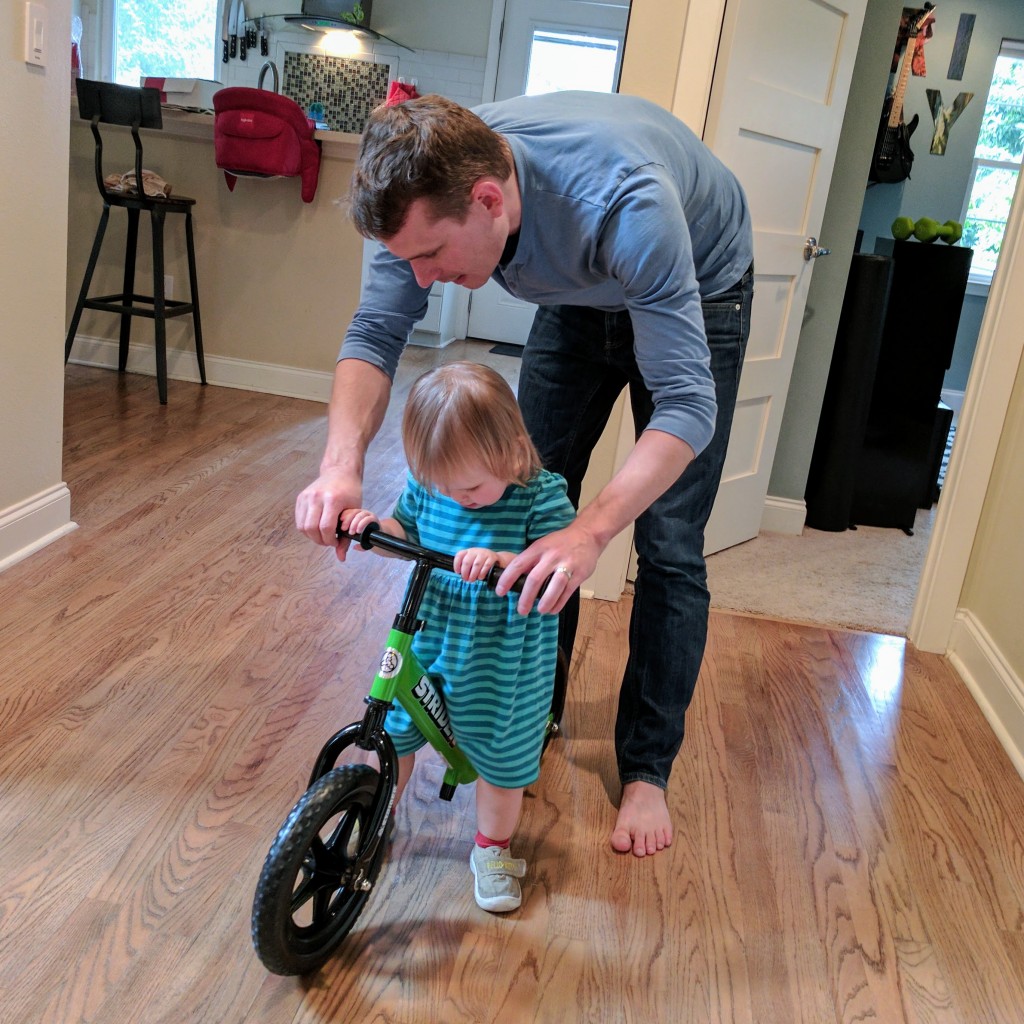 You read books with Gobka and look at pictures on Gamma's phone. You bounce on the cow and pass out curly ribbons to everyone, but mostly to Paul. The two of you scamper and scoot around on the floor, chasing a balloon. You commandeer an umbrella and swan around the house, bumping into things and playing a clumsy peekaboo game. You adjourn for some private time behind the couch and announce that you've pooped. You request that Gamma change your diaper, and I make no argument.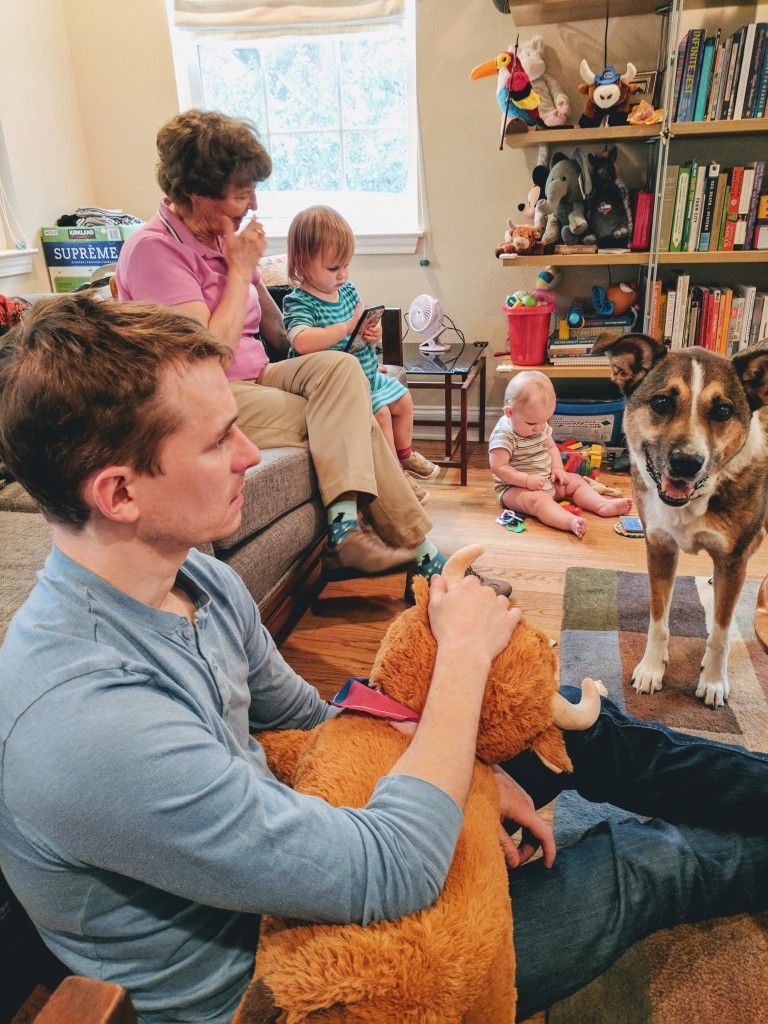 We segue into a quick bath, which you scream through. We say goodbye to Gamma and Gobka as you dry off, and then we have a few quiet minutes with the four of us, reading and romping in your room, before it's time for a last book (Sesame Street's ABC Storytime—a favorite) and lullaby. I put Paul in his sleep sack while Dad helps you into yours, and we sing about all the family who will go to sleep.
Night night, birthday girl.