To Annie: this is how you spent the day you turned 22 months old.
At 7:40, the whole family parades into your room: Dad, Sous, and Mom holding Baby Paul. "Hi Da, morning," you say, then, "Mom, up!" Paul settles in to chew on some toys, and I lift you out of your crib and head to the dresser for a "fresh bopper." We get you changed and dressed in no time; then it's off to the "baffroom," where you chew on your toothbrush and watch me attentively as I put on makeup.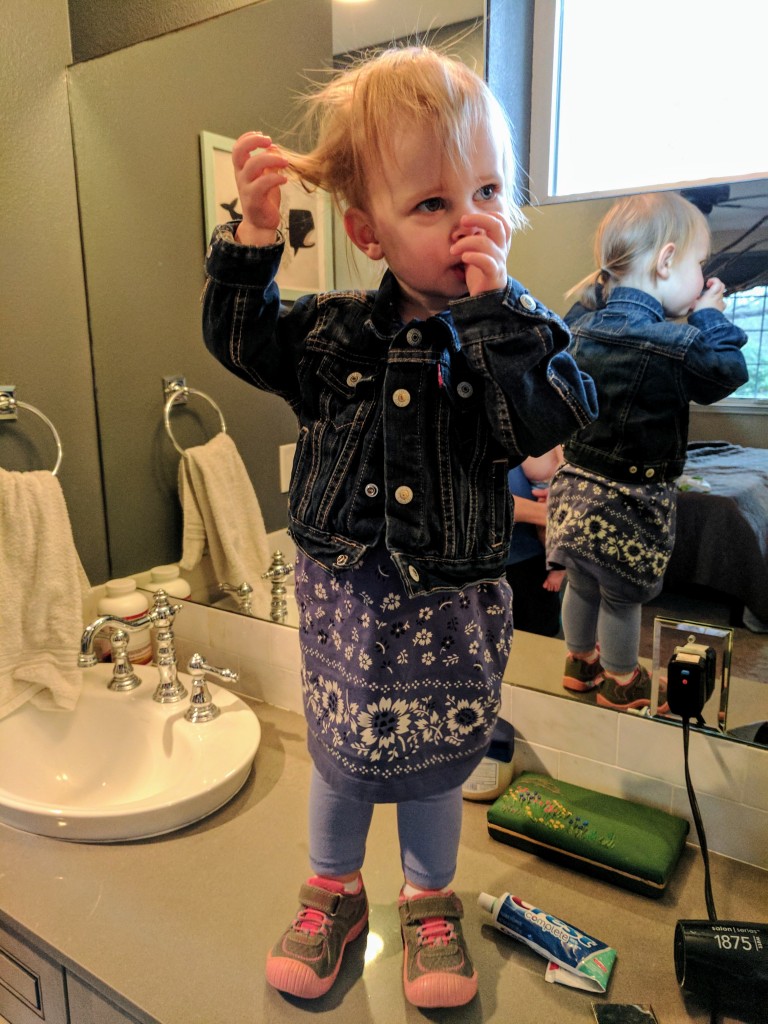 Dad's taking you to school, and it's a cheerful, "Bye-bye Mom, bye-bye Sous, bye-bye Baby Paul, bye-bye dryer," as he carries you out. Then, "bye-bye home, bye-bye Mom home, bye-bye Paul home" as you head for the car.
You're relatively quiet on the drive, but you and Dad do a little circle-spotting. Your favorite is the yellow circle in the Howdy Donut sign on South Congress, but a Do Not Enter sign is a good find this morning. At school, you're happy to dismiss Dad for a breakfast bowl of canned peaches.
It's a typical day at school. 75 degrees outside, so lots of romping on the playground—later, we'll pour sand out of your shoes—circle time with your classmates, lunch, nap, and more playing. Dad arrives to pick you up around 4:45. You spot him and smile, then return to listening to the book being read aloud.
On the way home, you chant your usual encouragement to the driver, "Dad GOOOO," but for the first time correct yourself and/or bow to reality: "Red light." Dad roles down all the windows ("more wind?"), so you can enjoy the warm breeze and the chirping birds ("TEE TEE!").
With "Hi Mom! Hi Mom! Hi Mom!" you enter the house. I'm upstairs feeding Paul, and you eventually find us. Presented with the choice to stay upstairs with Mom or help Dad cook dinner, you choose, "Hop Da? Bye-bye Mom." You stand in your tower while Dad sautes kale and microwaves everything else, occasionally demanding things and shrieking when they are denied you.
A little before 6, you sit down to a dinner of mac and cheese, shreds of pot roast, kale, and brown rice. You eat the mac and cheese. Thank goodness for chewable vitamins.
After dinner, you walk me back and forth across the house a few times, holding my fingers in one hand and shaking my car keys in the other. You dangle the keys in front of Paul to amuse him. He fusses when we walk away and watches, rapt, as we approach.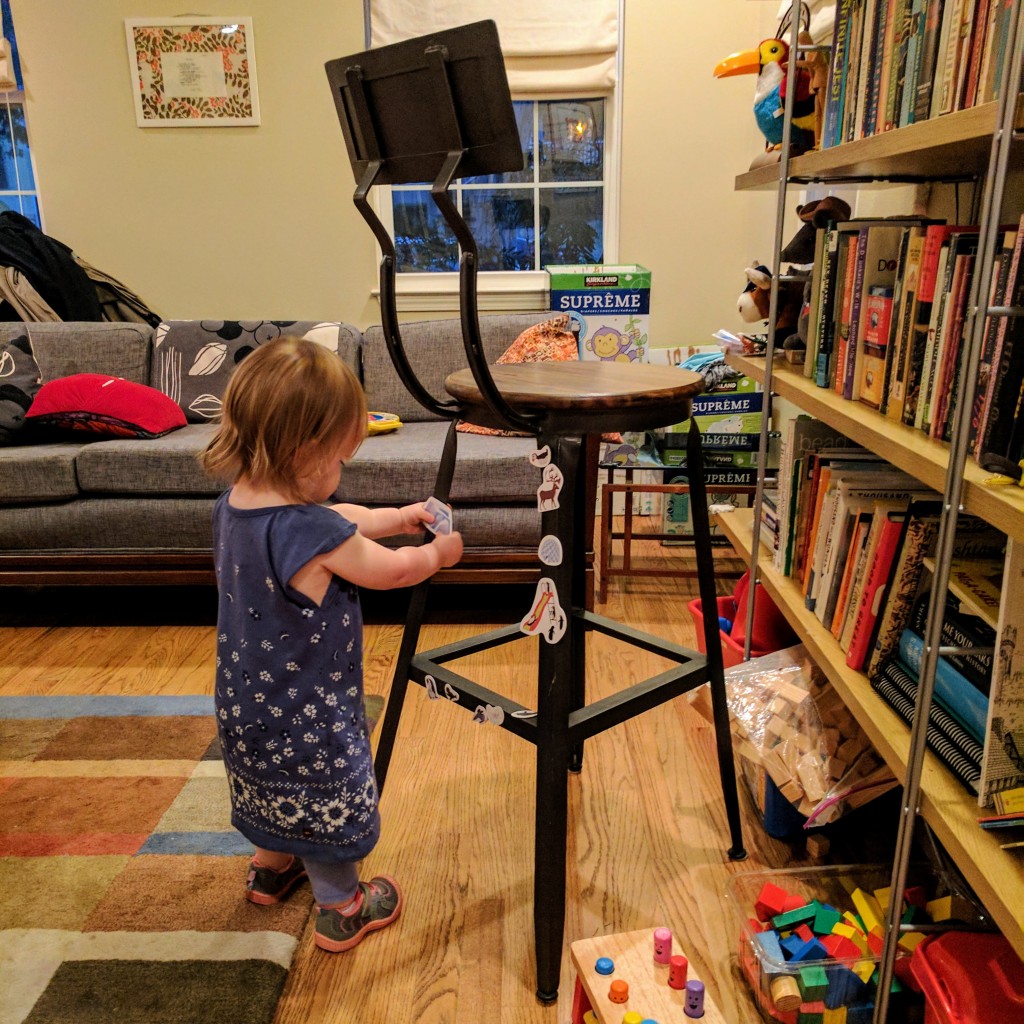 We adjourn upstairs. I administer your bath (though feel compelled to record that Dad does this nine days out of ten). You are in good spirits. You scrub your legs with a sponge while I wash your hair, twist around into some swimming-like postures, and play with your various cups and boats and floating items.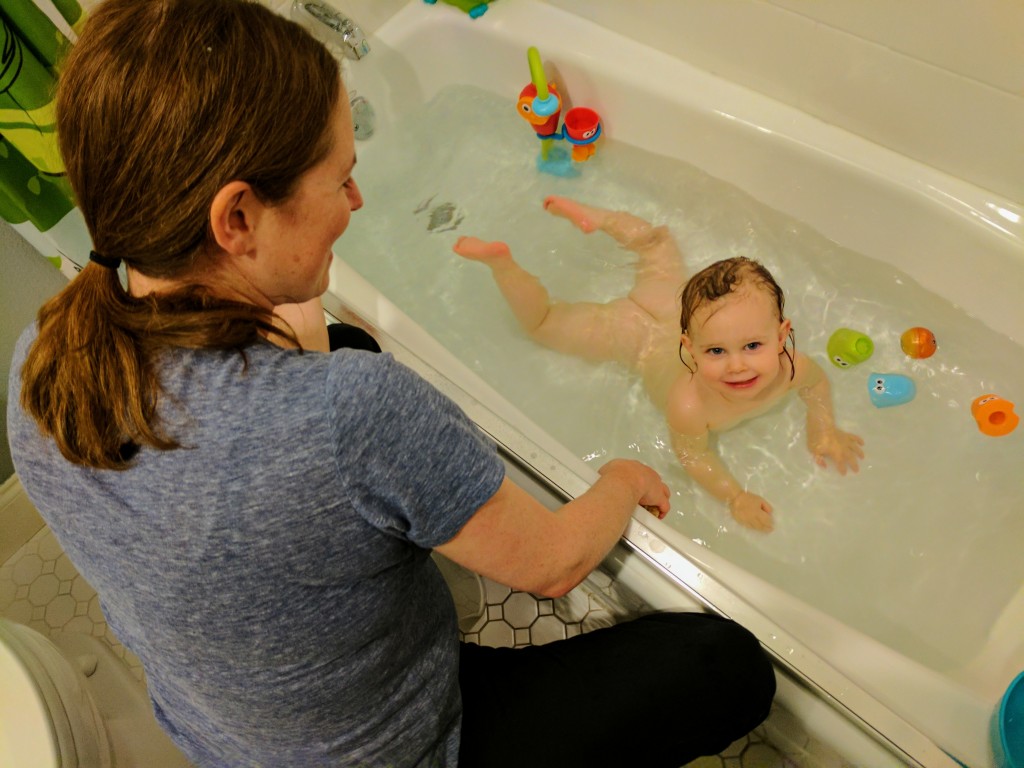 We get you out of the tub, reasonably dry, diapered, and dressed. Aunt Camei calls, and you recognize her voice and pick up the phone to listen. "Cah-may!" You are reluctant to go to bed, but we move in that direction. I read you a few pages of The Cat in the Hat, pick you up, and start your lullaby. After a verse or two, you consent to your "seep sack," and I lay you down in your crib. "Bye-bye Mom," you dismiss me, so I sing my way to the door, turn off the light, and say goodnight.